Within a few weeks, the new 2013/14 season in England will kick off and there will be a lot of 'Dutchies' involved. It'll be intense, sensational and spectacular as always and the Dutch players will have a fair share in the end result of the biggest football league in the world. Will they lead their team to everlasting glory, to heart wrecking relegation or will they mainly sit on the bench and earn a couple of million pounds by picking their noses? Let's take a look at the Dutchies and give a slight indication how they will perform in this thrilling new season. Who will be hot and who will not? Who will be the new flying Dutchman and who will be receiving the Afonso Alves-trophy for performing like a 'natte tosti' (wet grilled cheese).
The hottest
Robin van Persie (Team: Manchester Utd., Age-29, Striker)
At the moment he's the biggest and the best Dutch player in the world. He is an experienced old crook, who knows what to do to give an excellent performance week in, week out. He has magnificent technical skills, an excellent shooting technique and he always knows where to find the spaces. If you combine that with his thorough professional effectiveness, it's easy to see why he has been the top scorer in the Premier League for the last two seasons, with 30 goals for Arsenal and 26 for Man. Utd. last season, respectively. In this new season he will probably score between 25 and 30 goals again, due to his solid long-term performance curve, so long as he stays fit.
He doesn't even come close to Lionel Messi, who has scored 46 and 50 goals for Barcelona Club de Futbol in the Spanish league the last two seasons, but that's because he's not even close to being a human being. The delivery is not as good at Man. Utd. as it is at Barca, where they have the holy triangle of delivery with Xavi, Iniesta and Busquets, compared to the senior midfielders Scholes-Carrick-Giggs combined with the grumpy old hobbit Rooney…….okay and one creative player who provides excellent delivery, Shinji Kagawa. If Van Persie scores 25 goals he will probably stay hot throughout the season, and if they can get his old Arsenal-teammate Cesc Fabregas to Old Trafford, it'll probably be around 30 goals. With that, they have a good chance of winning the title again with their new manager David Moyes, although it'll be a long and difficult road, while Chelsea and City are very eager to dethrone them, and probably have a better squad on paper. But in the end, paper is only useful for wiping places where the sun doesn't shine……like a wine cellar.
http://www.youtube.com/watch?v=tV70wVNKrB4
Van Persie goal of the season 2012/13
Hot (again): Goalkeepers
Goalkeepers Michel Vorm (Swansea City, Age-29) and Tim Krul (Newcastle United, Age-25) have performed very well the last couple of seasons. Vorm a little bit better than Krul, probably due to the difference in age, experience and the overall team performance. It seems a bit surprising that Vorm performed so well in a league where physical appearance is pretty important, certainly when you play Stoke City where everyone is taller than 7 feet, and Vorm looks as big as the average 13 year old boy next door. As long as their teams are able to hang on in the mid-table places or higher, there will be excellent settings to perform in as well as they have done the last few seasons. If they play against relegation, like Newcastle did last year, the pressure will be a lot higher and I'm not so sure if Krul can handle such stress as good as Vorm can. Krul had some shaky performances there last season because of that. Let's hope he'll do better this year and show that he's one of the best and most reliable goalkeepers in the Premier League.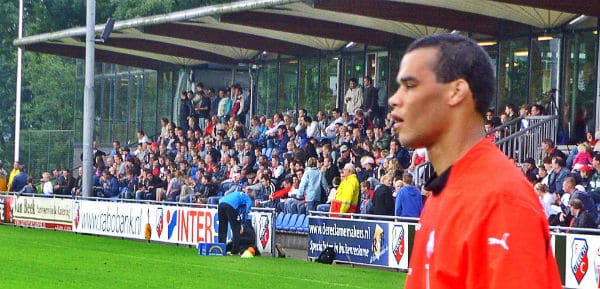 New Dutchies
Marco van Ginkel (Team-Chelsea, Age-Young, Midfielder) came from Vitesse and went to Chelsea. That's a huge step for such a young guy. There won't be any time to adapt to the level of his teammates and the league, if he wants to play frequently and earn a chance in the starting eleven. Luckily for him, Lampard and Essien are old and Mikel will probably leave the club soon. Ramires will be the main competitor for the same position on the midfield, although Ramires can play just as well on the right wing, in a more defensive role than Oscar, or maybe they can play together. But even then there will be players like Mata, Hazard, Schürrle and De Bruyne, although I see them playing in a more attacking role. Mourinho always sees things differently than normal people though, that's why he goes crazy from time to time, and switches to his schizophrenic alter-ego's; The Special One, The Happy One and The Only One.
In the end I hope Van Ginkel won't be twiddling his thumbs on the bench all season. That would be such a pity, as he is a very talented player with a strong physique, good technique, excellent overview and really good passing skills. At least I hope the fans in England will know his name by the end of the season. When he was presented for the first time at the Chelsea-website they called him Mario van Ginkel instead of Marco. I hope this won't be a sign that he'll be the next Winston Bogarde at Chelsea and eventually dwindle into oblivion.
Erik Pieters (Team –Stoke City, Age-PSV, Defender), Leroy Fer (Team-Norwich, Age-23, Midfielder), Maarten Stekelenburg (Team-Fulham, Age-30, Goalkeeper) and Ricky van Wolfswinkel (Team-Norwich, Age-24, Striker) probably have the best chance of play every week, as new Dutch signings. Erik Pieters plays in a city that is equally as deplorable as Eindhoven, so at least he won't be getting homesick. The only thing he has to do is to perform the same as he did at PSV, which was mediocre, work on his throw-ins (if he wants the fans to cheer for him instead of ex-Stoke left-back Rory Delap) and they should to keep him away from windows at all times, when he's angry.
http://www.youtube.com/watch?v=NuCR63ZyPKs
Erik Pieters smashes window after being sent off at PSV-PEC Zwolle
Leroy Fer is a young dynamic midfielder who can only grow stronger in the English League. A renewed team like Norwich should be an excellent place to improve every week, before taking his career to the next level. Maarten Stekelenburg's Roman Empire collapsed last year, when he was sat picking his nose on the bench for several months because the manager thought that other goalkeepers were better, or maybe Totti didn't like him or maybe the mob had something to do with it. These weren't the finest moments in his career, but now he has broken free from the crazy Roman football politics and gone to the quiet and peaceful Fulham. Not a bad place to give your career a new boost, after having some bad experiences with your Italian job. Edwin van der Sar went to Fulham, after his Juventus-fiasco, and later on to Man. Utd. where he became one of the best Dutch goalkeepers ever. At least Fulham got rid of Mark Schwarzer, so there will be hardly any competition for Stekelenburg to be the number one goalkeeper for Fulham, so long as he performs steadily.
Ricky van Wolfswinkel is a young striker with some experience of playing in a foreign country, at Sporting Lisbon, Portugal. He survived there and managed to score a good amount of goals, so he is experienced with performing against strong and good defenders, which is always good if you want to succeed in England.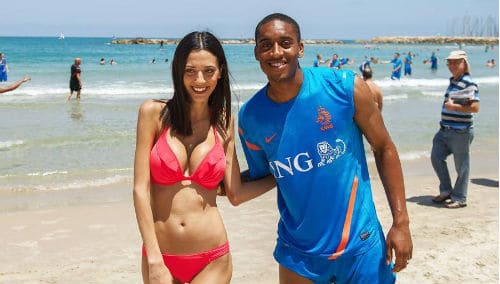 The nose-pickers
John Heitinga, Nathan Aké, Alexander Büttner, Dwight Tiendalli, Karim El Ahmadi and Oussama Assaidi have the most chance of sitting on the bench this whole season, if it isn't high up in the stands. They're too young, not good enough have too much competition or they are John Heitinga. Dutch players who should sit on the bench are Jos Hooiveld and……..no, only Jos Hooiveld.
I hope it will be a stunning season again this year in the Premier League, hopefully not decided as early as it was last year. Due to statistics, Robin van Persie has the biggest chance of all Dutchies to lead his team to a new title, but maybe it'll be Jos Hooiveld while maintaining a lot of clean sheets and surprisingly scoring 15 goals for Southampton. Everything's possible, because in the end, statistics are just like mini-skirts…………..they suggest a lot but hide the essential parts.