Indoor Skiing in the Netherlands
Indoor skiing in the Netherlands? Ja, het kan. You'd be tempted to dismiss it as a contradiction in terms, but you'd be jumping to conclusions. OK, so it won't be on top of a glacier, nor down a mountain slope, not even down a hill and certainly not down the Klimduin, but, nevertheless, in state-of-the-art indoor snow domes, on real snow. They go as far as actual chairlifts, après-ski bars and modern, low-emission indoor snow groomers. No black run excitement, but perfect for beginners and for getting back in shape before hitting the Alps now that voorjaarsvakantie is just around the corner. Don't you know where to start? All the more reason to read on.
1. SnowWorld Landgraaf, Limburg
The largest indoor ski hall in Europe, SnowWorld Landgraaf is located in hilly Limburg, on the Wilhelminaberg, an artificial hill of 225m elevation. Initially a slag heap of the Wilhelmina mine, the hill was eventually employed for recreational purposes. A ski brush track opened here as early as 1979. Wilhelminaberg is also just a mere 20km away from Vaalserberg, which, at 322.4m, is… um… the roof of the Netherlands. Following a thorough seismic assessment, SnowWorld Landgraaf opened on the Wilhelminaberg in 2001, with two pistes, one of which was, at the time, the longest indoor ski run in the world.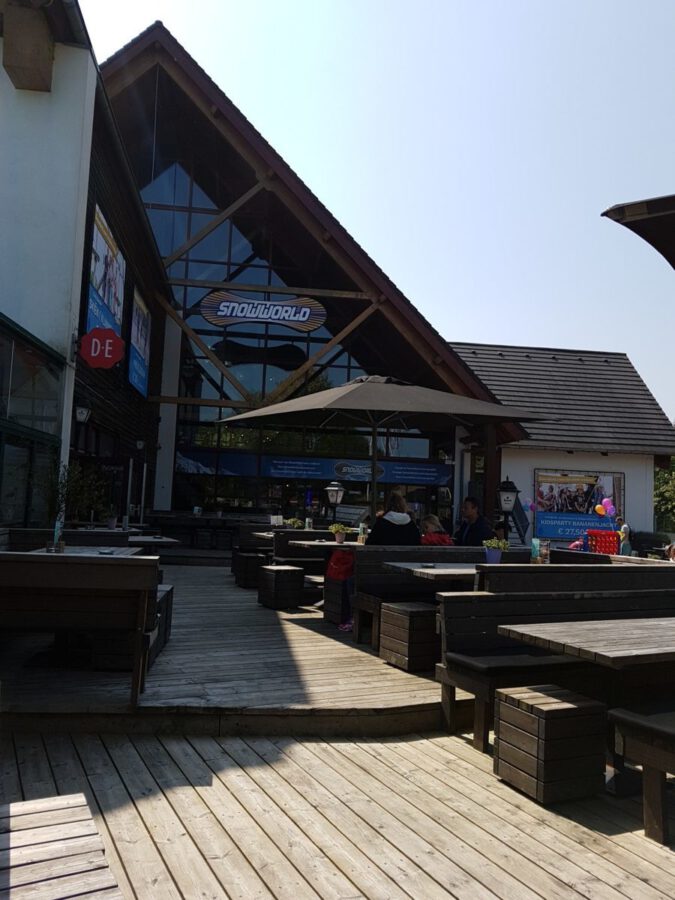 Eighteen successful years later, the compound is open all year round and boasts no little than six slopes:
#1: an official FIS piste (on which international competitions have been held in the past), red, 369m length by 37m width, 6-person chairlift + tow lift;

#2: the longest indoor run in the Benelux, blue, 387m length by 28m width, 6-person chairlift + two ski tows;

#3: beginner slope, green, 55m length by 26m width, magic carpet;

#4: tubing and various group activities, blue, 45m length by 23m width, magic carpet;

Kinderland: a gentle practice slope suitable for the smallest children, green, 20m length, magic carpet;

Funpark: the biggest fun park in Europe, with rails, boxes and kickers, about 200m length.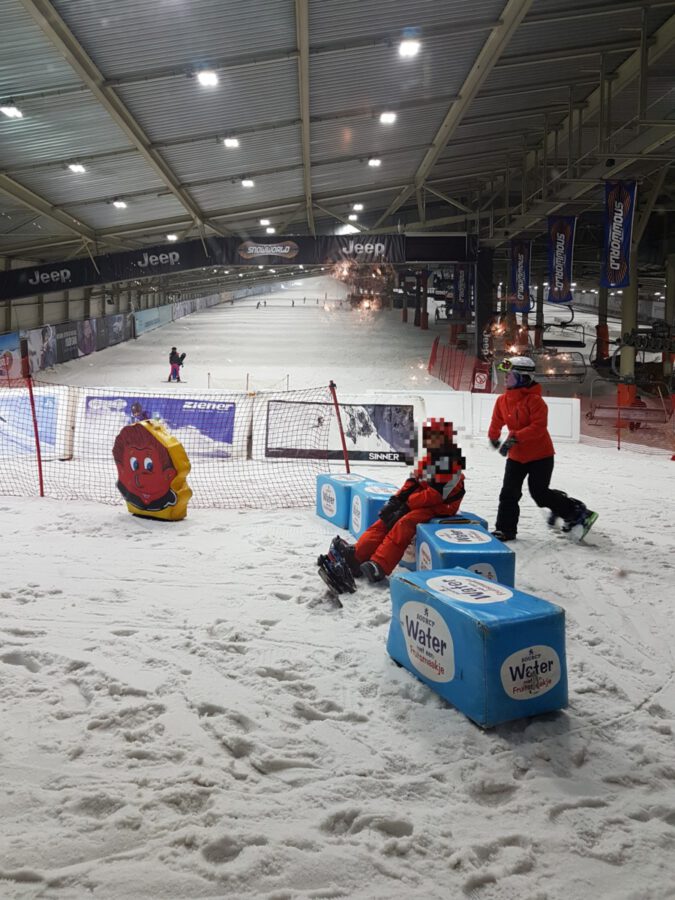 Slope #1:
This is often reserved for competitive skiers, which means that it may be off limits not only when they train or race on it, but also when it is being prepared for an upcoming session. Currently, a mogul slope is set up on part of Slope 2 (04-Feb to 04-Apr 2019). SnowWorld Landgraaf is the only snow hall in the Netherlands with a chairlift.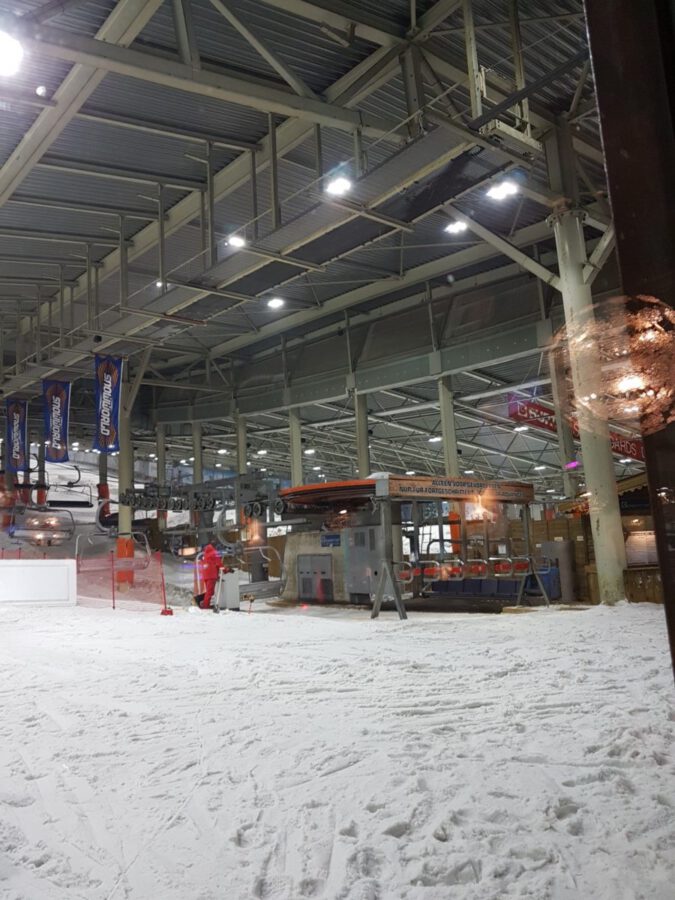 Predictably enough, ski and snowboarding lessons are available, for all levels (beginner to very-advanced), either one-on-one or in groups of up to eight people, including lessons for children as young as 3. Online booking is possible – and, probably, recommended, during the busiest months of the year, between November and March.
As in any respectable ski resort, there is a rental center, which provides premium quality gear such as Salomon, Burton and Volkl. More brands are available for sale in the winter sports shop (Duijvestein).
What else is there?
The compound has no less than four restaurants and three bars, including an actual berghütte, right there on the slopes, cosy and inviting, for well-deserved breaks and après-ski fun. And since you won't be able to drive after all those après-ski drinks, you'll be relieved to know that SnowWorld Landgraaf has got you covered with a 4-star hotel.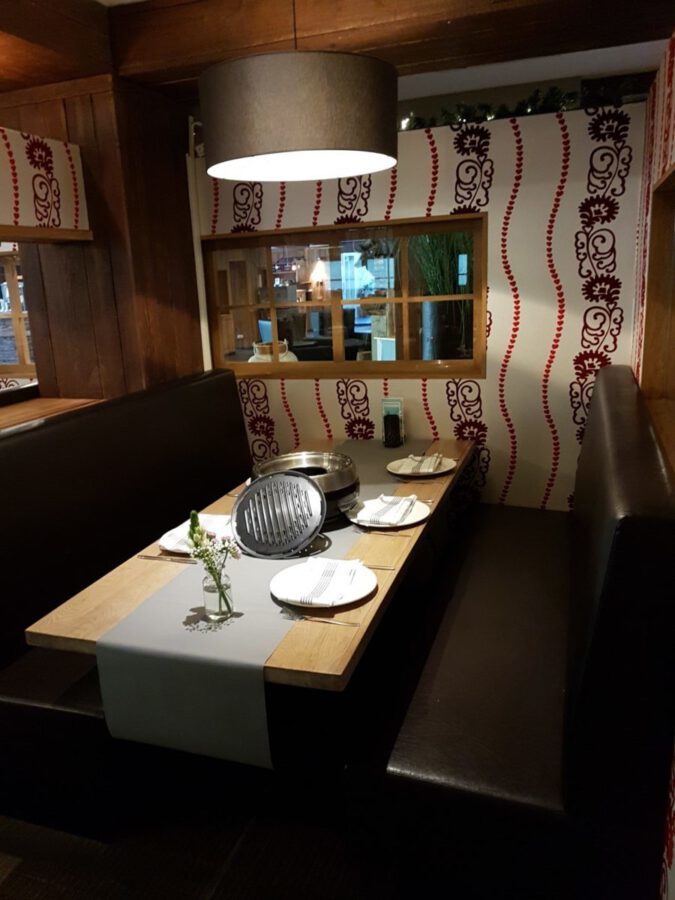 The rooms are Alpine-styled but rather small and frugal. A seasoned traveler would most likely give it three stars, but hey, you've got an idyllic winter mountain landscape covering a whole wall. Who needs more? Besides, breakfast is excellent and the Tyrolean-wannabe breakfast room adds up to the whole idea of a ski weekend trip.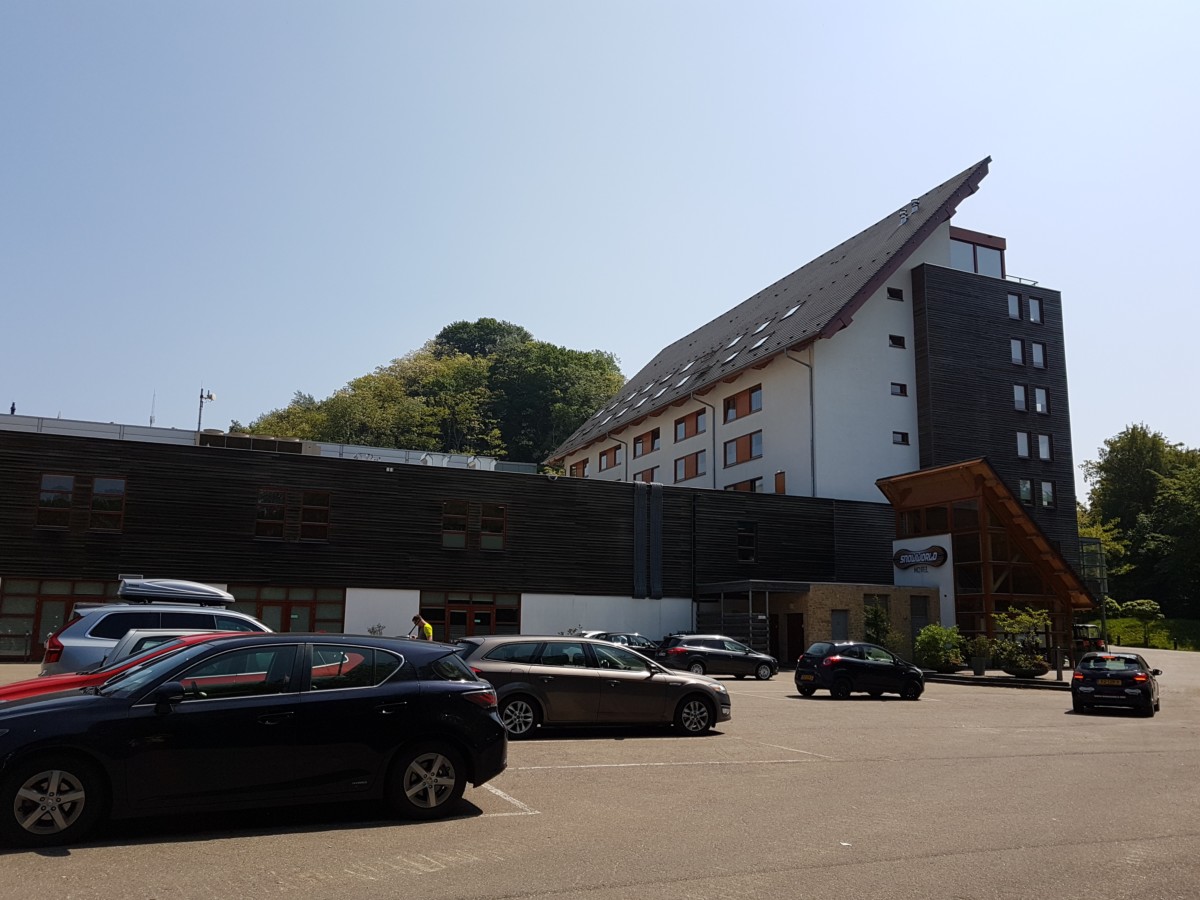 If you're one of the unlucky few who needs to kill time while their friends gracefully take stem turns on their skis, don't despair. You won't have to stare at every little detail on the landscape wall in your room. Or, worse, eat your way through the weekend. You can always head to the wellness area and the health club.
Come summer, in addition to having the slopes almost to yourself, you also get to experience the outdoor thrills. An impressive climb park and an alpine coaster (Wiegand technology), which is quite decent in terms of speed, gradient and curves. Says the mountain coaster enthusiast in me, who was recently hyperventilating on Stubaital's Mieders toboggan, the steepest alpine coaster in the world.
Address: Witte Wereld 1, 6372 VG Landgraaf
2. De Uithof, The Hague
Unlike the Landgraaf snow dome, De Uithof is not jaw-dropping. Thanks to its location, though, it is perfect for a day out in the Randstad. Originally an ice rink, it is now a large sports complex, open all year round. It includes, among many other facilities, a blue slope of 211m length by 25m width, with four lifts (two tow lifts and two magic carpets). The slope is shared between beginners and advanced skiers.
Private ski and snowboard lessons are available, for all levels (beginner to advanced), for groups of one to five persons. Beginner, but not sure what your level is? Check the explanatory videos on their website, there is one for each level. They were shot in Austria, in the Wilder Kaiser holiday region, with which De Uithof has a partnership. Children as young as 3 may take ski lessons. They have to be at least 8, though, in order to sign up for snowboarding. For those looking for something special, De Uithof provides custom classes, such as freestyle, for daredevils, or stress-free skiing, for those in need of a confidence boost.
There are ice rinks too!
De Uithof is famous, first and foremost, for its three covered ice rinks. The 400m track is the oldest artificial track in the Netherlands – since January 1973. Two other rinks, each 30x60m in size, are great for ice hockey, figure skating, curling, and, of course, beginners. De Uithof Skating School provides lessons on as many as seven skill levels.
For those seeking the adrenaline rush that a 200m ski slope is less likely to generate, there is another thrill in store. Ice-karting, namely, but limited to only two months per year, April and May. During the rest of the year, you just have to content yourself with a regular karting track.
Starving? Drained? Craving for the sugar overdose in a warm Chocomel? You've got a generous choice of four cafes. And if you're anything like me, you won't miss the opportunity to ingest back all the calories you might have burnt on the slope.
Address: Jaap Edenweg 10, 2544 NL Den Haag
3. SnowWorld Zoetermeer, South Holland
Operated by the same group as the Landgraaf snow dome, SnowWorld Zoetermeer follows close behind in terms of ski runs and services. Also, open all year round, it prides itself on four slopes:
#1: blue, 140m length by 25m width, tow lift + magic carpet

#2: blue, 140m length by 25m width, three tow lifts + magic carpet, with a fun park set up on it for part of the year

#3: the steepest indoor slope in Europe, red, 300m length by 30m width, two tow lifts

#4: a gentle children's slope, green, 30m, magic carpet.
There is no hotel, but everything else is covered. Ski lessons, check. Three restaurants and two bars, including an après-ski sky bar with direct access from the slopes, check. Austrian and Swiss cuisine, check. A Duijvenstein Wintersport shop, check. Wellness area, check. Health club, check.
Address: Buytenparklaan 30, 2717 AX Zoetermeer
It's not the real thing, but indoor skiing in the Netherlands will do…
Now, do you still sniff in disbelief at the idea of a Dutch slope? Not that I expect you to cancel your long-anticipated ski trip to Tyrol. After all, the steepest indoor slope in Europe is not that steep, the longest indoor slope in the Benelux is not that long and a landscape wall is nothing like the real thing. But how about taking your Dutchness up one level and spending the next rainy weekend on a ski run instead of on your couch, consumed with self-pity? Are you in? See you there!   
Have you been indoor skiing in the Netherlands? Let us know in the comments!