The debate always resurfaces, and each year in the Netherlands it seems to begin earlier and earlier. Here's the latest in Zwarte Piet news.
A Facebook post was shared recently stating that the suspects in the trial about the highway blockade (during the national Sinterklaas arrival last year) were sentenced to prison. Heads up: this was fake news! 
The post (since removed) was posted on the page 'Ik Ben Zwarte Piet Fan' (which has over 32,000 likes) and was shared over 25,000 times in 23 hours. According to the post, the 34 suspects were sentenced to 18 months in prison. Turns out: this was a load of porky pies.
What's the real story?
There is a real lawsuit: 34 people are suspected of blocking the A7 Highway so that 2 buses of anti-Zwarte Piet protesters couldn't reach the national Sinterklaas arrival in Dokkum in November 2017.
But the trial against them – which started on Monday – is still ongoing. The Public Prosecutor hasn't even given their sentences yet.
So, what's in store for Zwarte Piet this year?
Echt deprimerend dat dit soort nepnieuws (A7-blokkeerders zouden 18 maanden cel gekregen hebben) in korte tijd ruim 23.000 keer gedeeld wordt op Facebook. #zwartepiet #A7blokkade pic.twitter.com/oiwZ7BEmln

— John Hoogerwaard (@HoogerJ) October 10, 2018
The Black Pete debate started up again when broadcaster NTR announced that only 'Chimney Pete' will be featured on the kids' show Sinterklaasjournaal, giving the impression that there will be no actors with blackface.
A day later, however, a NTR spokesperson clarified that there will be Peter's who are completely black because of how frequently they went down the chimney…
7 out of 8 cities in Noord-Brabant have since decided to welcome the "friendlier appearance" of Zwarte Piet; the actors will be covering their faces with brown makeup, instead of going with the 'chimney soot' look. The Sinterklaas committees in Helmond, Bergen op Zoom, Den Bosch, Eindhoven and Oss are not straying any further from tradition, they say, because they've already made him less black, more brown, and discarded the red lips and earrings. Tillburg have yet to make a decision.
In Roosendal and Breda, Pete will be "pitch-black" because that's what the majority of their people want.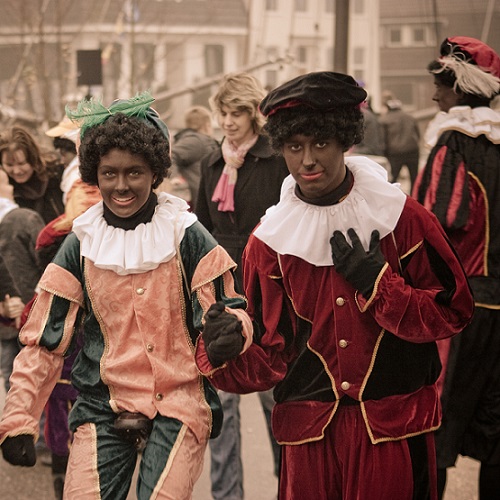 What a polava! Are you pro or anti Zwarte Piet? How about we start our own debate in the comments?