An accident on the A2 freeway near Nieuwegein towards Utrecht has left a truck full of wine tipped on its side on the A2 freeway. Sources say thick fog was to blame, the road became unclear in front of the driver. 
Als je goed kijkt, kun je zien dat er een ongeluk gebeurd is op de #A2 voor Echt. File als je richting Eindhoven gaat. pic.twitter.com/XG7L0C3uGJ

— Rijkswaterstaat Verkeersinformatie (@RWSverkeersinfo) March 22, 2019
Severe weather increases the driving danger
The KNMI has issued a code yellow warning for all provinces except Groningen, Drenthe, and Friesland. If you're on your way to Eindhoven you will likely experience heavy traffic. Schipol airport has also delayed some flights due to code yellow.
Verwachting vandaag en morgen: Eerst op veel plaatsen (dichte) #mist,later van het zuidoosten uit zonnig. Zaterdag meer bewolking,kans op wat lichte #regen en minder zacht. https://t.co/5HNtg7giG3 pic.twitter.com/OWP3DZPBjh

— KNMI (@KNMI) March 22, 2019
As you can see below, reported by Rijkswaterstaat Traffic, the fog made driving conditions precarious at best. The A15 and the A27 are the recommended detours to avoid delays. Traffic in the North is also bad with a collision in Limburg on the A2 near Echt.
De #A27 heeft vanaf Lexmond richting Utrecht veel hinder van de omleiding door het ongeluk op de #A2. Ook omdat de spitsstrook dicht is. #mist pic.twitter.com/6fYMUHUxHU

— Rijkswaterstaat Verkeersinformatie (@RWSverkeersinfo) March 22, 2019
Where did the wine truck tip over?
The incident on the A2, at the Niewegein-Zuid exit, has delayed traffic since 06:00 this morning. Rush-hour lanes on the A27 at Houten and the A2 at Maasbracht are closed due to low visibility in surveillance cameras. The same goes for the A50 Apeldoorn-Arnhem and the A2 in South Limburg.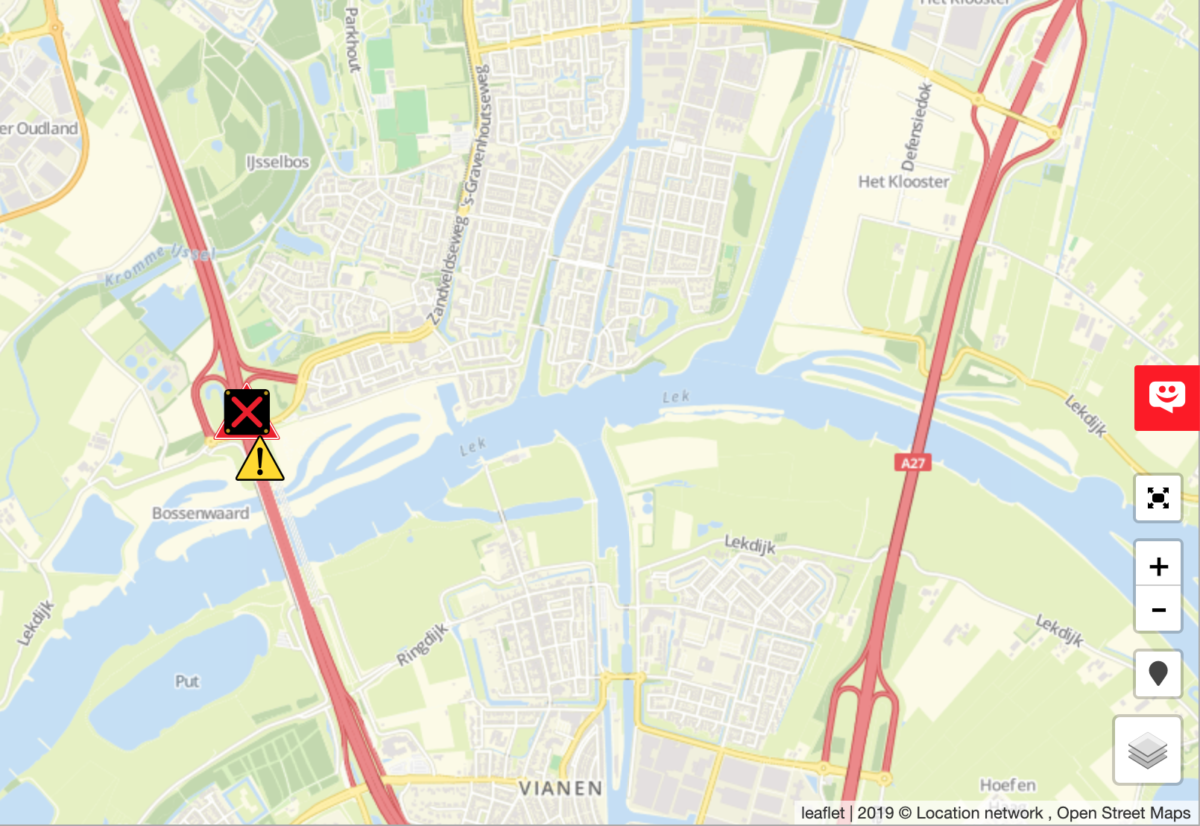 Drive safely, make sure you have good visibility when changing lanes. Did you drive by the accident? 
Image: Traffic Network NL
Header Image: Rijkswaterstaat Verkeersinformatie‏