Okay guys, prepare yourselves: this weekend in the Netherlands it's going to get colder. It feels like only yesterday I was writing about the Indian Summer that was 'here to stay'. Does anyone remember that? What a bizarre October month we've had. Thank you, global warming…Well, to lighten the mood and make this all a little more bearable – we're going to be adding some appropriate songs to this weather forecast. That always makes breaking grey-sky news a bit easier!
Friday (today)
As you've probably noticed already, it's going to be a cloudy day. That's not so bad, but there will be rain too, migrating from west to east. As the day progresses it's meant to get windier too, and tonight it's going to be powerful. Watch out, people. Hold onto your goulish garments and witchy hats if you're trekking home from Halloween parties this weekend.
Whilst the chill comes knocking from the east, here is a sweet Simon & Garfunkel tune to warm the cockles of your heart.
Saturday
The sun will be shining tomorrow, even if only for brief moments. What a cause for celebration! Quick – go for a walk with a friend (bring layers because that sun is deceiving) and remember to stock up on groceries whilst it's still nice outside. It will stay around 11 degrees Celcius.
On the downside, there could also be hail or thunderstorms…Life in the balance, as they say! But who knows – maybe you like a storm. It can definitely be weirdly comforting if you're home and safe in bed. Although this might be the time of year that people start getting colds and staying in sick or going to work moody – it's also perfect spooky Halloween weather. Wrap up in a cosy blankie, sip some of mama's coco, pop on some Stranger Things – or a real horror movie to scare away the approaching flu!?
Here is Etta James singing Stormy Weather. What a voice; what a lady.
Sunday
Although the rain decreases over the weekend, the temperature falls to 8 degrees Celcius on Sunday (and continues to drop on Monday too). It's going to be very mild outside, but Sundays are for pajamas anyway! So that's okay.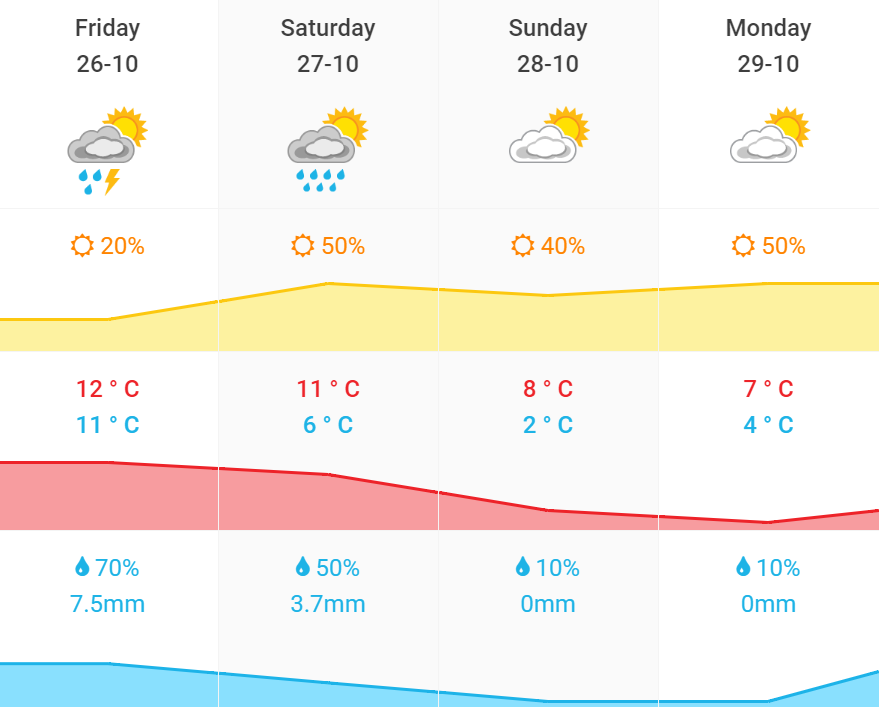 I'd like to round off this short weekend weather forecast with a song by This Is The Kit. Another one picked for it's name – "Cold and Got Colder" – but also for it's beautiful melody. This one is sure to de-stress you if you've had a hard week. Close you eyes and let Kate Stables take you on a journey.