Yeah, the weather's still weird. One minute you wish you took your gloves with you, the next you're actually deciding whether a coat may actually be needed. It's definitely not full-blown winter weather yet either though, as for some of us, it's going to be almost 20 degrees. If you live in the South-East, temperatures will reach 19 degrees Celsius tomorrow!
What's the rest of the week like, I hear you ask? Well seeing as you're here, let's look at what the weather is doing for the rest of the week. Let's get to it:
Tomorrow (Tuesday)
This is going to be a hot-ish November day for the peeps in the South, who are looking at highs of 19 degrees Celsius. For everyone else it's looking like it's going to remain around the 15 mark.
Wednesday
Wednesday is looking to be around the 15 degrees Celsius mark, with sunny spells and no rain. Still pretty warm, considering it's November!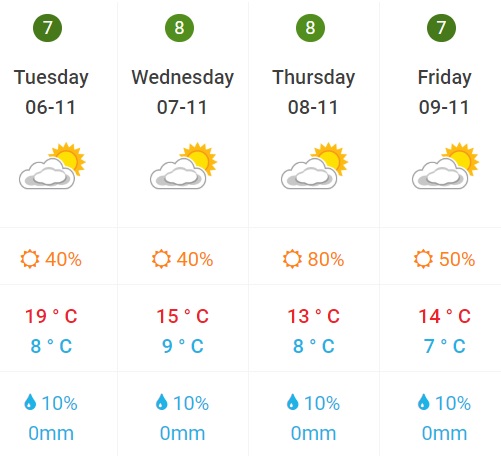 Thursday
The temperatures seem to be slowly declining, as temperatures will reach 13 degrees Celsius on this day. Again, it's looking dry, with outbreaks of sunshine.
Friday
Luckily it's still going to remain dry and temperatures will reach 14 degrees Celsius. However, brace yourself, this is the last day it's going to be dry, as this weekend it looks like it's going to be a wet one!
Have a good week. 😉
What do you think of this weird weather in November? Let us know in the comments!