The weather this week in the Netherlands is going to be warm and sunny (you read that right!). Autumn has been put on hold for the time being! Here is the exciting forecast for the second week of October.
Today (Tuesday)
Today we should be expecting nothing but sunshine with a tiny bit of clouds. With an expected temperature of 18 degrees Celsius things are already starting to look up for everyone living in the Netherlands. I promise, things will only get better!
Wednesday
Wednesday for once will be very much loved. Despite it being considered the worst day of the week, this Wednesday is going to be everyone's favorite. With an expected temperature of 22 degrees Celsius and not a cloud in sight, Wednesday will be bringing back the heat.
Thursday
Thursday is going to be just as amazing as Wednesday. Well, that might not be true. According to reports, we might be expecting some stormy weather on that day. But we should still consider ourselves lucky with the 22 degrees Celsius that Thursday has promised us, despite the chances of rain. After all, the normal temperature for this time of year is 16 degrees Celsius.
Friday
On Friday there will be a small dip. Some clouds, some sunshine, and 19 degrees Celsius. Despite the slightly lower temperatures, the weather will be still quite warm. And who cares anyway? It's finally Friday! TGIF!
Saturday
Saturday is going to be the best day of the week! The temperature is expected to reach 23 degrees Celsius, however according to reports in some areas it might reach 26! Now how's that for a weekend? See, I told you that things will only be getting better and better this week.
Sunday
The last day of this marvelous week will be just as lovely. With a forecast of 21 degrees Celsius and sunshine all the way, this October week will bring us nothing but happiness and a whole lot of Vitamin D. Spoiler alert: make sure to enjoy it, because next week isn't looking that good.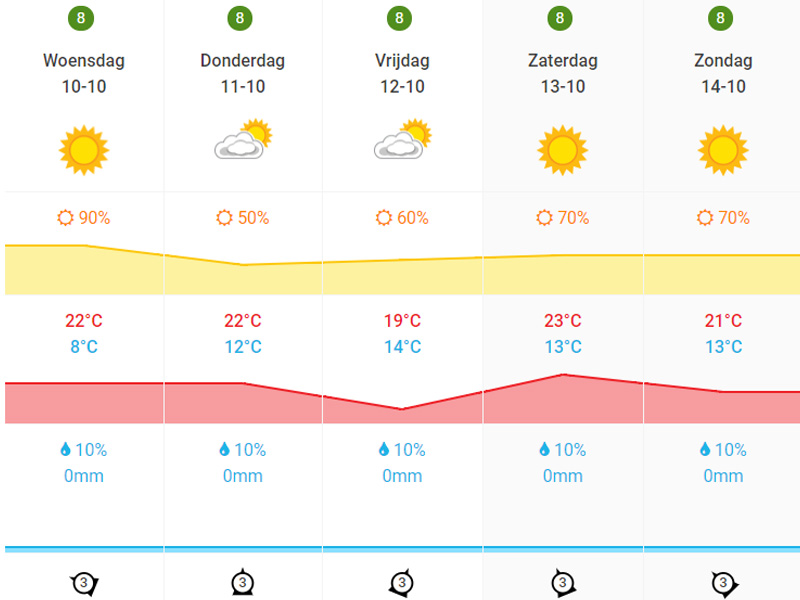 So there you have it! The weather this week in the Netherlands will be just like summer. What will you be doing over the following sunny days? Let us know in the comments below!