The New Shining (TNS): Singer/Guitarist: Xander "Nax" Stok, Bass Guitar: Arjan "R" Nijman, Drums: Roel van der Sluis Lead Guitar: Evert Zeevalkink; are without doubt my favorite Dutch rock band, and have been ever since my first exposure in 2009. After you have read this article and heard a few songs, you might agree the logical next step for TNS is to journey out of our little land of windmills and hit the international stage. Yes, the time has come to share this Dutch music sensation with the rest of the world. Although they are Dutchies, lucky for us Expats, all of their songs are in English.
It was announced earlier this week that The New Shining will appear on De Werled Draait Door (DWDD), October 11, 2013 from 19:30-20:30, which is a huge deal in the Netherlands. Once you have been on DWDD, it is synonymous with BN'er status.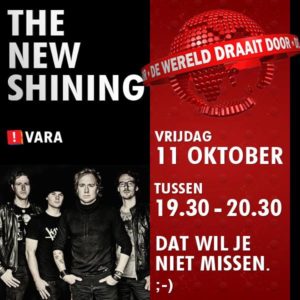 (BN'er, simply stated: Famous Dutch Celebrity) So, make it a point to be in front of your television this Friday, and you will completely understand why this dynamic group of young men has set the Dutch music scene on fire. If you have somehow missed the past three years of TNS concert tours, multiple Dutch interviews, live appearances on Radio 3FM and other national radio and television programs, then let me bring you up to speed so you, too, can enjoy the magic that is The New Shining.
Having had the honor of translating the TNS-Wikipedia page, from Dutch to English, this link to my blog, is one of the few sources about the 'roots of The New Shining' to appear in the English language. So, my dear Expat friends, and other non-Dutch readers, sit back in a comfortable chair, and absorb seven years of historical information about this amazingly talented band by clicking here!
So, how was that for a decade flashback of statistics? As you can see, TNS have worked hard, and earned their recognition the old fashioned way by creating original, inspirational and thought provoking music. In my honest opinion, I believe the secret of their success comes from: the depth of their lyrics, fresh new sound, varied instruments, tight harmonies and the emotional heart-warming passion they produce every time they appear on stage. On top of that, the determination of the band members to 'Keep It Real' (which on that note they deserve huge credit), as they have managed to keep their feet on the ground, even with all the recent media attention.
Happily my partner, also a huge fan, indulges my somewhat groupie obsession with this band, and we had the pleasure to see TNS-live during their 3FM Serious Talent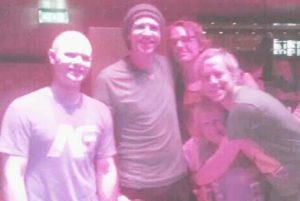 concert tour, where they performed hits from double album, Stripped/ Full Circle (2012), including Breaking The Spell , Everything Changes and their radio hit, Can't Make Up My Mind. Meeting the band after the show was quite a memorable moment, and it was a treat to find that they were so kind and humble, no ego-trippers in the mix, just real, spontaneous guys that you felt comfortable hanging around with, and receiving an appreciative hug from front-man Nax Stok definitely added an unexpected bonus.
When the band appeared on the line-up for summer festival Waterpop, we made sure to arrive early, as any proper groupies would do, and secure our place center stage, front row. The emotion, energy and atmosphere, was nothing short of a slice of heaven. There is something spiritual about The New Shining that radiates from each of the band members. They played tracks from the soon to be released cd, Wake Up Your Dreams, including Run Baby Run, which has since become a huge YouTube hit.
Wake Up Your Dreams is an album about creating your own path, making the most out of life, and following your passions and dreams. It is obvious to see The New Shining is doing exactly that! Don't miss the release party for Wake Up Your Dreams on October 17, 2013 at ROTOWN!
Eurovisie Song Festival did not do the trick; will the Netherlands find a place on the international music map, thanks to TNS? Is it possible that The New Shining is this generation's Golden Earring? (In relation to marketability, not music style) Would love to hear some feedback from the Dutch Review followers: What do you think?   _______________________________________________________________________