After several lesser-known cities in the Netherlands (basically anything besides Amsterdam) have been reviewed on DR, it is about time that the general public gets to know the quaint city of Alkmaar. Also called Raamkla City or just 072, Alkmaar is located just north of Amsterdam, which, for the record, does not make it a suburb of the capital city. With its almost 100.000 inhabitants it is the largest city north of the North Sea Canal and a major hub in North Holland. Tourists and expats looking for an authentic and Dutch experience should strongly consider visiting the town. We already picked four places that are (not) worth visiting: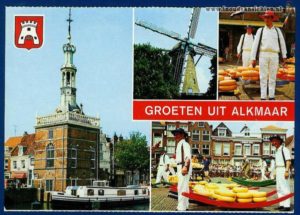 You could also print out this post card and just tell people you actually visited Alkmaar
1. Cheese market
Any tourist looking up Alkmaar in their Lonely Planet travel guide will be told to visit the famous cheese market. Every Friday morning the Waagplein will be packed with tourists to watch a dozen men running around in funny uniforms carrying around wheels of cheese. What your travel guide will not tell you, is that the cheese market is as authentic as Delft's Blauw made in China. The cheese that is being carried around for no other purpose than just being weighted will be loaded back into the truck that is waiting around the corner of the Waagplein and be transported back to the warehouse they came from. Furthermore, if you do decide to come to Alkmaar never mention the cheese market to local people, because chances are that they have never been to it and will complain to you about all the tourists they almost hit with their bicycle, since the universal Dutch signal of "Get out of the way" (tring, tring) is not known by tourists. Pro tip: go to the cheese market, have a five-minute peek to know what it is all about, then enjoy all the free samples like a real Dutch person would do, wait for the whole ordeal to be finished and sit yourself down at one of the many grand café at the Waagplein and have some coffee with apple pie.
Yup, that's basically all they do
2. AZ
Although the last season for Alkmaar's own football club was rather disappointing, many locals still take pride in AZ. Being only one of the five teams that have ever won the Eredivisie (the others being Ajax, Feyenoord, PSV, and FC Twente) the club takes a prominent spot in Alkmaar's culture. The last years have been very turbulent for the club, because of the bankruptcy of sugar daddy Dirk Scheringa, but with the newly appointed coach Marco van Basten at the helm of the club next season AZ might be a contender for the title once again. For those with a passion for sports or football in particular, tickets to games are relatively cheap (€20). The atmosphere in the AFAS stadium is generally more family oriented and less aggressive compared to games in bigger name stadiums such as the Amsterdam ArenA or the Kuip.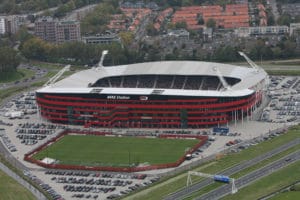 That's what we call beauty
3. Overdie
Like any respectable sized city, Alkmaar too has its own 'prachtwijk'. The neighborhood of Overdie is known to most Alkmaarders as one to avoid. However, the bleak and gray high-rise buildings and diverse, multicultural population might have its charm to some people. For those who want to experience a different side of the Netherlands, Overdie might just be the place to be. When visiting make sure to leave Overdie before it gets dark and bring a chain lock for your bike to ensure you have at least a ride back home.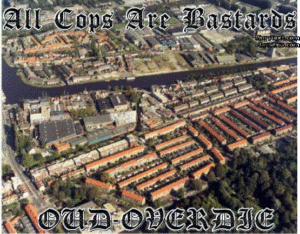 Don't come to Overdie when you're a cop apperently.
4. Windmills
The Netherlands is synonymous with windmills. Too bad most touristy places in the country do not have any real windmills that can be visited (with the exception of Kinderdijk of course). By visiting Alkmaar there is no fretting anymore, because the city has plenty of windmills. Being surrounded by polders, the windmills used to be of huge importance for keeping the Alkmaarder's feet dry. In and around Alkmaar numerous windmills can be found and even visited. Note that not all windmills are a like. Within Alkmaar itself most windmills were originally built as grain mills, while those built on the (old) outskirts of town were used for creating dry land. Although most windmills have lost their original purpose, except for one, you can still visit them and they often have tours.
Bonus: one of Alkmaar's many great artists besides Gerard Joling and Marco Borsato
Alkmaar can be reached by train, car, bicycle, and on foot. Trains go every 15 minutes from Amsterdam on week days. Use the A9 highway from Amsterdam to get stuck in traffic for a solid two hours before reaching Alkmaar by car.