The city of Utrecht is the fourth largest in the Netherlands but very few people fully appreciate the full range of night time activities and attractions that can be found there. Let us help you get a better understanding of just what this beautiful city can offer when the sun goes down.
Holland Casino Utrecht
What better way to get a feel of a casino's spirit than visiting its local casino? Holland Casino Utrecht is ideally located and will give you an insight into how the locals act in an environment when the emotions can reach such extreme highs and lows. It is also a superb venue for an entertaining night out with the opportunity to hit some jackpots and take down the house.
To add some spice to proceedings, the Netherlands recently legalized online gambling so it is possible to access an online casino before heading out to get some practice in before hitting the casino floor. A range of classic casino table games and online slots are readily available so you can be truly prepared when hitting Holland Casino for an unforgettable night out.
Walk Along Oudegracht Canal
It has often been said that Utrecht is the "Venice of the Netherlands". The stunningly beautiful canal system allows for romantic walks in the day time and at night. When the stars are out the serenity offered by the waterways are unmatched by any other city in the low lands.
The Oudegracht is the main canal that curves along the main flow of the Rhine. Two-level streets along some of the canals give a unique architecture and layout that will take your breath away. Whether you want to start your evening with a quick walk along these canals or finish it with a quiet stroll to wind down, the mood is what you make it. Peace and calm are a guarantee. You do not even need to be with a partner to appreciate the tranquillity on offer.
Trajectum Lumen
Some things you can see better in the light but others you see more clearly in the dark. Trajectum Lumen is a route of light displays in Utrecht that are quite simply mesmerizing. The light display is described as a tribute to Utrecht's rich history. A past that stretches back to 50 AD when the Romans built a settlement camp at Domplein.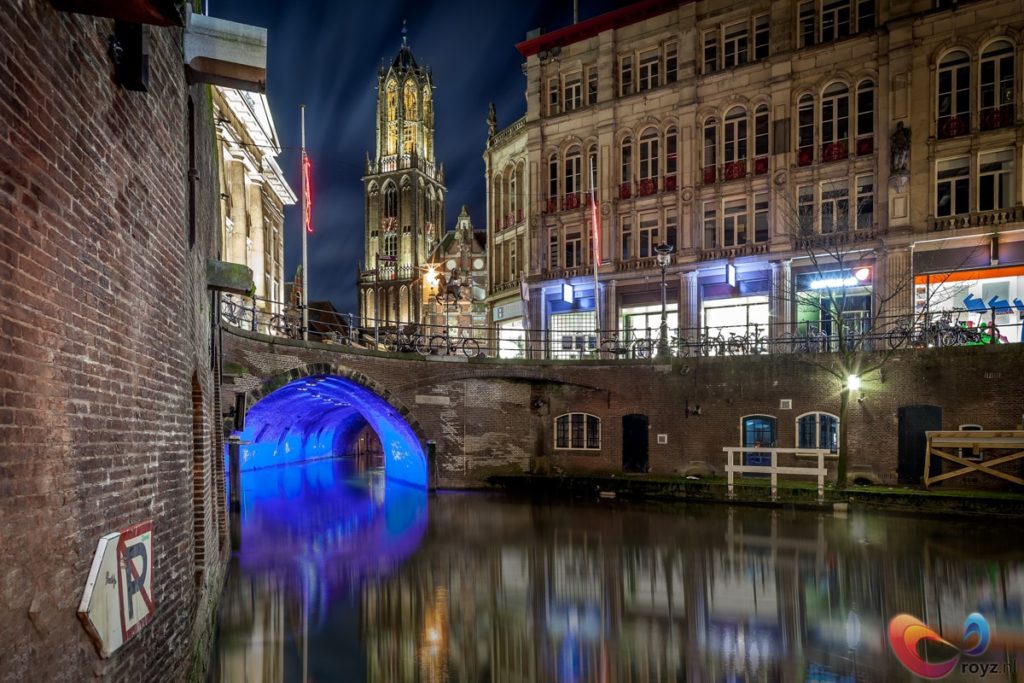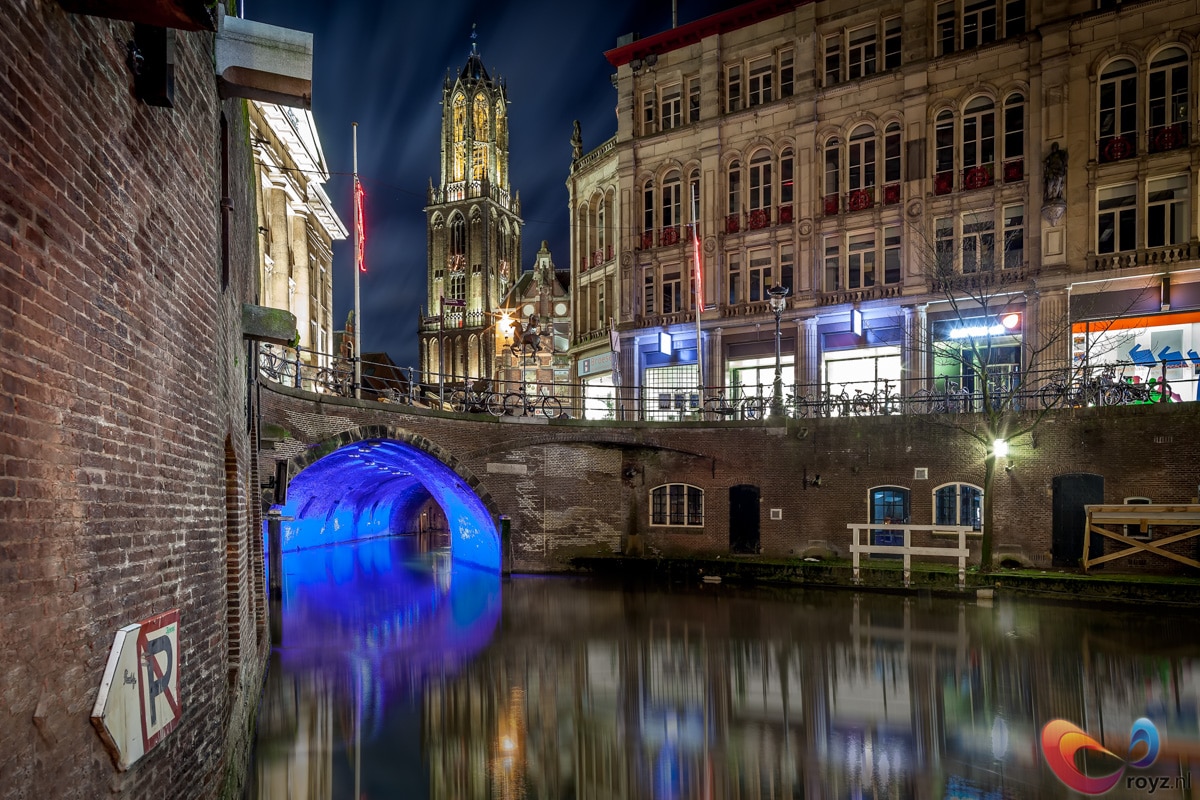 Trajectum Lumen is visible 365 days a year and can be seen from sunset until midnight every night. The route passes through the city's historical centre with visual artwork at its heart. The displays run from the Vredenburg district around the city and displays some light works by a number of nationally and internationally recognized light artists. Ever since the Trajectum Lumen was installed back in 2010 it has given Utrecht a unique appeal and is a must-visit for any tourist stopping by the city.
't Oude Pothuys
One of the shining lights of Utrecht's culture is its night life. The interestingly named 't Oude Pothuys is a fine example of how exquisite the night time venues around the city can be. The venue's origins can be traced back to 1981 when brothers Peter and Ruud van der Zuidwind came up with the concept of the now highly-reputed live music joint.
If you are searching online for reviews of this place then a certain number of words will repeat themselves in the search engine. "Cosy", "cool", and "friendly" as well as a range of superlatives that praise the atmosphere and quality of the food, drink, and musical performances. This venue stops short of being quirky but maintains a sense of individuality in a market that is becoming increasingly sanitized by chains and gimmicks. Locals tout this as a venue they are proud to call their own. However, it welcomes in tourists as if they belong to the community. Rarely do you find such a blend of music, food, drink, and culture that works so effectively. If you miss visiting here then you really have missed out.
FC Utrecht @ Stadion Galgenwaard
Professional football club FC Utrecht currently play their football in the Dutch Eredivisie, the top flight of Dutch football, and the club is enjoying a positive period in its history. The club has been established since 1970 and plays its home matches at the 24,426 capacity Stadion Galgenwaard which boasts one of the best atmospheres in Dutch club football. Despite the club not being involved in European football competition there is still plenty of opportunity to sample the electric atmosphere of the Utrecht fans when they are playing in a domestic competition.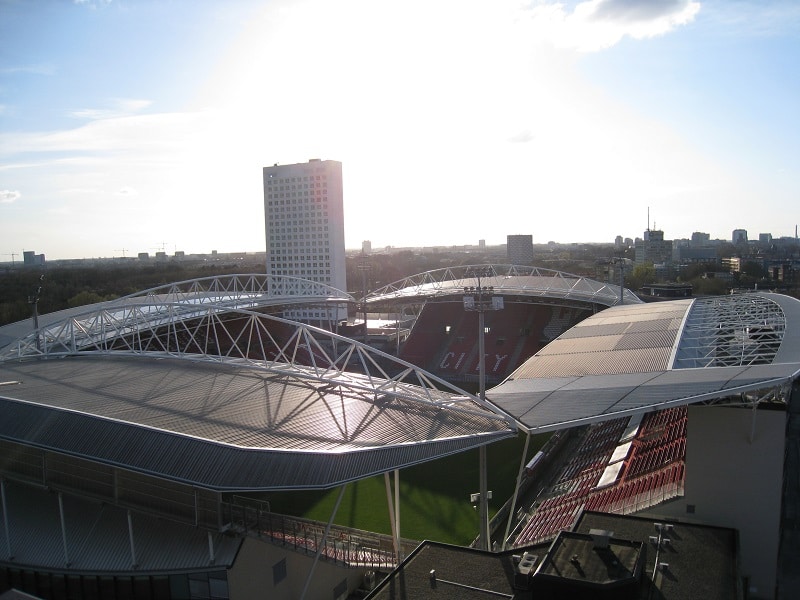 Throughout the season, FC Utrecht have a number of home matches scheduled at night. It is possible that they could play one of the great Dutch club sides such as Ajax, PSV, or Feyenoord. If you get the chance to experience one of these matches under the floodlights then it will be something you cannot afford to miss. The club has a number of talented prospects on its books this season such as Richairo Zivkovic, Nacer Barazite and Sebastien Haller. Even for tourists that are not fans of football, this is a unique experience to savour.