We often get asked 'hey DutchReview, where should I stay if I visit that little country of yours' or 'my parents are visiting and my mom doesn't want to bunk on my couch' so for all of these people we'll go on the tough job of checking out the best and most creative stays of Holland. First up: we're staying right at the North Sea at the Pier in Scheveningen aka the Pier suites.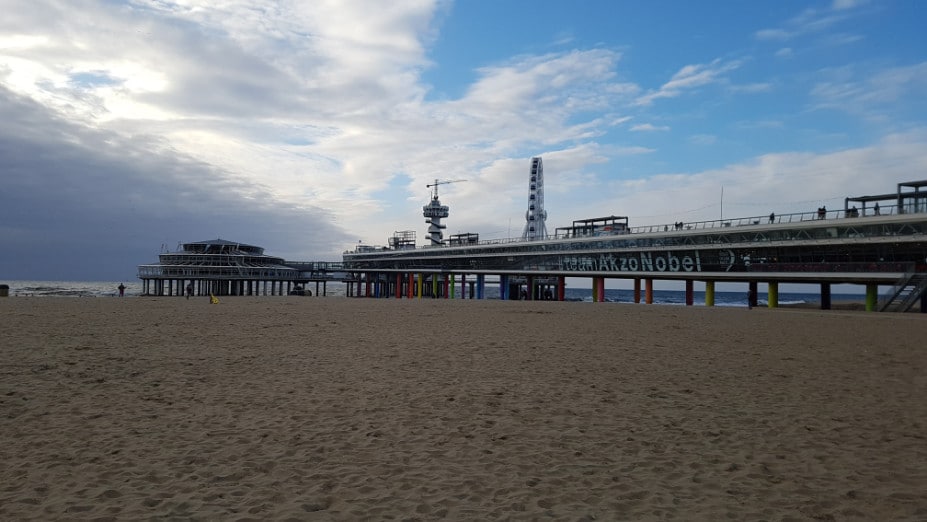 If you ever want to enjoy an unlimited sea view then this is the spot. Right at the very end of this landmark of Scheveningen the Pier Suites have set up shop not so long ago. And not just some random rooms as well, it's a luxurious stay (hence the term suite) in all kind of aspects and since it has just opened up it's also brand new!
The Room
So there's a bed (kingsize), shower (rainlike) and a TV – you kind of expect those things of course. But there are a couple of genuine highlights.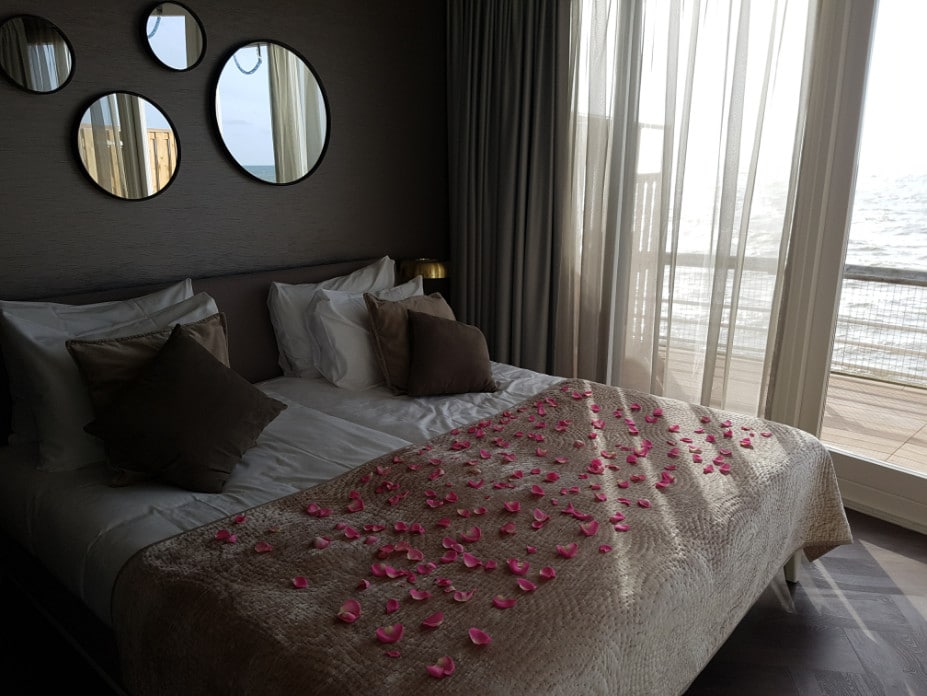 Like the bath, or better said jacuzzi, right in the middle of the room so it's the perfect spot for bubbling for hours and watching the sea (or quickly watching something on the telly). It can easily fit two and this is always a major plus for me when looking for a room: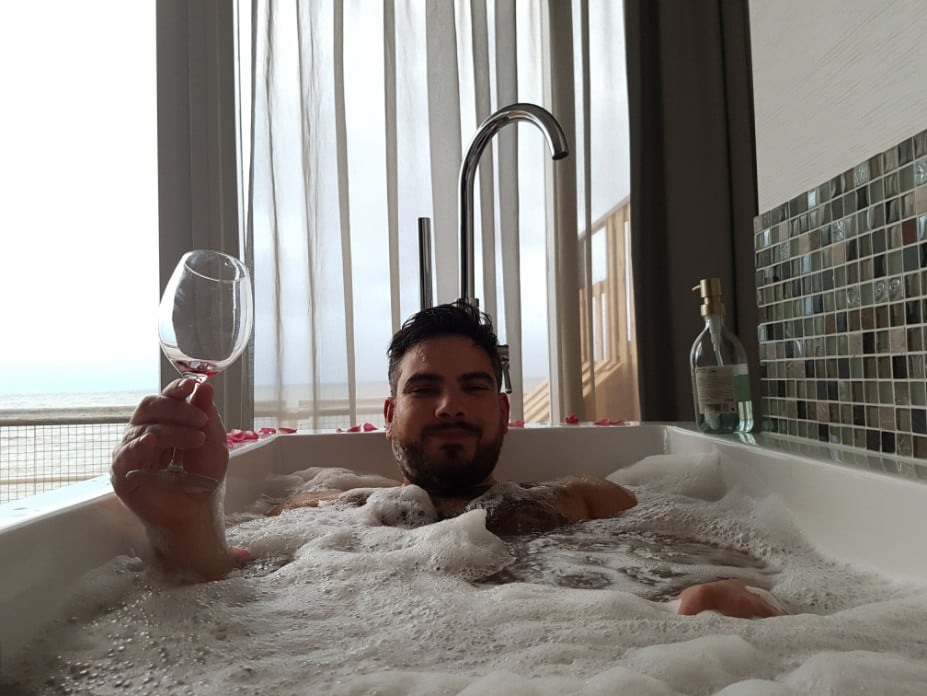 Next up is the mini-bar ('big deal' I hear you thinking), it's an absolute score for the Piere Suites since the mini-bar is free (YES! GRATIS) and really nicely stocked – there are for example 2 bottles of wine to drink from. The minibar feature here is thus a nice change from the normal 'peanuts and water for 19 euro'-regime.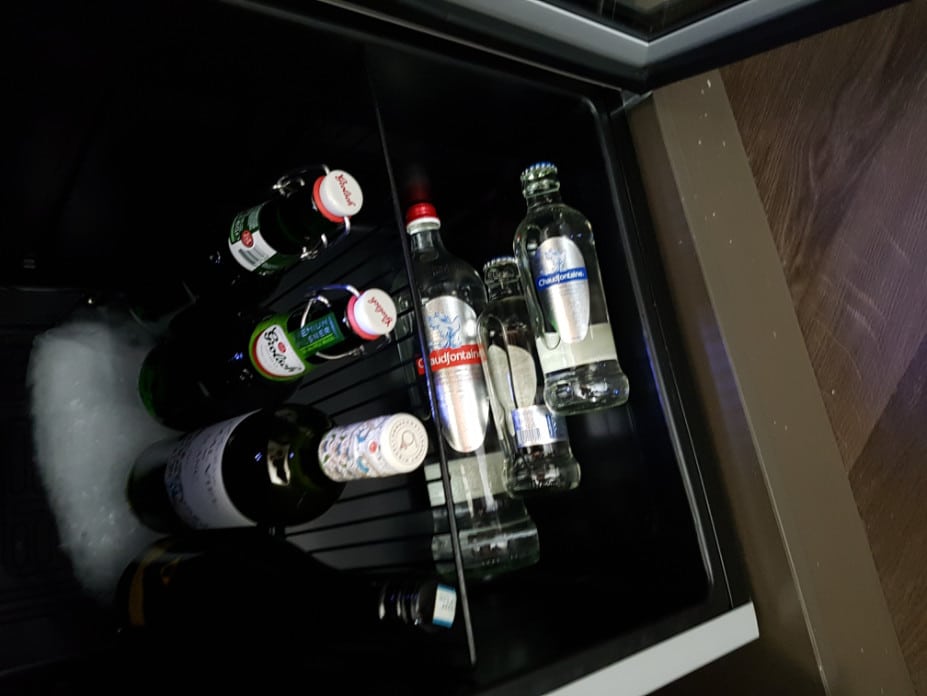 And obviously if you're staying above and at sea you'll want to take in the surroundings as much as possible, luckily every suite has a royal terrace with 2 deck chairs giving you an unrivaled view of the North Sea. It's a no-brainer that this is a winner when the sun is shining, but it's also kind of magical to look at the sea during the night with all the flickering lights of anchored ships.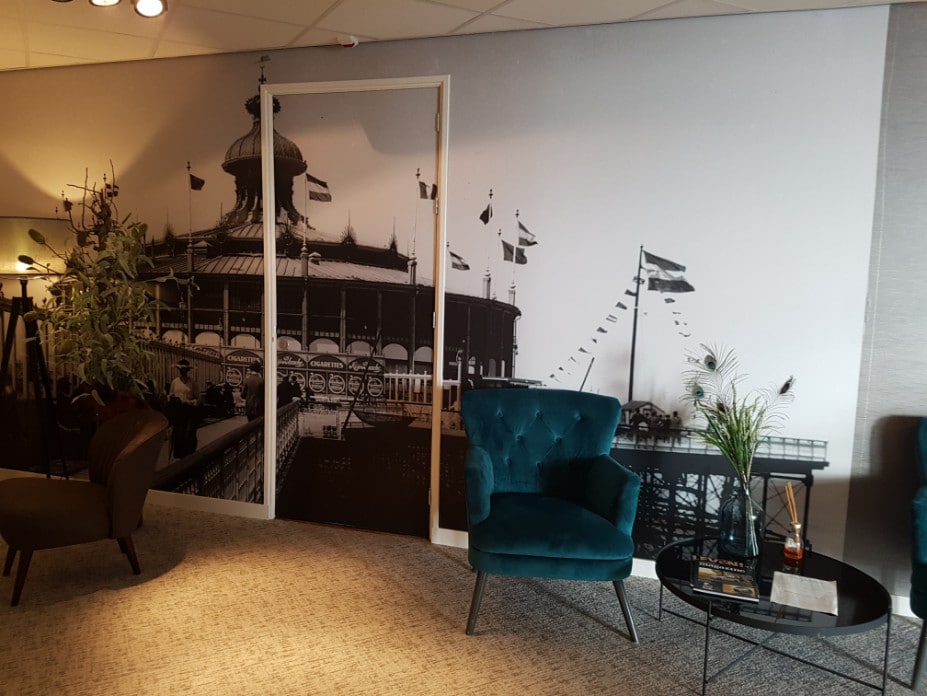 oh and the starry night ceiling effect is something I'll now want at home as well!
The Pier in Scheveningen: what's there to do?
You should know Scheveningen by now a bit, and if you don't then check out this article on the town in the early Spring or this one on having a romantic time in Scheveningen. But there are two items that jump out (you know, besides drinking wine in the jacuzzi). First of all, ever been inside the Pier? They have revamped the whole thing a while back and now it's full of nice stuff to see and delicious stuff to eat. When we visited there was a cute beer-festival and a DJ playing tunes, plenty of trendy burger- and seafood spots to visit.
Second, and technically still on the pier, there's the Ferris wheel of course! Which is a great way to see all of Scheveningen and see the beach stretch miles in the distance. Best thing is that when you book a suite you'll get a complementary ticket for 2 for the ferris wheel ride, also meaning that you can skip any lines for the ticketbooth that might be there.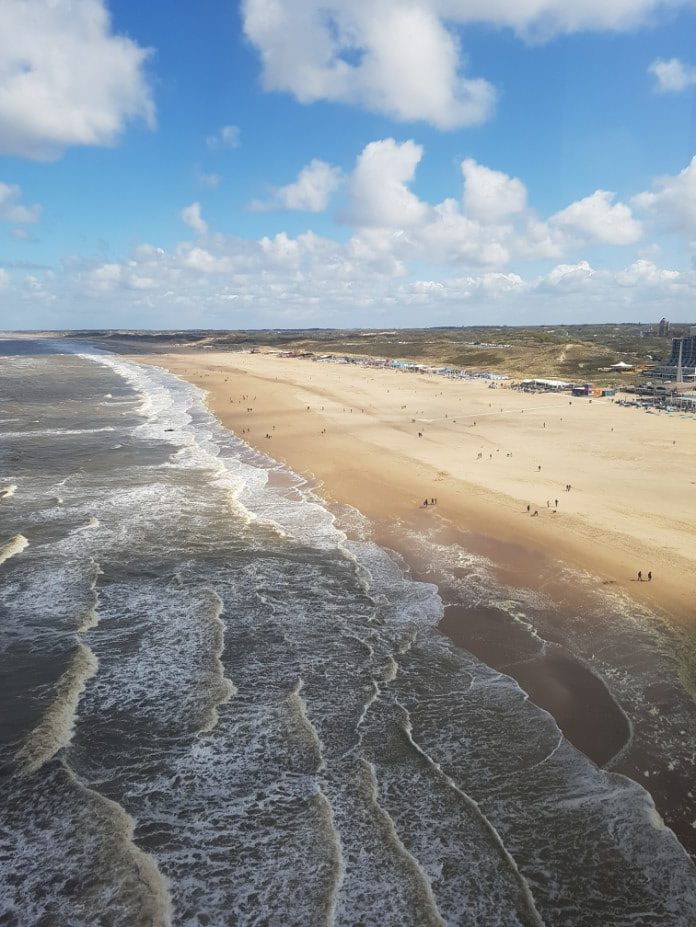 Here's a little video of our stay at the Pier in Scheveningen:
Interested in staying at the Pier Suites?
So want to sleep above the sea? The Pier Suites has an English language website which allows you to book a suite pronto. Suites start at 199 euro, and sometimes they even have offerings that are better than that! They're also opening up some cabins real soon, for that extra cozy feeling. Checking in somewhat different, you'll get some personal attention and meet them at the Pier entrance, nice touch 🙂 
*Pro-tip: if you're thinking 'romantic getaway time', then you're right! To get you and your loved one in the mood book the extra romance-package which comes with a bottle of premium champagne, chocolates and rose leaves all over the place.