Gone are the days that an only option for a burger was FEBO-from-the-wall and the Lord of Evil restaurant a.k.a. McDonalds. With Rotterdam's rise in the charts of hip and happening cities, so too is the increase in quality burger joints. Sadly, society has dictated that it isn't okay to visit all burger restaurants and stuff yourself with these quality hamburgers. Luckily, DutchReview doesn't care much for society and set out to review the best burgers in Rotterdam (and in between sad and lucky was my stomach, which at first rejoiced but was then in minor – like it should with a good binge). First up is:
Firma Pickles
Located in Rotterdam's now famous icon the "Markthal" is Firma Pickles. Just like the Markthal, Firma Pickles can also boast great looks and views. The joint opened up in 2014 and sports a nice vintage slash retro-butcher look, it also has a great terrace outside with a wide view. Perfect for the summer days.
Yes, enough about the view! What about the burgers? Luckily Firma Pickles has an extensive menu with loads to choose from:

I went for the Smoked BBQ burger (of buikspek = pork belly), which as you can see was big enough for a grown man (shame on burgerplaces that leave a man hungry for more after a +10 euro burger) and certainly tasty: also enough lettuce on it and the bun was large enough in order to not make a mess of yourself when devouring it.
The other one that was tasted was the Hot jalapeno burger – which can be ordered extra spicy. The staff was so friendly to warn us that the spicyness is at your own risk, we were so stupid not to listen and proceeded to burn our mouths thoroughly. Well… We wanted it spicy and we got it!
Big plus for the Firma Pickles was the fact that they serve their burgers with some delicious fries. Not only do they come with the burger, they were also some of the best which we enjoyed in this pseudo-scientific test. And extra bonus points for them serving up the coffee with a koetjesreep. That's the kind of Dutchness nostalgia we appreciate here at DutchReview.
Adress: Grotemarkt 186, Rotterdam
Website: Firma Pickles
Up next is one of the two contenders located in the Witte de Withstraat:
Ter Marsch & Co
What used to be the location of the legendary snackbar Spooky's (you hadn't lived in Rotterdam if you didn't stuff yourself there at least once in the middle of the night) is now one of the busiest spots in Rotterdam's most trendy and attractive street; the Witte de Withstraat. Since its opening Ter Marsch & Co is both buzzing with people and rumor has it, it packed one of the best (if not The best) burgers in the fricking Netherlands.
You know you're in for a treat when they hand you a personal bib: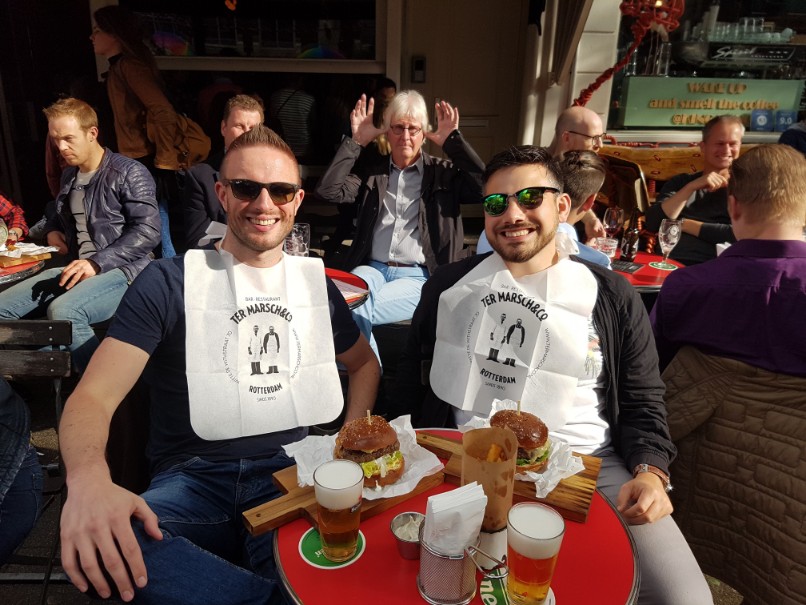 So it's gezellig there, the burgers are good and it's also a good place to spend the night with friends downing beers or the now omni-present gin-tonic's. Anything to whine about? Well, call me cheap, but I always like it when there's just a little side-salad or fries alongside a plus 10 euro burger. The crowds didn't seem to mind and we also had a fine night on the lovely terrace at Ter Marsch & Co.
Address: Witte de Withstraat 70, Rotterdam
Website: termarschco.nl
Might as well check out that other renown burger place in de Witte de With, it's got the name right at least:
Hamburg
Some guy with tattoos all over the place told me to chill on their terrace and he said that drinks were available at the place right next to the joint. The burgers are a bit pricey and come without a side. It looked like this:
Well, all of that kind of doesn't matter, because Ladies and Gentlemen: WE HAVE A WINNER!!
The cheese, meat, and juiciness was just a bit better than all the other burgers I tasted. This one was 'The Hamburg' with the special hamburg-sauce and Gruyere as an excellent cheese choice. Win!
The inside is all hip and trendy (no surprises there anymore) and I can always recommend any joint that serves my favorite Brooklyn Lager. So props for Hamburg, if you're a burger purist your gonna like this one.
Address: Witte de Withstraat 94B, Rotterdam
Website: http://www.restauranthamburg.nl/
The Witte de With street too far away from the Central Station? Perhaps the next one will be more fitting:
Ellis Gourmet Burger
Right next to Rotterdams' (by now) iconic Central Station in the equally reknowned 'Groothandelsgebouw' we can find Ellis Gourmet Burger. Ellis has a couple of other franchises, the concept originally coming from our Southern neighbors: the Belgians. Since they know a couple of good – beer & meat – things I was looking forward to checking this one out:
Their burgers were good, but not incredible – by now also the question was coming up if we could actually compare the 'classic' burgers (cheddar, beef, ketchup, bbq-sauce) with the more innovative burgers with all their blue cheese, wagyu and truffle fanciness. Food for thought 😉
Ellis probably had the best setting if you want a decent night of eating out; good fancy and clean decor and very friendly staff. Also, their onion rings were incredible! Best I ever had. In true Belgian fashion you can also get a very nice drink for a decent price.
All in all it was a nice experience and certainly a good option if you're going to catch a train.
Address: Stationsplein 49
Website: http://ellisgourmetburger.nl/nl
Stroom
Stroom is located somewhat outside the city center in the up-and-coming Lloydkwartier. It's a hotel, restaurant, bar, espresso-factory, club and bakery all rolled into one. It is certainly looking the part and I was looking forward to visiting this one because of two things: its alleged price-winning burger and the great rooftop terrace.
Sadly, the STROOM- burger lacked some good seasoning, but I did like the egg on it and their home made ketchup was a hit with us, nice fries on the side as well:
What is impressive though is the rooftop terrace, one of the best views I've ever encountered in Rotterdam!
This is also a good pick if you're in the company of non-burger loving people since they have plenty of other stuff on the menu.
Address: Lloydstraat 1
Website: http://www.stroomrotterdam.nl/nl/
Final Verdict – burgers in Rotterdam:
There's something there for everybody in these places: location, experience, nice views, great sides or original and creative burgers. But if you got to twist my arm, I would say, go to Hamburg for the best burger! With Firma Pickles for the best overall experience.
Want to share where you had your best burger ever in the Netherlands?