Centuries ago, in a country all well known to us, cities were only cities when they provided weighing facilities for merchants. Those now nice old buildings were called (de) 'Waag' and lots of cultured Dutch cities like Nijmegen, Amsterdam and Haarlem have one in their city center. It often serves as an museum or restaurant nowadays, and the Waag in Leiden has recently been turned into something special.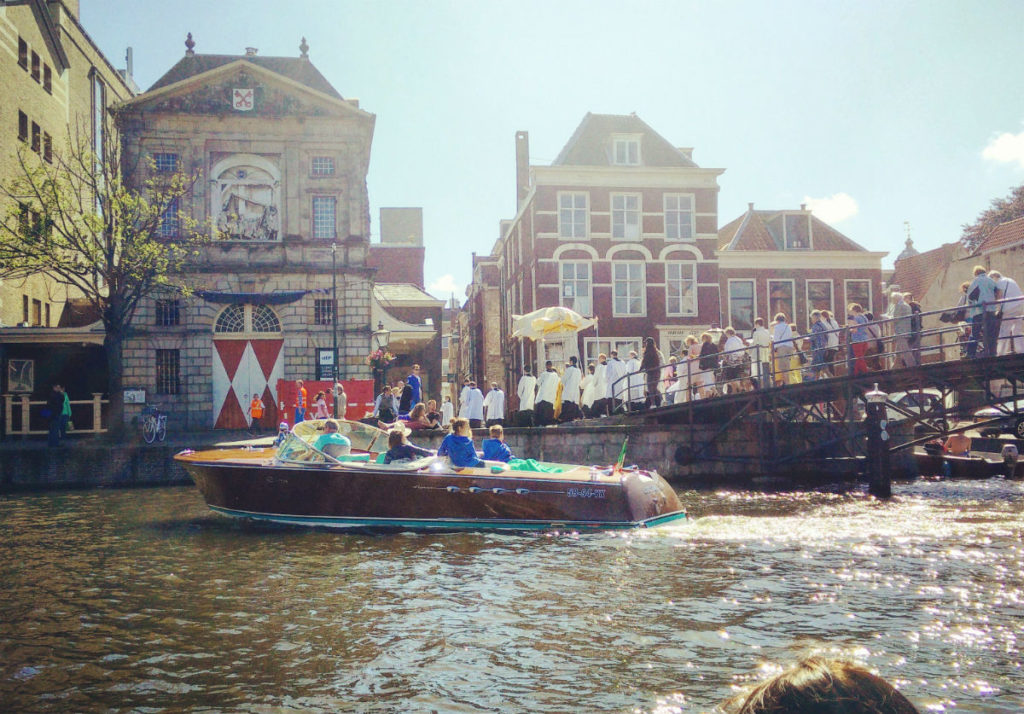 As you can see in the pictures, Waag in Leiden has been around for centuries and is in the cultural epicenter of Leiden. For the last years the building kind of had an unclear function, but since last year it houses a restaurant and with that it has also transformed into a popular culinary spot of the picturesque student town. No wonder I really wanted to check the place out.
Waag: The Food
A bit tipsy, half an hour a late with 4 more persons than reserved for originally we were quite the hungry bunch – a useful state of being when you want to get a good and diverse impression of the menu. There's something to be had for everybody and for all you international folk reading this many dishes from many cuisines were present on the map. Special attention goes out to the Waag for trying out some Dutch dishes. Let's be honest, together with Scandinavian and English kitchen, the Dutch 'culinary' tradition is normally not considered as one of the best so it would be interesting to see how certain dishes pan out when given special attention. So without further ado:
The entree

We had several different dishes and one of us ordered the Herring with white bread. A quintessential 3 October dish in Leiden. It delivered as well, the Herring was nice and greasy but we did miss out on the traditional regular herring with onions. Still, compliments for the Waag for putting it up on the menu and serving it in a more original way.
Main meal aka 'Hoofdgerecht'
I went for the Mexican Burger but another brave soul tried out the 'Leids Ontzet' aka hutspot, of course for 'reviewing' purposes I haggled him out of some bites. Personally I stand by my opinion that this dish usually tastes just as good as it looks (look at the picture, yikes). But I gotta admit that this time it was pretty good! Best ever hutspot for me actually! Adding the truffle flavour was a good thing to do.
The Dessert
Star of the last course was the dessert called: 'Oud Hollands dessert' featuring all of your favorite desserts from past times in the Netherlands (namely: crème patissier, advocaat, boerenjongens, karnemelkroomijs, koetjesreep, slagroom). Credits to the Waag for making it actually work!
Star of the Night
The food in the Waag is good, nothing wrong about that. But absolutely brilliant is the scenery of the Restaurant, they have several rooms and all of them have an awesome decor. So you're looking for a special place to enjoy a night out, the Waag is certainly worth a visit. And as we say in Dutch: 'gelukkig hebben we de foto's nog'