What's the deal with smoking in bars and clubs? And check out our top seven smoker friendly bars in Amsterdam in 2019!
The Dutch can be a pretty laid-back bunch when it comes to things like drinking alcohol, smoking cigarettes, or enjoying a joint. But doing them all together? No way, josé! Well, at least for the most part. Nowadays, you need a smokers bar. And yes, this also applies to you people out there who want to smoke it up in a bar in Amsterdam.
But alas, it wasn't always this way in our fairy tale. Once upon a time, Amsterdam coffee-shops prided themselves on providing their customers with both smoke and spirits. However, in 2008 the villain enters the story, when the Netherlands forced all 750 coffee shops to choose between selling cannabis or alcohol.
But, if you are the kind of person who would love to down some liquid courage at the same time as enjoying some of the finest green the Netherlands has to offer (you know, for science) we have a happy ending for you. We've scoured the ends of the Earth (okay, the ends of Amsterdam) to find you a banging list of the top seven smoker friendly bars in Amsterdam where you can enjoy the best of ALL worlds.
Newbie to the Amsterdam weed scene? Never fear, check out our article The Ultimate Guide to Smoking Weed in Amsterdam for all you need to know. 
A few things to remember when it comes to smoking in bars in the Netherlands:
Smoking tobacco in bars is fully banned – that means if you want to hit it, it's gotta be green, or a herbal mix.
The exception, there are smoker areas in some bars and clubs
Buy here, smoke there – no stores are licensed for both alcohol and weed – so buy it from a coffee shop, then head to one of these smokers bars to enjoy.
Smoking is bad for your health, you know it and we know it, and if you smoke and even though it's allowed – it's always nice to ask if people aren't bothered by it.
We're not the most consequential bunch of people, and that means you might encounter bars or coffeeshops where you can enjoy alchohol/or are allowed to smoke. Sometimes these places have special permits, sometimes they're being rebels – ask them and tell us all about in the comments is what we say!
Why can't I have tobacco in my joint in a Dutch bar?
Amsterdam (and the Netherlands) is like diving into an alternate universe, where 'bad' things are good and everything is topsy-turvy. It's one of the only places where smoking weed in a bar won't get you kicked out or arrested – but smoking tobacco with that weed will.
While in most countries it is the opposite, in the Netherlands strict rules that came into effect in 2008 banned tobacco from being smoked in restaurants and cafes to comply with the World Health Organisations efforts to combat tobacco use. For a time, specially designated smoking areas were allowed and many coffee shops built these into their walls – but since 2018 these were also outlawed.
That means that to legally smoke weed in one these smokers bars it has to be 100% pure – no tobacco.
Where can I find a smoking bar for weed while enjoying a drink in 2019?
So where can you enjoy your green while downing a beer? Buckle your seatbelts boys and girls, it's going to be a wild night. Remember to smoke it green, and only in bars that allow it.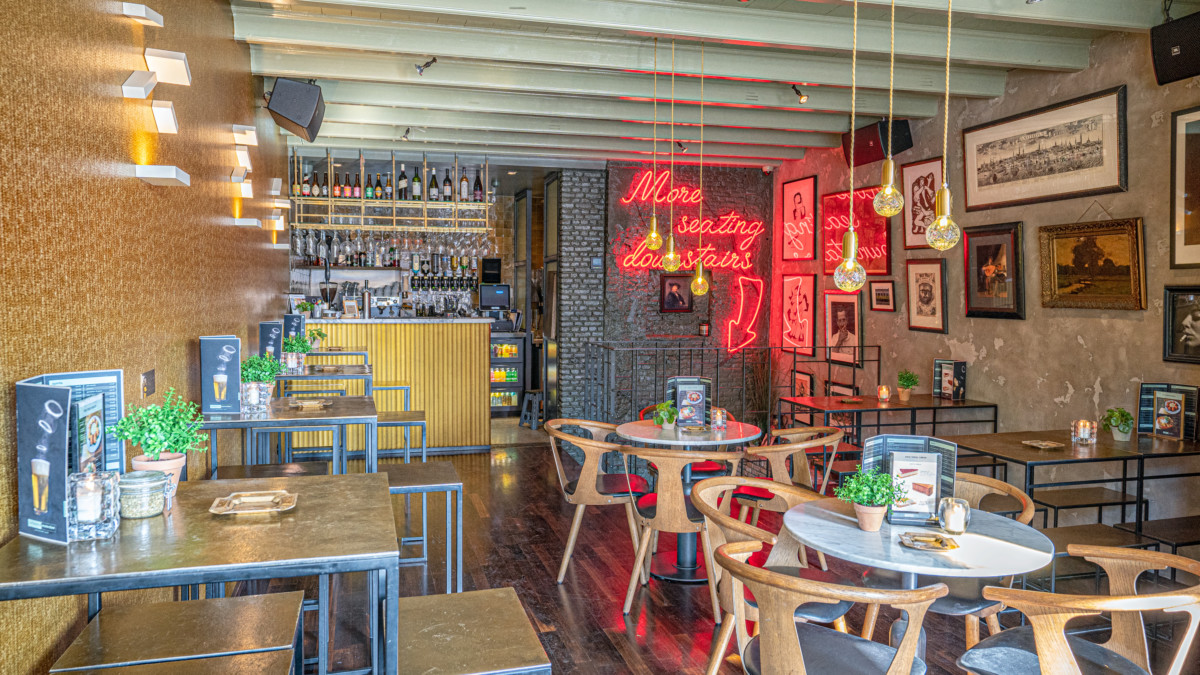 Here's our top seven smoker friendly bars in Amsterdam:
#1 CoffeeShop Amsterdam Cafe
Coffeeshopamsterdam Café – Singel 8
This one has it all: near the station, cozy and gezellige vibe, a good selection of stuff to smoke and great choices when it comes to their shakes and smoothies. Now, their coffeeshop slash cafe in Amsterdam's centre is becoming a hotspot (literally). What's great about this boutique-style cafe/smokers bar is that it isn't dark and hidden away from the public – instead it's bright, open and accessible.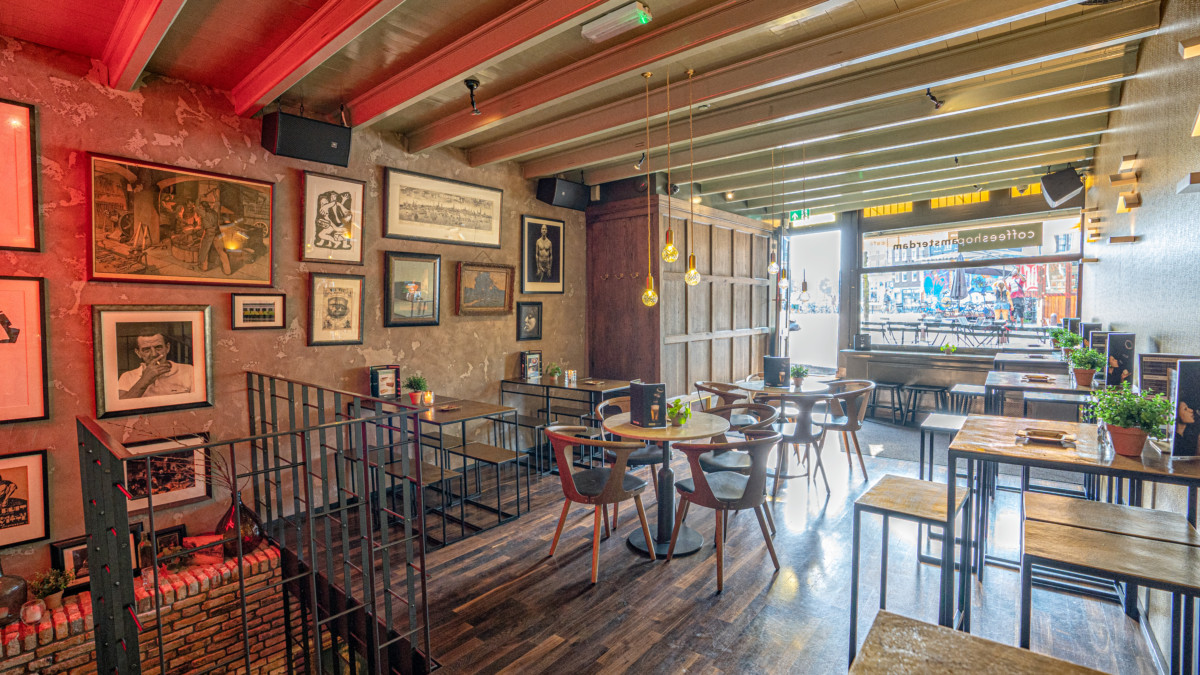 It also opens early at 10:00, and hangs out all day until 01:00, so you can head over whenever you have free time.
Coffeeshop Amsterdam has an extremely diverse smoker's menu available, with great strains to suit any taste. Prices are fair, especially in terms of the high-quality products served, and the CoffeeshopAmsterdam special cakes are regarded by some as the best in town. With loads of experience and a fine reputation, CoffeeshopAmsterdam has become a true authority in the Amsterdam coffeeshop scene.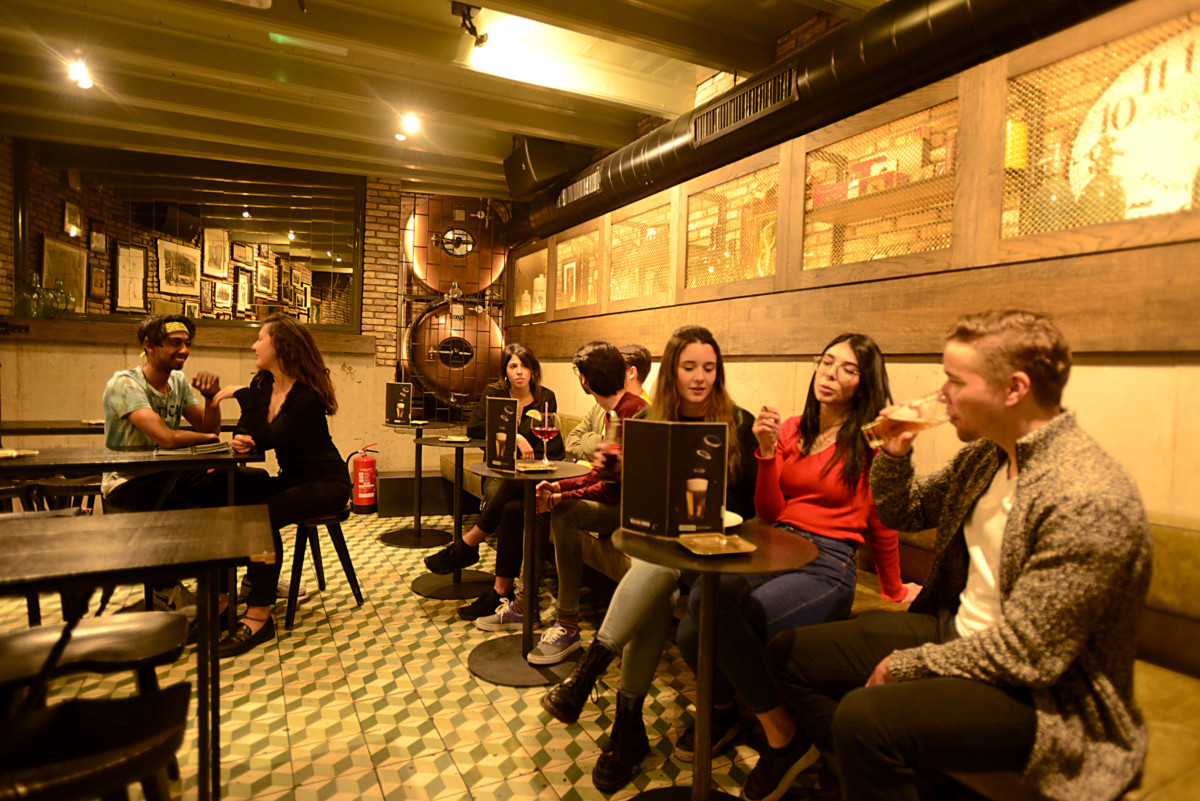 We light up here because: it's open, clean and classy with an eclectic atmosphere to enjoy your latest purchase. It's also home to a tempting range of alcoholic beverages, and even a range of toasties (for when the munchies really hit.)
#2 Hunter's The Bar
If you're short on time and want to hit a coffeeshop and a bar in close proximity, head over to Hunters. Located just across the street from Boerejongens Coffeeshop, Hunters is a die-hard smokers bar.
We light up here because: its location in super central, in the shopping hub of the busy Rembrantplein and right at the beginnning of beautiful Utrechtsestraat. Done smoking? Go fancy clothes shopping!
#3 Cafe Hill Street Blues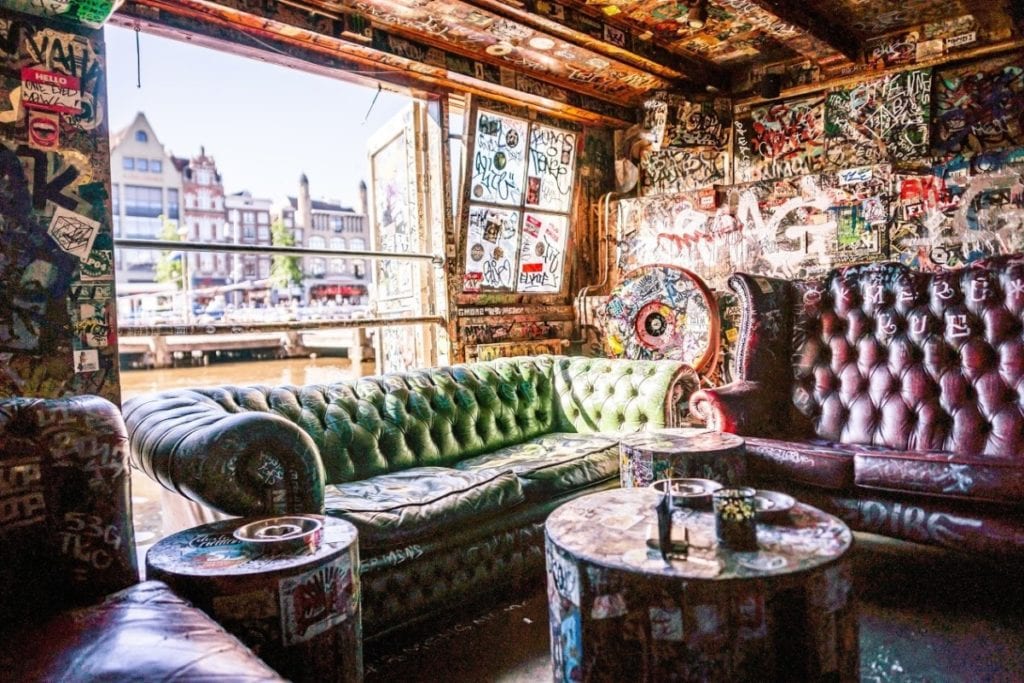 Feeling them funky vibes while you hit your funk? Down a drink at Hill Street Blues, where you may just be lucky enough to catch one of their music evenings. Plus, it's located in the Red Light Area, so if you're here as a tourist you can check a few things off your list.
We light up here because: it's underground, arty, and the walls are covered in graffiti. You're welcome to add to it too (if you can find a blank patch!) If you're in a grunge kind of mood and want to catch some tunes, this smokers bar is the perfect trifecta for all.
#4 Lost in Amsterdam
A neighbour of CoffeeshopAmsterdam Cafe, Lost in Amsterdam is 110% cosy. Pure cannabis smoking is permitted, and you can combine it with a huge menu of drinks, and waterpipes. This is a hotspot for a young crowd – plus it's close by the well-recommended Coffeeshop Information Centre (more on that spot later)
We light up here because: it's brimming with Moroccan style couches for maximum comfort, sit back, light up, and relax – this smokers bar is here for all.
#5 Barney's Uptown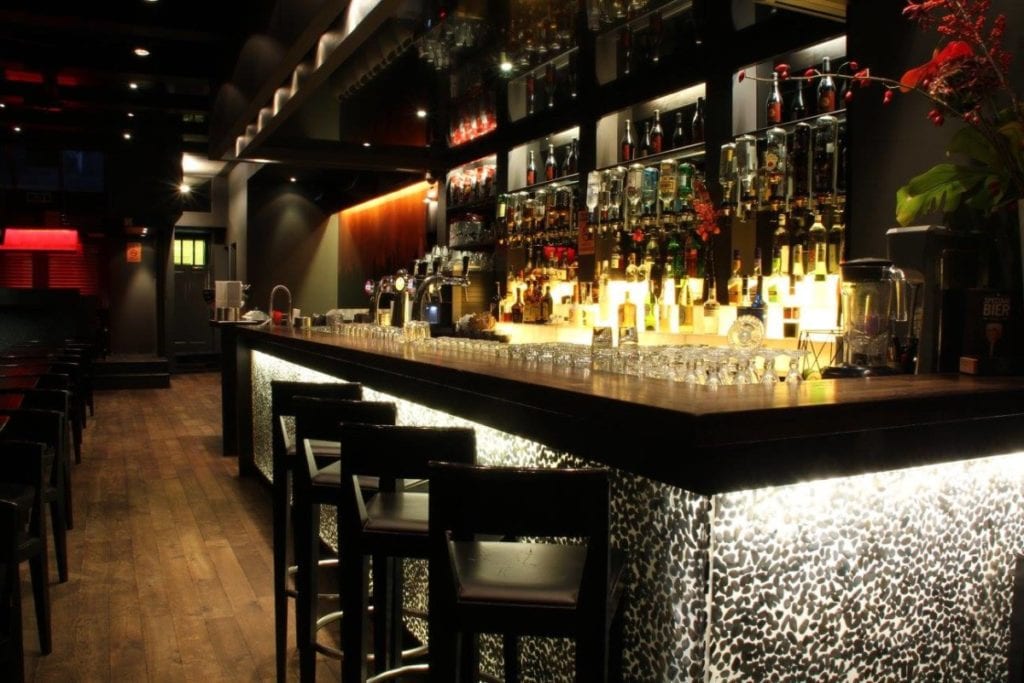 Fresh off the train from Schiphol? Five-minutes walk and you'll be hanging at Barney's Uptown, a smokers bar with a rock-n-roll bar, DJ's, and live music. These guys do full meals, and for the ultimate convenience right across the road is another Amsterdam coffee shop so you can stock up then light up.
We light up here because: location, location, location. It also has a well-stocked range of Dutch and Belgian beers for your full Amsterdam experience.
#6 Last Waterhole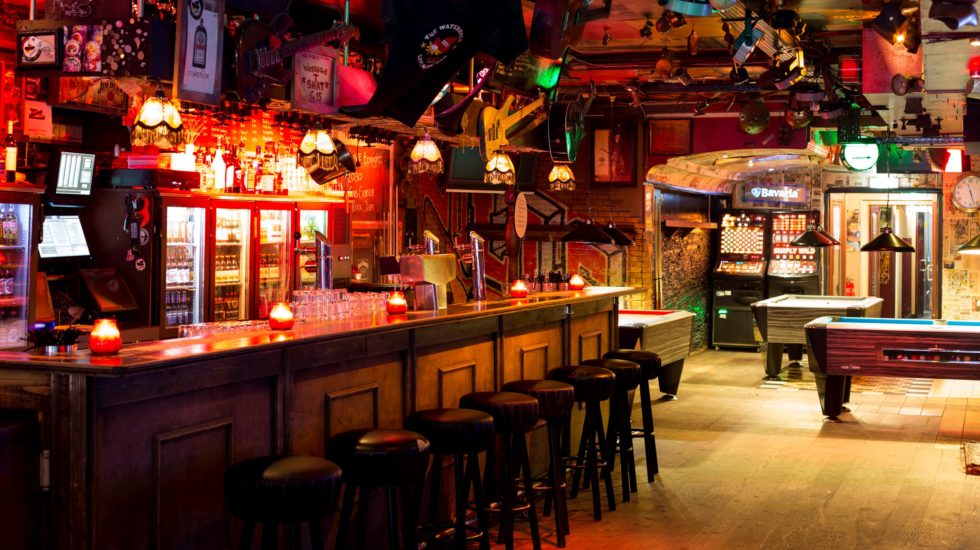 If you're looking for live music and DJ's, turn your attention to Last Waterhole. It's not your last-chance when searching for a smokers bar, but it definitely shouldn't be your last stop.
We light up here because: they rock seven days a week, you can shoot some pool, and during Happy Hour you can score a pint for only €4 – bonus? Happy hour goes for nine hours, from 12 until 9. Wicked.
When forced to make a choice between being a coffeeshop or a bar, La Grotte went for the latter and became a smokers bar. However, they still welcome those wanting to smoke pure cannabis on site! They also have a mouthwatering range of drinks to quench that dry mouth, and awesome psychedelic vibes inside.
We light up here because: their cocktails are to die for, the space is pure fun, and the menu is made for munchies.
BONUS: The Coffeeshop Info Centre Amsterdam
If you've got any specific questions about smoking weed in Amsterdam and you're a bit hesitant to walk into a random coffeeshop then you might just want to visit the Coffeeshop Info Centre Amsterdam.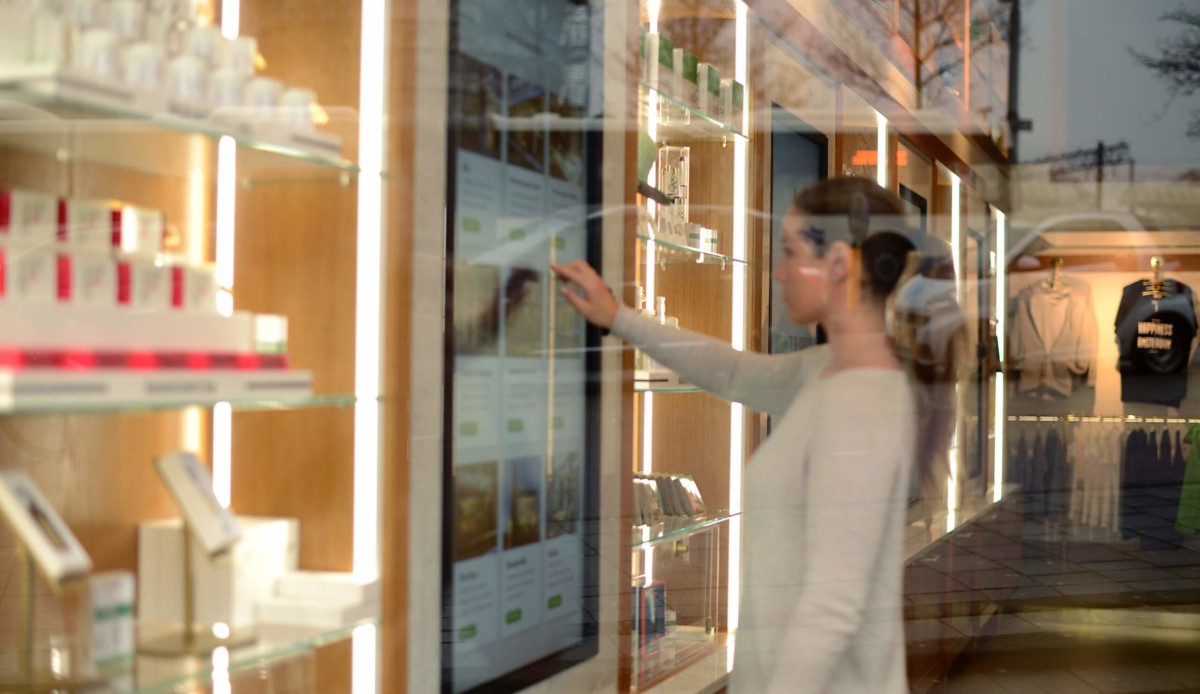 As you can see in the photo it's all nicely lit and clean there and they've got all the information you could ever need when it comes to smoking it up. The Coffeeshop Info Centre can point you in the direction of tons of coffeeshops (whatever kind of shop you fancy). They will answer all your questions on the regulations about softdrugs in Amsterdam.
Will you be continuing on to one of these bars from your local coffeeshop? Got a fave smoking friendly bar in Amsterdam? Let us know in the comments!