Are you living or moving to the capital and wondering how on earth you're going to do your laundry in Amsterdam? Well, for those folks without a 'wasmachine' we may just have the answer. 
There are many things in life that we just can't stand to do and one of those is washing clothes. Yes, we've advanced enough that we have machines to do it all for us, but doing your laundry is still very time consuming – especially if you have to go to a launderette in Amsterdam. (Hey, we're not lazy, we just want things done properly).
We love our food deliveries and our clothes deliveries (probably a little too much), but what about a laundry delivery service in Amsterdam? Well, good news for the people waiting for that service: Miele Laundry Club has come to the rescue! With them, you'll have no overdue laundry ever again. It's the little things in life.
We've teamed up with Miele Laundry Club, the worldwide expert in washing clothes, to check out their super-efficient laundry delivery service for Amsterdam residents.
Doing your laundry in Amsterdam: How can it be easier?
Ah, Amsterdam. With its tiny and expensive apartments and their steep staircases. How on earth will you fit a washing machine in that apartment, let alone get it up all those damn Dutch stairs? Once you know the struggles with traditional Amsterdam apartments and their stairs, you've truly integrated into Dutch society. 😉
Wouldn't it be great if those worries were a thing of the past and someone could do our laundry for us?
Accurate representation of us washing our clothes like a stress-head…
They run a premium laundry and ironing service within the capital. This laundry delivery service will pick up your laundry from your doorstep, wash, dry, iron and drop it back off from as early as 48 hours – literal bliss! When it comes to their machines, Miele offers a high-quality service, using high-quality machines, washing products and have excellent customer service, so it's certainly worth that extra cost to have someone who actually knows what they're doing and it saves a laundry load of time. They won't judge you for it either – which is always a bonus.
With Miele, all laundry that you provide will come back to you ready to put straight back into the wardrobe. Miele even delivers your clothes back to you by bicycle – I mean, it really doesn't get much more Dutch than that.*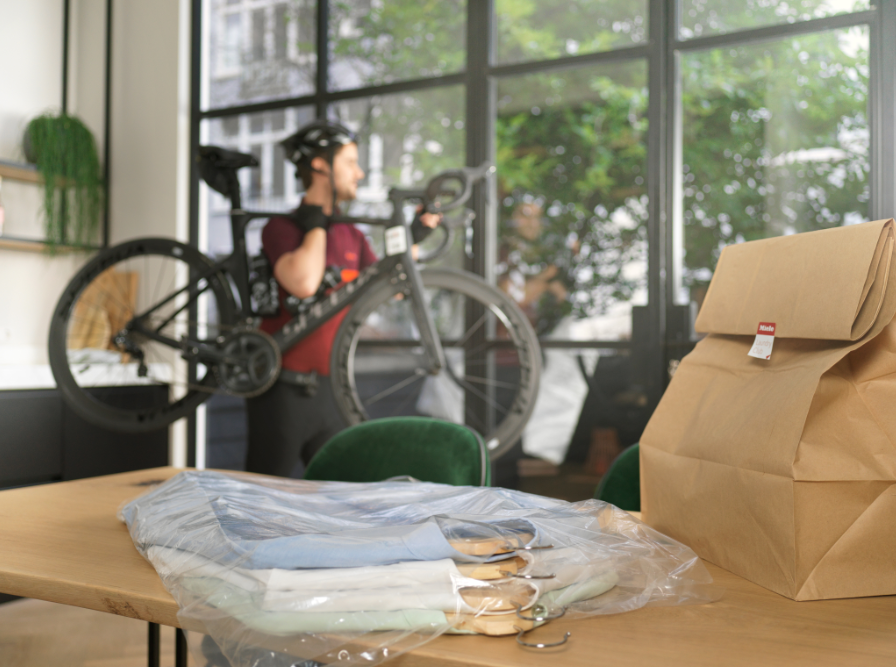 Not only is this better for the environment but there will be no 'I got stuck in Amsterdam traffic' excuses. 😉
*Speaking of being Dutch, there's a discount code for you right at the end of this article!
Why choose Miele Laundry Club to wash your clothes in Amsterdam?
When you order with Miele Laundry Club, all you have to do is lift your dirty washing pile, put in into the laundry bag sent to you from Miele (they round down on weight – so no worries about that), answer your door, hand it over and that's it. All of that can literally take you less than a minute. You're then free to catch up with all of those really important tasks in your life (enjoying that busy Amsterdam life, or ahem, Netflix). You'll receive your laundry FROM 48 hours (they will let you know). As if by magic your clothes are all washed, dried and ironed and ready to go back into their rightful place (and no, not on the floor this time).
When you answer the door and it's your Miele delivery…
Miele has 115 years of experience washing clothes, much, much longer than you or I have. Your clothes will be washed in their professional Miele laundrette. They actually take the care to check every label on your clothing and then choose the best possible treatment for it. They have over 20 washing and drying programmes on their machines when most of us can't even figure out 5 or 6. Let's be honest, we hardly ever check the labels on our clothing either and some of us don't even separate our colours (guilty).
Doing your laundry in Amsterdam with Miele Laundry Club: How does it work?
It's good to know that you don't have to be a tech-nerd to work out the ordering system with Miele, however, we'll give you a quick step-by-step guide to show you how simple and efficient it is.
Firstly, check out their website (it's worth double checking if they deliver to you first, check the first page for the link). Then at the top click 'book now' once you're ready. It's available in English too – so you don't have to sweat over all those Dutch instructions.
Register – and once you've done that you'll have option input your postcode (or you can opt to collect it at a service point). Here you can choose your pick up and delivery slot (4-hour slot) and even choose to have them repeat the service, which is so much easier. If you love a good discount like us, then you will even get 10% off if you opt for a repeat service – result! They'll then drop you a message with a 1-hour time slot.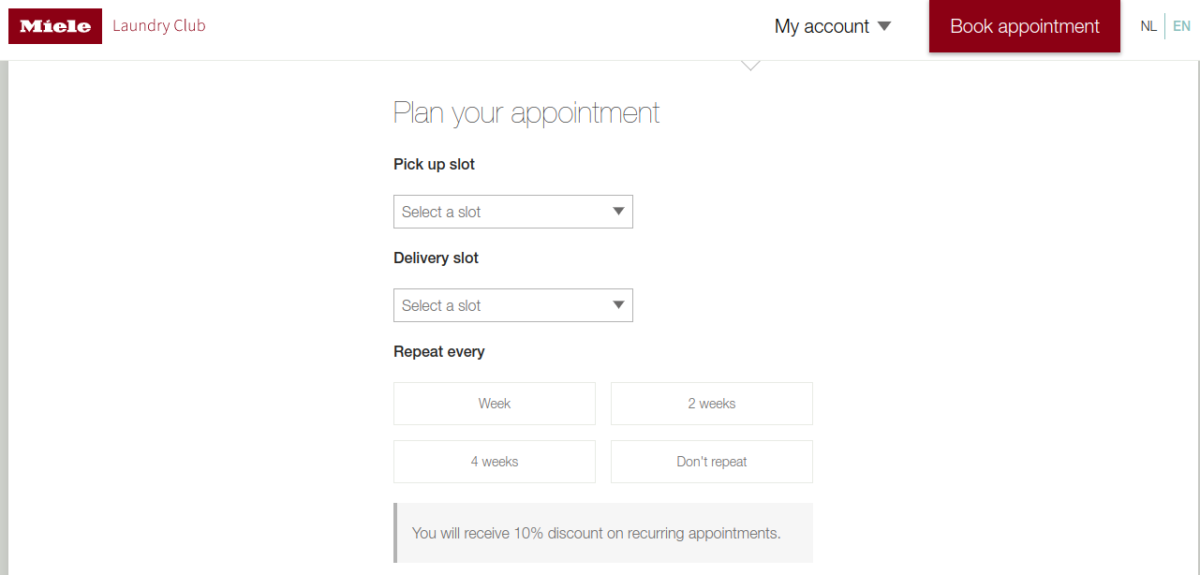 In the next section, you will have the option to choose how many laundry bags you'll need and they'll deliver them to you (psst, their laundry bag fits 6 kilos easily. This equals +/- 30 pieces of clothing or 2-3 washes at home). Stick our discount code in there (you'll find it at the end – it gives you 10 euros off!) and then after this you'll input your banking details and a payment of 1 cent will be billed as a verification payment. Easy and efficient.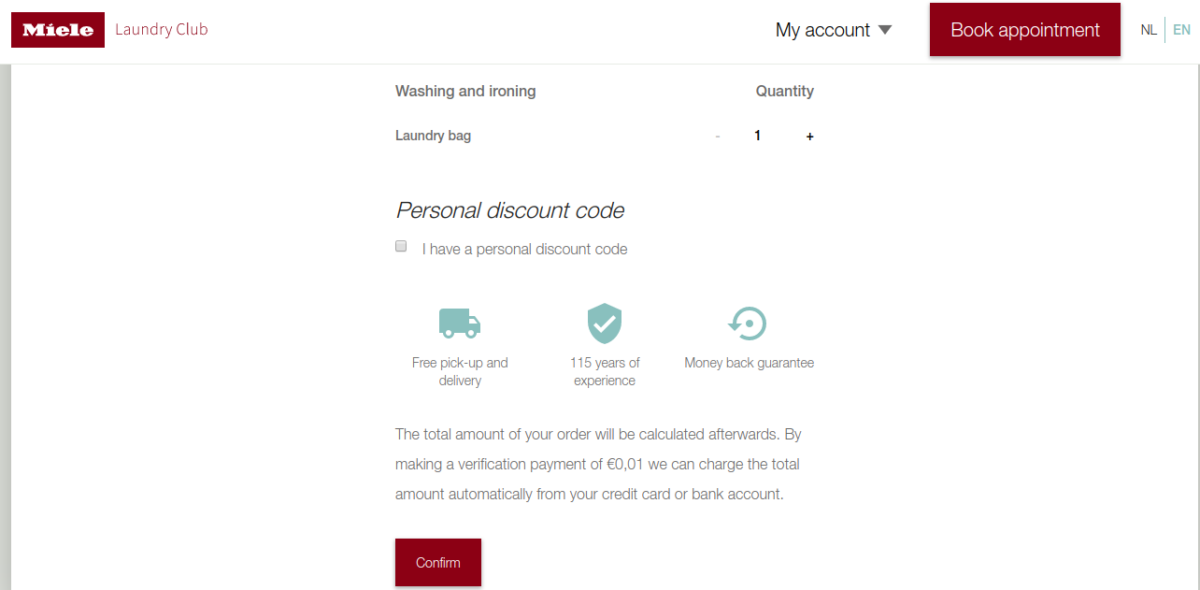 Now all that's left to do is to wait for that knock on the door and once you've got your freshly-washed clothes, your invoice will land straight into your inbox.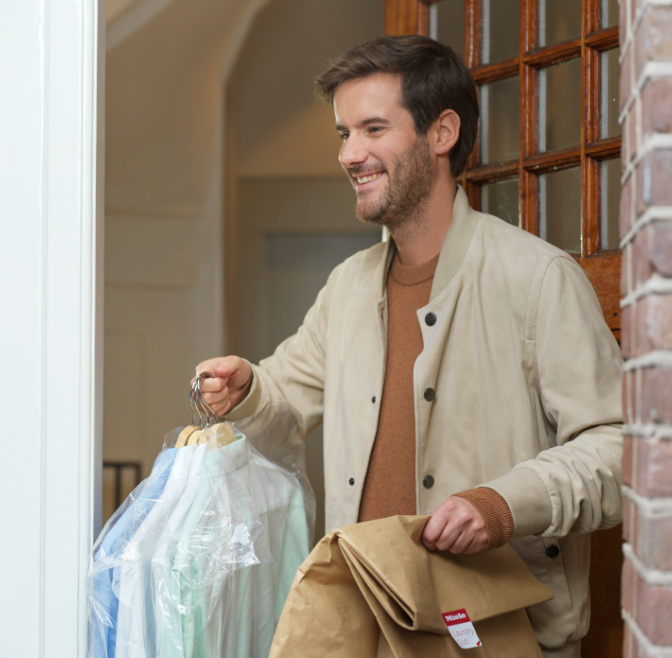 If you're fed up with doing your laundry in Amsterdam, then this is certainly an easy and efficient way to go.
Miele Laundry Club is your go-to if you're living in Amsterdam and want to save time on that chore that we all love to hate. Check them out and see what you think. If that hasn't swayed you enough yet, we even have a special DutchReview discount code: 'dutchreview10' that will give you €10 off your next order (to be used until 30 June). Did someone say extra beer money?
How are you handling your laundry in Amsterdam now? Would you ever use a service like this? Let us know in the comments!
We've worked together with Miele to bring you this article about getting your laundry in Amsterdam done*