Looking to finally take the plunge and buy that new house in the Netherlands? Well yet again the 'How To Buy A House' team are back to help you get well on your way to sorting out that humble abode.
So, what's this free event all about?
The Howtobuy.house events were invented so the experts can help expats right here in the Netherlands buy their perfect home. Buying a home, in general, is stressful, let alone in another country, so we all need a little helping hand at times. The Howtobuya.house events always have a variety of local Dutch experts. So, if you're in the Amsterdam or Utrecht area, then here you will come face-to-face with these experts who can help you in that specific region. These meetings will also be 1-on-1, so they can be tailored to your needs.
When and where?
The How To Buy A House event which will be held at Restaurant-Moer in Amsterdam on Monday 13th May 2019 @ 6pm – 9pm. Sign up right here!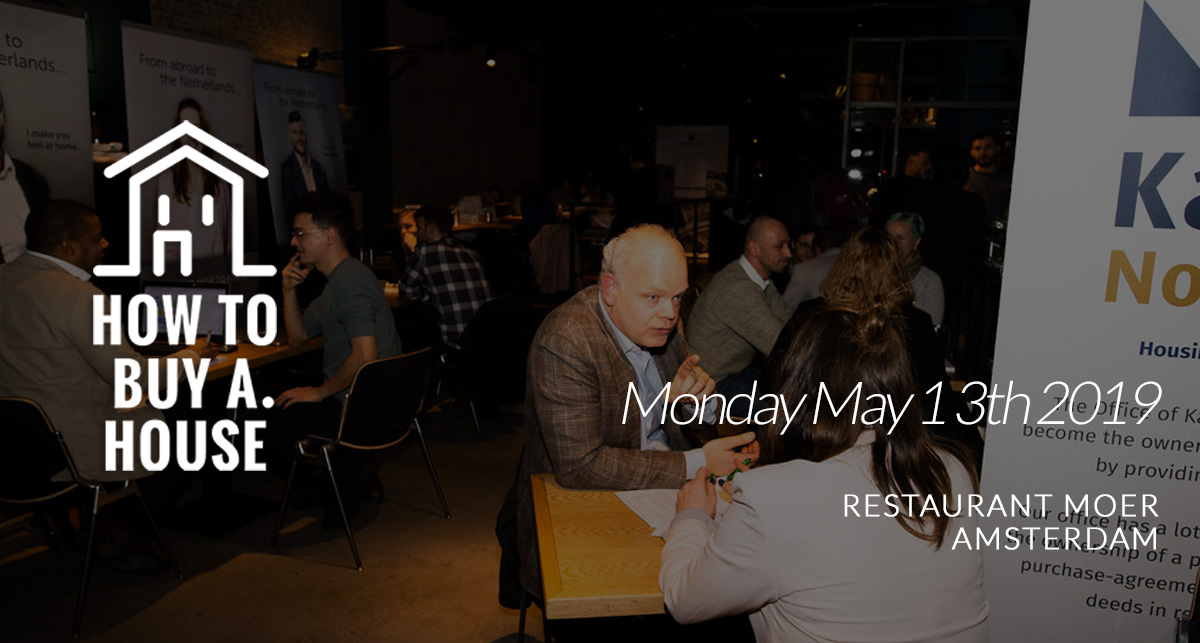 Here is just some information you can receive:
Buying a home in Amsterdam
How to get a mortgage
Dutch law
Notary services
Bank products
Construction work
Tax advice
Is it still a good idea to buy a house in Amsterdam?
Going way past the asking price, fully packed homes whenever there's an open house day and units of 40 square meters being sold for the same price that gets you a decent house elsewhere in the Netherlands. Any good news for the housing market in Amsterdam? Well, actually, there is some!
The overstretched Amsterdam housing market seems to be stabilizing slightly. More expensive homes are being put up for sale again instead of being rented out (hey, it's a start).
The prices of owner-occupied homes in Amsterdam are also still rising, but at a somewhat slower pace than before.  The price of an average house in the city went up by less than one percent, but still almost at 450K (oef!). So buying a house in Amsterdam still isn't cheap by any means. But for the imminent future, Amsterdam still looks like the place to be – with Brexit and all.
Who will be present there?
Rabobank (popular Dutch bank) – to discuss banking and mortgages (30% ruling etc)
Burgemeester Vastgoed (local Amsterdam real estate company) – to discuss in-depth knowledge about the Amsterdam and Utrecht market
Bakker Bouw (construction experts) –  to discuss renovations and construction on your home
Certa Legal (legal advisors) – to discuss legal matters and Dutch law
Expat Mortgages (mortgage advisors) – to discuss your mortgage and finances
Expat Taxes (tax advisors) – discuss tax services and for self-employed expats
Kasper Notariaat (solicitors) – discuss the 'buying a house' process
Bjorn (guest visitor) – discuss personal property as Bjorn is experienced in this
Of course, all of the experts speak English, so language will not be a barrier. 😉
Will you be going? Let us know in the comments!