It has been announced that a cruise ship in Rotterdam is currently under quarantine. The ship is full of passengers who have been stuck inside for hours.
Why is the cruise ship in Rotterdam under quarantine?
According to reports a cruise ship that has been docked in Rotterdam since this morning has been put in quarantine because of sick passengers on board. Many of the people on the ship have complained from abdominal pain, presumably due to the norovirus that causes gastroenteritis and it is highly contagious. Gastroenteritis is an inflammation of the stomach and intestines. It is typically caused by bacterial toxins or viral infection and results in vomiting and diarrhea.
Where did the quarantined ship come from?
The ship with the name AidaPerla arrived in Rotterdam this morning. According to reports the majority of passengers on it are German. During the trip, seventy passengers reported symptoms of gastroenteritis. At first they were taken care of on board, however the emergency services in Rotterdam immediately put the ship under quarantine.
Nobody is allowed on or off the ship. In videos that have started surfacing online, passengers (presumably the ones that are not sick) are seen to be having fun and passing the time by enjoying the luxuries that the cruise ship has to offer.
Inmiddels gaat het om zo'n 70 mensen met symptomen. Het #cruiseschip is in #quarantaine geplaatst, passagiers mogen het schip niet verlaten. Activiteiten op de cruise gaan gewoon door.#AidaPerla #Norovirus #Rotterdam #Nikonp1000https://t.co/Hi7zptcMu4 pic.twitter.com/rd8bEnHlGJ

— XP (@preznl) September 20, 2018
Let's just hope that this is not how the zombie apocalypse begins.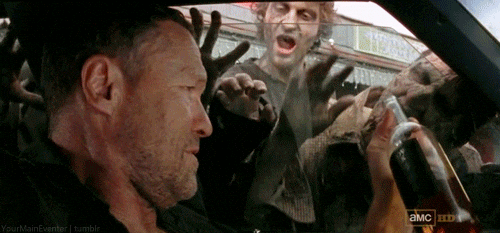 But just in case there is a zombie virus outbreak, what would you prefer – slow zombies like in the walking dead, or fast zombies like in World War Z? Let us know in the comments below!