There is something magical about brunch food. I don't know what it is exactly, maybe it's the boozing at an inappropriate time of the day or the fact that a lot of it involves unreasonable amounts of eggs, bacon and chocolate. But I'm sure you can imagine I was all giddied up when I went to Ted's Place in The Hague where they do all-day-brunch (and booze), would it be everything I want from brunch-food?
The answer is: yes, and add extra bacon, pancake's and mimosa's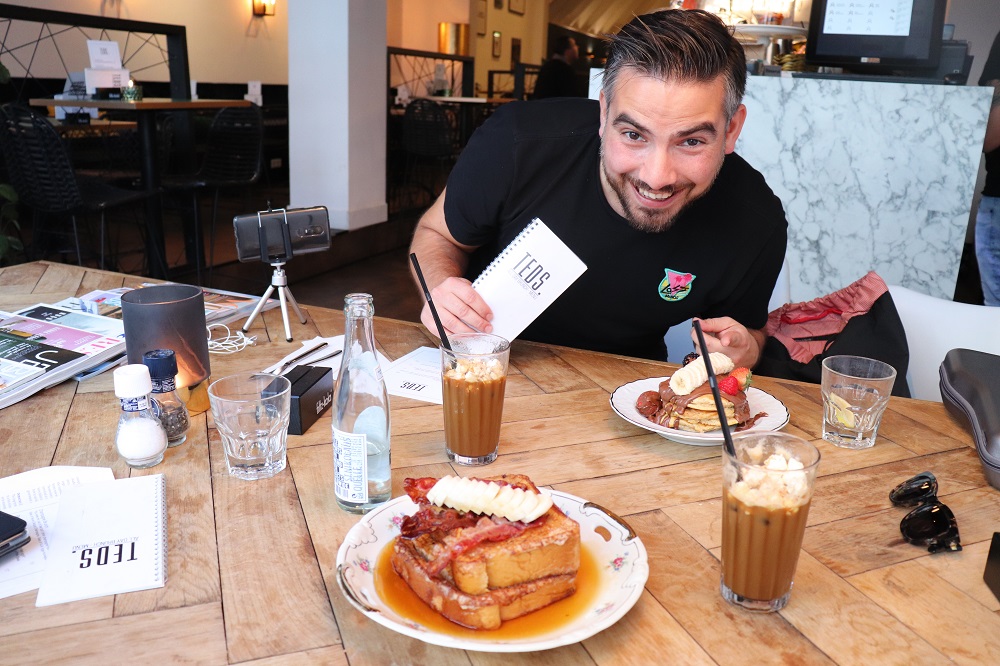 What's Ted's place?
You can find Ted's place in The Hague in the Frederikstraat, which is not only in the center of the Hague but also in one of the best looking and buzzing streets in The Hague in my opinion. They've got a nice little terrace (in case you're reading this in warmer times) but no worries, their inside decor is more than just pretty as well.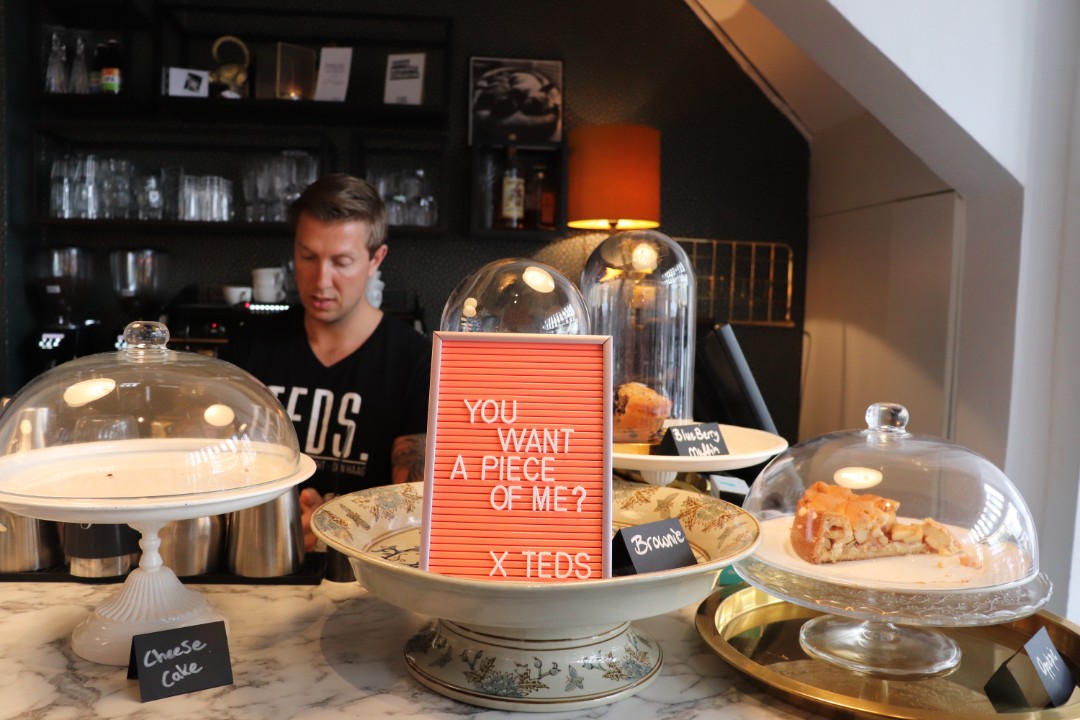 It might appear a bit small and cozy from the outside, once inside the place is pretty big and has plenty of seating. Fun part is that there are plenty of sofa's and different corners and spots to settle yourself in. Plenty of playful details too, really getting that New York-brunch feeling now.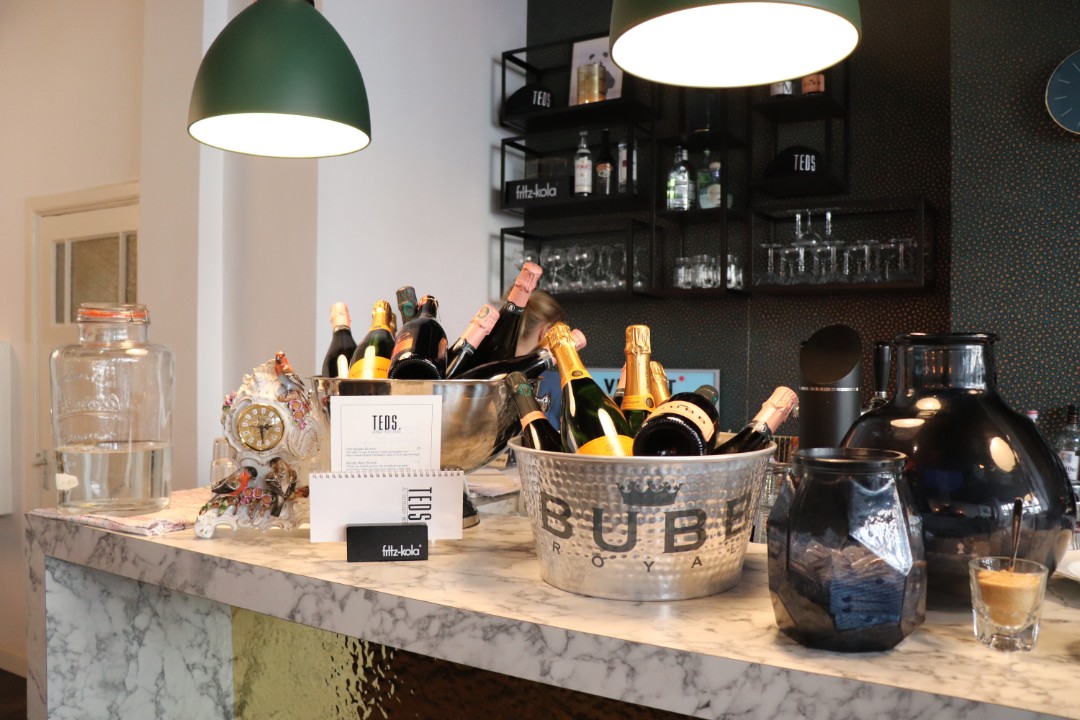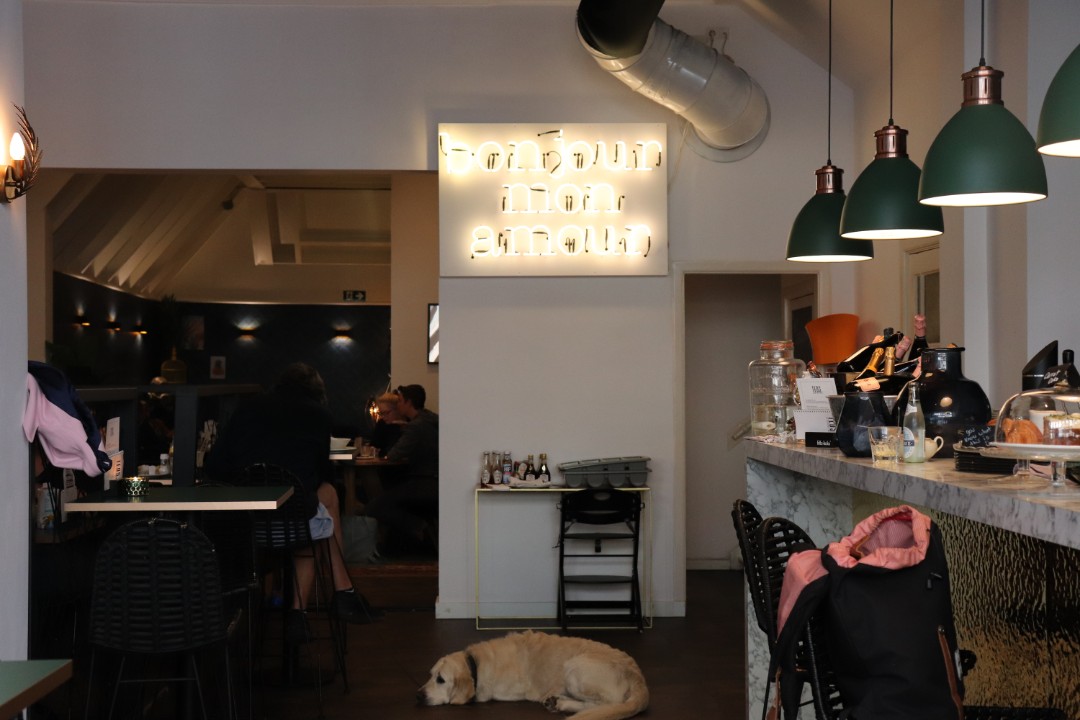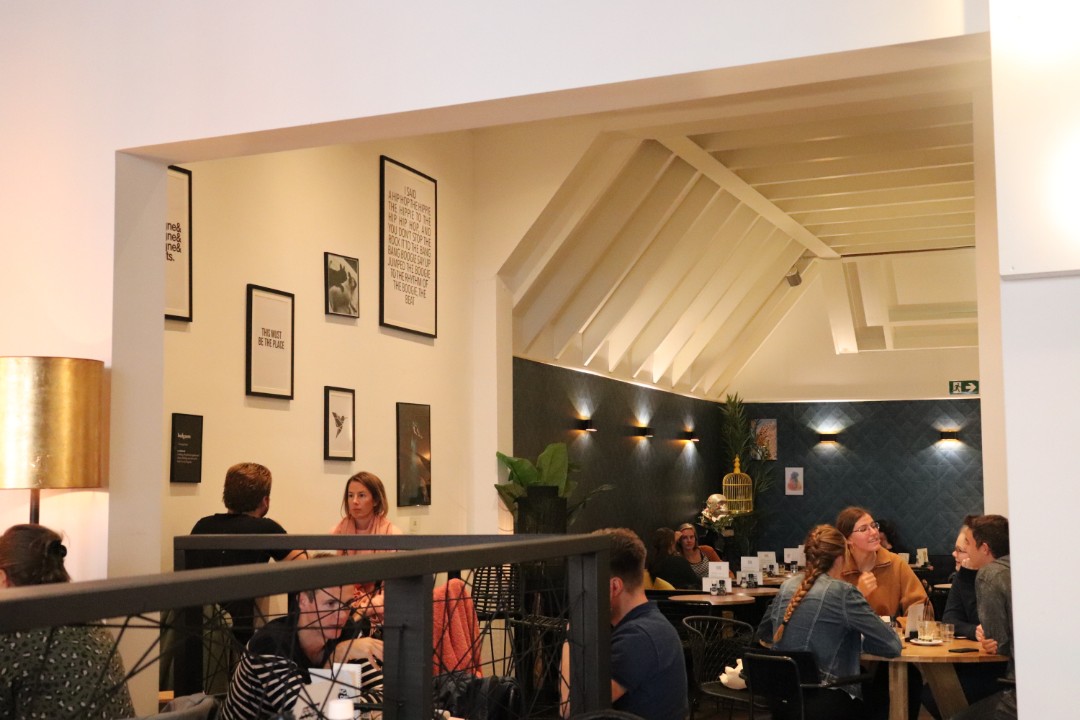 Not up for The Hague? There's a Ted's place in Amsterdam and Utrecht as well, they pretty much sport the same concept.
Not up for reading? we made a short vlog of Ted's place in The Hague – check it out:
What's on the menu at Ted's place?
I can hear ya thinking on the other end of the wifi-connection; "skip to the foodporn part stupid DutchReview!" and rightly so because that food part was better than a parks&rec-meme.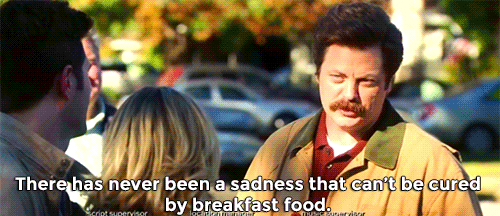 So Ted's place has the same menu – all day long until they close at 5 in the afternoon (keep an eye out, they're extending these times very very soon) – and that means you can enjoy brunch- and breakfast food all day long! On the menu are all kinds of classics, American inspired sandwich glory and some stuff that is very trendy now (eggs benedict!) for all the right delicious reason. So now the foodporn:
Round 1: the savory courses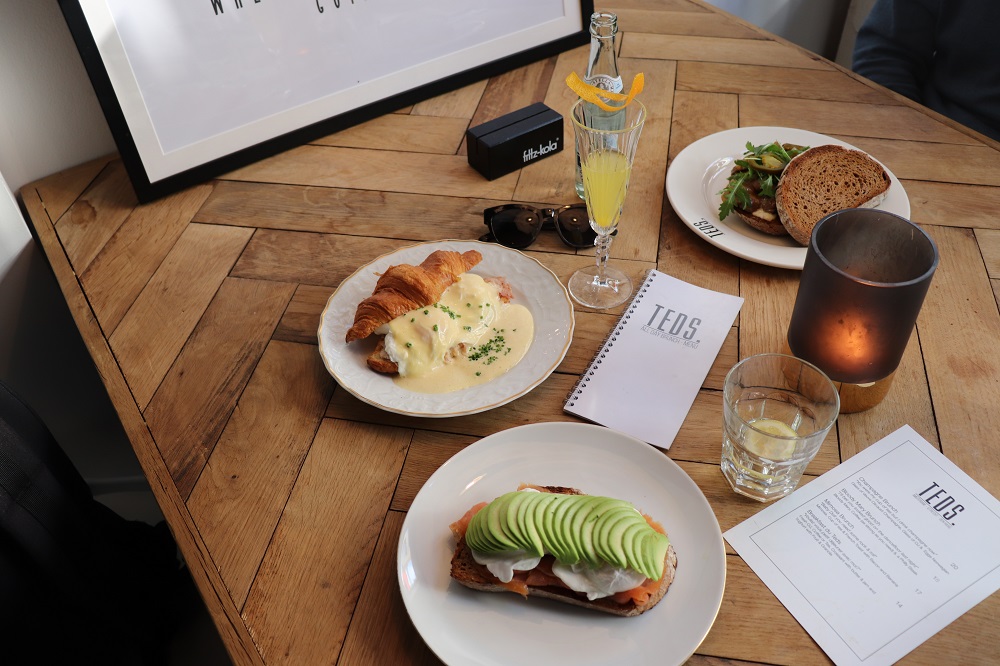 What do we have here then? That's an eggs benedict on a croissant, a philly cheese steak on rye and the triple omega (poached eggs, avocado and salmon – you know – for our health). All were excellent, but the winner has to be the Eggs Benedict on a CROISSANT.
Not only tasted brilliant but really looked the part as well: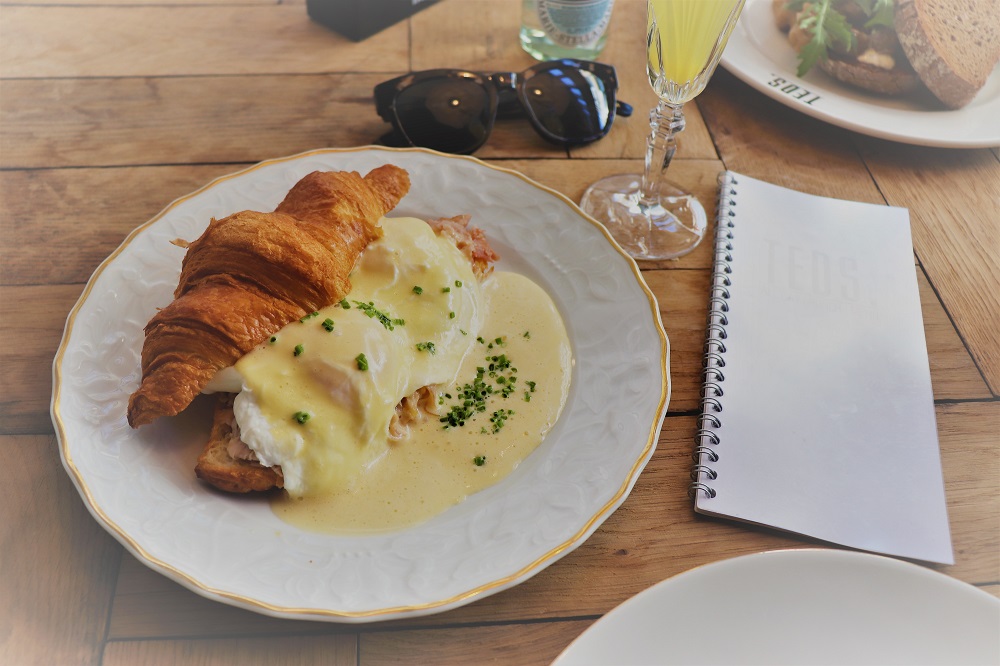 Everything was decently priced as well, have a look at their menu right here.
Plenty of stuff there I still want to try, those Ruben- and Club-sandwiches looked too nice to never have, and you can wake me up for those Parmesan fries with truffle mayo.
Moving on – time for the sweetness! (which also came with bacon – huzzah)
Round 2: The Sweet Sweetness round
I'm not particularly big on sweet stuff, but come on, who can refuse these two gorgeous heavenly looking creations:
As you heard, it's the French toast and Banana pancakes. And fuck me, it has chocolate and bacon and stuff all there and it's delicious and so good looking and tasting that I can't stop thinking about it and ran all out of comma's and stuff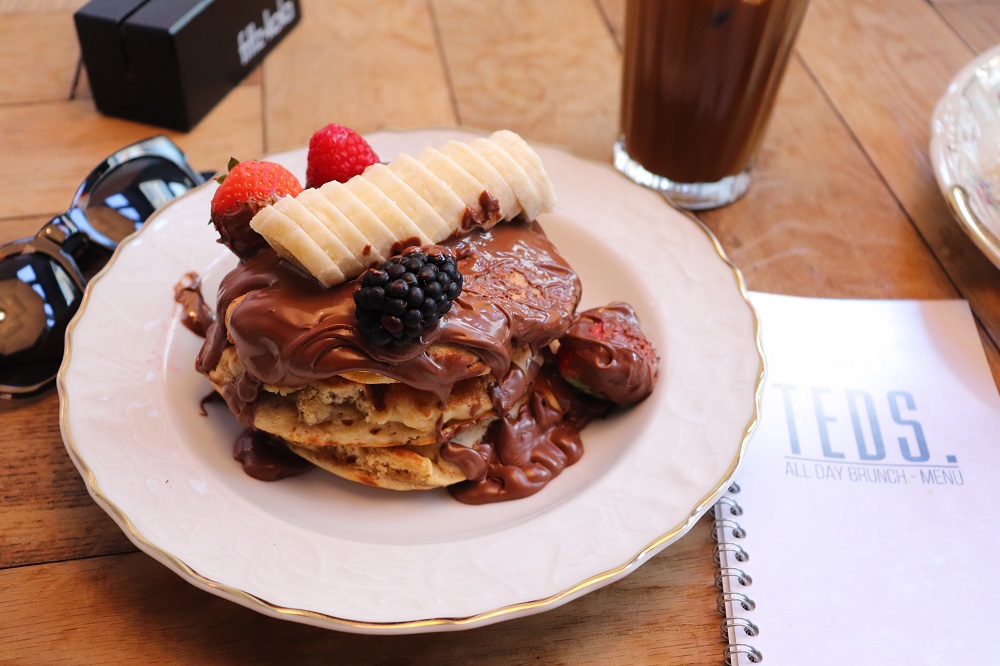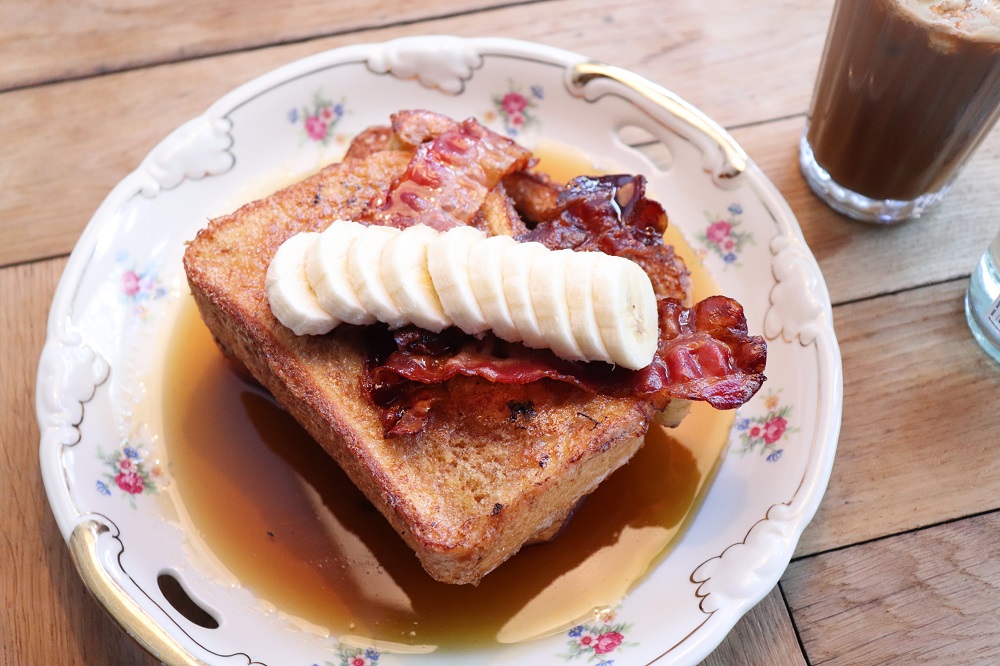 Both were massive as well, so if you've got a tiny appetite then you can share as well (don't – have those pancakes all for yourself, slay it). It's the kind of food that makes Brunch special, and now let's think for a second, what also makes Brunch special and #Brunch?
Bonus Brunch Round 3: MIMOSA'S AND COCKTAILS (otherwise it's just breakfast food)
I think no one expected us to not to have a few mimosa's and popcorn frappé's, right? Kind of our duty to review those drinks. Kind of your duty too to have a strawberry mimosa's, those colors alone would make you happy.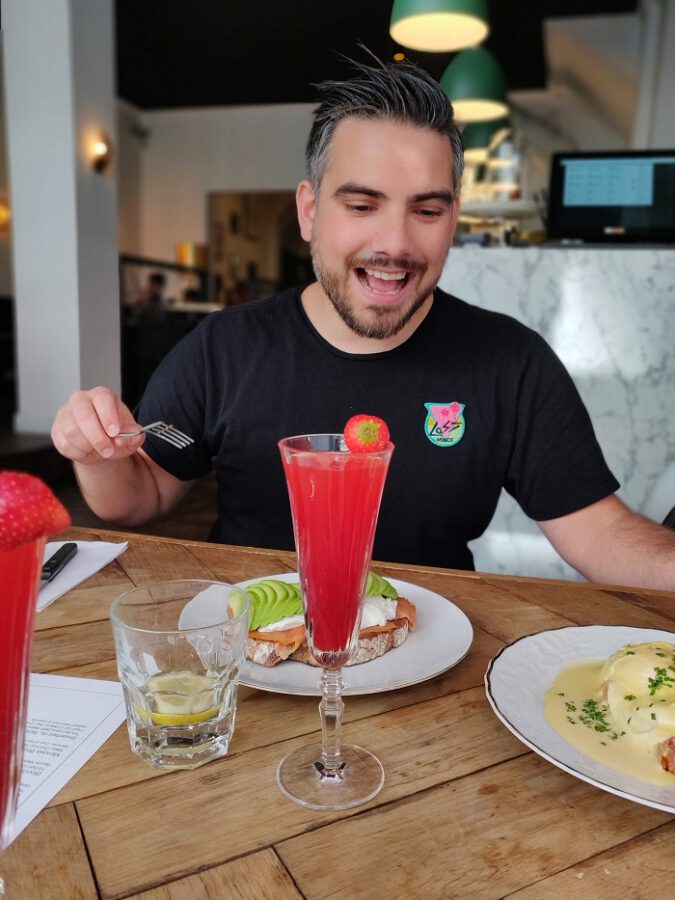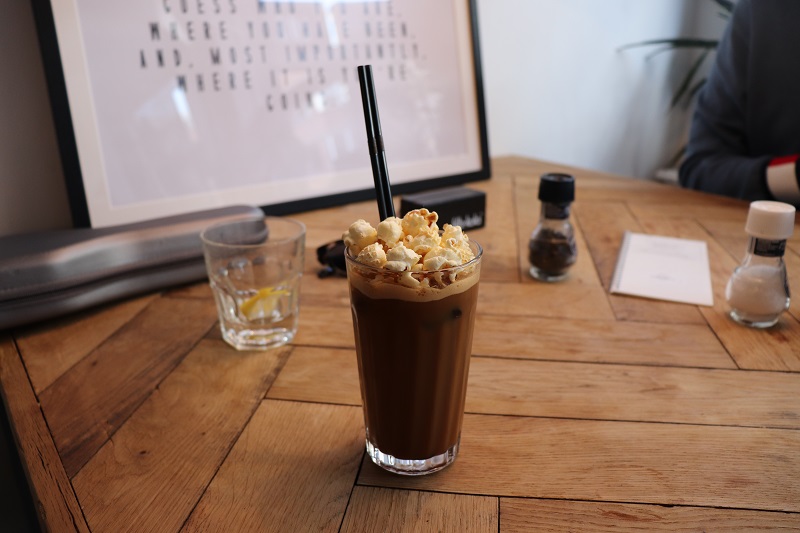 There's plenty of other drinks on the menu, and Olaf the owner told me they we're pondering of opening up in the evenings as well,m, which surely would be a good idea with a drinking menu like Ted's place has.
Anyways, long story short, if you're into awesome breakfast food, bacon stuff, pancakes, insanely instagrammable restaurants and overall a pretty great meet-up spot with friends than by all means drop by Ted's Place – you won't regret it.
Address: Frederikstraat 32, Den Haag
Telephone number: 070 331 1975