Want to escape the Dutch weather, where it is too hot and muggy or too cold and wet? Where can you go to keep your warm fuzzy Dutch safety net intact? How about a Caribbean Vacation to one of the Dutch Caribbean islands?
Where, I hear you ask? You know, the Caribbean of the Netherlands! So you can just remain in the comfort of your home in the sweet Kingdom of the Netherlands (by the way, all citizens of the Dutch territories are automatically citizens of the Netherlands too).
Since the 1600's, the Dutch have gone to great lengths to escape bad weather. They sailed the seas of the world just to colonise places to get a tan at. After the colonising countries of Europe battled over and over centuries ago (Sint Eustatius changed nationalities twenty times) the Netherlands kept six islands in the Caribbean in the end. Smart move!* Might as well have your own vacation spots. The climate is fantastic, if you excuse a rare hurricane.
* There was plenty of nasty stuff too obviously, read more about that here and here
I have put a brief "travel guide" together for those who are under visa exemption rules for the islands (just about half the world, it seems) and want to explore The Kingdom of the Netherlands where the sun does shine! You will learn your ABC's (Aruba, Bonaire and Curacao) from your "triple S" leeward islands (Sint Maarten, Sint Eustatius and Saba). All are worthy of a visit, depending on what you're looking for.
Read on for Part 1 on everything you need to know about the ABC islands. Part 2 will follow soon with the much quieter "triple S" islands.
#1 Dutch Caribbean Islands: Aruba

Facts on Aruba:
Under Dutch Administration since 1636
Average annual temperatures range from 30.0 to 32.7 deg Celsius (hot, hot, hot!)
The language us Dutch and Papiamento officially, English and Spanish common
The population is only 102,000
The currency is Florin (Dutch Antillean Guilder), but US dollars are readily accepted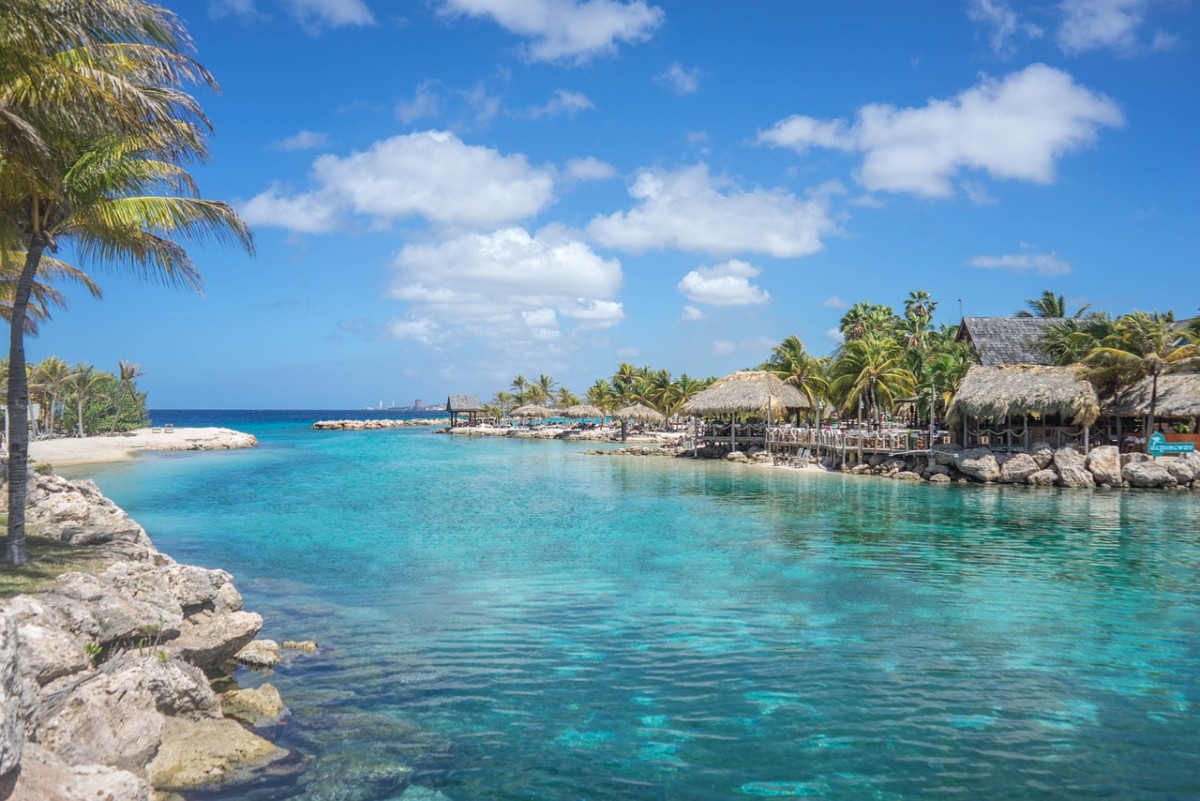 Attractions on Aruba:
Outside of being mentioned in a "Beach Boys" song, Aruba, a flat river-less island has many merits on its own. Nicknamed "One Happy Island" it is a very popular vacation destination and cruise ship port of call. The capital, Oranjestad, is home to 28,000 people with plenty of shopping and local food fare along the waterfront.
Culture wise, there is a museum with local artefacts from 2500 BC, a butterfly farm, and even a donkey sanctuary. From a nearby 185 m (607 ft) volcanic formation up 587 steps, you can see Venezuela. Fort Zoutman built in 1798 to fend off pirates and enemies is the first structure built in Aruba and Willem III tower was built in 1868 as a lighthouse. Both are the home of a historical museum. Xavier University even has a School of Medicine in Aruba. So as you can see, there is a lot of history in Aruba.
Of course malls, resorts, hotels, great beaches, snorkelling, fishing, submarine tours, casinos, celebrations and festiv als (like the Aruba Carnival) and many other attractions can be visited in Aruba. It's the perfect holiday destination! Enjoy your trip!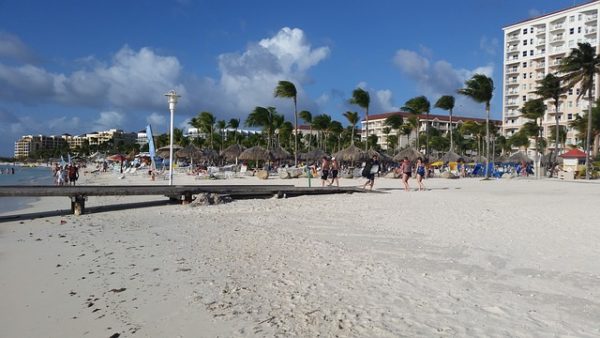 How to get there:
Major international airlines fly in daily. Cruise lines also frequent this popular island.
#2 Dutch Caribbean Islands: Bonaire

Facts on Bonaire
Under Dutch Administration since 1636 (minus the Napoleonic wars)
Average annual temperatures hover near 31 degrees Celsius all year (sun, sun sun!)
Dutch is the official language for administrative matters, but to 75% of Bonaire citizens Papiamento is their native language
The population is a small 19,000
The US dollar is the currency
Bonaire is an attractive alternative to the overcharged nightlife of many Caribbean islands. Most lodging is of a smaller nature compared to giant Aruba resorts, and there is no bus system. The northern part of Bonaire is somewhat mountainous, reaching 240 m (790 ft) in altitude. The southern part is mostly at or below sea level (Dutchies will be right at home). It's a tiny place – there are only two towns on the island.
Attractions on Bonaire 
The capital, Kralendijk, has about 3,100 people. The ecological responsibility of the island makes kayaking and snorkelling a top attraction. The National Marine Park established in 1976 which includes the whole coastline of Bonaire from high water to 61m (200 ft) depth protects 60 species of coral and 350 fish species. So it's the perfect place to go if swimming is your thing.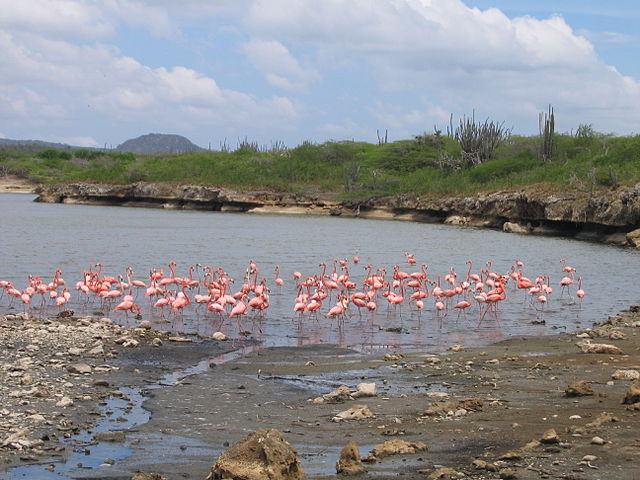 And that's not all – it has a beautiful national park too. The "Washington Slagbaai National Park" is a national park and ecological reserve that covers one-fifth of the island. One of only four Caribbean Flamingo nesting grounds is on the island. And with following the theme of the Dutch islands, there is also a donkey sanctuary (surprise, surprise). Several Monuments, parks and historical buildings may also be visited in the Capital, including WWII monuments and lighthouses.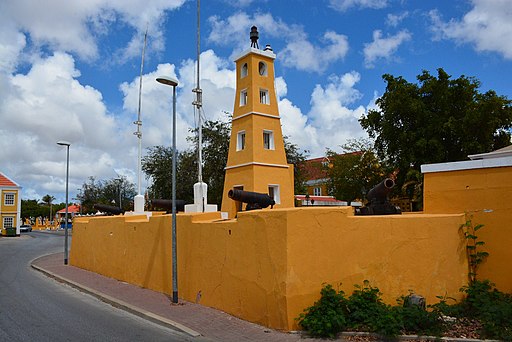 Other attractions are world renowned windsurfing. Half the PWA's ten highest ranked freestyle windsurfers are from Bonaire. The Netherlands municipality is committed to dramatically increasing the tourist trade without harming the ecology. For now, however, if you are looking for nightlife, parties and lots of wild resorts, Bonaire may not be your place. But for snorkelling, scuba diving and ecological beauty? It's your paradise!
How to get to Bonaire 
Smaller airlines serving the Caribbean serve Bonaire year round, and KLM flies from Amsterdam. Currently, three carriers from the U.S. also serve the island year round. Flights may not be direct though.
#3  Dutch Caribbean Islands: Curacao

Facts on Curacao
Originally under Dutch control in 1636 (stable Dutch rule started in 1815)
The average annual high temperatures range from 29.9 to 32.8 degrees Celsius (nice!)
The languages are Dutch as the administrative language, Papiamentu and English are official languages of Curaçao, and Spanish is spoken
The population is over 180,000
The currency is Florin (Dutch Antillean Guilder), but US dollars are accepted
First, I must inform you Curacao does not have a donkey sanctuary. What's up with that? Do stay alert for donkeys, goats and iguanas however if driving. That being said, there are many great things to experience.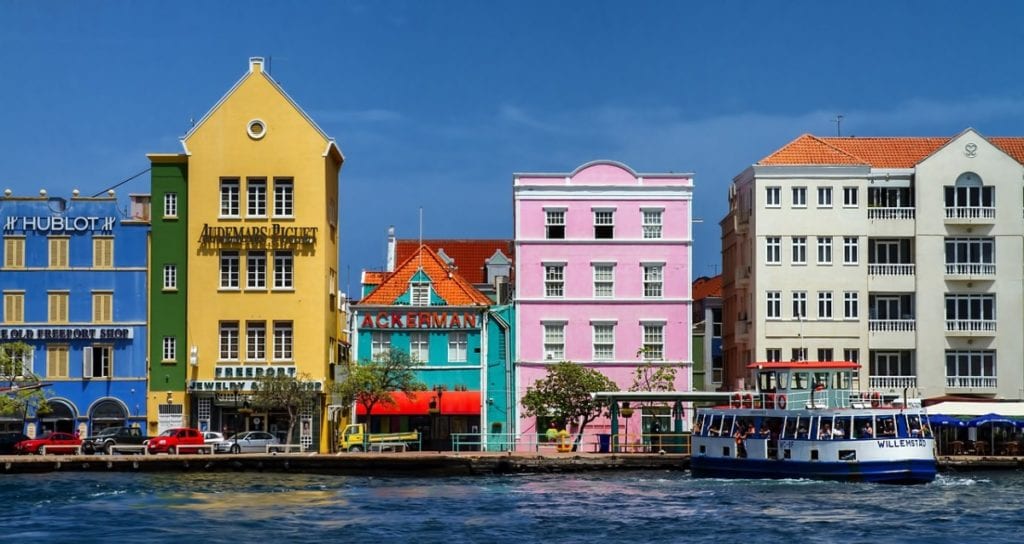 Curacao may give you the feeling you never left the Netherlands, except for the weather. It has adopted building styles from the Netherlands mainland. There is much more to Curacao beyond being famous for the blue alcoholic beverage of the same name made on the island from bitter oranges grown there.
Attractions on Curacao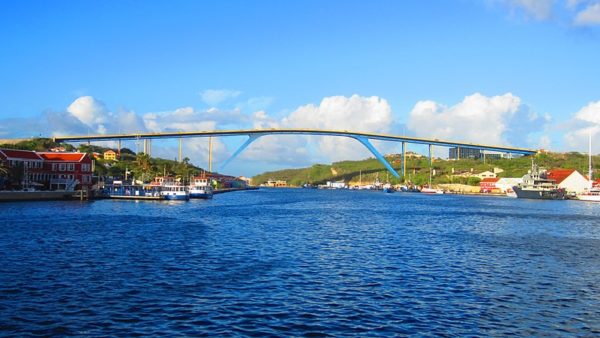 Queen Juliana Bridge in Willemstad is 56.4 m (185 ft) tall, and the tallest bridge in the Caribbean. There are two National parks, including Christoffel National Park which has the highest peak on Curacao at 1292 feet altitude. Curacao Sea Aquarium and home of the Dolphin Academy is very popular (reserve ahead for this one). Not only do beaches abound, several museums will help with the history of Curacao, and the Curacao Ostrich farm is one of the largest outside Africa. The "Floating Market" consisting of a small fleet of boats from Venezuela brings fresh fish and fruit to Willemstad for a great price.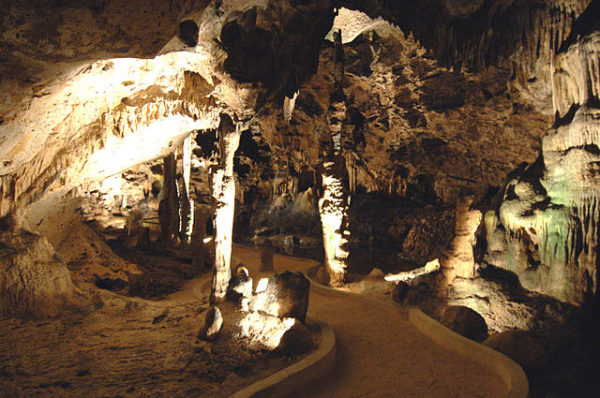 The Hato Caves offer Coral and limestone caves that were carved out below the sea and exposed when the sea level dropped. There are beautiful stalactite and stalagmite formations as well as water pools and a waterfall. A place of tranquillity!
Snorkelling and diving are, of course, also popular. The complete southwestern side of Curacao is one large coral reef and marine park. You can also dive at the Banda Abou National Park in the north, and mid-island at the Central Curacao Underwater Park. The south has the Curacao Underwater Park as well, so there are many options.
The "Amazonia the Lost Cultures" tour should also not be overlooked as it boats more than 100 exotic reptiles, amphibians, small mammals and big birds surrounded by the ruins of ancient cultures, temples and pyramids.
How to get to Curacao 
There are daily flights from Amsterdam to Curacao, and most international carriers. As with many Caribbean islands, there may be a departure tax. Cruise ships are a major part of tourism, with a goal of 1 million passengers to port. For private sailors out there, they can enter at ports in Willemstad which has various marinas for seafaring travelers to dock their ships.
That's all for now. Keep dreaming. If you have been there or any other Dutch Caribbean islands, let us know what you liked! In a few weeks, we will visit the triple "S" islands of Sint Maarten, Sint Eustatius, and Saba!
Feature image: Mariamichelle/Pixabay