While Scheveningen technically forms part of The Hague, this coastal district has a very unique vibe of its own. Here, stately houses meet the laid-back atmosphere that comes with having the beach as your backyard. In short, it's a must-sea (pardon the pun) on your summer travel list!
So what should you do once you've got the sand between your toes? And where should you go after you've gotten your dose of vitamin sea? These are my top picks for the best things to do in Scheveningen.
READ MORE | 7 of the best free things to do in The Hague
1. Hang ten at a gnarly surf lesson
Scheveningen is known as THE spot to go surfing in the Netherlands, so what better way to start your day there than by challenging the waves? If you've never jumped on board in your life, don't worry! Scheveningen is host to a number of surf schools and you can easily book a lesson.
Do you already have experience with surfing? Then swagger on over for a chat about the waves (you cool dude) and rent some gear! You'll find Aloha, The Shore, and Hart Beach just a stone's throw away from each other near the harbour, while Surf's Cool is located on the pier.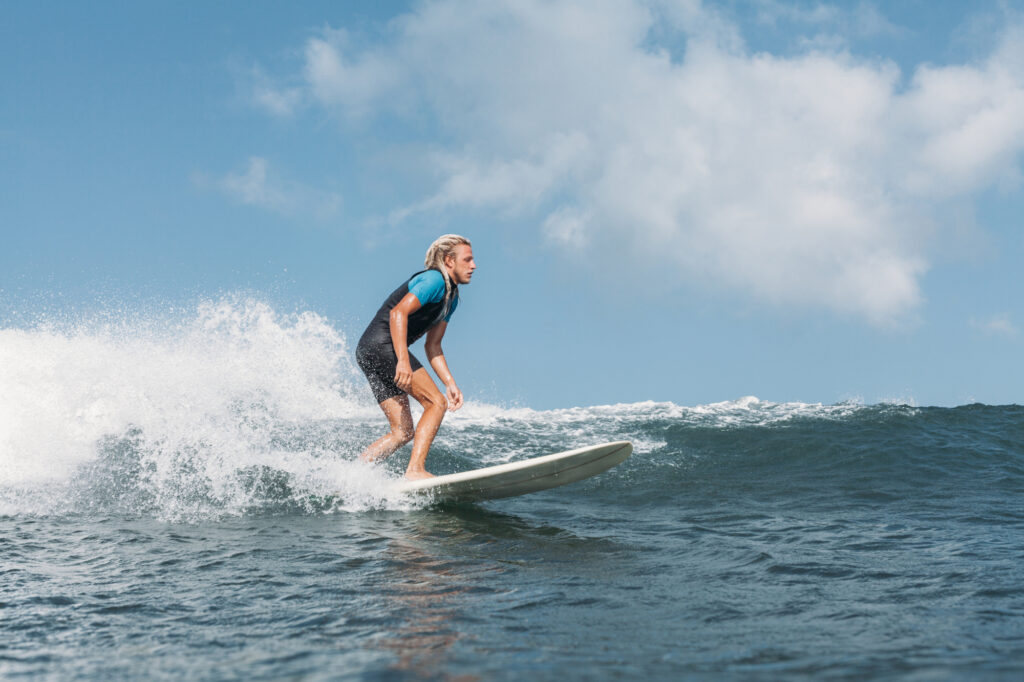 2. Refuel at Tigershark Coffee
To preserve those oh-so-cool surfing vibes AND your energy, head to Tigershark Coffee. You can find this cute little café at Badhuisstraat, a mere five-minute bike ride from Hart Beach and the other surf schools.
It isn't located at the beachfront or one of the main shopping streets which means Tigershark Coffee is a gem you wouldn't encounter without knowing about it (you're welkom.) Their coffee, colourful decor, and friendly service are definitely worth the detour!
3. Take a hike! — into nature
Some of us will simply never be able to navigate our way around the edges of a surfboard — or mount one. But this doesn't mean Scheveningen can't offer you something. You can opt for a hike in one of the two parks on either side of Scheveningen: Westduinpark and Oostduinpark.
Westduinpark is one of the largest nature reserves in The Hague. It's located close to the harbour and has several access points to Zuiderstrand — a more quiet and less touristy part of the beach. If you're in need of some fuzzy relief, the park is also home to some magnificent Scottish Highland cows. Also, make sure that you go to the lookout point!
READ MORE | Hiking in The Hague: 11 nature spots for the outdoor adventurer
Oostduinpark is another beautiful park, located in the north of Scheveningen. It forms part of a large nature area that stretches all the way to Katwijk beach and features some beautiful rugged nature, dunes, and even a lake! If you want to explore it completely, I'd recommend going by bike.
4. Enjoy a gezellig lunch at the furthest corner of Scheveningen
Close to Oostduinpark you'll find Het Puntje. It's a cosy café at the northernmost point of Scheveningen. They pride themselves on their down-to-Earth atmosphere, as their website puts it: "with us, there's no fuss, but feet in the sand and the waves as background music" — how lovely! Het Puntje serves healthy breakfast, lunch, and dinner (and of course, borrels!)
Their menu follows the seasons and so do their opening hours — breakfast is always served from 9 AM, but closing times depend on the weather and the guests! 😎
READ MORE | These are the 7 best places to get vegan food in The Hague in 2021
5. Go to De Pier and have a stroll along the boardwalk
Scheveningen is perhaps best known for its pier (with the crazy New Year's Dive coming in as a close second) — and no wonder! Inside, the landmark has cafés, shops, and games, while on the outside it provides activities ready to meet the needs of any adrenaline junkie.
Aside from its noticeable, ridiculously tall ferris wheel, De Pier also has a bungee jump tower, and a zipline so you can whoosh above the other ice-cream-eating visitors.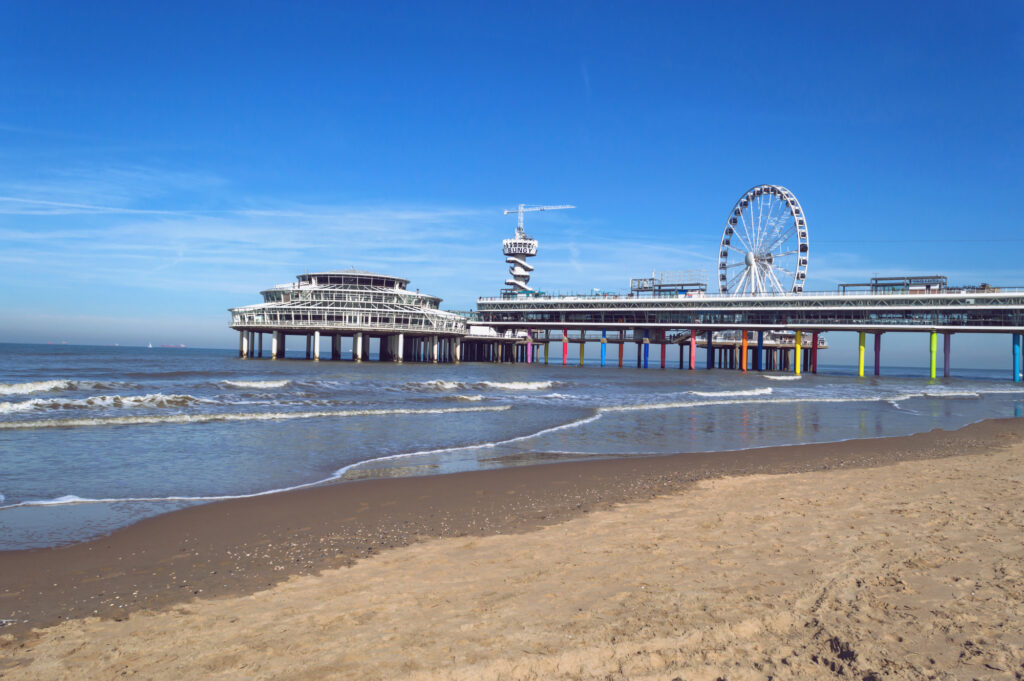 While the pier is a must-see, you shouldn't underestimate the rest of the boardwalk! Remember to look around and admire the beautiful architecture of the Kurhaus, as well as the different statues placed along the beachfront. (Even if you're busy fighting seagulls for the right to your fries).
Note: A few statues worth noting are the "Fisherman's wife of Scheveningen," and the cute (but sometimes scary if you look close enough) sculptures from Museum Beelden aan Zee.
6. Taste the North Sea and enjoy some kibbeling
Next up, time for some local flavour! It's not a visit to the beach if you don't assert your dominance over the sea by eating some fish. Kibbeling is a Dutch delicacy (or, as close as it gets) consisting of battered, deep-fried fish.
Before you get flashbacks to drunken nights at the snackbar and their everything-fried menu, rest assured that kibbeling contains actual quality ingredients. When you order it in Scheveningen, the meat for your kibbeling is freshly caught cod from the North Sea — lekker!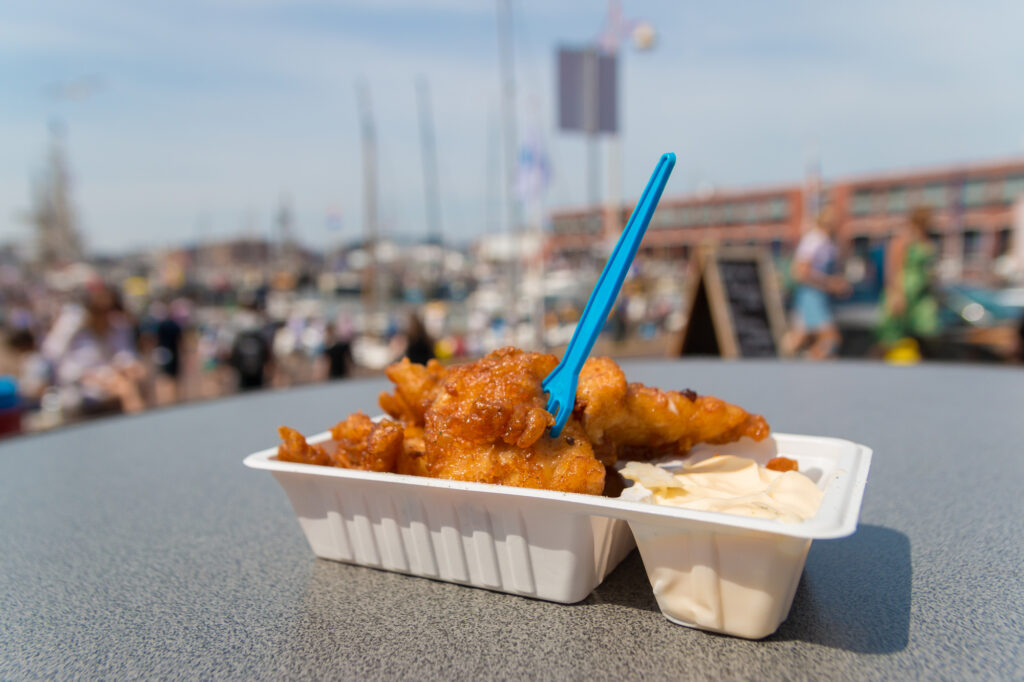 7. Get fancy and shop-amok at 'De Fred'
Dutch beaches have a lot to offer but we are in the Netherlands, meaning it'll get cold at some point. So to round off your day after enjoying the laid-back atmosphere of the beach, jump into a fresh change of clothes and experience the other side of Scheveningen!
Once you move a little further in from the beach, you'll come across some beautiful houses (that no doubt cost a little more than average). But you know what expensive houses mean? Quality shopping streets!
Frederik Hendriklaan (or 'De Fred' as it's known by locals) is one of those. It's located in the Statenkwartier and stands out with its beautiful Art Nouveau style. De Fred is home to a varied selection of shops (for all budgets!), including a handful of small businesses, speciality stores, and nice cafés.
What better way to end your day in Scheveningen than by having dinner in this charming neighbourhood, resting your feet, and soaking up the last of the summer sun?
---
There are lots to do in Scheveningen, especially in the summer, but this is my take on how to spend a perfect day in the district. Hopefully, some of it will tickle your fancy too. 🥰
Have you already been to Scheveningen? What are your favourite things to do? Tell us in the comments below!
Editor's Note: This article was originally published in July 2021, and was fully updated in June 2022 for your reading pleasure.