Ahh, the beach. The true symbol of summer. Sand, sea, a cold beer or cocktail in your hand. But which are the best beaches in the Netherlands? We've got the answers, so come on in to our list of the most amazing beaches in the Netherlands.  
Even in these coronatimes, beaches are a great place to go, as it's quite possible to keep your distance so long as you avoid crowded areas. That's why we've provided you with a list of the 20 best beaches in the Netherlands, so you have plenty of opportunity to avoid overcrowded beaches. As always, you should follow the coronavirus guidelines in everything you do: if you're sick, stay home; keep 1.5m from other people; and cough and sneeze into your elbow.
It's getting warmer and it won't be long before we will be getting our little pale legs out for the world to see on the beaches in the Netherlands. Jeez, they are probably so pale that they're going to hurt everyone's eyes. Let's hope we are set for a hot af summer, so we can get out and go beaching all day long.
So, where should you head to in the Netherlands to get out your pale pins? Here is a list of some of the best Dutch beaches in the Netherlands. We've included beaches in the Netherlands located all over the country, so you'll never be too far away from at least one of these!
Can I walk my dog on the beach in the Netherlands?
This all depends on the beach and this is why you should always look up the specific beach on their website (or the Gemeente). Many beaches have a set of rules where you can't walk your dog at certain times of the year or day. Winter in the Netherlands is when you are usually (I say usually, because please check!) allowed to walk your dog on the beach.
Are beaches in the Netherlands overcrowded?
In some cases, they are especially busy, mainly in popular places such as Scheveningen. If you go there on a hot day at the weekend it will be very busy. However, there are so many beach huts selling cold drinks there – that it makes it worth it if you arrive early.
Nudist beaches in the Netherlands
There are lots of nudist beaches (naaktstranden) in the Netherlands! Basically, if you find a regular beach, there'll generally be a nudist one somewhere nearby. You can find a list of them per province on naaktstrandje.nl if you want to feel completely at one with nature ;).
Are you allowed to sunbathe topless in the Netherlands?
Yes, but many people don't these days, mainly due to the fact that it is so easy to capture on a mobile phone. Phones are not permitted on the nudist beaches of the Netherlands however.
So, with all that said, which beaches should you visit in the Netherlands?
Scheveningen beach, Zuid-Holland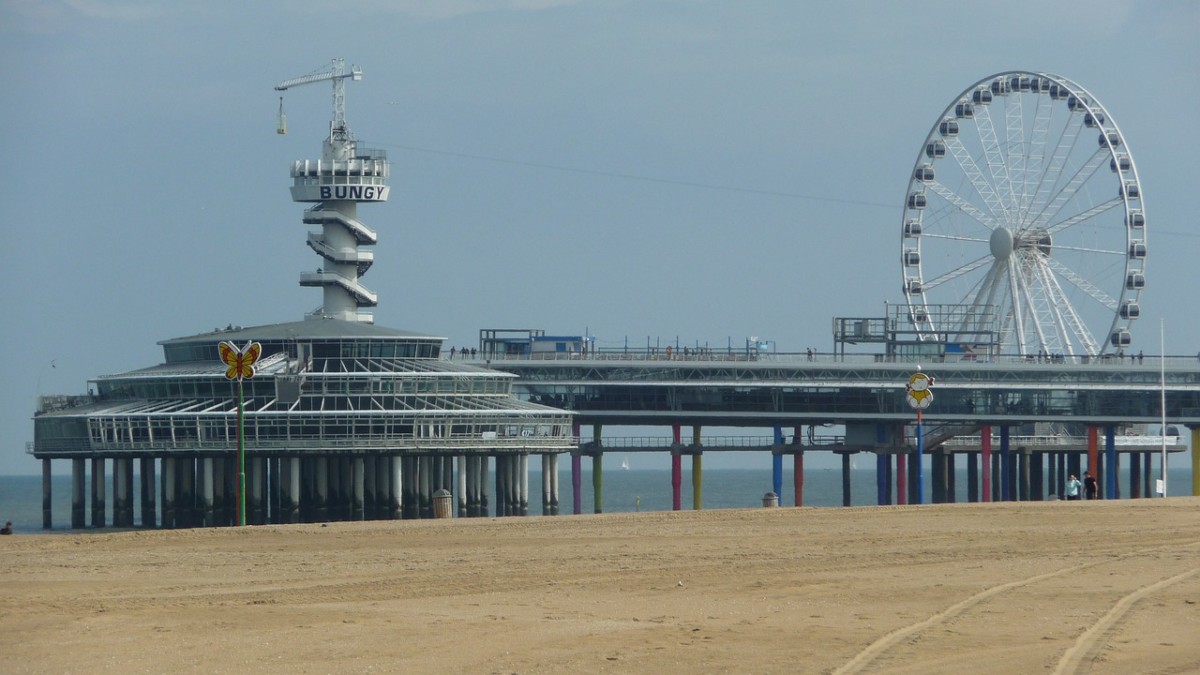 This is a classic and is where most tourists flock for their holidays. It's by far the most popular beach in the Netherlands. The beach is HUGE, it has lovely fine sand, beach bars (in the summer), shops, restaurants and a pier. It's also home to the firework festival and amazing New Year's bonfires. What more could you want?
We speak a lot about Scheveningen beach here at DutchReview and personally, I visit there often (especially when people come to visit). I'm mainly there for the beach bars though – who can say no to an ice cold cocktail on a summers day?
Hoek van Holland beach, Zuid-Holland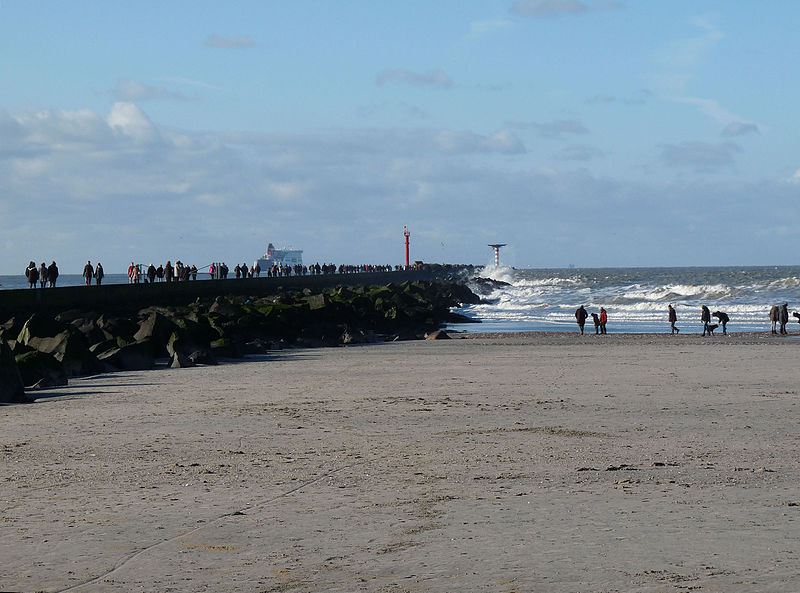 This is another lovely beach in the south of Holland and sports more of those lovely summery beach bars on the seafront! If you're a Rotterdammer, then it really isn't far to go (30 min car ride). You can even bike it if you're feeling daring and it's a nice sunny day.
It's a pretty large beach, with hotels, restaurants and water-sports. The perfect spot to go if you want to go somewhere similar to Scheveningen, only without the hoards of tourists (it's busy, but not THAT busy).
Oostkapelle, Zeeland
Zeeland is honestly one of the best spots for beaches: we honestly believe that it's just warmer down there. Oostkapelle is a really clean beach, and it just feels very peaceful too. No cars are allowed near it, which helps: you have to walk or cycle through a forest to get there. It's also nice and big, so plenty of room for everyone (especially important these days).
Texel beach, Texel
If you're after a mini holiday, you're a local or you live in the north of Holland, then this one is for you. Texel beach is on the island of Texel, just off the coast of the north of Holland (Den Helder) and is cheap to get to by ferry. Check out our guide to Texel, if you're not familiar with Texel already!
The beach stretches all the way from across the island and welcomes you with beautiful light sand. It's recognizable by the little red lighthouse and sand dunes that we all love to take photographs of. Texel has restaurants for you to enjoy also. It's also windy in Texel, so bring yer kite!
Paal 29, Noord-Holland
Now, in any good beach guide, you want to find some spots that few other people know about, and Paal 29 (along with the next three beaches on this list) are truly hidden gems. Paal 29 can be reached via a 1.5 hour hike through the Schoorlse Duinen, or by a much faster bike ride (though some of it is uphill, so don't expect this to be a leisurely ride). There is a beach club at Paal 29, luckily, so you don't have to lug your picnic with you over the dunes.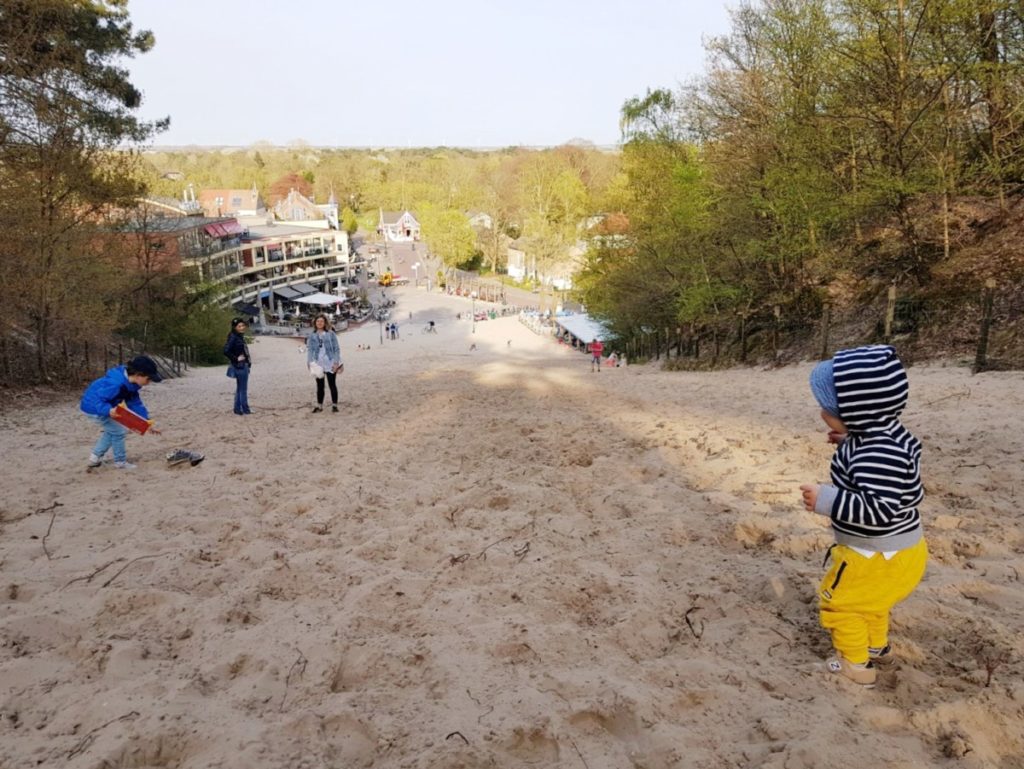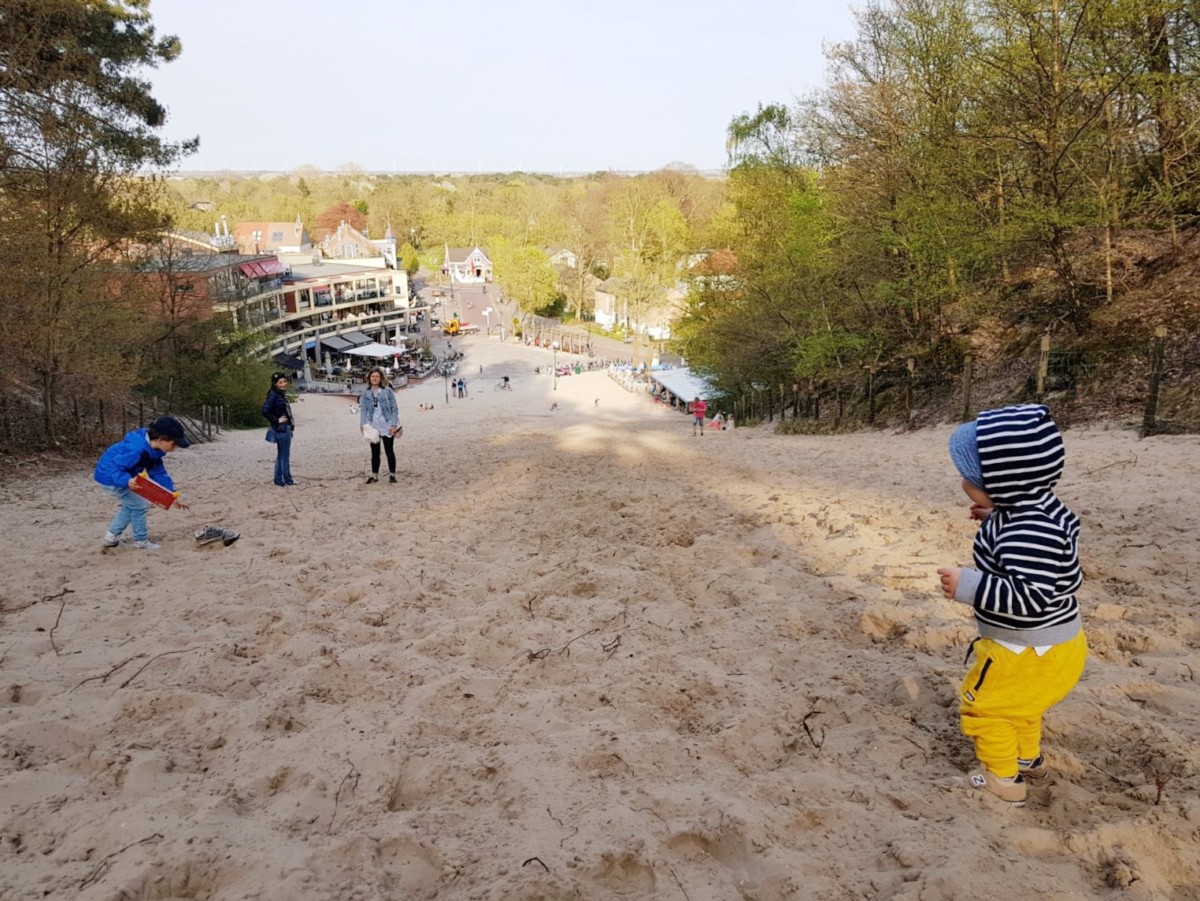 Camperduin, Noord-Holland
Camperduin is truly special. As the name would suggest, it is also surrounded by dunes, but the really unique part of it is that it contains an artificially created lagoon, sheltered by the dunes. It's also a really historical place, the site of what is commonly known as the Battle of Camperdown of 1797, when the Dutch lost a naval battle to the British. Best not to rub that in the local Dutchies' faces, though.
Petten, Noord-Holland
If you're planning a romantic evening at the beach, may we recommend Petten. It has a panoramic dune, which is the perfect spot from which to watch the sun go down in the evening. It even has wooden benches for that purpose. It's also great for swimming, and easily accessible by public transport or car (free parking!).
Sintmaartenszee, Noord-Holland
Now, if you fancy a double-beach day, Petten and Sintmaartenszee are the perfect two to combine. Sintmaartenszee is just 5km down from Petten, so easily reached by bike. It's a beautiful rustic spot, ideal for children. There's a playground for them to enjoy. You can also rent a sunbed or a windscreen from one of the beach clubs dotted along this beautiful beach.
Zuiderstrand, Zuid-Holland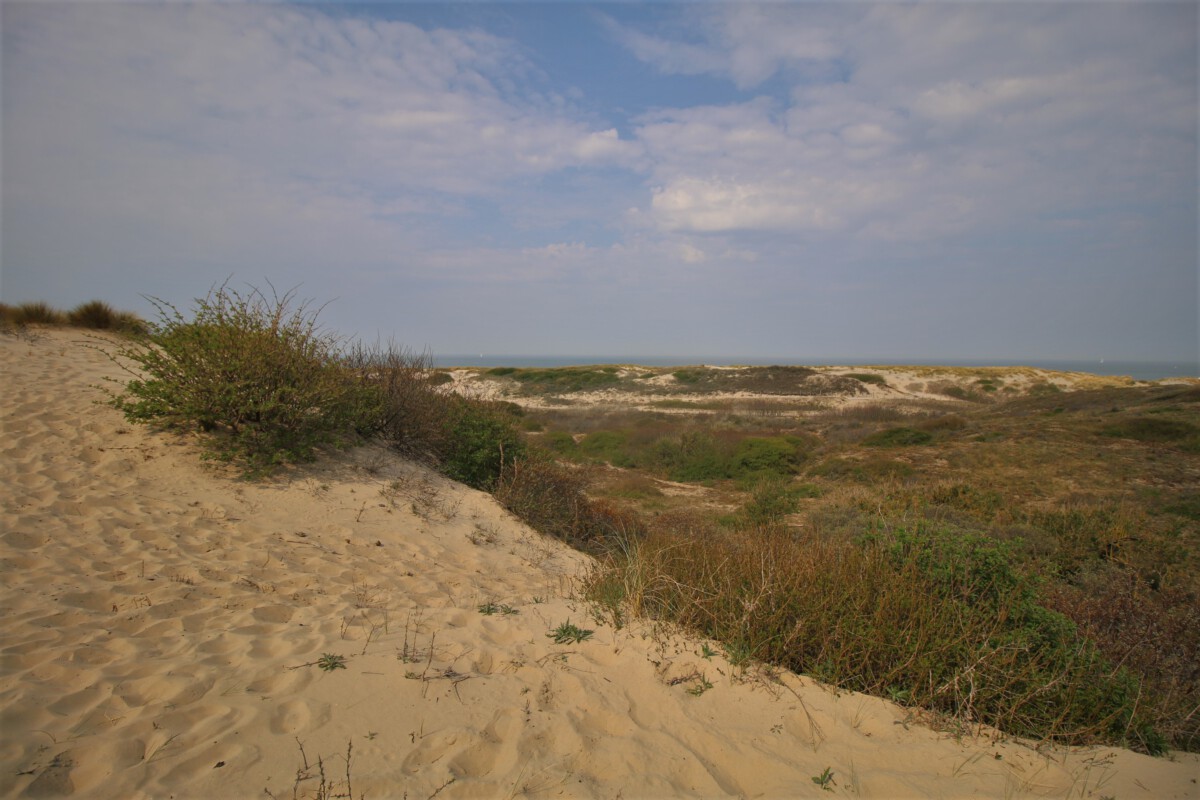 This beautiful stretch of beach is technically attached to Scheveningen, but it couldn't feel more different. Far less crowded, Zuiderstrand is framed by Westduinpark, a park full of sandy dunes, beautiful plant life, and hilly paths to walk. There are a few beach clubs along the beach, though not nearly as many as Scheveningen proper.
It's the perfect place to come for a really relaxing day: bring a book, some sunglasses, and your wallet for the inevitable fry-craving when it comes.
Bloemendaal aan Zee, Noord-Holland
This is a lovely popular spot, and with good reason: like most of our favourite beaches on this list, it's surrounded by nature. The Kennemer Duinen are super beautiful to walk through. And, like all good Dutch beaches, Bloemendaal can Zee is also lined with beach cafes serving snacks and drinks, so you don't get peckish during your sojourn in the sand.
Berkenbosch beach, Zeeland
If you're wanting a beach that's a little more natural (as in, isn't surrounded by buildings and restaurants), then Berkenbosch in Zeeland may just be your place. It's quieter for this reason, yet still popular. Its a lovely sandy beach, with a restaurant so you don't starve (because nobody wants that).
It's the perfect place for a nice walk or a sunbathe away from the hustle and bustle of life. Plus it's so lekker!
Schiermonnikoog
Here's another Wadden Island beach for you: and this one is perfect for you athletic types, because it's the ideal place to go windsurfing. It's also one of the cleanest beaches in the Netherlands, and is perfect if you have kids who aren't super confident sea-swimmers yet, as the waters here are perfectly shallow and clear.
Zandvoort aan Zee beach, Noord-Holland 
Zandvoort aan Zee is another busy and popular beach, mainly because it is only around 30km away from Amsterdam, so is one of the nearest beaches from the capital. For this reason it's very popular, as sometimes we all need a break from the city – especially the capital.
This really long and lovely sandy beach is part of the Zuid-Kennemerland national park – which means that there is plenty more to explore when you arrive. Beaches, forests, dunes, what more could you want?
Wassenaar, Zuid-Holland
Wassenaar is a lovely, soft-sanded 8km long beach between The Hague and Leiden. It's surrounded by dunes and lovely nature-filled paths to walk, and has similar vibes to Zuiderstrand in The Hague. One of the nicest things to do here is go for a bike ride or a run in the dunes, and then dash into the sea to cool down in the heat of the summer. Sheer bliss!
Ameland beach, Ameland
Another on the Wadden Islands, is Ameland beach. This beautiful beach is very similar to Texel's – long, sandy and full of sand dunes and beach houses. It looks truly beautiful!
It's also another windy place, so bring a kite and enjoy yourselves! If you're into sports, then there is a rugby festival every June. So as if a lovely beach isn't enough, then there is even more fun to be had.
Cadzand, Middelburg
There's something very human about wanting to visit places that are "the most" anything, and honestly that's why we'd recommend visiting Cadzand in Middelburg. It's the southernmost beach in the Netherlands, and apart from that, it's just a lovely place to visit.
You could spend the morning in the beautiful centre of Middelburg itself, and then head out to Cadzand, enjoy some fresh seafood for lunch, and chill out on the beach for the afternoon.
Egmond aan Zee beach, Noord-Holland 
Egmond aan Zee is a village situated in the north-west of Holland and has the most beautiful beach! It's a popular spot for tourists, as the old fishing village is so nice and the beach is quiet (as in not filled with attractions).
It's the perfect place visit to walk or swim. There are also sand dunes and also a lighthouse (like Texel) that can be visited. You may even spot a wild horse or two!
Katwijk Beach, Zuid-Holland
Katwijk beach is another beautiful sandy beach found in Holland. It has a 2km long boulevard, with shops, bars and restaurants. A wide range of the usual water sports can be done at Katwijk and there is ample space to enjoy a sunbath or a nice walk along the beach. You can also bring your dog too (it's dog-friendly)!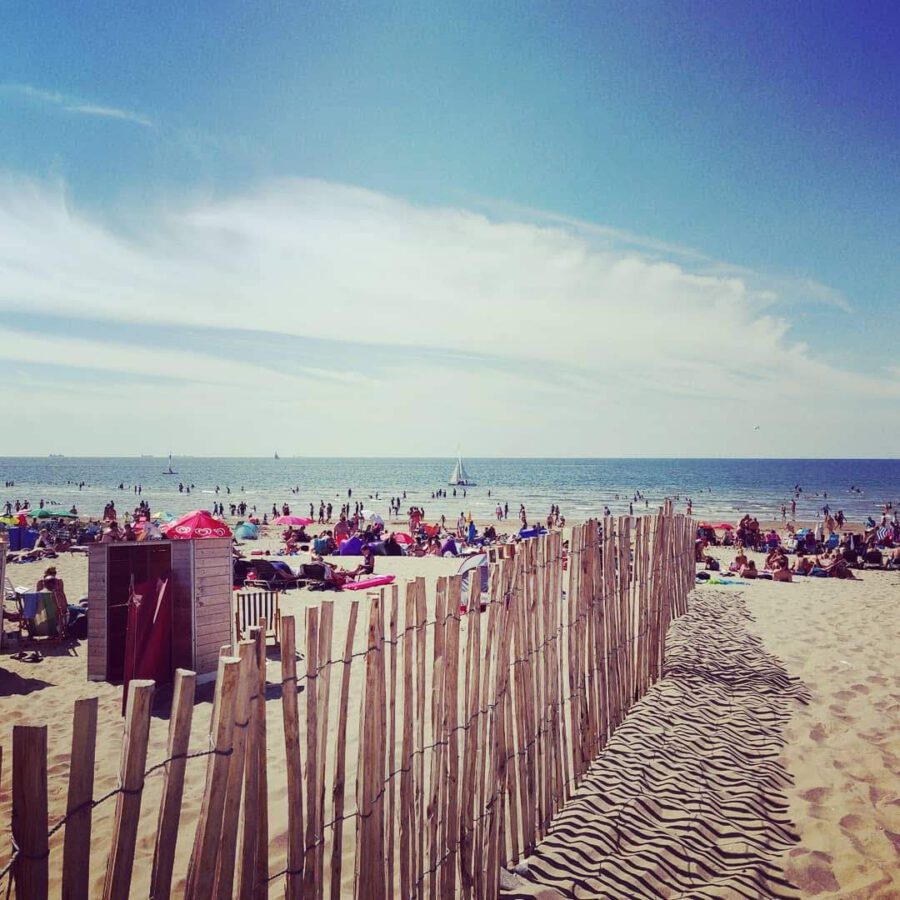 The beach is very popular with tourists and it's certainly somewhere you should go if you happen to be in the area. Especially as there is a lighthouse and other old fishing houses and buildings that have remained.
Noordwijk Beach, Zuid-Holland
Noordwijk beach is a sandy beach located in Holland, not far from the tulip bulb fields and the Keukenhof that we all love to visit in the spring. It has 18 beach clubs, with 7 that are open all year round, so it's the perfect place for a drink and a bite to each while looking out to sea. There are plenty of beach activities to do there, such as rafting, canoeing and kite-flying. Dogs are also welcome on the beach too!
Domburg beach, Zeeland
If you're off to Zeeland on your holidays or are nearby, then this lovely beach will be perfect to visit. It's actually one of the oldest beach resorts in the whole of Zeeland. Not only is there a long beach to walk along, but there are also dunes and the little village of Domburg nested behind it. So if you're wanting to visit somewhere else, you can nip over to the village.
The resort is perfect for walks, water sports and eating and drinking.
So there you have it… just some of the amazing beaches in the Netherlands. If we were to list every single one, we would be here all day. How lucky are we all! Whenever people come to visit and fly from the UK, they always say about how lovely the coastline looks because of all of the beaches. There are plenty more where that came from! 
What are some of your favourite beaches in the Netherlands? Let us know in the comments! Also, don't forget to join our Facebook group for more Dutch stuff! (Do we really have to bribe you with stroopwafels?) 
Feature Image: EvgeniT/Pixabay