As the Dutch centre of modern architecture and big city vibes, there are lots of things to do in Rotterdam.
This vibrant city is home to Europe's largest port, the only skyline in the Netherlands, and a melting pot of cultures.
With a knack for innovation and some of the most unique architecture in the country, here are 32 things to do in Rotterdam that will guarantee an unforgettable trip.
This post might have affiliate links that help us write the articles you love, at no extra cost to you. Read our statement.
1. Gorge yourself at the food stalls and restaurants of Markthal
Markthal features restaurants and food stalls with all kinds of cuisine, from sushi and tapas to frietjes and kapsalons — a real testament to Rotterdam's multiculturalism.
This food hall is the perfect place to grab a bite to eat, with the building acting as a modern take on a marketplace, merging Rotterdam's famous architecture with traditional markets.
---
2. Visit the beloved Blijdorp Zoo
Blijdorp, officially known as the Rotterdam Zoo, is one of the most fun things to do in Rotterdam. Here, you'll find botanical gardens, an aquarium, and all kinds of enclosures for over 180 species.
Our top tip: check out the animal feedings. You can see heaps of different types, including polar bears, sharks, and penguins. Wat leuk! (How nice!)
READ NEXT | Dierentuinen: 10 best zoos in the Netherlands
---
3. Ascend the Euromast Tower for some city-wide views
The Euromast is an observation tower that stretches above much of Rotterdam's skyline, offering some stunning views of the city below.
You can buy tickets to check out the 96-metre-high observation deck and book a table at the restaurant after you've soaked up all the views.
Feeling extra bold? Why not go rappelling off the side of the building? 🫣
---
4. Order a pint at Witte de Wittstraat
There is nothing more Dutch than finding a terrasje (terrace), ordering a beer and some borrel snacks, and hanging out with your friends.
What was once a place for cars is now a place for people.

Before the pandemic, Rotterdam's Witte de Withstraat was a car-choked thoroughfare.

Today, cars are banned, and terraces have taken the place of on-street parking spaces; part of a program that converted 1,000+ citywide. pic.twitter.com/agx7fidBkE

— Melissa & Chris Bruntlett (@modacitylife) February 5, 2022
Witte de Withstraat in the centre of Rotterdam is one of the cosiest spots in the whole city, and you'll find plenty of bars and restaurants to suit your mood.
READ NEXT | Where to live in Rotterdam: the ultimate guide to Rotterdam's neighbourhoods
---
5. Enjoy the art at Depot Boijmans van Beuningen
If you love art and modern architecture, visiting the Boijmans van Beuningen Depot is one of the perfect things to do in Rotterdam.
The Depot is the only publicly-accessible art depot in the world, with over 150,000 art items stored there.
Not to mention, the reflective panel on the building's exterior gives it a cool, modern look, right in the centre of the city.
---
6. Explore Rotterdam's Oude Haven (Old Harbour)
The Oude Haven (Old Harbor) is one of the oldest ports in Rotterdam — but believe us, this is no ugly industrial port.
Here, you can enjoy cafés, bars, and restaurants, take a stroll along the water, and admire the boats docked in the harbour.
---
7. Get fanatical at Feyenoord Stadium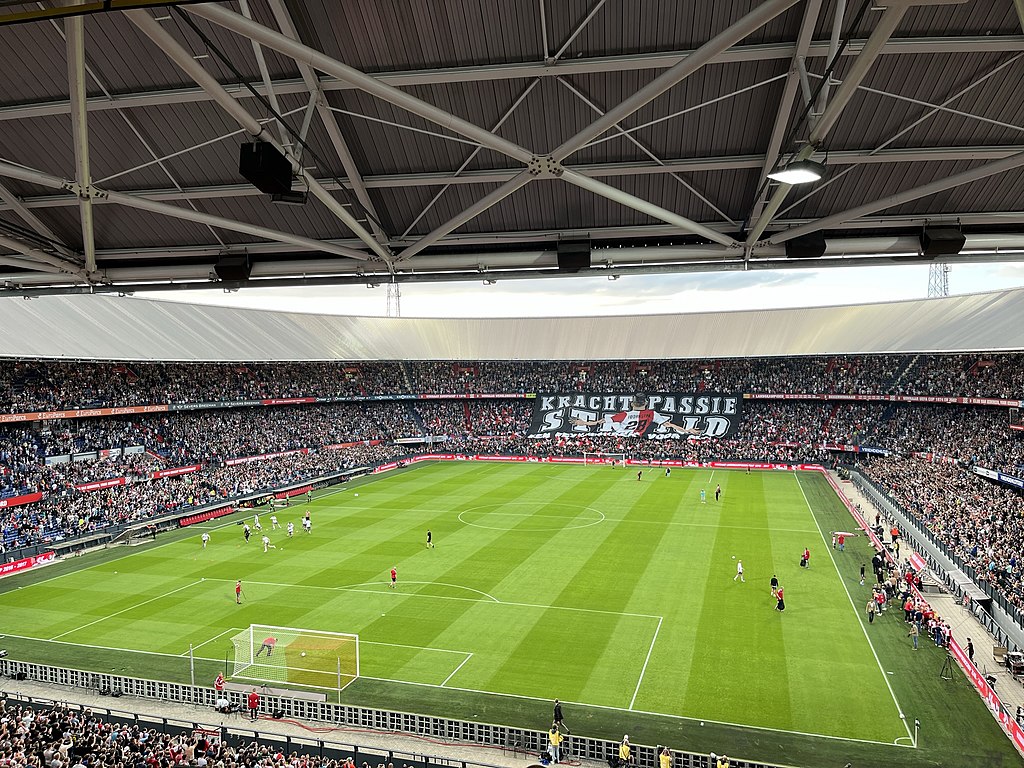 Affectionately nicknamed De Kuip (The Tub), a visit to the Feyenoord stadium is one of the coolest things to do in Rotterdam — and a must-visit for any football fan.
READ MORE | Why does the Netherlands love orange? The full explainer
Visitors can tour the whole stadium and check out the museum of one of the biggest Dutch teams.
And if you're extra lucky, you may even plan your trip when the Feyenoord team has a match in their home stadium. Score!
---
8. Sleep in a floating home at Wikkelboat
A water mattress is one thing, but imagine drifting to sleep while your entire house floats on water. Turns out that in Rotterdam, living out this impossible fantasy has actually been made possible.
Thanks to Wikkelboat, you can make your inner mermaid/merman come to life by floating on these tiny homes through the waters in Rotterdam and Den Bosch.
READ MORE | 9 unique places to spend the night in the Netherlands
Not only that, but there are also potentially private jacuzzis, televisions, or massages onboard.
Who else is curious to find out what kind of marine-themed dreams that night of sleep conjures up? 👀 🐟
---
9. Have a picnic at Het Park
Het Park is one of Rotterdam's most picturesque spots, with loads of picnic space and greenery to enjoy.
Get your biggest blanket, pack all your favourite snacks, and find a comfy spot to share a bite with your friends and family!
---
10. Enjoy the abstract modern architecture of Cube Houses
It's not a real visit if you don't have "check out the architecture" on your list of things to do in Rotterdam!
The Cube Houses (Kubuswoningen) are one of the city's most iconic attractions. Dutch architect Piet Blom designed these residential houses in the shape of a cube — and then turned them on a 45-degree angle!
Ever wondered what it would be like to live there? You can buy a ticket to check out the interior of one of the Cube Houses and get a feel for the architecture!
---
11. Soak in nature at Trompenburg Gardens & Arboretum
With plenty of trees, shrubs, and flowers, Trompenburg Gardens and Arboretum is the perfect place for anyone with a green thumb or walkers who are looking to get away from the bustling city outside.
Located just outside the city centre, this 20-acre botanical garden has lots of unique flora, from cacti to varieties of oak, and rhododendrons.
---
12. Discover a small city at Miniworld Rotterdam
Enchanting for both children and adults alike at Miniworld Rotterdam, you can take a look at some of the most famous landscapes and areas in Rotterdam on a tiny scale. Talk about adorable!
Discover Dutch suburbian life, the coastal and polder landscapes, and even get a simulation of day and night time with a change in the lighting.
---
13. Marvel at the exhibitions in the Nederlands Fotomuseum
The Nederlands Fotomuseum showcases Dutch photography to preserve its heritage and traditions through several permanent and temporary exhibits.
The museum hosts several activities and workshops throughout the year by artists and photographers.
---
14. Take a stroll through Kralingse Plas and Bos
If you're looking for a break from the hustle and bustle of the city, Kralingse Plas and Bos (lake and forest) is the perfect place to go.
Located in the suburbs of Rotterdam, this pocket of nature is lovely for taking walks in the day and soaking up the natural surroundings.
You can also get sporty and take a run or cycle around the forest. If you're feeling extra adventurous, there are heaps of water sports on the lake, including fishing, rowing, and sailing.

READ NEXT | Hikes and walks in Rotterdam: 12 places for the perfect nature escape
---
15. Admire the Sint Laurenskerk
Sint Laurenskerk (Saint Lawrence Church) is one of the only structures remaining from medieval Rotterdam after World War II.
This beautiful Protestant church sits right in the centre of Rotterdam, right next to the Markthal and the Cube Houses.
You can climb the tower and view Rotterdam from a gorgeous vantage point or admire the church's interior, including the largest organ in the Netherlands!
---
16. Watch some movies at KINO Theatre
If you're a sucker for gezellig vibes, KINO Theatre is perfect for you.
Just wanted to remind you, she's still there ⛄️☀️ #kinorotterdam #rotterdam #cinema pic.twitter.com/wVYGdqQD3m

— KINO Rotterdam (@KINORdam) February 12, 2021
Located right in the city centre, KINO Theatre has cute screening rooms and all the indie films and snacks you could ask for.
You can watch a movie for a fraction of the price compared to other movie theatres and support local Rotterdam businesses. What's not to love?
---
17. Explore Rotterdam's Museumpark
Just like Amsterdam's Museumplein, Rotterdam has its very own Museumpark!
If you're ever in the mood to check out some art exhibitions and installations, a walk through the park will certainly give you some inspiration.
READ MORE | 20 best and free things to do in Rotterdam in 2022
Museum Boijmans van Beuningen, Kunsthal Rotterdam, the Chabot Museum, Het Nieuwe Instituut, and the Natural History Museum Rotterdam are all within walking distance of the park.
---
18. Drink up at the National Jenever Museum Schiedam
Did you know the Dutch have their own version of gin, called jenever? They like it so much, they even have a museum dedicated just to the liquor!
Suitable for groups of friends or a day with your SO, you can find out about jenever's history, how it's made, and even try some authentic jenever yourself at the National Jenever Museum. Lekker!

READ NEXT | Day trip to Schiedam: things to see and do in the gin capital of the world
---
19. Watch a classical concert at De Doelen
De Doelen Concert Hall is the home turf of the Rotterdam Philharmonic Orchestra and is one of the best spots to watch a concert in the country.
De Doelen primarily hosts concerts for classical music, but you can still watch all kinds of musical groups, acts, and performances.
---
20. Walk along the famous Erasmusbrug and the Willemsbrug
The Erasmusbrug and Willemsbrug (Erasmus Bridge and William's Bridge) might be the most iconic structures that make up Rotterdam's skyline.
The Erasmusbrug is famous for its unique shape, nicknamed "the Swan" for its light colour and neck-like appearance. The Willemsbrug is an older, red bridge, slightly further down the Maas river connecting the northern part of Rotterdam to the Feijenoord neighbourhood.
Visitors can enjoy strolling along the river and walking across the bridges in their full glory, both in the daytime and at night!
---
21. Check out the art installations at De Kunsthal Rotterdam
De Kunsthal is one unique cultural institution in Rotterdam, hosting over 20 different exhibitions per year, from fashion and photography to contemporary art and design.
The Kunsthall offers access to several art instalments, activities, workshops, and events, so get your tickets ASAP!
---
22. Jam out at the North Sea Jazz Festival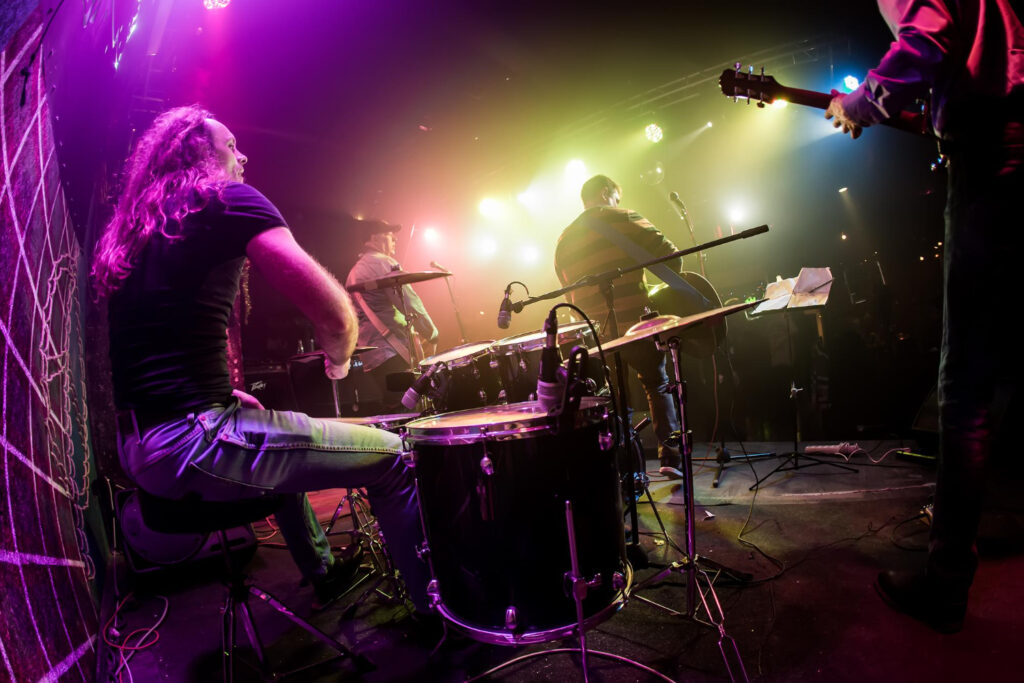 North Sea Jazz Festival to Rotterdam is what Coachella is to California. For three days in July, visitors come from all over the Netherlands (and the world) to watch concerts by all kinds of artists and performers.
Despite the name, North Sea Jazz does not only showcase jazz music acts (although their jazz performers are absolutely killer). The North Sea Jazz Festival is usually held at Rotterdam Ahoy, Rotterdam Zuid's event hall.
Past acts include Toto (yes, the guys who sang Africa), Herbie Hancock, Alicia Keys, and Jamiroquai.
---
23. Enjoy some pancakes and the river views on the Pannenkoekenboot
Eating pancakes and boating down the river Maas is one of the essential things to do in Rotterdam. And you can do both on the Pannenkoekenboot!
This boat is not actually made of pancakes, but you'll still enjoy a sail down the Maas river while munching on some delicious Dutch pannenkoeken for an hour or two in the inner part of this floating restaurant.
It's a memorable activity for families, friends, and anyone looking for an authentic pannekoek.
---
24. Shop till you drop at the Koopgoot
Translating to "The Shopping Gutter", the Koopgoot is anything but a gutter. If you're looking for a new pair of jeans or want to buy someone a souvenir for your visit, shopping at the Koopgoot is a must-do in Rotterdam.
The sunken shopping area connects the big shopping streets (Lijnbaan and Hoogstraat) to the Beurs metro station — so you're sure to find everything you're looking for at this shopping spot.
---
25. Get a history lesson at Museum Rotterdam
From a close connection to its port and harbour to a solemn World War II experience, Rotterdam is a city with one of the most interesting histories in the country.
If you're interested in learning about the city's past, you should consider this museum as one of your things to do in Rotterdam.
Visitors can look at an exhibit and immerse themselves in their multimedia experience about Rotterdam during World War II.
---
26. Board the SS Rotterdam for a tour
The SS Rotterdam is a former ocean liner and cruise ship docked in Rotterdam as a hotel and restaurant.
The ship used to be part of Holland America Line, carrying passengers back and forth from Rotterdam to New York back in the day.
Nowadays, if you're looking for a fancy hotel to stay in or get a good bite to eat at a unique, the SS Rotterdam is your place to go. You can also book a guided tour and explore the interior of the steamer.
---
27. Visit the historical Delfshaven
If you want to see some traditional architecture in Rotterdam, visiting Delfshaven is one of the loveliest things to do in Rotterdam.
This particular neighbourhood in Rotterdam is one of the only spots to survive the bombings during World War II and maintain some of the traditional facades of Dutch homes.
Delfshaven is perfect for any lowkey activities like walking your dogs, having a drink on a terrasje (terrace), or simply wandering around the city.
---
28. Grab a bite to eat at Fenix Food Factory
Fenix Food Factory is the perfect place to grab a bite to eat or do your weekly grocery shopping!
fenix food factory #rotterdam pic.twitter.com/G0s6aN9tnI

— paul bloemers (@paul_bloemers) May 21, 2018
You can buy your regular food products for home but also try out some special beers, coffees, and snacks from all kinds of food stalls and stands.
There's also plenty of space to sit down, whether it's to have a drink or eat a full meal! Get yourself a chair and enjoy some good food with your friends and family.

READ NEXT | Where to eat in Rotterdam: 11 trendy restaurants to go in 2022
---
29. Browse Rotterdam's street art
Plenty of artists like to use the facades of Rotterdam's buildings for their large murals — and we have to say, they only add to Rotterdam's character!
Street art of #Rotterdam 🇳🇱💕 #Traverse18 #streetartist #RotterdamMakeItHappen #LoveRotterdam pic.twitter.com/YNmUtTQ2uS

— Life is a Festival! (@lifeisafestival) May 27, 2018
There are some designated art routes you can pick and walk along yourself, or perhaps you're curious to spot some murals just as you pass throughout the city.
You can download an app that shows you the different routes and is constantly updated.
---
30. Take a boat tour down the river Maas
Your trip to Rotterdam would be incomplete without a boat tour on your list of things to do — after all, it is a port city. 😉
Take a tour of all the major spots on Rotterdam's river and relax as the boat whisks you around, completely stress-free. Different boating companies have different routes and pick-up/drop-off points, and add-on experiences, so you can certainly find a tour that suits your interests.
For example, you can do a boat tour and borrel, or get a tour of the Euromast after you've gone cruising on the waters. Other boat trips visit the popular harbours around the city, while others will show you highlights of Rotterdam's skyline.
---
31. Catch a show at the Luxor Theatre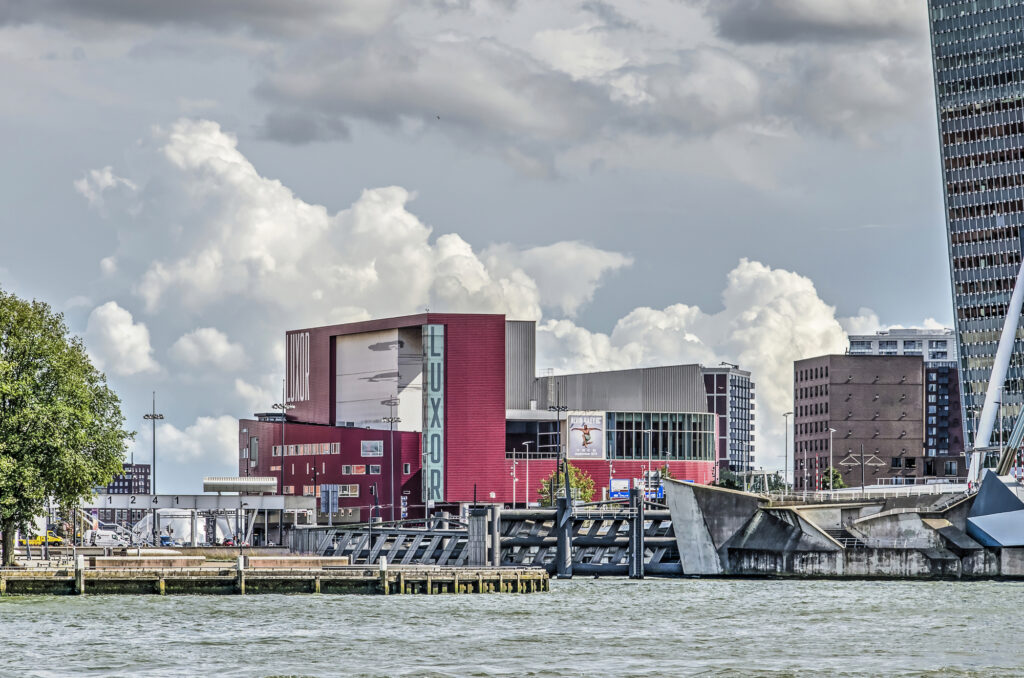 The Luxor Theatre has two auditoriums, one in the city centre and one in the city south, affectionately referred to as the 'old' and 'new' theatre — and both are perfect for movie buffs!
Visitors can enjoy various performances, from operas and musicals to cabaret and plays. Now lights, camera….action! 🎥
---
32. Get a glimpse of naval history at the Maritime Museum
Rotterdam wouldn't be where it is today without its historic harbours and invaluable port.
Rotterdam and the sea are practically inseparable, and you can learn all about the city's naval and maritime history at the Maritime Museum.
The museum has many exhibits and displays to explore, detailing all kinds of interesting stories from history.
---
Whether you're in the city for a day, a week, or a year, you'll find a load of fun and exciting things to do in Rotterdam. Now, go forth and get that travel itinerary ready!
What's your favourite activity in Rotterdam? Tell us in the comments below!
Editor's Note: This article was originally published in January 2023, and was fully updated in September 2023 for your reading pleasure.