A simple walk around one of the many Amsterdam canals with a keen eye for waste and the plastic leaves one feeling ashamed. Plastic bottles, plastic cups, tons of plastic packaging. Plastic is literally everywhere.
According to Waternet, 3,500 kg of waste is removed from Amsterdam waterways canals every day. The litter (plastic included) usually piles up behind moored boats, inside old and forgotten ones, at the corners of canals, or under bridges. Plastic is an extraordinarily versatile product, but we are all drowning in it. Here's how you can help to reduce the amount of plastic in Amsterdam's waters by plastic fishing.
Taking action: How can I go plastic fishing in Amsterdam?
It is just as simple as it sounds — gather a group, get the tools, and go for it! After all, fishing for plastic is a rewarding activity in more ways than one: you help cleaning the waste from the canals and at the same time have fun doing an activity together as a team.
Fishing for plastic requires neither a large investment in special equipment nor any previous fishing knowledge. You can try to get some equipment from the Gemeente, such as fishing nets and rubbish pickers. If you plan on becoming an active plastic fisherman, you may wish to invest in your own tools. The prices range from about €5 for a rubbish picker to approximately €10 for a fishing net.
What about the boat?
There are numerous organizations in Amsterdam that you can rent a boat from. The choice of boats to pick from ranges from little electric ones that you can steer yourself to larger ones with a steersman to ride it for you and your team.
Simply try to find what works best for you personally — budget-wise and in terms of availability and routes. Depending on the company you end up going for, they might make arrangements for food and drinks. The possibilities are endless, and in the end, it all comes down to your personal preference.
Are there guided tours for plastic fishing in Amsterdam?
The short answer is yes, there are! One of them is offered by the Plastic Whale Foundation — a movement of people who are taking action towards a plastic-free ocean. Since 2011, Plastic Whale has been organizing plastic fishing tours around the Amsterdam canals. The unique experience has become quite popular and more than 20,000 people have joined the tours ever since they started.
The plastic collected from Amsterdam's Canals is used in a creative way to make various items. These include Plastic Whale's tour boats, as well as furniture, which is part of the Plastic Whale Circular Furniture initiative.
Fishing for plastic as a team-building activity
The best activities are those where the whole group feels happy to participate. The benefits of volunteering on our mental health are unequivocal. Activities done for a good cause encourage the group to act as one, rather than focusing on individual achievements. They can also be a great way to inspire new conversations and attitudes in the workplace.
Inspired by the Plastic Whale Foundation, this group of workmates organized their own team-building activity to hunt for plastic in the Amsterdam Canals. With the help of the Gemeente which provided the equipment needed to collect the floating waste, the group managed to collect 10 bags of plastic litter within two hours. The collected items included bottles, crisps packages, toothbrushes, snack containers, and much more.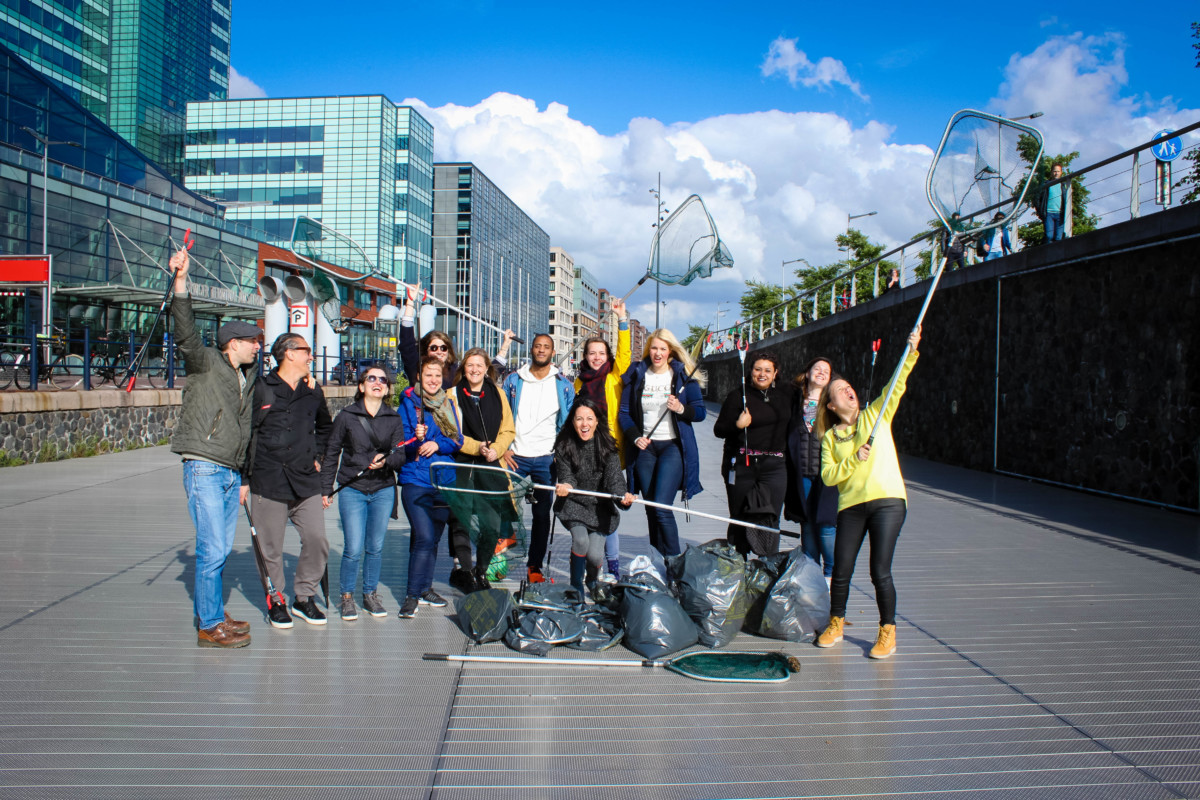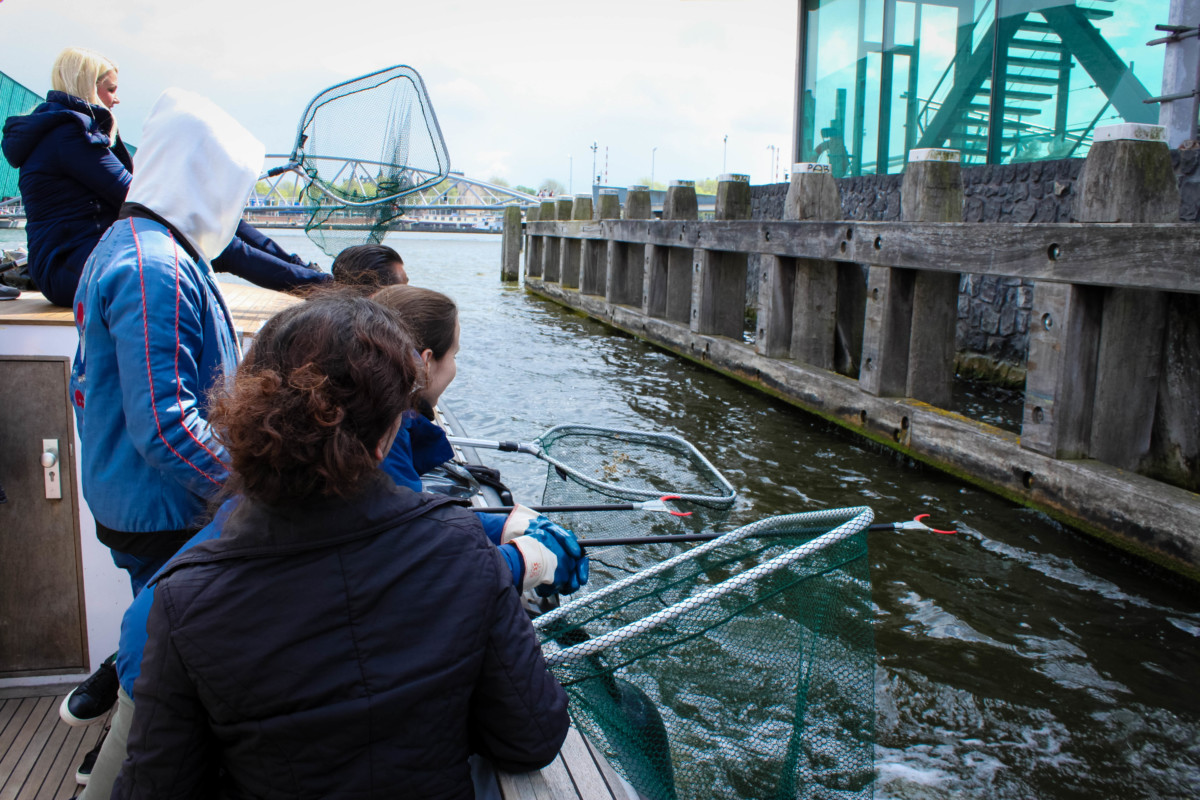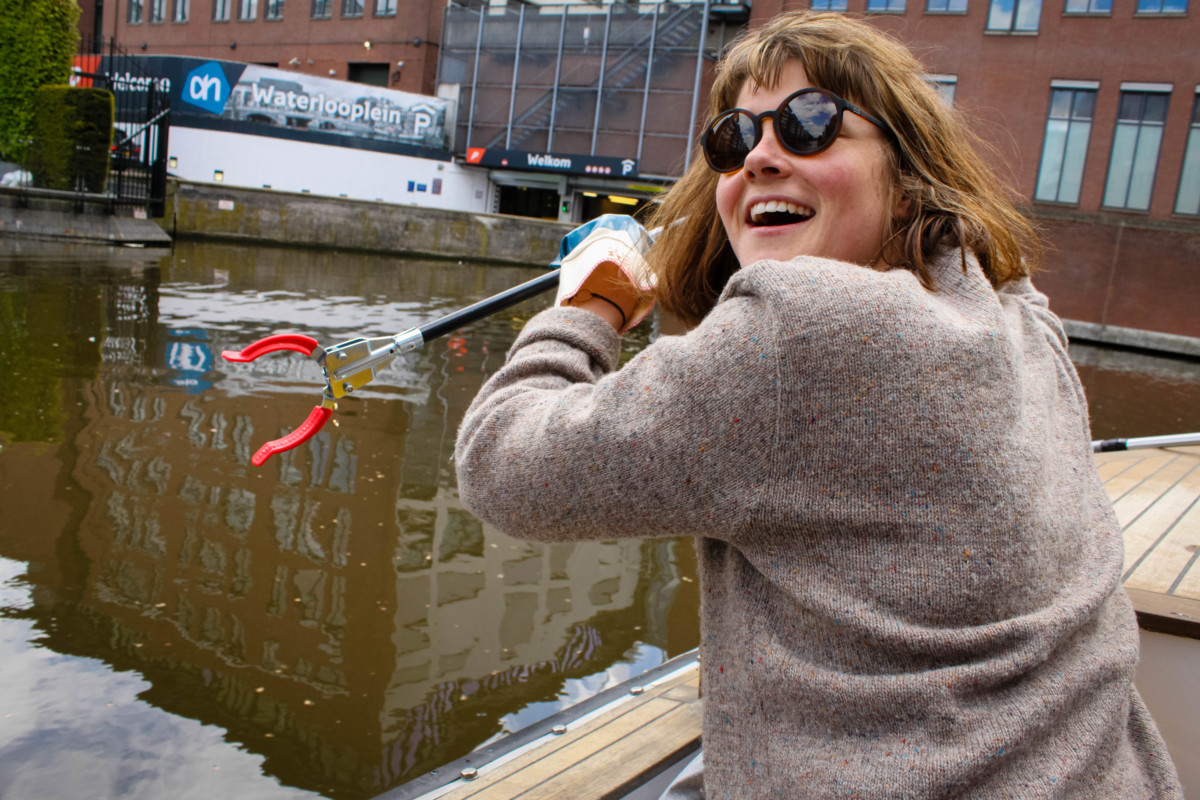 Will a single plastic fishing tour solve the problem?
The answer is obviously no. However, the bottom line is that waste comes from us. We are the source of plastic pollution, and every person has the power and responsibility to prevent plastics from ending up in the sea. With this in mind, behavioral change is the first step to divert from single-use plastic products.
The versatile & durable characteristics of plastic make it an attractive material for producers and consumers. However, mass production is only adding to the environmental crisis. As individuals, we all have the power to make small changes to tackle the problem.
For instance, try avoiding single-use coffee cups or take your own reusable bag to do groceries. Change from single-use containers to refillable bottles and reject (free) plastic gifts at the supermarket. Or as we suggested above, you can also try to collect plastic waste yourself, especially when it is disposed of close to the sea.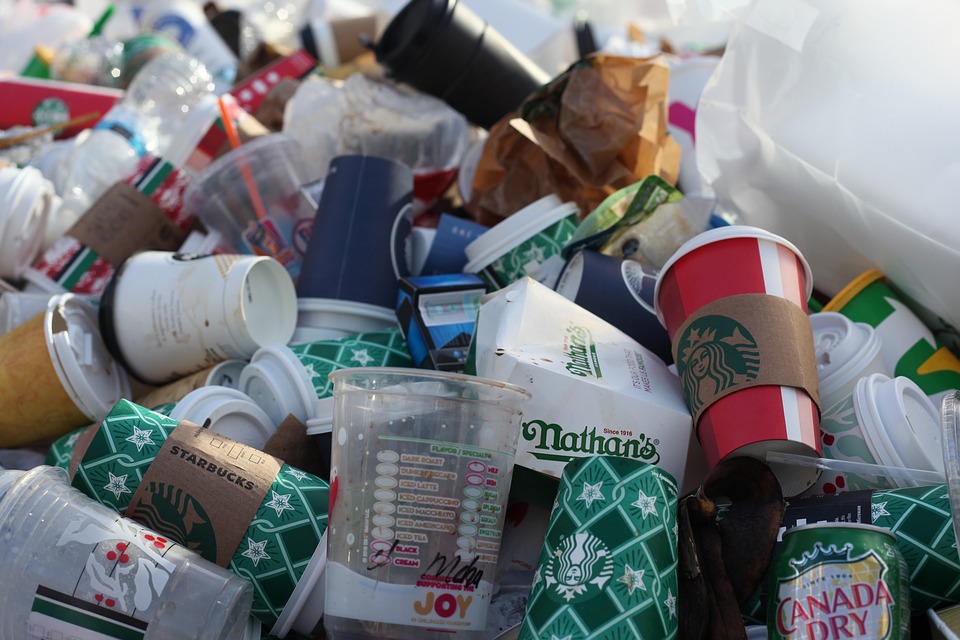 Organizations in the Netherlands fighting plastic pollution
Have you taken any steps to help tackle the plastic soup? Let us know in the comments below!
Feature Image: Nastya Gepp/Pixabay
Editor's Note: This article was originally published in May 2019, and was fully updated in March 2021 for your reading pleasure.