The Netherlands is set to randomly get cold during the middle of this week. Light frost is expected and a few snow showers towards the north of the country. Even Amsterdam is expected to get a bit of snow this weekend.
 So how cold is it?
Well, starting from tomorrow, we'll be seeing highs of around 5 degrees Celsius and lows of 0, this will go down to highs of 3 on Thursday, down to highs of 1 degrees Celsius and lows of -1 on Friday and -2 on Saturday, where snow is expected. So as you can see, it's steadily getting colder as time goes on.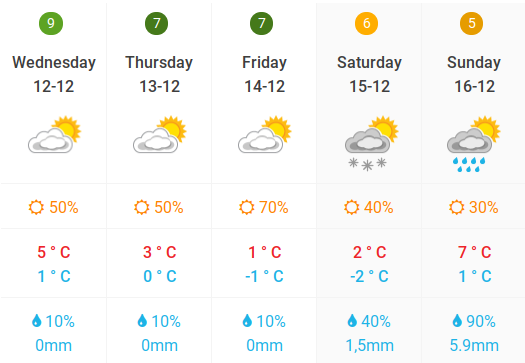 However, it's not set to last, so any ideas of a cold and snowy Christmas is firmly out of the question. I'm sorry to tell you, but it's literally going to be pouring with rain every day after that. So it's set to be a wet and soggy Christmas period. It's been weirdly fairly warm so far – literally this time last year we had a lot of snow here in the Netherlands. So maybe the cold will come in thick and fast in January, we'll have to wait and see.
Do you prefer the cold weather to the rain? Let us know in the comments!