Celebrating New Year's Eve in Scheveningen: your guide to sizzling hot celebrations and cold-as-ice events in our favorite beachtown.
When it comes to celebrating the arrival of a new year each country has its own traditions. And a good bunch of the 'Oud & Nieuw' traditions are happening in the beautiful beach town in Scheveningen. It's a song of fire and ice over there and it's what makes it one of the places to be when we finally say sayonara to the year of 2018 and laud in 2019.
The New Year's bonfire at Scheveningen beach
Sometimes the best traditions to enjoy are the simplest ones. The big bonfire at Scheveningen beach is certainly one of those celebrations that's just simple but oh so magnificent as well.
This is what is happening in Scheveningen with New Year's Eve: the people stack a huge amount of pallets on top of each other, enough to make it to the Guinnes Book of Records. A tower of well over 30 meters high and over 4000 cubic meters in total is set on fire, creating a jaw-dropping fire that puts Burning Man to shame.
Since Schevingen apparently has a love affair with huge fires there are two (!) bonfires every New Year's Eve in Scheveningen competing for the highest and most badass fire in the world. Traditionally there's one set ablaze North of the harbor on the (conveniently named) North Beach and there's one more a bit to the South in Duindorp (officially The Hague, but borders are vague in this area). Last year, Duindorp slightly exceeded Scheveningen in the height of the fire, (but not in volume – however they may measure that). This year's bonfires will probably hit their maximum allowed height limits of 35 meters.
For the last 3 years, these bonfires have been declared as an official part of the national heritage of the Dutch. So hey, you're even participating in a cultural event when you watch one of the bonfires burn right around midnight.
Here's some more background info (and more importantly FIRE)
You know what would really work well with a big old fire at New Year's Eve?
Fireworks shows in Scheveningen
Public fireworks shows are actually not that common in the Netherlands at New Year's Eve. For the Dutchies it's more of a thing to light it up themselves. This tradition is more and more criticized each year since it can create dangerous situations in which people are ending up getting hurt. Luckily Scheveningen organizes a public fireworks show for the people: there will be a wide variety of performing artists, DJ's and some specialists flown in from to bring you an awesome fireworks show!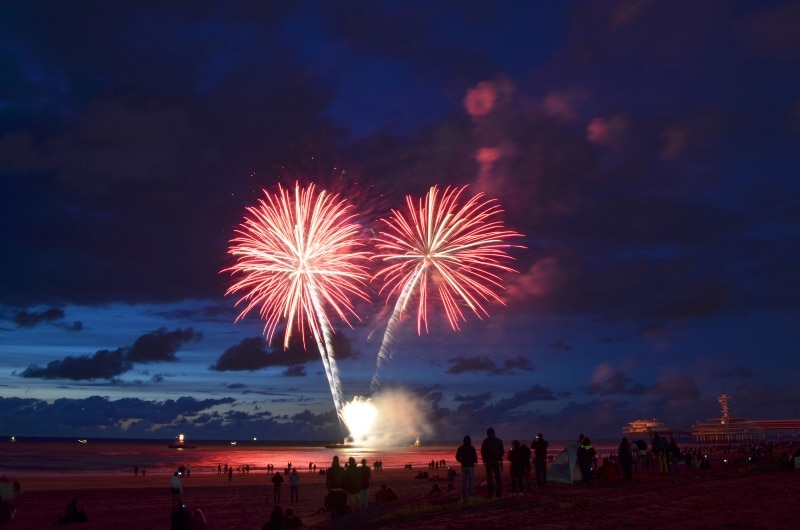 However, it doesn't look like this year there's something official on the 31st of December. We're sure that there must something organized on the 31st though, and otherwise there's always the fireworksshow at the Hofvijver in The Hague.