Living in Amsterdam is all fun and games until you realise that no matter where in the world you live there are always those "adult responsibilities" that you "have to take care of". We thought moving to Amsterdam was meant to be all sipping coffees next to canals, riding bikes with new Dutch friends through Vondelpark, and testing out all that cheap Dutch beer on offer. 
But, it turns out that while moving to Amsterdam is great, all those adult responsibilities still have to be taken care of. There are ways to save time (a.k.a: your most valuable asset) since the advantages of living in a major capital city like Amsterdam are endless: all the latest concerts on your doorstep, the best brands on every corner, cultural activities galore, and all the services you need.
Just want to get your laundry done in Amsterdam ASAP? Want a sweet korting along the way? We've got ya as we teamed up with Laundryheap to bring you this article. REVIEW7 is the code for getting that discount (you're welcome) – now go!
How to save time when living in Amsterdam:
One of the easiest ways to save time is to forget about those piles of laundry sitting on your bedroom floor. We don't have a sassy magic genie to offer you that will snap his fingers and make your clothes appear washed, dried, and folded, but we do have the next best thing: Laundryheap.
Forget the old days of slaving over the washing machine, squinting at product care labels or forgetting about that load you put on yesterday until its wrinkled and musty. Instead, a few taps of an app brings a courteous driver direct to you, your dirty clothes disappear, and magically materialise the next day washed, dried, folded and smelling delightfully fresh. That's Laundryheap.
What is Laundryheap?
Laundryheap began after the founder was delayed on his way to his local dry-cleaner. His suit, hanging just metres from him, was locked behind the dry-cleaners door, rendering him suitless for an important event the following day. Brainflash: what if instead of going to get laundry, your laundry could come to you?
Laundryheap's service is perfect for time-strapped people who wear clothes and need them washed (wait, does that sound like you?!). A swish-swash of an app and your clothes are whisked away, returned clean and fresh the next day – that's some Mary Poppins level magic!
How does it work?
After a lightning-fast signup process, you book online to have your laundry collected (we'll tell you how to save 7 euros below!) The same day as booking, a friendly driver will arrive at your collection point, depart with your prized clothing, and take them to be professionally washed and cleaned.
The following day you can track your order online before it's promptly delivered to you at your preferred location. Total time? Less than 24-hours as standard. The best thing is that Laundryheap isn't just a 9-5 company: you can arrange a pick-up or drop-off as late as midnight, so if you forgot about that pesky outfit for the weekend until Thursday evening that's fine too.
What can Laundryheap do?
Whether it's your stock-standard laundry items washed at 30 degrees, dried, and folded, an additional ironing service, or some favourite items dry-cleaned, Laundryheap will make your dreams of never having to do laundry again come true!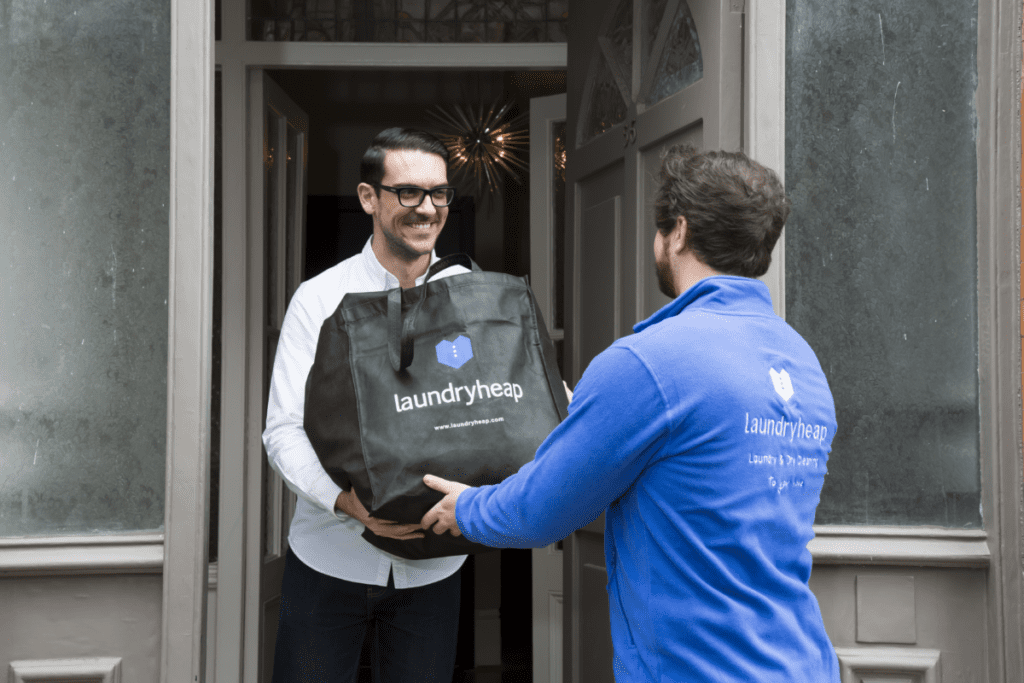 Got some bigger items, like pillows or bedding! Not a problem for this Laundryheap, they can do them too (ever had the experience of snuggling up under a freshly washed blanket? Luxurious!)
And if you've got some pesky little repairs, like a broken zipper or a button dangling by a thread they're all over that too. Like we said – magic!
Is Laundryheap worth it?
Worried about sending off your fave t-shirt to be washed by strangers? Laundryheap will take care of your clothing like it's their own. In fact, they've cleaned over 4.5 million pieces of clothing to date, so it's safe to say they know what they're doing.
We're sure we've got your attention, so let's drop the big one: we've partnered up with LaundryHeap to get our loyal DutchReviewers 7 euros off your first order. That means ultra-fresh washed clothes magically delivered to your door with some sweet savings attached! Just enter REVIEW7 at the checkout to cash in.
What's the worst adult responsibility that messes up your day? Let us know in the comments below!
Special Offer Terms and Conditions: Cannot be combined with any other promotion and requires a minimum order value of €25.
Feature Image: Laundryheap/Supplied