I've been fortunate enough to have many different guests come to visit in 2019, with more on the way before the end of the year. Some even coming two or three times. It can seem hectic, but it's also a great way to re-experience the best parts of the Netherlands and introduce your guests to a home different from their own.
I remember when I had my first visitor I was stuck on what to do, there were almost TOO many things to do. Things to do can also entirely depend on what season it is, especially if your guests have booked well in advance, so it's good to look at your options now. So hopefully this simple, yet sassy expat guide with places to visit in the Netherlands will give you some ideas. I'll try and keep it as short and as sweet as I can.
*Warning, anyone who know me, knows that I like puns… puns and memes ahead.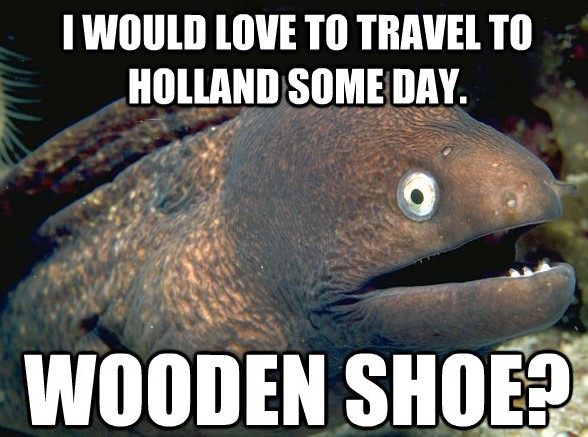 Places to visit in the Netherlands; Autumn
In my opinion, Autumn is one of the best seasons in the Netherlands. The canals and streets are coated in shades of brown leaves. The place just looks sort of magical when this happens. I'll keep this one to a minimum, seeing as autumn is almost over.
If your guests are into house music, ADE (Amsterdam Dance Event), is an awesome event to go to in the Autumn (Mid-October 2018). It involves 5 days of artists playing in various locations in Amsterdam. It's hugely popular and attracts guests from all over the world. Nestled amongst this period is also AMF (Amsterdam Music Festival), held in Amsterdam Arena.
Annually, different cities in the Netherlands hold a museum night. In Amsterdam it's the first Saturday of November. This involves around 50 different museums opening from 7pm – 2am, putting on workshops, tours, concerts and other special events. One museum ticket gains you access to all of these museums all night. It's a great way of doing them all on the cheap.
Eindhoven GLOW is a free event held in November in Eindhoven (this year 11th – 18th Nov). It is a lightshow, which involves over thirty light sculptures (mainly outside), which illuminate Eindhoven as you walk through the city. It's a really cool event, and probably not something your friends and family have seen before (plus, like I said, it's FREE).
Winter in the Netherlands
 Not meaning to go all Christmassy on you – but lets be honest, that's the best part about the winter season.
Valkenburg holds an amazing Christmas market and it's close to the border of both Germany and Belgium (from 17th Nov – 23rd Dec). It's in a cave! It's a must visit during the Christmas period, as it's so unique. It's perfect for gifts and has all the Dutch favourites, like a load of cheese stalls, so your guests will have lots to bring home.
Another beautiful place for a Christmas market is held in Heemskerk (situated between Alkmaar and Haarlem). It's held in the castle grounds of Assumburg Castle. The perfect place to enjoy a mulled wine and Dutch doughnut treats (between 7th-10th Dec).
If you are after something a bit different, in Deventer on the 16th and 17th December, there is a Christmas market and Charles Dickens festival. This is to celebrate the British authors most loved characters. More than 950 of his characters come to life, with music, market stalls and other high street shops being open all day.
Enough about Christmas…
Similar to Eindhoven Glow (but on a much smaller scale), Amsterdam also holds it's own light festival (1st Dec – 22nd Jan). These lights are spread all over the centre of Amsterdam – in the canals, on buildings, in parks and more. It's the perfect excuse to explore Amsterdam at night.
New Year's Eve!
How could I forget. It's probably worth mentioning that New Year's Eve can be different to other countries. One main point being that there is a national ban on the purchasing on fireworks, apart from three days leading up to New Year's Eve (with the exception of professional displays). As a result you will see more fireworks than you have probably ever seen in your life. I'm from a city in England which hosts the British Fireworks championships, so I thought I was well prepared. I wasn't. It's definitely something for your guests to experience at least once!
Also don't forget to introduce them to the tradition of eating Oliebollen at midnight. They are a delicious food not to be missed out on.
Obviously celebrations will be held everywhere in the Netherlands, but if you are looking from something bigger, then look no further. Here are my top three:
Amsterdam: Being the obvious choice, the capital has a lot of celebrations going on. The official celebration takes place at Oosterdock, with VOC The Ship Amsterdam as the perfect backdrop for a firework display. Lots of fireworks are set off all along the main canals and squares unofficially by the visitors and locals too, and the whole city sky is just flooded with light.
Rotterdam: Rotterdam holds a spectacular New Year's Eve (being the 2nd biggest city and all), with a professional firework display being held on the iconic Erasmus Bridge. Outside there is music and bars and the atmosphere is top. There are also lots of after parties in nearby clubs.
Scheveningen: Held on Scheveningen beach, is one of the largest New Year's Eve bonfires. It was so big in 2015 that it was a Guinness World Record. So it's certainly impressive to go and see, especially if you are after something a bit different from the other main cities.
Spring in the Netherlands
Spring the Netherlands is just how you imagine it. Tulips! Every year the Keukenhof in Holland opens its doors to the public throughout March until May (2018: 22nd March – 13th May). This is basically a huge garden full of tulips and spring flowers and is especially gorgeous on a sunny day. This is a must visit, and is close to Amsterdam, so it is easy to get to. This is also a perfect opportunity to take a car, bike or train ride around this part of the country – the fields are filled with rows and rows of different coloured tulips.
A lot of people don't know about Kings Day (unless you're Dutch or live here of course), so if your guests are after a party, then here it is. You can either go to the capital, or another Dutch city to watch the celebrations from the streets, or go to a large event such as Kings Land (if they are into house music). If you're reading this and have no idea what I'm talking about, Kings Day is the celebration of the Kings birthday. Most of us have a day off and we attend parties throughout the country to celebrate (and wear lots of orange).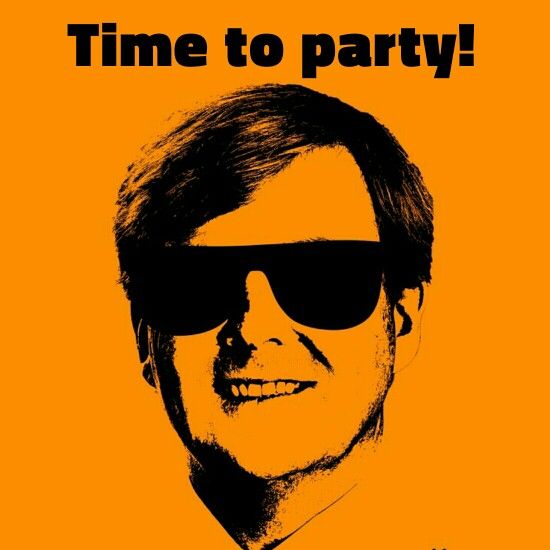 2 weeks before the official dates of summer begin, the European Championship Sand Sculpture Festival begins. This is held from June all the way through to the end of November. It showcases impressive sand sculptures all around Zandvoort aan Zee. It's a spectacular event, so a must see.
 Summer in the Netherlands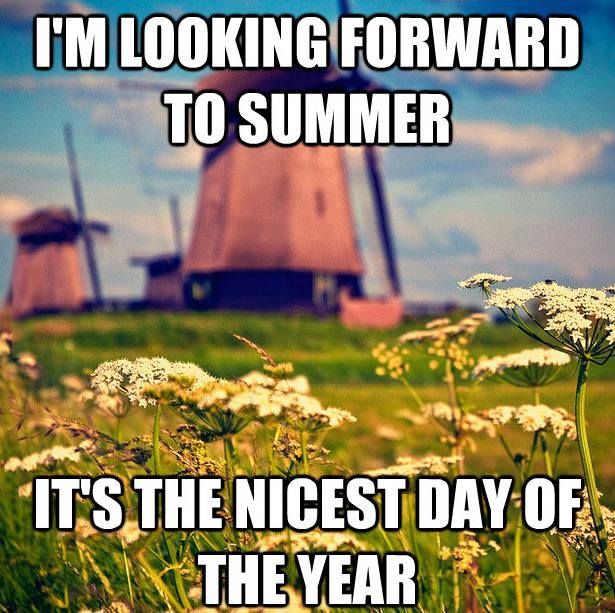 If your guests are after a 'Dutch' experience, visiting Gouda cheese market would be a perfect way to fill that void. This is available in both spring and summer. Every Thursday morning From 6th April – 31st August, Gouda town square, goes back in time. People are dressed in clogs, there are 'cheese girls' and cheese farmers and traders negotiating cheese prices. There is music and lots of market stalls. What more could you want?
If your friends and family are into fireworks and couldn't make it for New Year's Eve, then there is another opportunity to watch a spectacular firework display. Scheveningen International Fireworks Festival is a firework festival which showcases displays from different countries in competition with one another. What makes it even better is that it is held just off the shore, so everybody sits on the beach and watches. I ended up taking guests, and they all loved it. Here is a photo I took this summer. It really captures how amazing it was!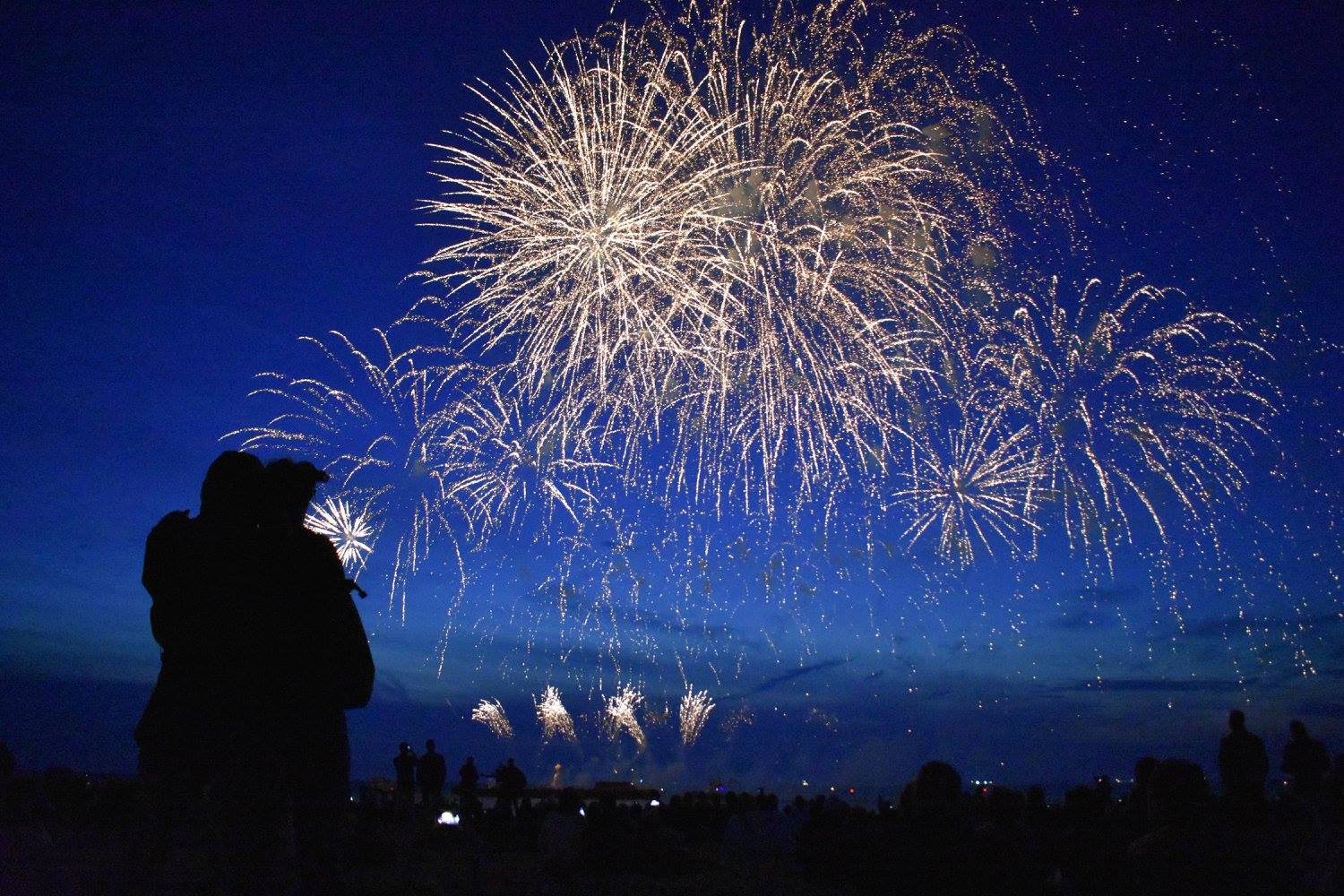 Whether you are a fan of flowers or not, Corso Zundert is an amazing display of moving sculptures, made almost entirely out of flowers. It follows a route all around Zundert, and the streets are lined with visitors watching as the floats go past. I've been for the past two years and it really is an impressive scene.
On during the same weekend as Corso Zundert (first weekend of September), is World Port Day in Rotterdam. This is to strengthen and celebrate the bond between the port and the country. During this period there are many market stalls, behind the scenes tours of the operations of the port, demonstrations on the Maas River and then a firework display. It's definitely worth a visit to Rotterdam (totally not being biased seeing as I live there).
Day trips
Holland is the most popular province to visit and therefore probably the most likely place that your guests would want to go to (with the obvious choice being Amsterdam). This is somewhere everyone should visit at least once, as it is so different from the rest of the country – even if it isn't your cup of tea. This is also a great time of year to do it too, as the summer season has just finished so the city isn't so rammed with tourists. You can also get hold of Anne Frank tickets easier (you don't have to queue all day, like in the summer). Another good time to go is just after Christmas, as this is another quieter period to do all of the touristy things. It's important to remember though, that there is a lot more to the Netherlands than just Amsterdam, so hopefully this article gave you a few ideas on what to do.
*Despite all of the events listed (it's impossible to list every event in the country!!) there are dozens of places to visit within the Netherlands for a day out. These include: Amsterdam, Rotterdam, The Hague, Scheveningen, the Island of Texel, Leiden, Delft, Groningen, Utrecht, Eindhoven, Maastricht, Amersfoort, Giethoorn, I could go on…
If nothing goes to plan, there are always coffee shops and trendy bars after all.
I'll leave you with this.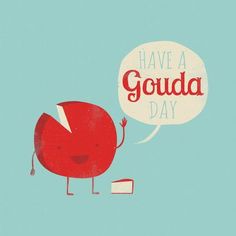 Oh, and one more thing. Don't forget to educate them on how "Holland" and the "Netherlands" are not the same thing. ?