The Public Prosecutor's Office is demanding serious community service sentences against the suspects who blocked the A7 at Joure last year in order to stop anti-Zwarte-Piet protesters. Against Jenny Douwes, who is seen as the ringleader of the blockers, sees three conditional months of jail time and 240 hours of community service demanded against her. She called for the blockade according to the Public Prosecution Service.
The public prosecutor said that all suspects must be convicted and that a fine does not do justice to the "nature, seriousness and impact" of the facts and proceedings. There are 34 suspects in total.
In one case, the Public Prosecutor demanded a prison sentence of six months, half of which was conditional. That was against someone who was previously convicted of arson and caused an explosion in the context of a New Year's stunt. He received a community service sentence for that.
When can you block a road in the Netherlands?
The blockers wanted to prevent protesters against Zwarte Piet from reaching the Sinterklaas tour in Dokkum at the end of last year.
In his plea, the public prosecutor repeated a lot of information from the 'feitenrelaas' (beautiful Dutch word! aka 'report'). He also anticipated on two issues that the defense of the suspects will probably bring forward,
Firstly, people who previously blocked the Erasmus Bridge or other roads were not prosecuted. "Although the great common denominator is slow driving, you could keep moving in those earlier incidents."
He's, of course, talking about Moroccan wedding convoys (annoying) and especially Turkish protests on behalf of their national team (annoying) or Erdogan (jail them all asap).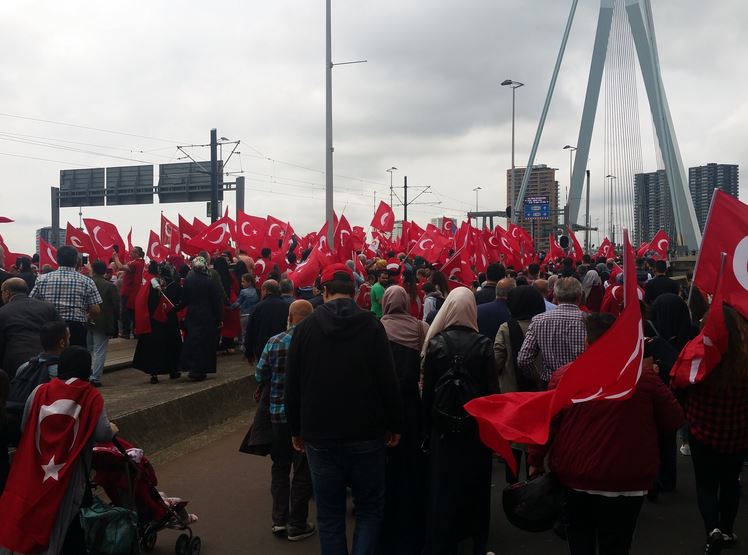 You may not protest by hindering others in their protest
The second argument he was anticipating on was about freedom of expression and the right of demonstration. The suspects could say that the blockade was also a demonstration, says Van Rijkswijk. "Then the Public Prosecution Service argues that the Supreme Court has recently ruled that if you argue, you should not bother other people who also argue. "
Obviously, the shitshow on social media about Zwarte Piet has been properly kicked off this week, as evidence we show you this tweet:
Meanwhile in #Friesland, streetmarket merchants are supporting the Pro- #ZwartePiet group for blocking the highway #wtf #ForReal https://t.co/Ex7KPyZfe7

— DutchReview (@Dutchreviewing) October 12, 2018
feat pic: wikipedia/cc/Constablequackers