7 amazing new buildings are coming to Amsterdam! With so many people attracted to this wonderful city, Amsterdam is constantly under pressure to expand. For this reason, we can look forward to 7 amazing new buildings joining our skyline.
There are massive numbers of people in the city, with 71 million people passing through Schipol last year. With eye-catching hotel buildings, eco-friendly rooftop bars and an increase in the number of residential buildings, these are industrious times for Amsterdam.
There are many many incredible buildings in Amsterdam. The Rijksmuseum, the Royal Palace, and the Eye Film Museum to name just a few. Soon Amsterdam will have a veritable buffet of contemporary buildings and eye-candy to add to its skyline.
Let's take a look! Don't be surprised if you see construction everywhere soon, think of it as a symbol of growth and innovation.
1. IJbaan Cable Cars
Designed by UNstudio, a remarkable feat of engineering will stand proudly in Amsterdam, mostly exciting because currently, the ferry is the only way of crossing the IJ river. This would ideally speed up transportation and ease congestion, 1,500 meter-long cable car across the across the river IJ in Amsterdam. The cable car will be carried on three slender towers commissioned by the IJbaan Foundation – a grassroots initiative led by Bas Dekker and Willem Wessels.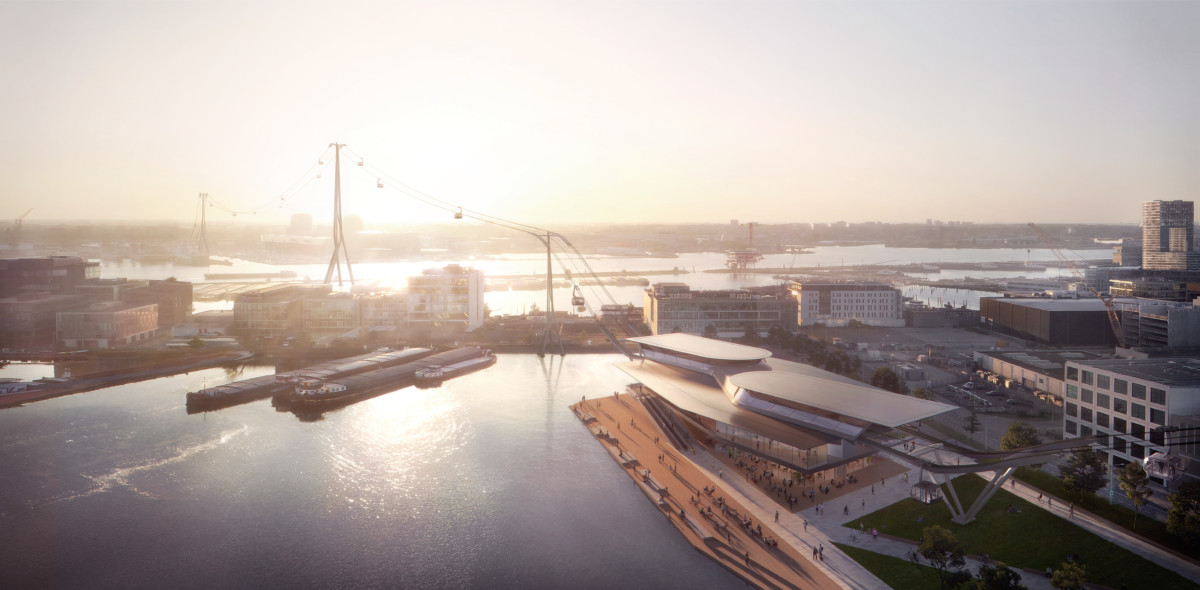 Running at an average speed of 21.6 kilometers per hour, the cable car's cabins could hold up to 37 passengers on the 4.6-minute journey across Amsterdam. Additional bicycle cabins could hold four to six bikes.
Open: 2025
2. 2Amsterdam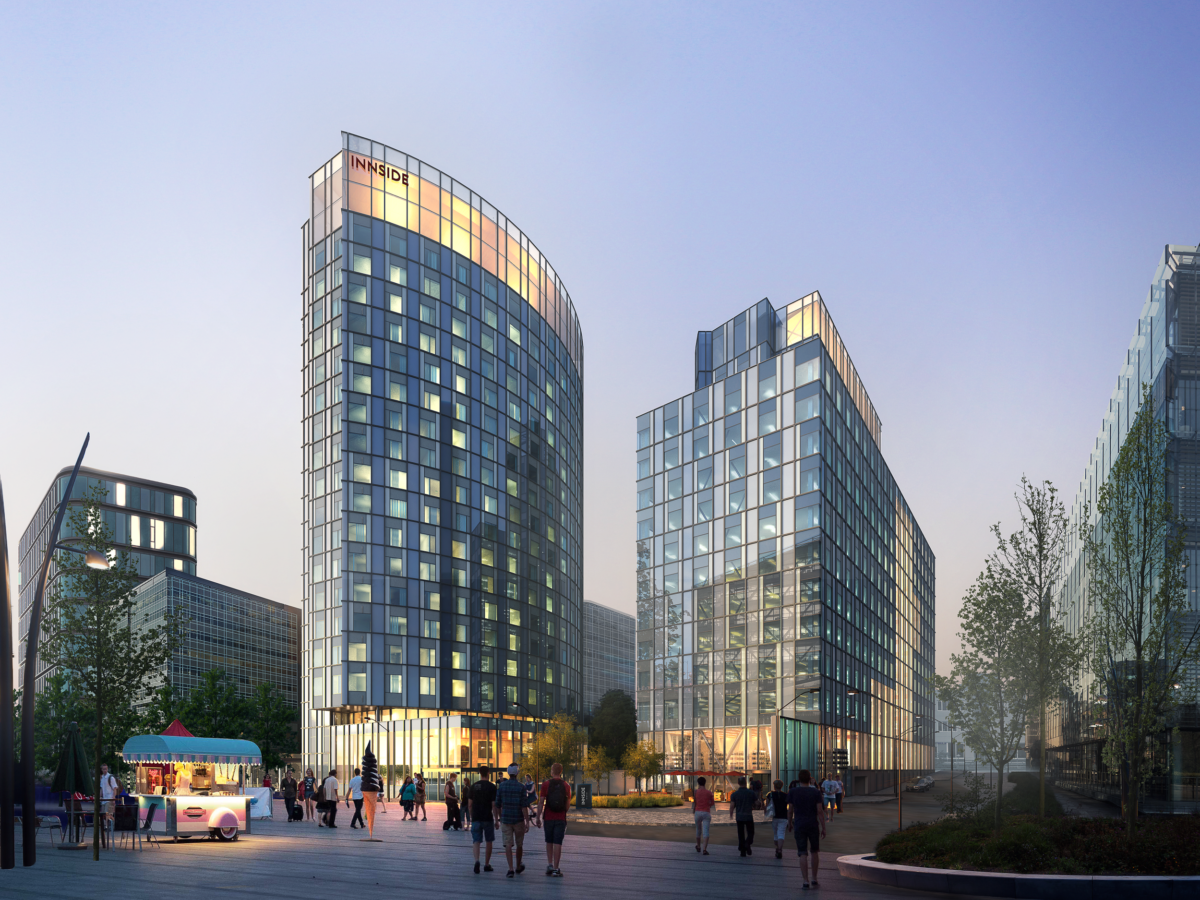 Two outdated office buildings on the north of the Amsterdam Zuidas are renewed. For owner Commerz Real, Provast is redeveloping one tower into a high-end hotel. The adjacent property retains its office function. Due to the construction of the ZuidasDok, the entire complex will be given a new parking garage.
The planning of a building is incredibly important, 2Amsterdam is well equipped. A sky bar and a pavilion with a quality restaurant don't hurt either. It's worth noting that KCAP Architects & Planners will receive the "BREEAM Excellent" certificate the hotel is striving for a score of 6 on the GPR sustainability scale.
Open: 2020
3. HAUT On The Amstel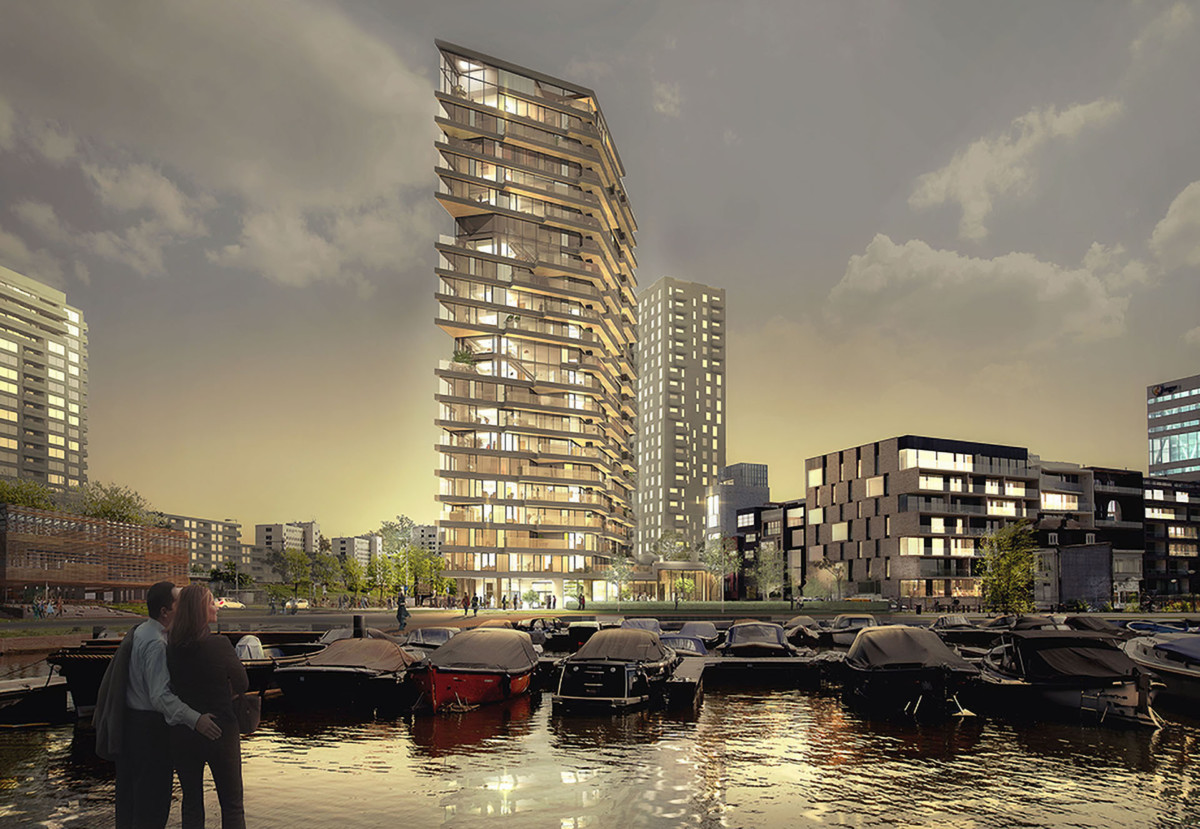 So there are a lot of apartments for sale in an incredibly big, incredibly sustainable building right now. Lingotto is the real estate developer responsible for HAUT. 73 meters high, HAUT will soon be the tallest wooden residential tower in The Netherlands.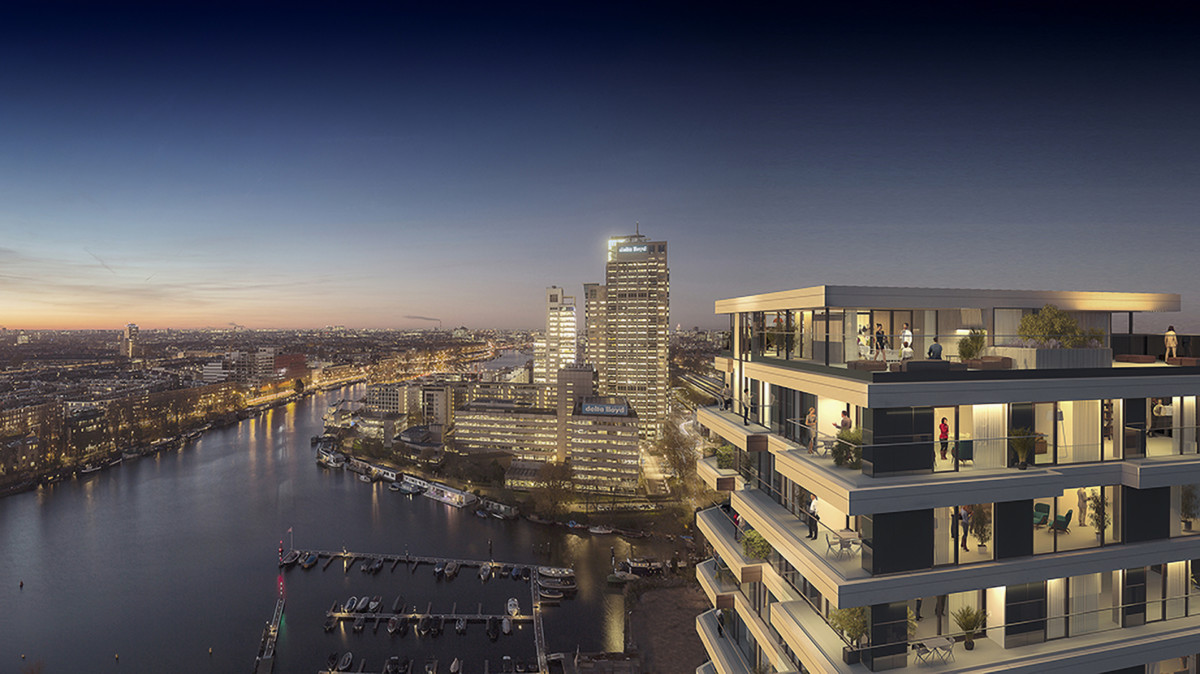 Unique in its design and commendable in its sustainability, HAUT is also purposely small-scale, with each level containing a maximum of only three homes. HAUT combines a durable design with exceptional living comfort. The Amstel's new building consists of 50 private homes ranging from 100 to 225 square meters in size and two penthouses.
Open: 2021
4. The EMA Building
On 20 November 2017, it was decided that the European Medicines Agency (EMA) will make the move to Amsterdam. The EMA will move from its London headquarters to a new building in Amsterdam as soon as Summer this year. Why? You might ask, Brexit. They are the main distributor of medicines in the EU and must continue to service European Union countries. Each year, the EMA will welcome about 36,000 visitors and accommodate around 5,000 video conferences and 600 meetings.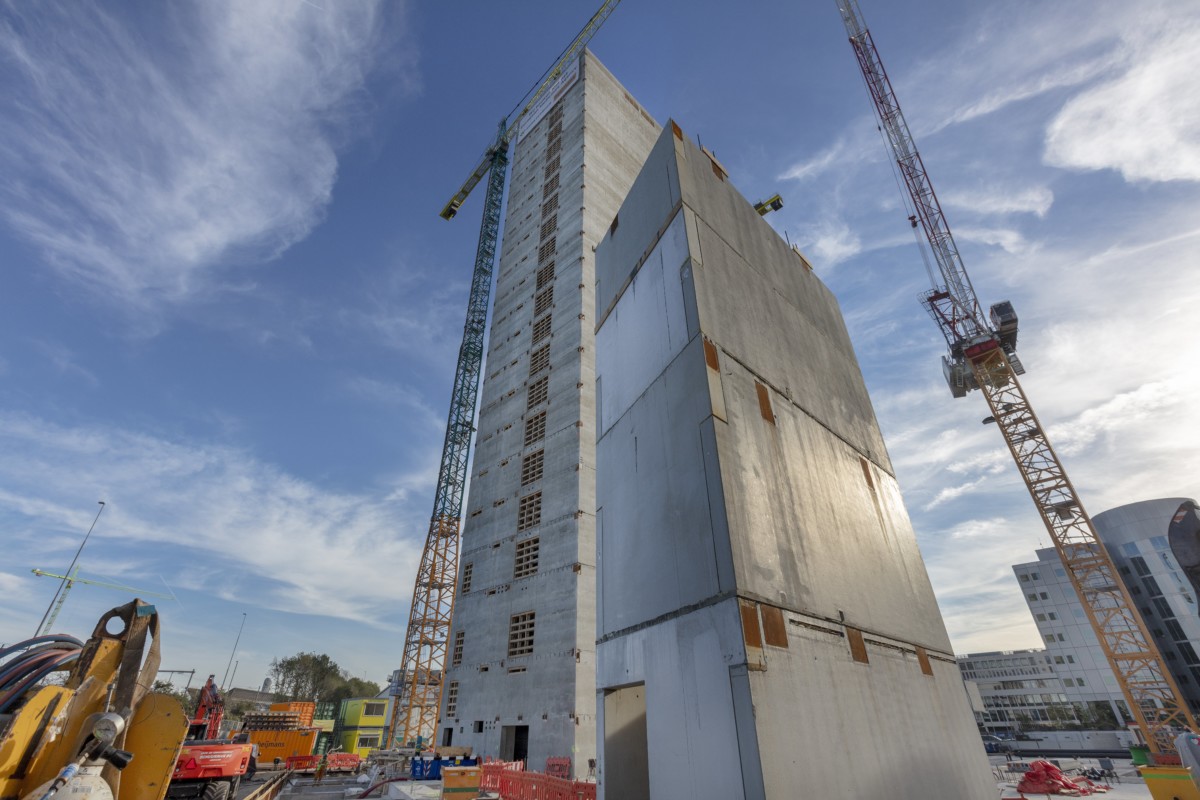 A dedicated team of experts, covering all aspects of the potential relocation, has already been assembled. These experts are representatives from the ministries of Health, Foreign Affairs, Education, Economic Affairs, the Central Government Real Estate Agency and the City of Amsterdam (together with contiguous cities) and their Expat Centres. This EMA Transition Team (ETT) will be coordinated by the Ministry of Health and will act as the focal point for EMA regarding all aspects of the transition process.
Moving a building means moving the people, up to 900 employees are currently working out of a temporary building until the new EMA building is finished. The developer of the EMA building is the Central Government Real Estate Agency. The goal is to attain a sustainability grade that exceeds even the BREEAM Excellent status. The new headquarters will stand next to the A10 orbital motorway, next to the Cross Towers. Click here learn more about the monumental move between two of the world's biggest capital cities.
Open: End of 2019
5. Nhow Amsterdam RAI Hotel
This huge hotel was set to be completed in 2018 but seeing as it will be the biggest hotel inside Benelux (Belgium, Netherlands, Luxemburg). This badass hotel will open next year and will have 6 different styles of room for guests to choose from. It will have a total of 650 luxurious rooms, stand at 91 meters and
At the top of the building, an entire floor will be dedicated to multi-media and state of the art entertainment. This floor will be called "On Air". The building is being designed by Rotterdam based firm, OMA Architecture. For a full list of parties involved click here.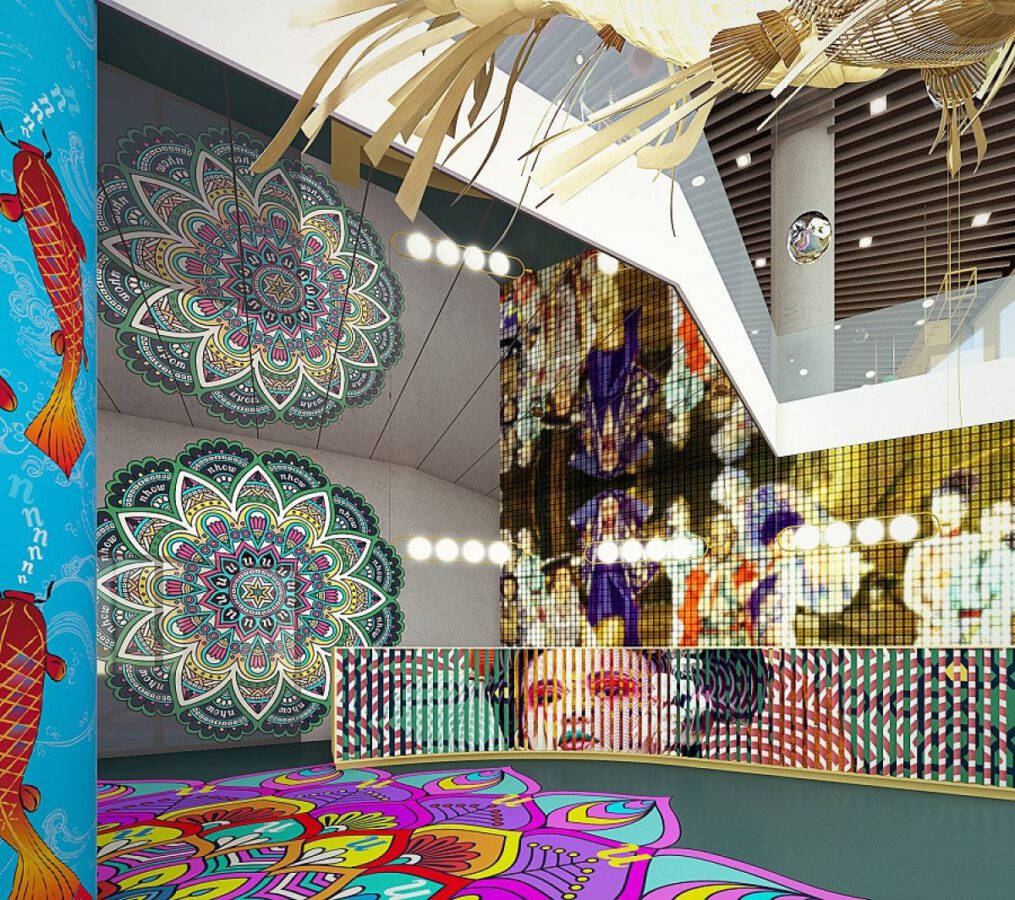 "With the spectacular Nhow Amsterdam RAI concept and the iconic design by OMA we will enrich the skyline of the Zuidas district. Moreover, the hotel will be a valuable addition to the city and the RAI". – Gert-Wim Bos, COD
Open: 2020
6. Booking.com HQ
Thanks to UNstudio, one of the world's leading travel companies Booking.com will have a suitably enormous headquarters in Amsterdam. They are currently building a campus to train some 17,000 Booking.com employees worldwide. The amount of steel that will be used for the construction of the campus is equivalent to half an Eiffel Tower. BPD is handling the real estate development and CBRE is advising with project management. The scale of this project takes many skilled hands in cooperation.
Currently, they have more than 5,000 employees in Amsterdam spread across 12 offices throughout the city. Hofman Dujardin will lead the interior design, coordinating with over a dozen other interior design studios from around the world, making the workspace a less confined space where one can relax while remaining productive. Some spaces will be partially open and available to the public (take advantage of them!), for example, the rooftop terrace will be a cool spot for meetings or hang-outs in Summer.
Oosterdokseiland is home to a mix of big business and residential dwellings so it's no surprise Booking.com is the latest addition. In fact, the new Booking.com campus will occupy the last vacant plot of land on Oosterdokseiland. ODE has welcomed businesses in the past like Vodafone and TomTom, now it will welcome Booking.com. At 72,500m² the campus is massive. Some residential apartments will be available and sustainable office space for Booking.com's 4,000 current employees in the city will be completed in 2021.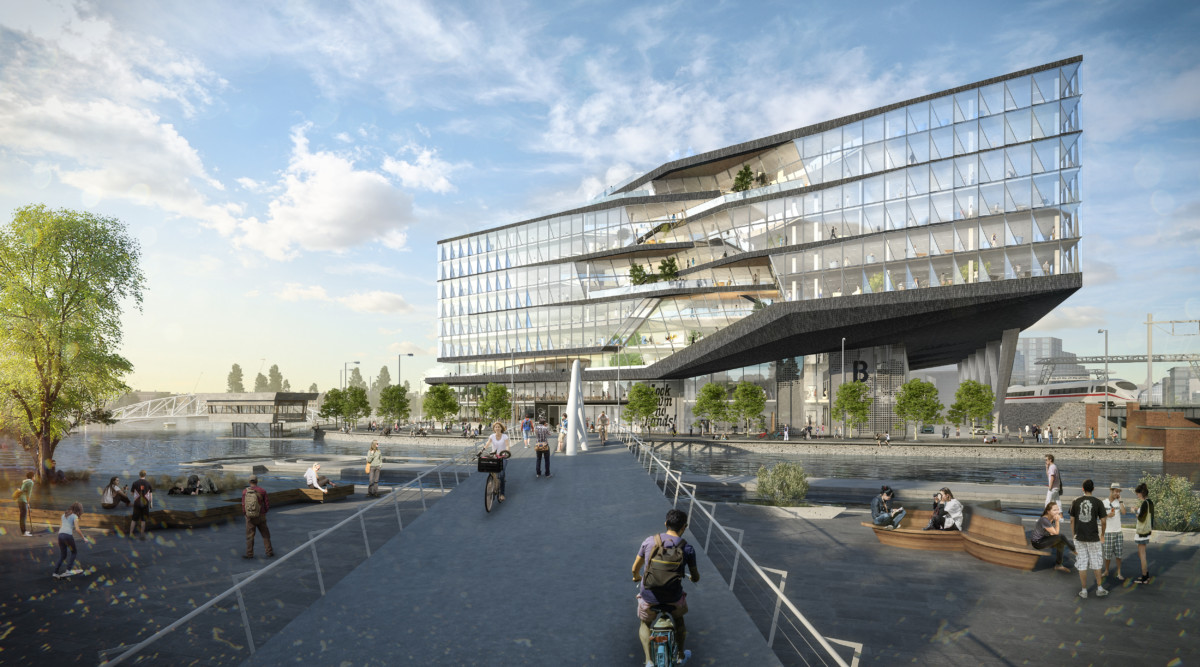 Open: 2021
7.Oosterdokseiland
Alright, so maybe it's not a building, maybe it's many buildings. The integration of work and play employed by the designers can't be denied though. It's a hub that encourages corporate and social functions to be almost synonymous. Spanning 225,000 m², Oosterdokseiland is one of the largest urban projects in Western Europe. Jeroen Galle, project director ODE  stated on behalf of BPD: "In recent years Oosterdokseiland has become a dynamic place to come to, every day hundreds of people to work, live and go out here. It has become a modern part of the city of Amsterdam".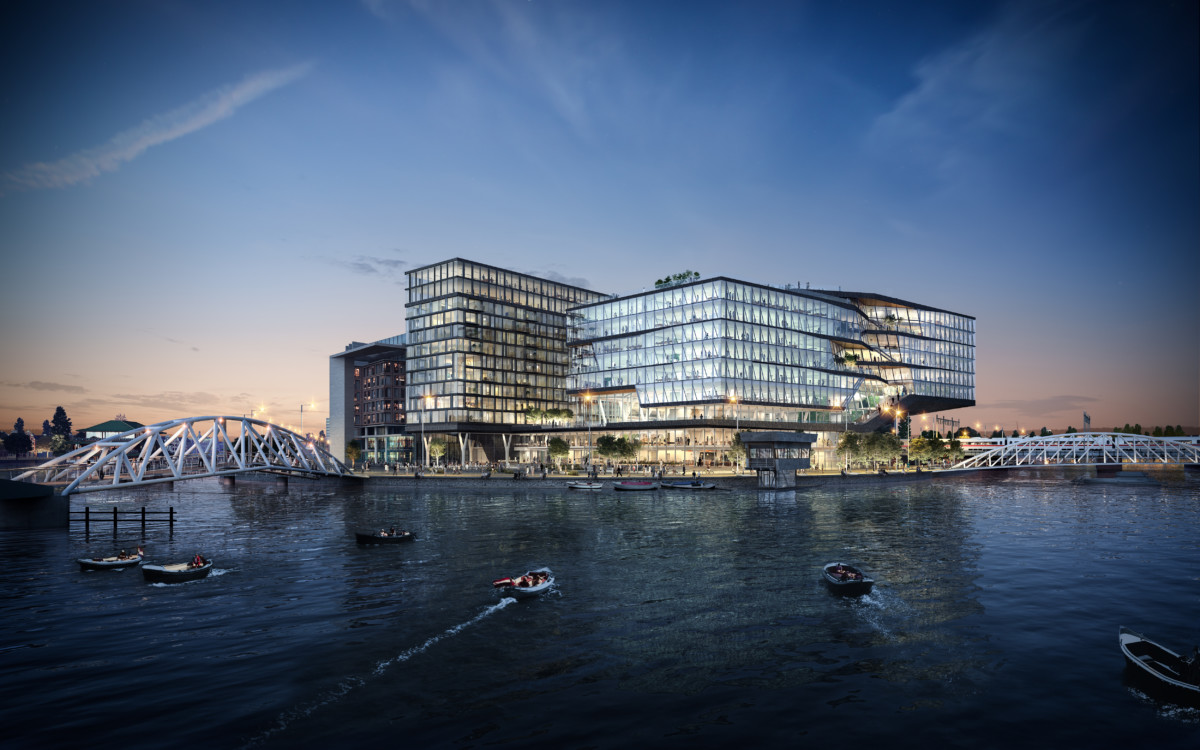 The master plan for ODE was created by Designed by Erick van Egeraat, a citizen of Rotterdam. A team of eleven nationally and internationally renowned architects were responsible for the architectural development of this master plan. The aforementioned Booking.com headquarters are currently under construction on Oosterdokseiland. Oosterdokseiland even has a live stream of the construction taking place (if you're into that).
and with that, we complete our list of amazing buildings that are coming to Amsterdam soon. For more information on the buildings or other videos head over to dutchreview.com for more.
So what do you think of all the buildings soon to be in Amsterdam? Are you a fan of new buildings or old buildings? Leave a comment!