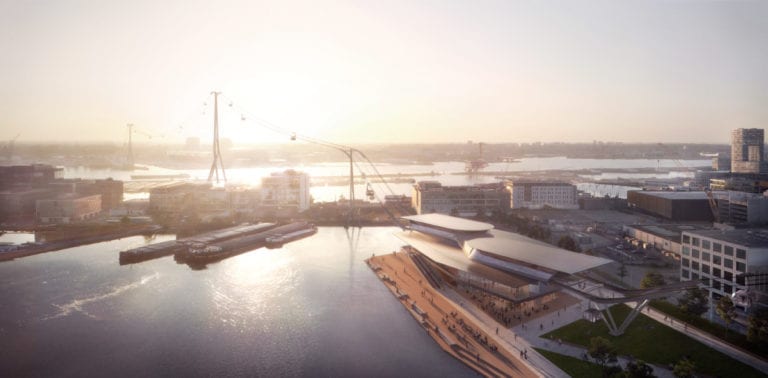 With so many people attracted to this wonderful city, Amsterdam is constantly under pressure to expand. For this reason, we can look forward to seven amazing new buildings joining our skyline.
There are massive numbers of people in the city, with 71-million people passing through Schiphol in 2018. With eye-catching hotel buildings, eco-friendly rooftop bars and an increase in the number of residential buildings, these are industrious times for Amsterdam.
(While coronavirus has put a temporary dampener on that, we have no doubts it's only a matter of time before the masses return!)
Soon Amsterdam will have a veritable buffet of contemporary buildings and eye-candy to add to its skyline. Let's take a look!
2Amsterdam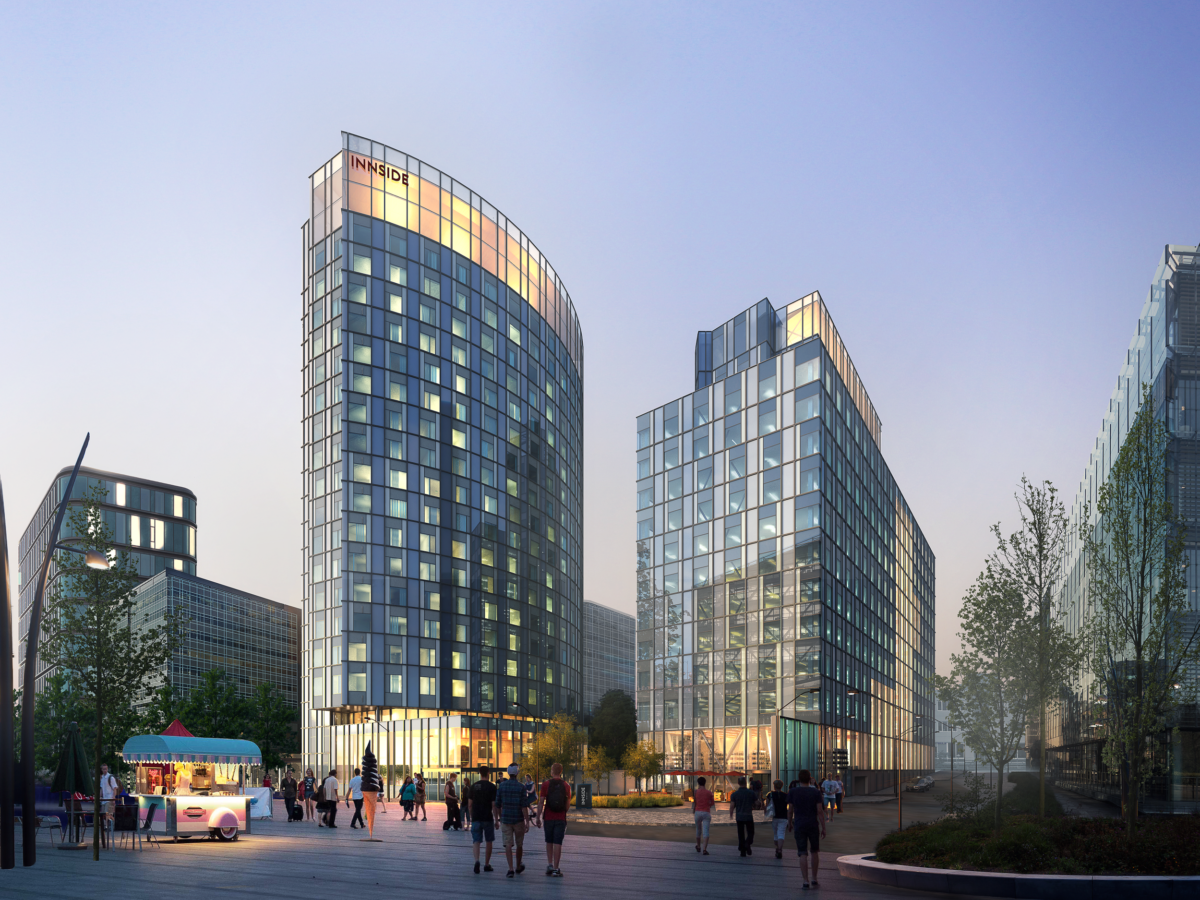 Amsterdam's Twin Towers: these two former office blocks are the very definition of same-same, but different. The almost identical tops and the matching glass facades link the buildings together, despite the two towers having different purposes.
The revitalized buildings of 2Amsterdam will boast a semi-public garden, public lobbies, flexible workspaces, premium-quality office space, top restaurants and a four-star hotel with a sky bar. Fancy!
Projected Opening: Q2, 2021
HAUT On The Amstel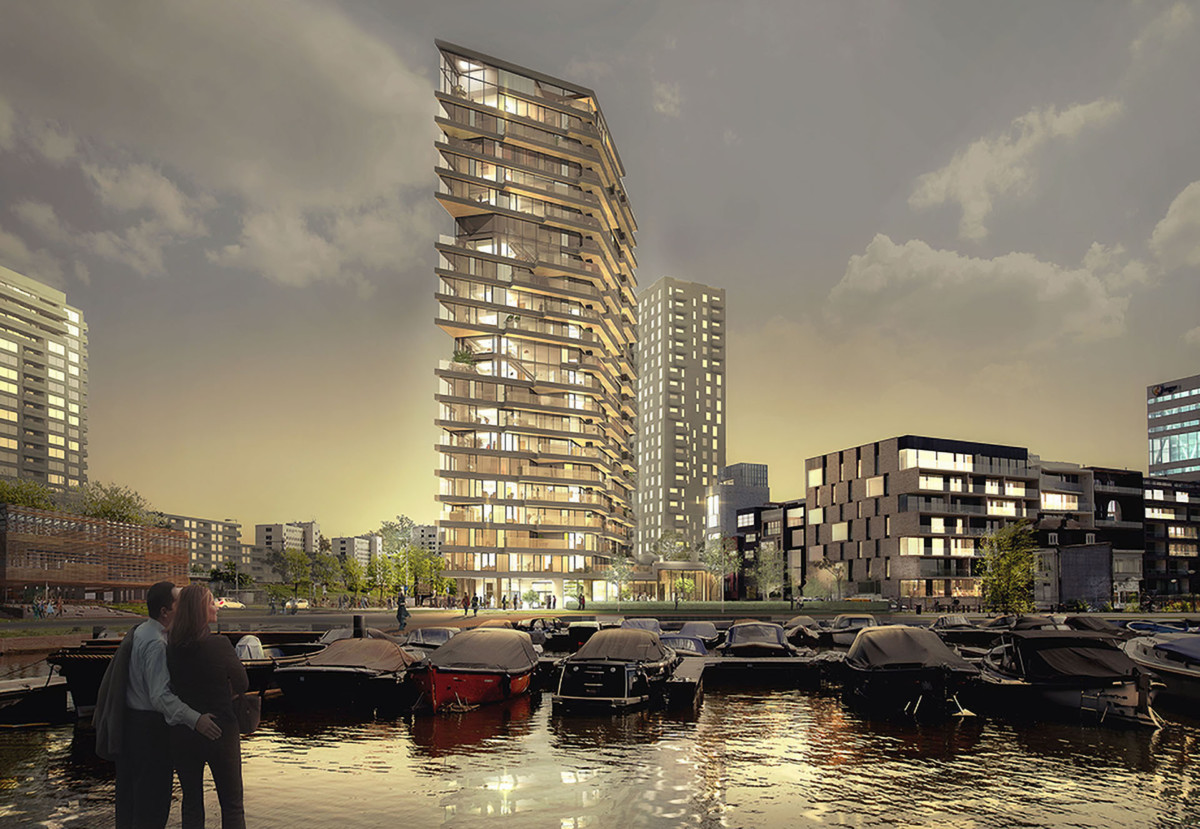 Reach for the skies is the motto of HAUT. This unique-looking building will soon become the highest wooden residential tower in the Netherlands, standing at 73 metres tall.
This tower is even more jaw-dropping when you find out how exclusive it is. Forget about shoebox apartments: at HAUT each level only has a maximum of three homes, ranging from 100 to 225 square metres.
Of course, one of the things that is turning us absolutely green with envy is the location: Haut is perched on the Marina, overlooking water views that stretch three ways.
Projected Opening: Mid-2021
De Drie Koningen (The Three Kings)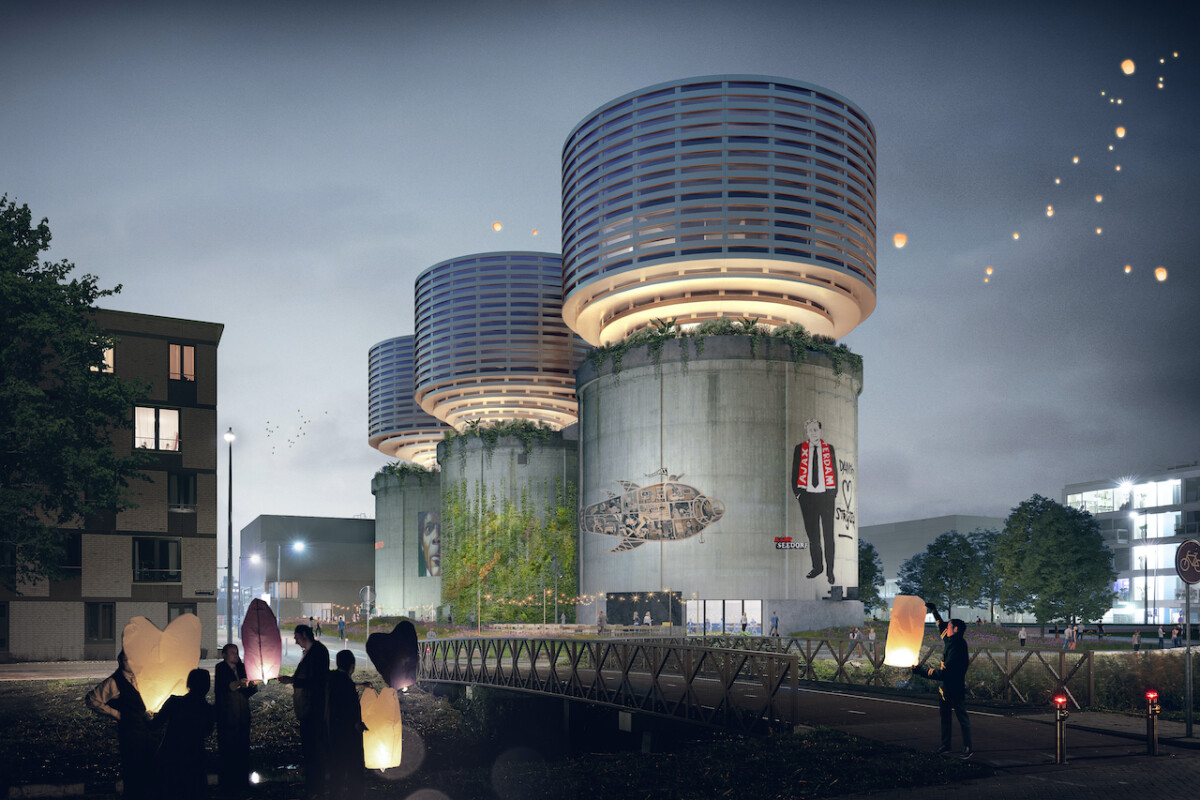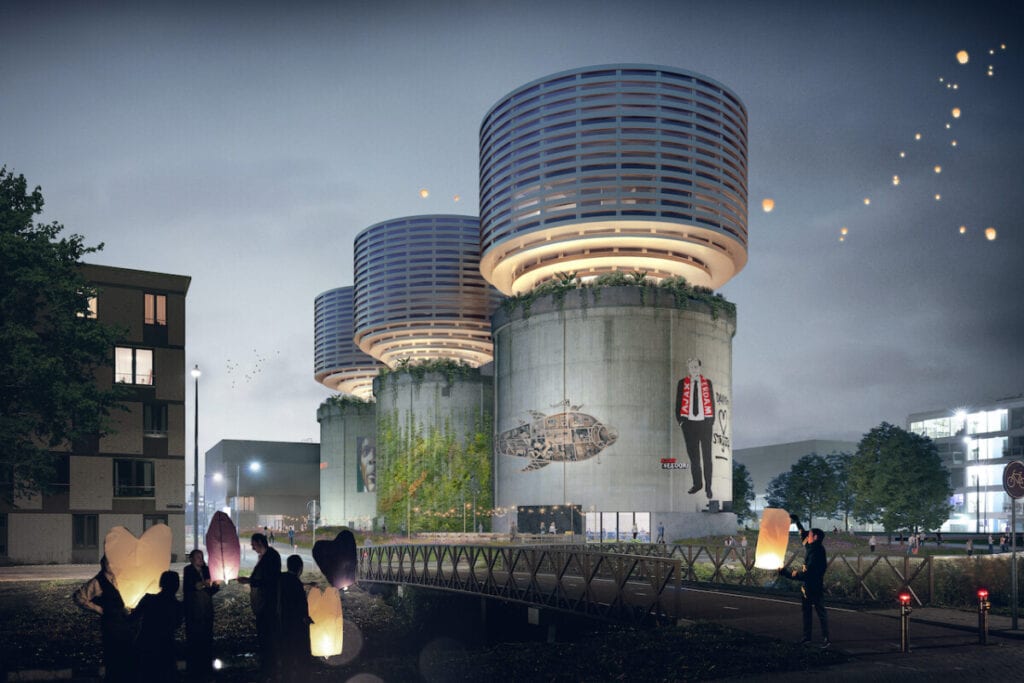 Three big silos went to the market — and then became completely transformed. De Drie Koningen is an ambitious redevelopment of a former sewage treatment plant into a unique, public space.
The new version will include a children's play area, wellness, event space and one-room hotel, food lab, brewpub, catering, office spaces and three public roof terraces.
Not enough in love with this development yet? We'll make it even better — the three silos are named after the three kings: Caspar, Melchior and Balthasar. How cool is that?!
Projected Opening: Late 2020
Suitsupply in Kop Zuidas
View this post on Instagram
 Dressing well is a stepping stone to new heights — at least, that's what we think was going through the heads of Danish architectural firm BIG | Bjarke Ingels Group when they designed men's clothing retailer Suitsupply's newest head office.
This building made our list because of the totally unique design. Staggered roofs form a staircase down the side of the building, with each "step" a stunning green roof terrace. The building is 58 metres high, and has 16,000 square metres of office space, and room for catering, a photo studio, a flagship store, and parking.
You may not be able to venture to one of these beautiful roof terraces, but if you really want to bask in the beauty you'll be able to head to the front green area, which is entirely publically accessible.
Projected Opening: Late 2020
IJbaan Cable Cars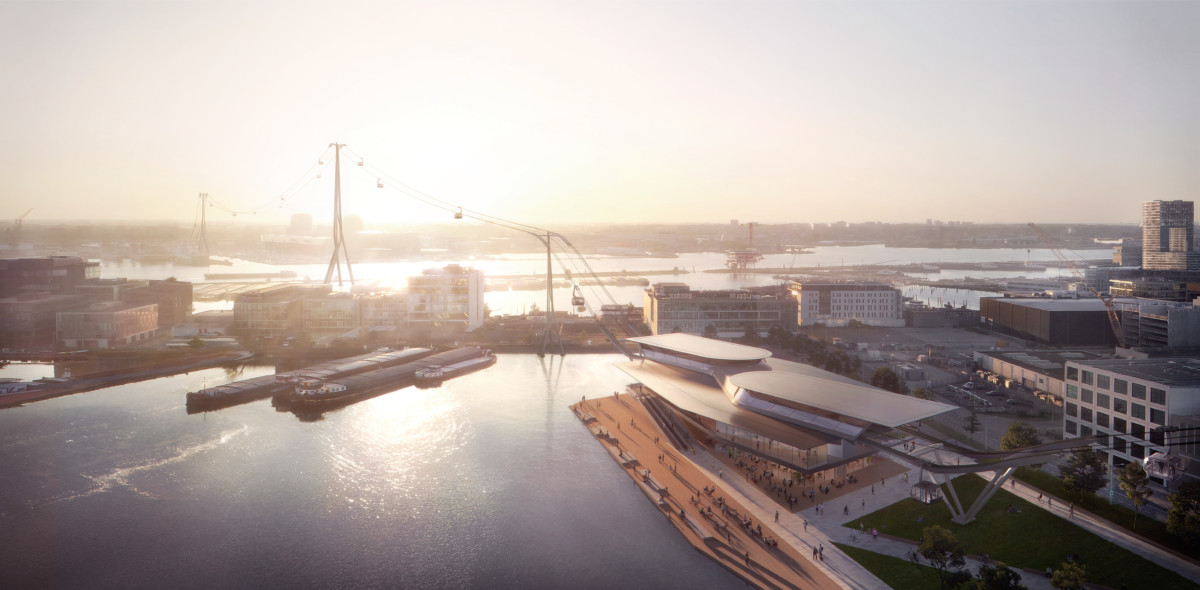 A cable car stretching across the IJ river could soon be a possibility. While people living on the opposite side of the river currently rely on an overworked ferry system, the IJbaan would ease this congestion.
The plan is for a 1,500 metre long cable car to stretch the distance. Three slender towers will be built by the IJbaan Foundation — a grassroots initiative led by Bas Dekker and Willem Wessels, designed by UNstudio.
Even better, the journey will be quick, and won't forget those stunning views! The ride will take a maximum of 37 passengers on 4.6 minutes to make the trip, running at 21.6 kilometres an hour. We think this one is sure to be a favourite for the tourists in Amsterdam.
Projected Opening: 2025
Booking.com HQ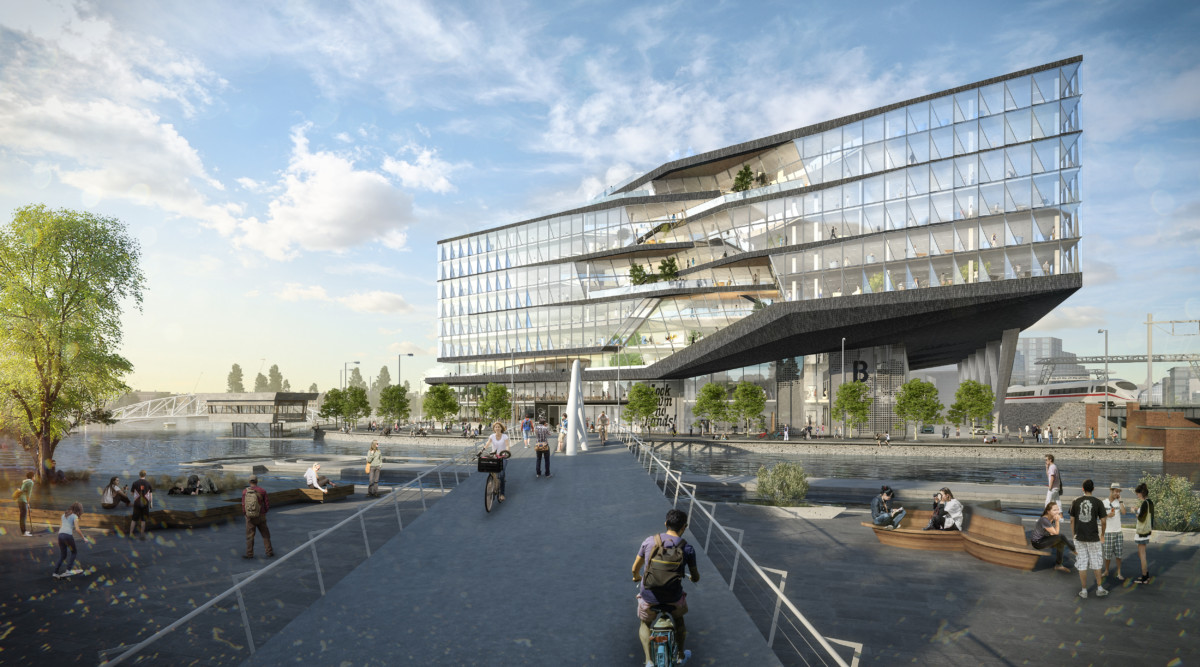 If you haven't heard of Booking.com, you may have been living under a rock. The travel website is in the process of making a jaw-dropping home base.
Some spaces will be partially open and available to the public (take advantage of them!), for example, the rooftop terrace will be a cool spot for meetings or hang-outs in summer.
Fun fact: the amount of steel that will be used for the construction of the campus is equivalent to half of the Eiffel Tower!
Projected Opening: 2021
Oosterdokseiland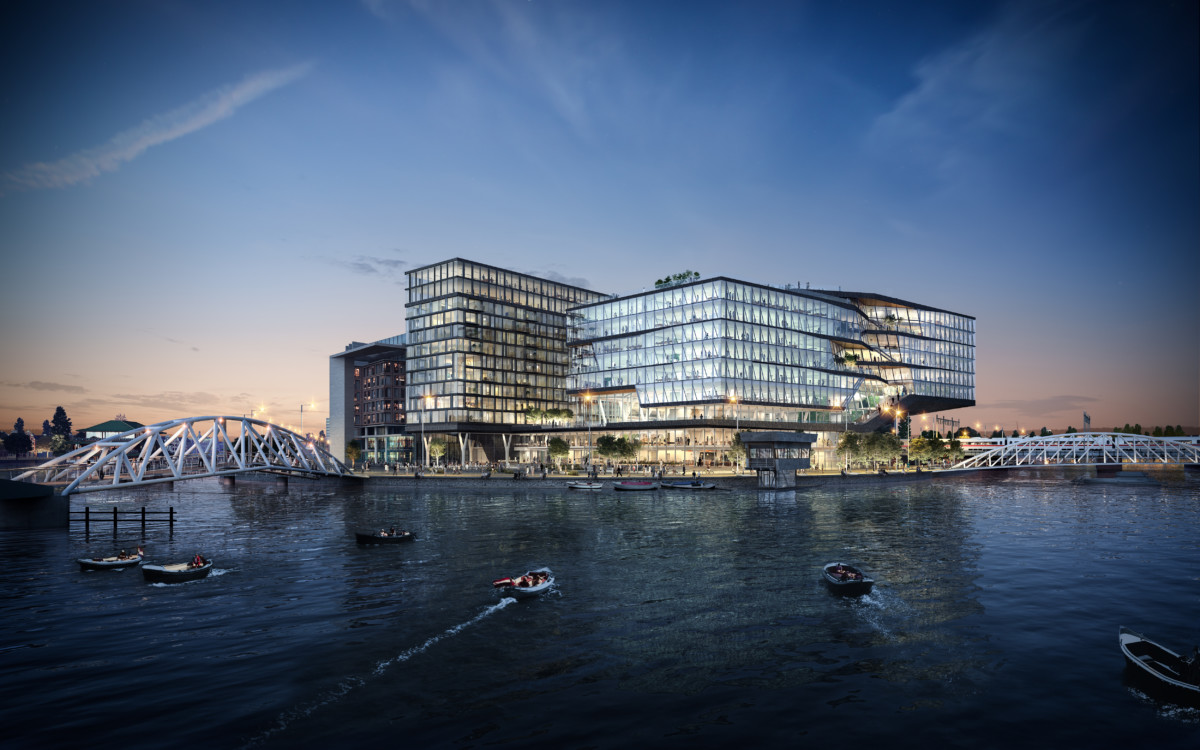 Alright, so maybe it's not a building, maybe it's many buildings. There's not a lot of empty land left in Amsterdam, but Oosterdokseiland is making the most of it — across 225,000 square metres!
This collection of buildings is a hub that will effortlessly blend corporate and social functions. In addition to the Booking.com headquarters above, Oosterdokseiland will play host to TomTom, Vodafone, restaurants, terraces, and a 4-star Hilton Hotel. Oh, and did we mention the super-leuk apartments?
P.S. Oosterdokseiland even has a live stream of the construction taking place (if you're into that).
What do you think of all the buildings soon to be in Amsterdam? Are you a fan of new buildings or old buildings? Leave a comment below!