In a large area in the middle Netherlands there is a certain 'odor'  after an accident with the substance petrolad in Alblasserdam, which is near Rotterdam. Reports about this big stink are coming all the way from Utrecht. You personally might have been startled by a NL ALERT message on your phone about this.
Petrolad is a dust that is added to industrial lubricants, such as Vaseline. According to the safety region, the health risk is zero, but the smell can lead to vomiting and nausea. An NL-Alert has therefore been issued in order to warn people who suffer from having windows and doors closed.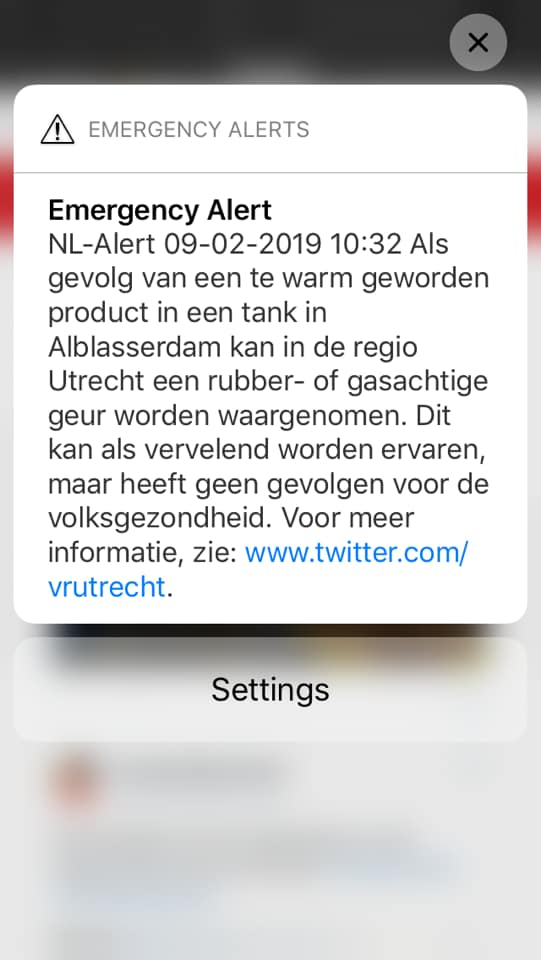 But due to the nature of this warning system, tons of people outside this area might have also received a NL Alert (did you?)
The stench originates from a tank truck on a business park on the Edisonweg in Alblasserdam. During the cleaning of the tank both the pressure and the temperature increased. As a result, the safety valve of the tanker truck opened and the rubber and gaseous odor could escape. The contents of the tanker will be pumped to another car, but that will take a few hours.
#alblasserdam #Stankoverlast het nl-alert is bedoeld voor het gearceerde gebied. Door de techniek achter nl-alert kan het bericht ook buiten dit gebied ontvangen worden. Heeft u overlast? Sluit dan ramen en deuren en zet ventilatie uit. pic.twitter.com/KAyVECrm4g

— Veiligheidsregio ZHZ (@VRZHZ) February 9, 2019
Teams from the fire brigade have determined that the dust that causes the stench is spread up to 400 meters away. The stench nuisance covers a much larger area. The fire department is spraying water in the immediate vicinity of the tank truck. That water screen should reduce the stench.