UPDATE 5-4: In a sick attempt at gaining publicity, it actually turned out to be an April's fool by the fools at 'The Next Crowd'. Despite launching their 'joke' at the 3rd of April and denying it was a joke after several inquiries. They're now getting loads of internetcrap for pulling this stupid prank and rightly so. 
In a recent development, Dutch recruiter, "The Next Crowd", has been formally asked to find builders to construct Trump's wall. To build the wall the Trump administration first needed a recruiter, now they have secured one.
The New Crowd, the Dutch start-up recruiting builders to construct Trump's wall
Managing director of "The Next Crowd", Arjan Elbers recalled being surprised that their first job with the US was with the department of homeland security. The Next Crowd will launch their temporary recruitment website on April 4th. The website can be found at buildthatwalltogether.com, (yikes).
The Next Crowd promises almost instant success, with applications flying in within the first 72 hours of posting a job. "The number of candidates was overwhelming", reviews from past clients. Naturally, the company appealed to the Trump administration,
GOP El Paso mayor: Border wall is "not the be-all end-all for border security" (@HillTVLive) https://t.co/tmXgQGZerE pic.twitter.com/a7YZPsyk9O

— The Hill (@thehill) April 1, 2019
Many companies applied to act as a recruiter in the construction of Trump's wall. The procedure of vetting them was long. The start-up out of Nederweert have accepted the commission, they are evidently right for the job, having catered to international clients before.
"The most important reason for choosing The Next Crowd is the number of applicants we deliver — Your employer brand combined with the recruitment site and the magic of our online marketers lead to our joint success!", Lizette Bos, The New Crowd business development manager.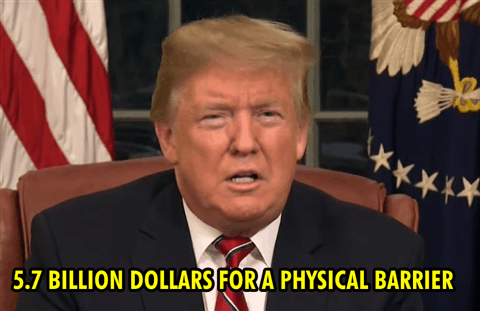 Trump's wall, if constructed would stretch hundreds of miles bordering on Mexico from California, to Arizona, and recently in El Paso they have begun planning the wall.
AP – Defense Secretary OK's $1 Billion to Begin Planning, Building Southern Border Wall – "57 miles of 18-foot-high fencing in Yuma, Arizona, and El Paso, Texas" https://t.co/1gXqPsFEeu pic.twitter.com/QIjUsktU7t

— Small Wars Journal (@smallwars) March 26, 2019
When Trump asked Congress in 2017 for $2.6 billion to design and construct 75 miles of his wall, the obvious question arose about the total cost per mile. The entire budget for the wall is still unspecified. According to Fortune.com the total cost of the wall could range from $8 billion to $67 billion, and that's if they amend or side-step eminent domain laws.
Limburg is almost Germany. Maybe that had something to do with it? Here Donald Trump recounts (anecdotally) his father's German roots, later revealed to be completely made up, his father was born and raised in New York – facepalm.
Trump just said "my father is German, was German. Born in a very wonderful place in Germany." Fred Trump was born in New York. pic.twitter.com/U6eWYPzjrJ

— Tommy MMXIXtopher (@tommyxtopher) April 2, 2019
How do you feel about a Dutch start-up helping Trump? Join the discussion on our Facebook group!