King's day in Amsterdam in 2020
It's King's day and you want to be in the capital? Well, there's no better place for it! Whether you want to do a bar crawl, a street party, a festival or a boat trip, there's no shortage there. Whether this is your first King's day or your 56th, you'll be sure to have a good one.
So, what's happening on King's day in Amsterdam?
If you want a quick lowdown on what King's day is all about, check this out:
So, what's going down on King's day in Amsterdam?
King's night in Amsterdam in 2020:
The party doesn't always start on the 27th, what would be the fun in that? There are King's NIGHT events that kick start the celebrations in Amsterdam from the 26th April. One of the largest is TIKTAK, which is a dance event at AIR Amsterdam. Certainly not for the faint-hearted as it finishes at 5 am, not long before the day drinking begins on King's day. Go on – you can do it!
Plenty of bars and clubs are also open on King's night, so if you'd rather that instead, then the option is there. The real party begins the next day though…
Time get that body movin'
King's day events in Amsterdam in 2020:
TIKTAK King's Night – For all you folks who like Dutch house music. Location: Rotterdam, Amsterdam
2. Loveland Van Oranje – For techno/deep house lovers. Location: Amsterdam
3. NDSM Vrijhaven King's Day – A free event for everyone, including family, with food, art and live music. Location: Amsterdam
4. Kingsland festival – If you like house, techno or hardstyle, then this is a festival for you. Location: Amsterdam, Groningen, Tilburg, Rotterdam.
5. Oranjebloesem festival – For techno/house lovers. Location: Amsterdam
Flea markets in Amsterdam on King's day:
King's day is not all about drink, but it's a day to make some dollar! Restrictions are lifted on this day, meaning that you can find all of your unwanted goods and lay them out on the street for people to buy. If you're curious at what everyone has managed to find in the deepest darkest corner of their attic, then do head out to the main neighbourhoods in Amsterdam to take a look. It's generally not allowed in busy areas in the centre, as they will get in the way, but anywhere else is good.
Children's markets on King's day
Vondelpark is the most child-friendly place to go and the best place to go to buy and sell items for children. Not only do children sell their items, but some participate in street performances. It's a really lovely atmosphere and the perfect place to take your children.
Boat parties on King's day in Amsterdam
It's not just the streets that are busy on King's day, the canals are the exact same. Everyone takes to the water in their boat to throw their own party and take a load of beer. Some boats have DJ's and actual events happening on them. Examples include the King's day Amsterdam boat party and the King's day cruise.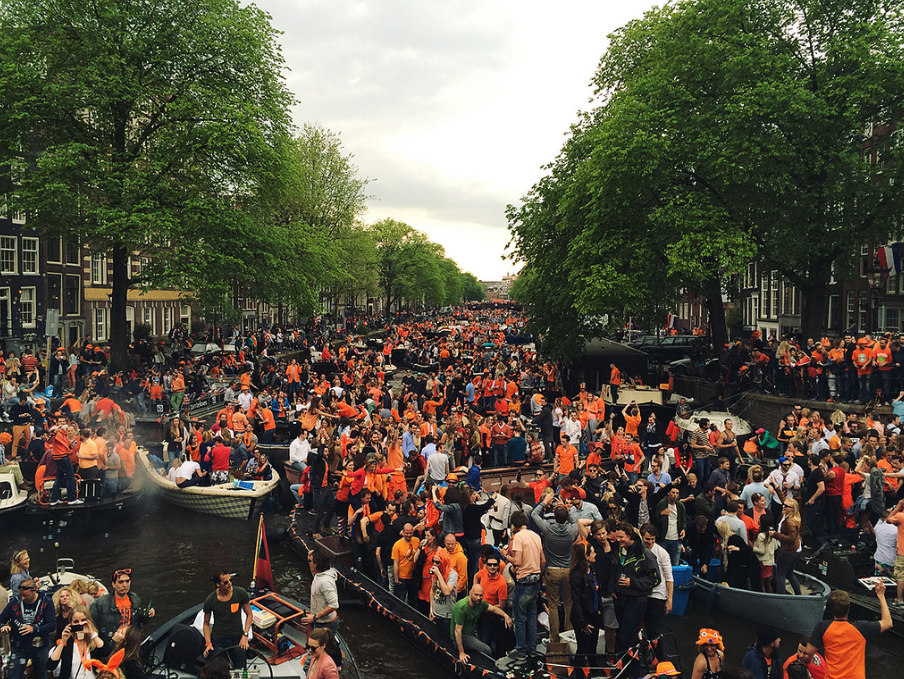 So much to do and so little time! Be sure to check out as many events as possible while you're in Amsterdam, it only comes around once a year. Have a good one and proost!
Looking for more cities to explore on King's day? We've got that covered!
Will you be celebrating King's day in Amsterdam? Let us know in the comments!
Feature Image: Paula Abrahao/Flickr