Gezellig spots in Maastricht 
Maastricht is a tale of prettiness, coziness and a good old-fashioned shopping spree. Tucked away in the very south of the Netherlands, this lovely town has plenty of Belgian and German influences since it's close to both borders and people here are, well, different. It has a mix of very well dressed mature crowd and the chaotic vibes of a student city where things go down well after midnight. Combine this with the photogenic city center and plenty of places to eat and drink and you've got yourself a good recipe for a day out in one of The Netherlands' cutest cities. Plus plenty of gezellig spots in Maastricht.
So when you come down south you'll want to figure out what to do based on your interests. Maybe you'll want to check out the St Pietersberg Caves or the city's fort. Or stroll around its beautiful city center and walk on the 13th century wall while you enjoy a delicious waffle. Told you, the Belgian influence is real. Either way, there's going to be a moment when you're tired and want to stop for a coffee, a bite or a bit rest. Google no more, here are Maastricht's top gezellig spots for you to enjoy next time you come to visit:
1. Gezellig spots in Maastricht: Livin' Room
– a cafe that offers a cozy environment, chill music and good healthy sandwiches and snacks. They're currently improving their tea selection, so it's only getting better. And if you get the armchair spots by the window you truly will fill like in your grandmother's living room.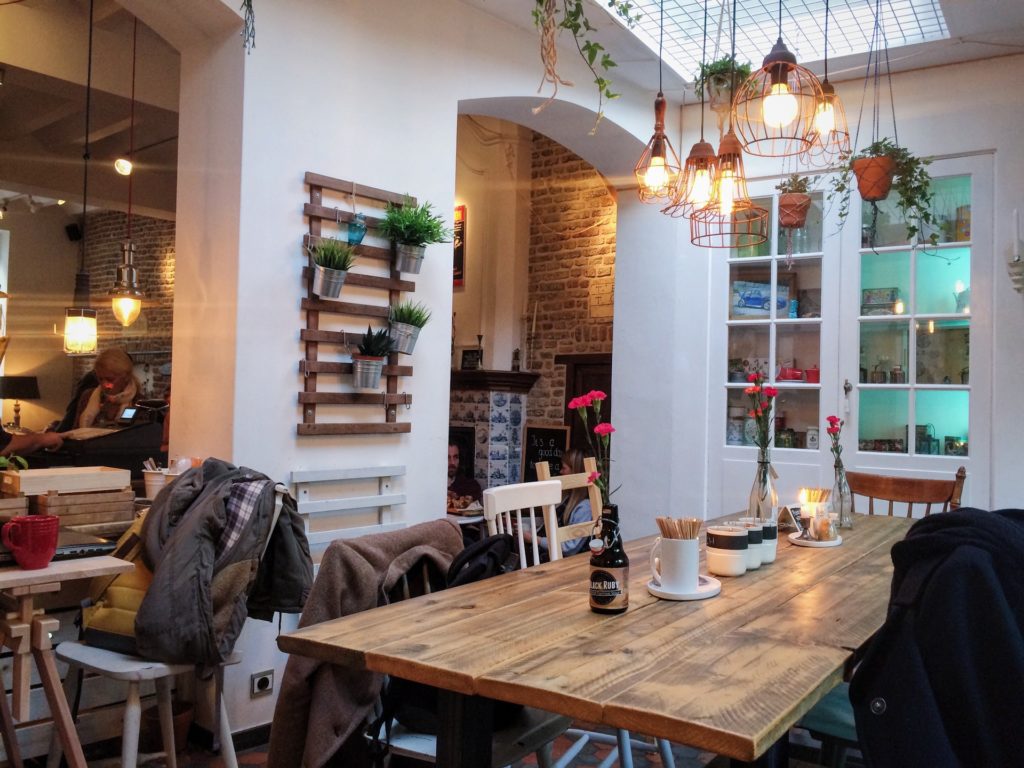 2. Gezellig spots in Maastricht: Kafethea
– run by a lovely couple, Kafethea is the only vegan cafe in Maastricht. They have vegan cakes and treats and a variety of coffee drinks to choose from. Yes, they also make cappuccino with proper milk, no worries. They're closed on Tuesday, but you can stop by and pick up some vegan bread if you want, they bake it themselves.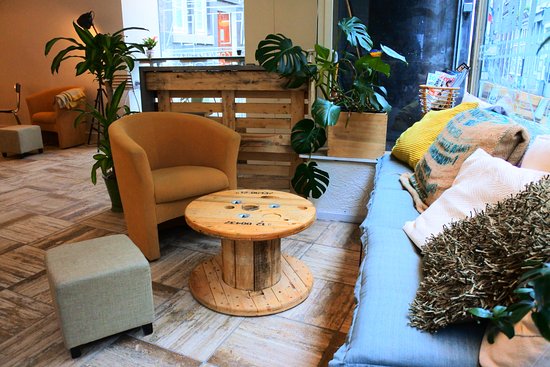 3. Gezellig spots in Maastricht: De Gouverneur
– more a bar than a cafe, this is the spot to be in if you love beer. They have a huge selection and pretty good dishes. They keep open until late and since it's a bit off the main square it doesn't have any tourist vibe to it.
4. Gezellig spots in Maastricht: Boekhandel Dominicanen
– one of the top 10 things to do in Maastricht, this a former church that's now hosting both a bookshop and a cafe. It's pretty low key in terms of design, but the high church ceiling and chandelier offer a pretty cool experience. Splurge on a cheesecake if you need some extra energy for the day.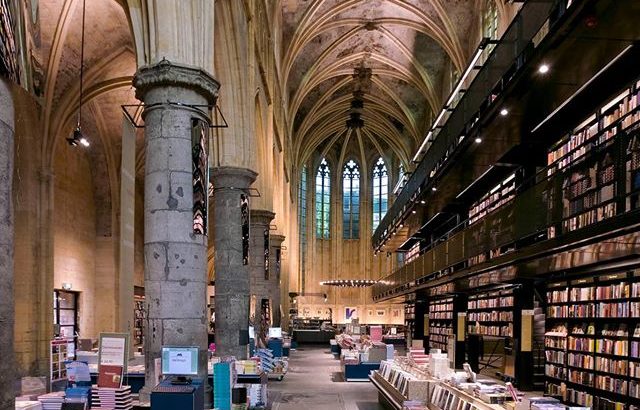 5. Gezellig spots in Maastricht: De Bisschopssmolen
– one of the busy spots in the city, this is worth checking out for the still functioning water-powered flour mill. The cafe next door offers sandwiches and the famous vlaai pie. It's supposedly the best pie in the city and it's specific to the Limburg part of the Netherlands, so if the cafe is busy, walk into their bakery for some goodness to go.
And since you've been reading so far, here's a bonus spot, might be my favorite spot in the whole entire city. If you're looking for a small bar vibe where you can kick back and enjoy some personally recommended beers, go to Take One. You'll have one of the owners tending to you directly, cracking jokes like there's no tomorrow and you get a basket of peanuts to go with your drinks. Plenty of board games to keep busy and enough types of beer to make even the rainiest of afternoons a delight.
Do you have any special spots you love in Maastricht? Lemme us know! And don't forget to join our Facebook group too!