The age of the cocktails is here and so is gin! It is by far one of the most popular drinks out there lately and we can understand why. It is great in so many different ways and it is used in many of the signature cocktails such as Negroni or Tom Collins. Plus, who can say 'No' to a big glass of Gin&Tonic any time of the year? That's why we have decided to bring you all you need to know about this classic drink: from history to recipes (because, lucky us, there's a great deal of Dutchness about gin!).
Let the good times be-gin (pun intended) with a bit of history
The earliest references of gin date back to the 16th century when the Dutch doctor Franciscus de la Boe Sylvius dives into his lab to look for medicine against stomach pain. Back then, apart from being known as a cure for stomach problems, gin was also used for gout and gallstones. To make it tastier and also better for health, people then decided to add juniper to the recipe.
As we all know even with juniper, gin is still quite strong, so what did they do? Add a bit of tonic and voilà! Here is your G&T. Consumed daily by many for purely health reasons. It's not only good for your health (it was medicine after all) but tasty as well!
Let's talk jenever and Dutch gins
Gin was developed on the basis of the Dutch drink jenever and became popular in Great Britain (particularly in London) when William of Orange, leader of the Dutch Republic, occupied the English, Scottish, and Irish thrones with his wife Mary. Surprised? It turns out the Dutch are pretty good at inventing things.
The English came to know the good old gin when they were fighting the Thirty Year War in the 17th century in Holland and saw Dutch soldiers drinking jenever to boost morale before heading into battle. As a result, the English brought the drink back with them. The rest? Shortly after thousands of gin-shops opened overnight throughout England and the period known as the Gin Craze has begun.
DAM! A Dutch gin!
There are many different "jenever cities" in the Netherlands like Schiedam which is perfect for a daytrip, Groningen, Delft, and (of course) Amsterdam. After learning about the history, let's talk a bit about the taste. What is it like and where do those flavours come from? Since we are better at drinking than investigating on this one, we've asked for a little bit of help and teamed up with Damrak Gin!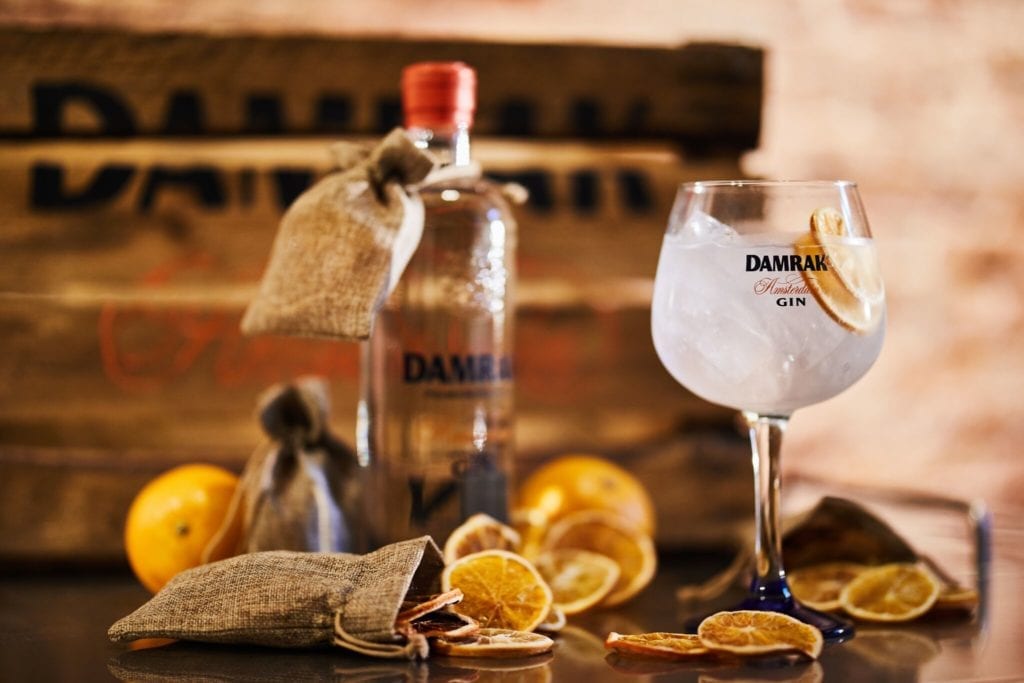 Made by real Amsterdammers and it's the best DAM Gin from Amsterdam (imho). This Dutch gin tastes really fresh with a sharp kick to it and gets its foreign influences from oranges from Valencia and sunny Curaçao. The culprit of Damrak's edgy taste is due to a little bit of coriander and subtle juniper. The result? A taste that is slightly sweet and intensely crisp.
The diversity of Damrak comes from its secret ingredient made of 17 botanical ingredients. Some of those are briefly juniper, which gives a sweet and spicy flavour; dried orange peels from Valencia and Curaçao to give a sweet, citrus kick; lavender for its unique aroma; ginger for some freshness; star anise for an exotic twist; coriander for its fresh, spicy taste and finally cinnamon; because everything tastes better with it!
As a result, behold the Damrak Gin: an original Amsterdam gin with a soft taste with a hint of citrus! Yum!
Now that you know a bit more about this heavenly drink, it is time for the best part, the cocktails!
Damrak Gin: cocktail recipes using an awesome Dutch gin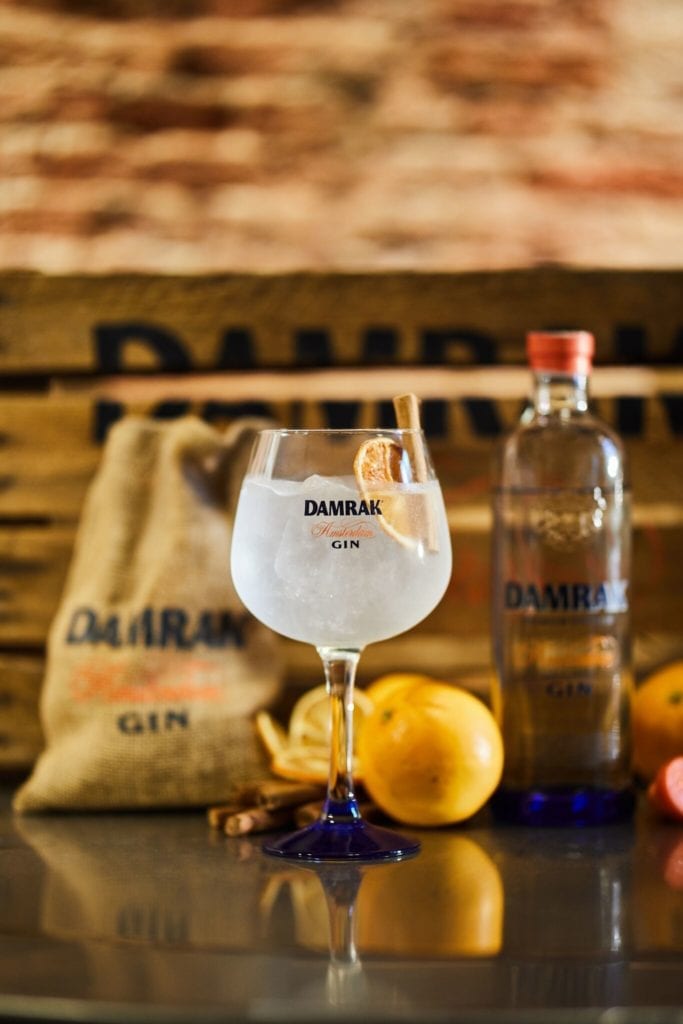 What can you do with it? Different from other drinks, gin is actually not meant to be drunk on its own. The taste, influenced by herbs and spices, only comes to life in cocktails and adds complexity to the drink.
Here are some of our favourite recipes to enjoy next time you're getting your drink on:
#1 Damrak Winter G&T
50ml Damrak Gin
150ml Thomas Henry Tonic
1 Dried orange wheel
1 Cinnamon stick
Ice
Fill a glass with ice cubes until it's half full. Pour in the Damrak and top with tonic. Garnish with the dried orange wheel. Stir, add the cinnamon stick and get drinking!
#2 Negroni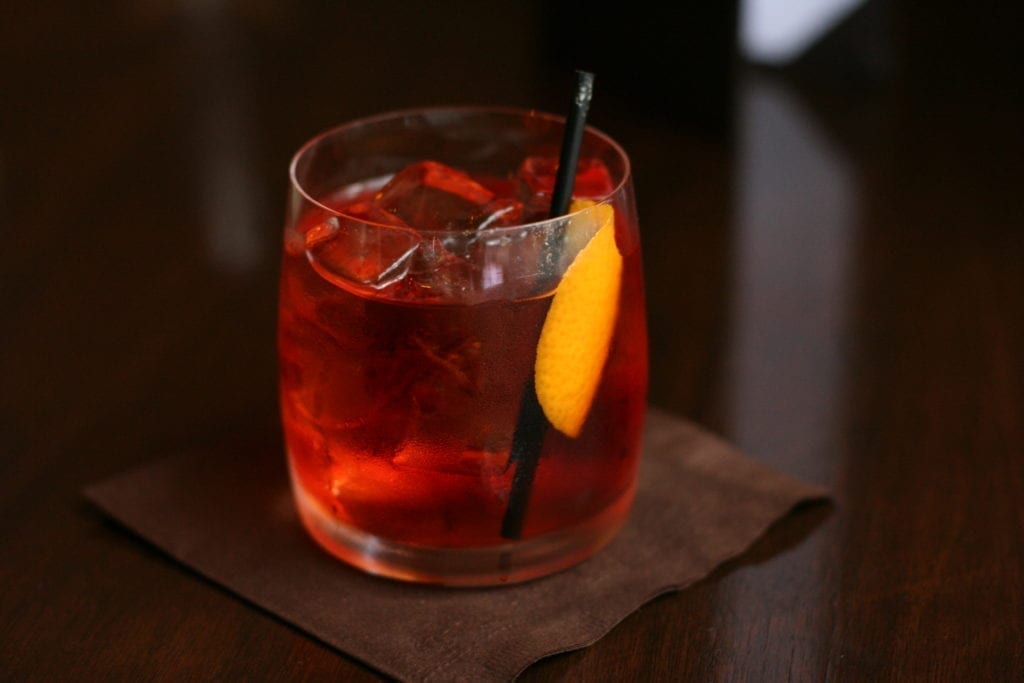 30ml Damrak Gin
30ml Galliano l'Aperitivo
30ml sweet red vermouth
For this classic cocktail, pour all ingredients into a mixing glass filled with ice. Give it a good stir until your drink is nice and chilled. Pour and strain into a tumbler glass filled with ice.
As the finishing touch, wipe the rim with a slice of orange and garnish a twist. Enjoy!
#3 Damrak Martini
50ml Damrak Gin
15ml Dry Vermouth
Olives to garnish
Place a mixing glass and a coupe in the freezer to chill. Combine your gin and the vermouth in your shaker with plenty of ice. Shake well about 20 seconds. Strain into your martini glass and garnish with olives.
When to drink this cocktail? Ideally right after you fought your way through a mob of highly trained killers, chilling at a 5-star hotel bar. (Or if you don't have a license to kill, any time you want!)
Proost! How do you like to drink your gin? Tell us in the comments what your favourite recipes are!