Learning to swim in the Netherlands
Don't know how to swim? Want to learn how? Here is all you need to know about swimming lessons in the Netherlands, including where you can find the best teachers, lessons for adults, expats and everybody as a whole. And if that isn't enough we'll also answer a few other key questions about swimming in the Netherlands in general!
We bring you this article together with Your Personal Swim Coach (YPSC). If you're still up for learning to swim as an adult in the Netherlands, then YPSC is definitely the go-to-party. They've got tons of experience in loads of towns teaching (adult) internationals and expats how to swim in the Netherlands.
First off, let's talk about something that might seem normal for the Dutch, but pretty impressive for internationals – namely that the Dutch can swim pretty well! What's up with that?
How do Dutchies learn to swim?
Well, besides dealing with water their entire lives, most Dutch people learn to swim at school. Most Dutch schools provide swimming lessons as part of the curriculum. This way children are already set up to learn to swim at a young age and it makes the learning process faster. It used to be that all Dutch schools had swimming lessons, nowadays it differs per municipality: some do, some don't. It's also pretty customary that the Dutch send their little ones to private swimming lessons, even if there are school swimming lessons.
Not only is it important to know how to swim when you live in the Netherlands (below sea level and all that), but it's an important life skill if you want to travel too. The goods news is, if you can't swim, it's never too late to start!
Who can receive swimming lessons in the Netherlands?
Nearly a third of the Netherlands lies below sea level, within a multitude of waterways, canals, lakes and rivers. In this 'land of water', swimming lessons are seen as a necessity. I suppose if the country were to flood, it would be pretty handy to know how to swim for your life!
In the UK it is very mixed. I was raised in England, and in some parts of the country swimming lessons were part of the curriculum, and most children only had lessons when they were young if their parents paid for it. For me, swimming was never something my school mentioned or even provided, so I never did them (my parents took me to lessons). That's probably because my school was nowhere near a swimming pool though, so that could be why.
Many other expats struggle with swimming as well
And that's just my experience with swimming. With DutchReview we opened up a thread about swimming in our Facebookgroup and there were tons of other opinions about learning to swim, situations differ a lot! Either people enjoyed some school swimming when they were as young as 5 years old (Ireland). Other times people never learned how to swim because there was simply no water around, no regretting that they never picked up these skills as a child.
Fear of water also is a thing with some people. Really hindering them to enjoy life to the fullest, just imagine all your family having a fun time at a beach in the Netherlands and you're that one person that just can't enjoy the whole thing. There's way more to say about fear of water and how to overcome it as well.
Swimming lessons in the Netherlands: Where should I send my kids?
Okay, so whether your child learns with school or not, you may want to take them for lessons anyway. Your Personal Swimming Coach work on a similar learning basis. Their lessons are tailored around ABC guidelines, so you can rest assured that your child is learning the correct and safest way (we'll speak more on that in a moment).
YPSC differs than regular swimming lessons though in a good way. They've got more teachers for fewer students, so there's lots of personal attention for anyone participating. Their teachers also speak proper English, and furthermore and equally important, their whole service is in English as well. So no more translating weird Dutch texts as you're trying to figure out at what time your swimming lessons begin.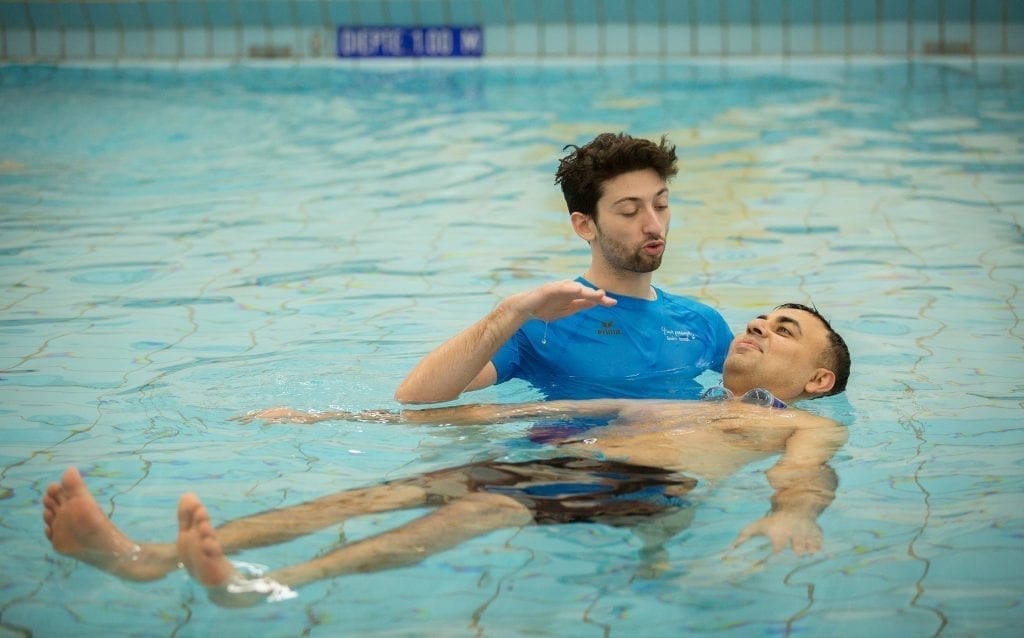 This might be the way to go as an expat in the Netherlands since the regular options have way bigger groups, sometimes a bit shabby pools and no-proper-English-speaking instructors.
As I've said before, if you never got lessons at school, then it's still not too late to start with learning how to swim. It's for all ages. Also, don't worry if you're not Dutch or a child – this is perfect for internationals too (no matter the age)!
If this one can learn to swim: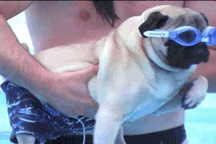 How are the swimming lessons structured?
Swimming lessons in the Netherlands are usually structured to cater to ABC guidelines. This way, everyone can be sure that you've got the skills you need to be safe in the water. So what are ABC swimming diplomas I hear you ask?
Swimming lessons in the Netherlands: What are the ABC Swimming Diplomas?
Usually, children in Holland are taught the A, B, C – A being the basic level (not drowning) and C being pretty advanced (Baywatch! Well, getting there). These 3 swimming diplomas will demonstrate your skill and also your strength level in the water. Most of the Dutchies have an A and B diploma. Let's have a closer look at what each diploma means:
A diploma: These are the basics. When you have this diploma it means that you can swim a bit and won't drown instantly. Best see it as an introduction to the swimming life.
B diploma: This shows your endurance. This diploma shows that you are becoming independent with your swimming.
C diploma: You're a pro now! This shows that you are a completely confident and independent swimmer, who is prepared for any situation. You will be able to assist others in an emergency.
These will help you to know what stage your child (or you) are at and whether they (or you) need to improve. Once they reach C diploma, you can rest assured that your child is equipped with the skills they need to swim confidently. Now all that's left to do is to take them swimming for fun once in a while.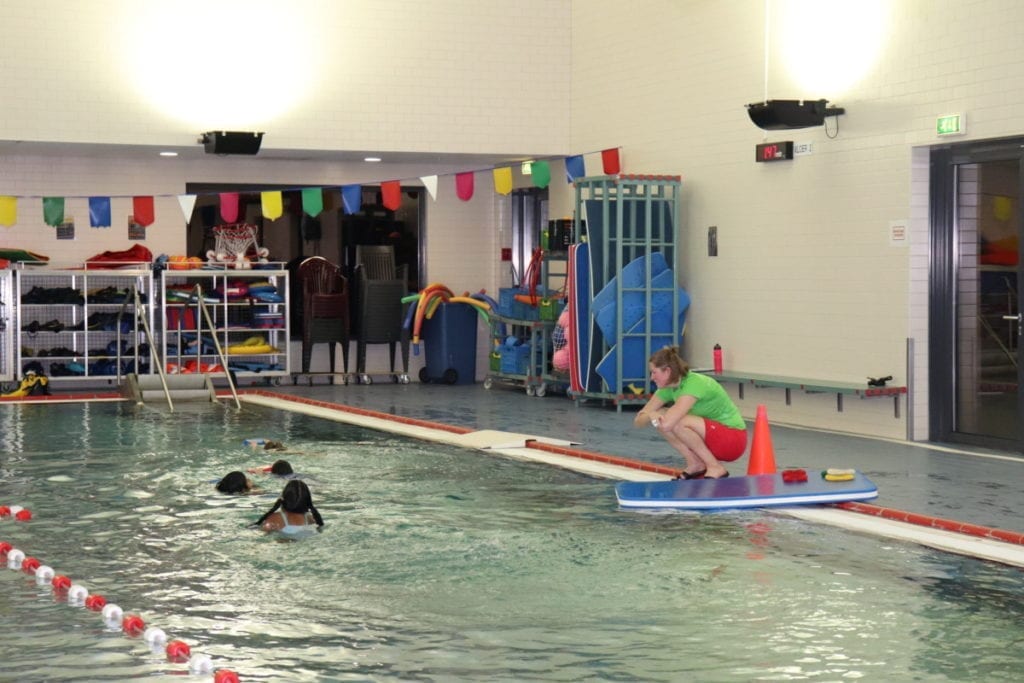 Swimming lessons in the Netherlands as an adult: Can I get a personal swimming coach?
Yes! If you feel like you need a one-to-one, then this is completely possible. You can have swimming lessons that are completely tailored to you and taught by swimming experts. They are also provided in English, so there is no need to worry if your Dutch is not up to scratch. Nobody is going to judge – it'll be a calm environment where you'll learn step by step how to be that confident swimmer. YPSC will take care of your adult swimming lesson without hassles.
If you want to give it a try and see if it will work for you, you are welcome to try it out first. You can book a trial lesson with YPSC before you commit, so you have the freedom to change your mind if it's really not for you. There's no pressure at all; you can meet your coach and see if the lessons float yo boat (and by the end float all by yourself).
"Your Personal Swim Coach structures our lessons around the ABC Diploma curriculum. We would like our students to know what skills are needed to obtain their respective diplomas and move on to the next level. Through personalized classes and following the curriculum established by the Netherlands, we will make sure that you are prepared to pass your diploma tests!"
Want to still keep going, but not sure on the structure of the lessons? Don't be afraid to tell them if these lesson structures don't work for you. They're your personal coach! They'll accommodate to whatever's best for you.
How much are swimming lessons in the Netherlands?
Swimming lessons in the Netherlands can vary in price A LOT. It all depends on many factors: the number of lessons people require, the standard of teaching, group size, the time of day, the quality of the place you're learning at, whether you're learning alone or a small group, wherein the country you are. Once again, it shouldn't come as a surprise that smaller groups with more personal attention and proper English speaking instructors yield better results.
It's best to always take all of this into consideration and shop around and see what works out best for you. Learning to swim is probably one of the best investments you can do.
For when you can swim already; what you need to know about swimming in the Netherlands:
Ah, keen are we? Luckily you won't need this information for a few months yet (unless you like to swim in the freezing cold, which some of you crazy people do). So, for future reference, here are your burning questions about swimming in the Netherlands.
Can I swim in the canals in the Netherlands?
Unfortunately (for some), swimming in canals in the Netherlands is not allowed. It's not illegal, it's just strongly advised more for your safety, rather than to dampen your fun. The canal water, let's just say… isn't exactly clean. It's certainly better than ever before, but not suited for the casual swimmer. Amsterdam's canals are also full of rusting bikes and drunken tourists.
In short, it might not be your best option for casual swimming. The only exception is when special events are held and then special exceptions will be made providing the water is clean enough.
Speaking of these special swimming events, there are plenty going on nowadays. Just think about the Amsterdam City Swim, Open Water Swimming Amsterdam, the Amsterdam Night Swim. And this is just Amsterdam, swimming in the open is getting more popular throughout the Netherlands. It's also part of the trend of having an active and healthy lifestyle, with more people signing up to swim parts of the triathlon. So again, learning to swim as an adult in the Netherlands is not just an investment in fun times but also opens options for pursuing a fit and active lifestyle.
And if you just want to swim for fun and not for fitness, that's fine too:
Where can I go freshwater swimming in the Netherlands?
Don't fret, I may have scared you with the thought that the whole of the Netherlands has polluted water, but it doesn't. This website lists all of the freshwater spots that are safe to swim in. We won't list them here are they are subject to change for safety – so make sure you refer back to it often.
Where can't I swim in the Netherlands?
There are a few places that you are forbidden to swim in the Netherlands. One I these I just mentioned: Amsterdam's canals. Most places you're technically allowed, but it's strongly advised against, as the water quality is really bad. This also includes some rivers.
Dangerous places such as in high-speed water areas, ferry routes, locks, near bridges and around ports are not allowed. If you are caught you can risk a hefty fine. It's not worth it if it's unsafe anyway – it's there for a reason!
Where can I sign up for swimming lessons with YPSC?
Have we gotten under your skin and want to check if there are swimming lessons for adults going on nearby? Good! Jump in! Here's a little summary of where you can sign up for their lessons: Amsterdam, The Hague (Den Haag), Diemen, Eindhoven, Leiden, Rotterdam, Voorschoten and Zoeterwoude.
So there you have it, all you need to know about learning to swim in the Netherlands (no matter your age!) and don't forget to take a look at Your Personal Swim Coach if you're serious about learning to swim in the Netherlands.