Swimming in the canals in Amsterdam? Is it possible? (and should you want to?)
Ah those sunny 72 hours in Amsterdam. Aren't they just delightful? Summer is something very special in the Netherlands, like a delicate flower that needs to be attended to with utmost care. And it needs to be celebrated like there is no tomorrow (in the sun).
So what to do when the thermometer climbs past the 20 degree Celsius mark? You have several options. You can go and find a cozy terrace with lots of shade and even more cold beer or you can get comfortable in a reclining chair at one of the hip urban beaches around Amsterdam. How about kicking back in a park with some ice cream and hours of staring into the blue sky followed by a barbecue with friends? Sounds good as well. But what if it's just too scorching hot to move around without having a source of refreshing water nearby? Fair enough!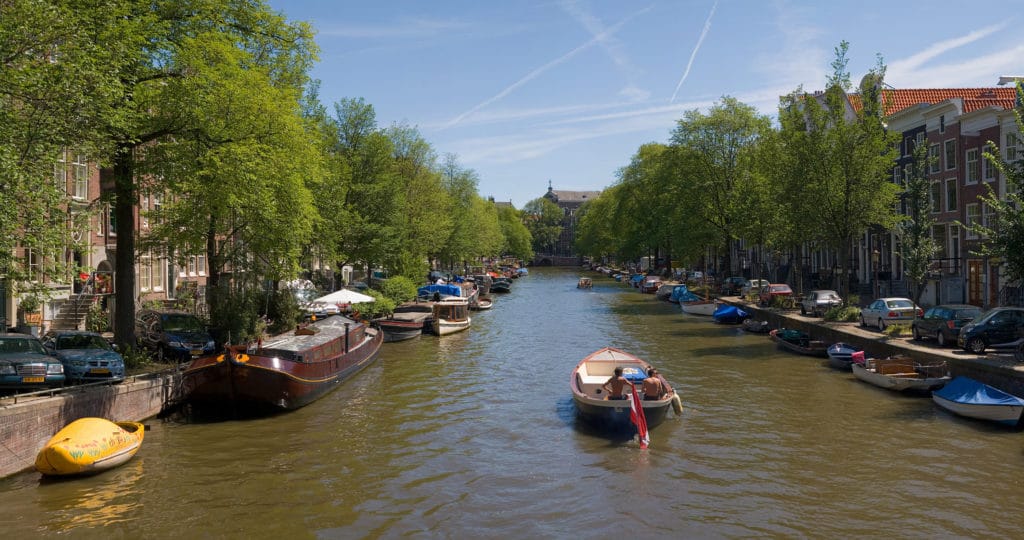 Plenty of water around the city
Amsterdam is pretty much built around/on water. Cold, refreshing, wet water. It glistens in the sun and looks oh so inviting. And you? You just want to rip off your clothes and jump right in, am I right? But wait, you can't really do that or can you? Are the canals in Amsterdam clean enough to swim in? Or will you dive in and get stuck on handlebars of a bike that was parked too close to the canal? Or even worse, contract some unknown bacteria while happily frolicking in the waterways of the city?
Swimming in the canals in Amsterdam has never been cleaner
Although waterways in Amsterdam used to be treated as sewer as well as garbage dump back in the 19th century, the water quality improved over time little by little. Well into the 20th century the canals remained polluted, even after rubbish collection services and sewers were introduced. In recent years however, the water management company Waternet introduced new measures and managed to improve the water quality of the canals significantly. The waterways have never been cleaner in 400 years. However, there's always room for improvement. On-going developments consist of installing underground tanks to control sewerage overflow with heavy rains, and connect all houseboats in Amsterdam to the sewer in order to avoid the dumping of their waste directly into the water.
Swimming in the Canals in Amsterdam, is it allowed?
Officially it's not permitted (yet). Waternet still states that officially you can't take a dip in the canals in Amsterdam because they are not clean enough and because they are classified boating ways, but the aim for the future is to have canal water that is safe for bathing. However, if there haven't been any heavy rains beforehand, the danger for bacteria like E. coli and enterococcus is low and the water quality meets swimming standards. The annual Amsterdam City Swim, a charity swimming contest that stretches over two kilometers in the canals, shows that swimming in Amsterdam's waterways is possible. This year it takes place on the 3rd of September (there's still time to sign up!).
Swimming in the canals? Check out the Zwemwater app
When it comes to cooling off in the city during those (scarce) boiling summer days, you might have to think twice before taking a leap into the canals. Places a bit outside of the centre like Java-eiland or KNSM-eiland as well as the Stenen Hoofd at the IJ are popular bathing spots when the heat gets unbearable. People have also taken the plunge in front of popular bars/cafes like Hannekes Boom, Amsterdam Roest or De Ceuvel. If you want to be on the safe side and find an official swimming spot, you can use the Zwemwater website or app. It provides up-to-date information about the water quality of over 800 swimming locations around the country, uses an interactive map and three categories (good/ warning/ swimming ban) to classify each swimming spot.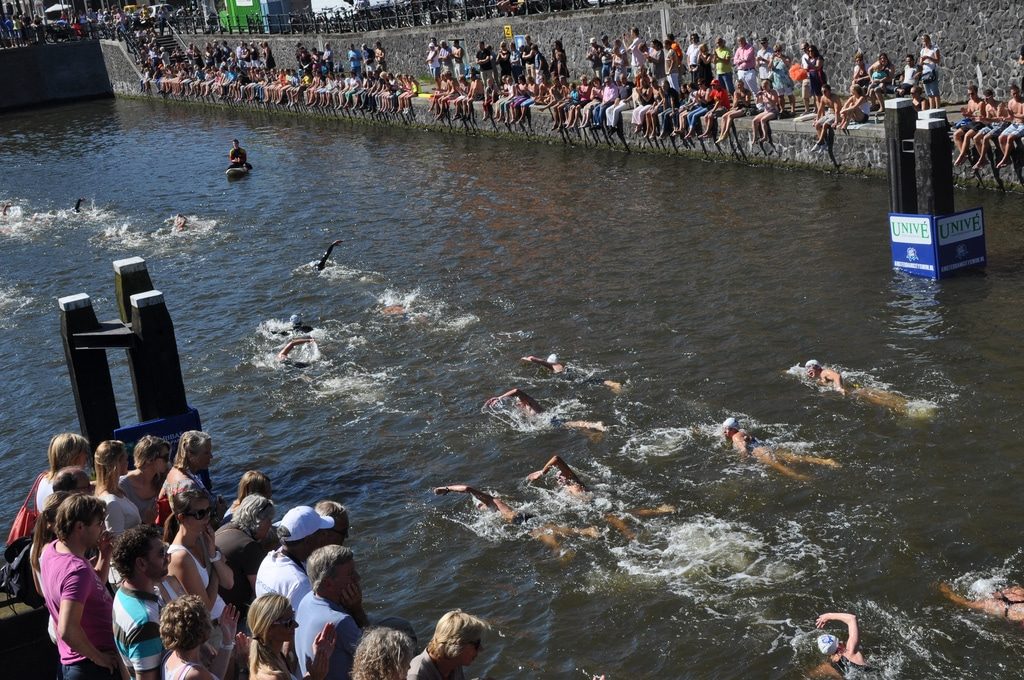 If all that talk about cooling off put you in the mood for a swim, then go on and get wet! (But stay safe)
Have you gone swimming in the canals in Amsterdam? Feel free to share your best pics and stories!