Finding the cheapest and best internet provider in the Netherlands
There are so many questions when it comes to sorting out your internet provider. What internet providers are there in the Netherlands? How do I find the cheapest internet provider in the Netherlands? What sort of internet do I need? What's the best internet provider in the Netherlands? What do I do if I'm only in Holland temporarily? If you've just moved here and are looking for the cheapest and best internet in the Netherlands or are feeling a bit lost and not sure where or what to look for when buying an internet package, then, as usual, DutchReview has come to the rescue. 😉
Finding the best internet in the Netherlands does not have to be a hard or expensive task. You just need to know what internet package will be best suited to you and how to make the most of your money (hey, you're in the Netherlands after all)! But how?
We teamed up with Prijsvergelijken, an expat-friendly comparison site, to help you find the best internet for you in Holland!
1. Check which companies provide internet within your area
You may not get access to every internet provider where you live and that's because there are only two large network providers in the Netherlands: Ziggo/Vodafone (cable network) and KPN (DSL network). You are able to go with other smaller providers such as Online and T-Mobile and these operate on the larger networks. You can choose between DSL, cable and fibre connections, but again, this depends on where you're living.
I know, I know, it gets even more confusing when it's all based on your address. However, there are ways to make it less confusing. Sites such as Prijsvergelijken ask for the address straight away, so they will only show you the current plans available in your area. So if you spot an incredible internet deal – then you'll be good to go!
2. Decide what internet speed you need
Buying an internet package is not just "oh, that'll do" and that's it (I mean you could, but it's not ideal). Some providers will attempt to draw you in by offering really high internet speeds. However, that doesn't mean that internet speed will be available in your area. Note: VDSL and ASDL connections are much slower than fibre and cable in general – so go for the faster one if you can! However, make sure to check your max speed through your address, as you may find that you won't be able to achieve that speed.
You also need to work out how many people will be using the internet at one time (how large your household is) and also what you'll be using the internet for. For example, one person using the internet uses a lot less bandwidth than a family of four. If four of you are using it, naturally, the internet would slow down. How you are using the internet also affects it. Are you just meaninglessly scrolling through Facebook (yup, I feel you), or are you streaming lots on Netflix (again, I feel you), or both? These all make a difference and that's what you need to determine when you buy your internet.
Hey, we're not here to judge, but if you spend your days uploading selfies to Instagram while streaming criminal dramas on Netflix, then you're going to need a decent internet provider. Livin' the dream.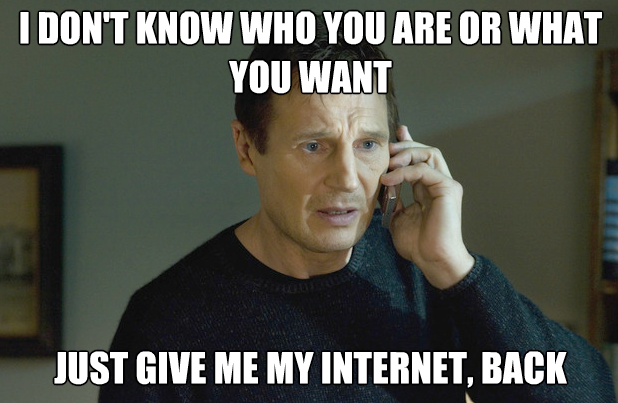 3. Use a comparison site to choose the best internet provider
By far the easiest way to find the best internet (and the best price!) is to use a comparison site. Comparison sites not only allow you to find the cheapest package, but you will be able to compare them alongside one another all in one place. Going through each provider one by one would take forever (plus, you may not even know what to look for in the first place).
Prijsvergelijken is a comparison site which is easy to use (has an English option – ideal!), fast and accurate. Using comparison sites like these automatically filter out any providers not available in your area from a quick address search and show prices and services provided with the different internet packages. It saves time so you can have more time Netflix-ing and less time browsing for your provider.
4. Look at the contract terms to avoid penalties
Reading the small print is always something you're meant to do, but not always something we actually do. In situations such as contracts, it's really important that you read the small print in order to avoid penalties. If you're an expat, then you may not be here for the full year – so in this case, you definitely should be reading the small print!
Most contracts are for a minimum 1-year term, which means that when you join with them, you are essentially committing to that internet for a whole year. But what if you don't need it for a whole year? In general, if you cancel your subscription before your term has ended, you will likely have to pay a penalty fee. The penalty fee is usually what you would have had to pay for the year anyway. However, this can amount to quite a lot if you're cancelling after only a couple of months. Bear this in mind, as it may be better just to buy mobile internet and hook it up to your computer.
Looking to cancel a subscription past a year?
So maybe you've just seen a better deal and you've been with your current internet provider for over a year. By law, you are allowed to leave this subscription with 1-month notice – so no fees for you!
5. Look at the deals the provider is putting on
Many internet companies provide deals such as "first month gratis/free" or "half price for three months" and other enticing deals. Sometimes they are excellent and an absolute steal and other times it really is just a ploy to get you to go with them over a cheaper alternative. When looking at these deals it's important to see how much you will be charged AFTER this deal has ended.
Look at their starter deals BUT also don't fall into the trap – sometimes after these deals are over, the rate is much higher every month after that, so look at the overall cost for the year. For example, one company may be giving you 3 months cheaper, but it's 20 euros more expensive per month after. This is in comparison to another company offering a worse start-deal, which is definitely still cheaper overall. At Prijsvergelijken you can check this month and yearly price easily. Be more Dutch – research and seal that great money-saving deal!
6. Consider combining your package to get a cheaper deal
Are you looking to get a TV or mobile package as well as your internet? Then consider getting a combined package from a company, as this will likely be cheaper and of course much, much easier overall. Some companies will offer this as an add-on option when buying your internet and the others you may need to delve a little deeper.
On Prijsvergelijken, they will ask you straight away whether you are looking for just an internet connection, or other services too. This way you can compare packages instantly. It's never been easier to get that great deal with minimal effort. Now you can WhatsApp your mates on your mobile, watch Brexit unfold on the news on your TV and stream cat videos on your computer, all under one package. Result.
7. Consider an expat-friendly provider when getting internet in the Netherlands
Moving to the Netherlands is stressful enough as it is, without having to worry about bills and what companies to deal with (IN DUTCH). Sure, Google translate has become the biggest saviour of all time, but we've all become victims to the poor translation more times than once. Prijsvergelijken has an English option, meaning that you can browse the different companies all in English. This ensures that you know what you're dealing with and you can avoid all of those awkward and nonsensical Google translate moments. Brownie points if you can pronounce Prijsvergelijken BTW. 😉
Honestly, before you sign up to something, you really need to make sense of it.
So there you have it – 7 ways of finding the cheapest and best internet provider in the Netherlands. With Prijsvergelijken, finding that Dutch internet has never been easier.
* Oh, and have all our Giphy's not loaded? Then time to get that new internet provider; you really wouldn't want to miss out on those. 😉
Any other hints and tips on finding the best internet provider in the Netherlands? Let us know in the comments!