Because the only thing better than eating at a new hotspot in Amsterdam is having some delicious drinks on the side. Where to go in 2018!? We've got tapas, distillery, cocktail bars and boozy brunch!
#1 El Hermano de Kique
Are you missing that Spanish vibe in your Dutch life? Are you looking for a spot in the Spaarndammerneighborhood? (it's West-ish for those that just arrived) Or do you just want wine and tapas (that's what got to us). 'El Hermano de Kique' is the positive answer to all of those questions!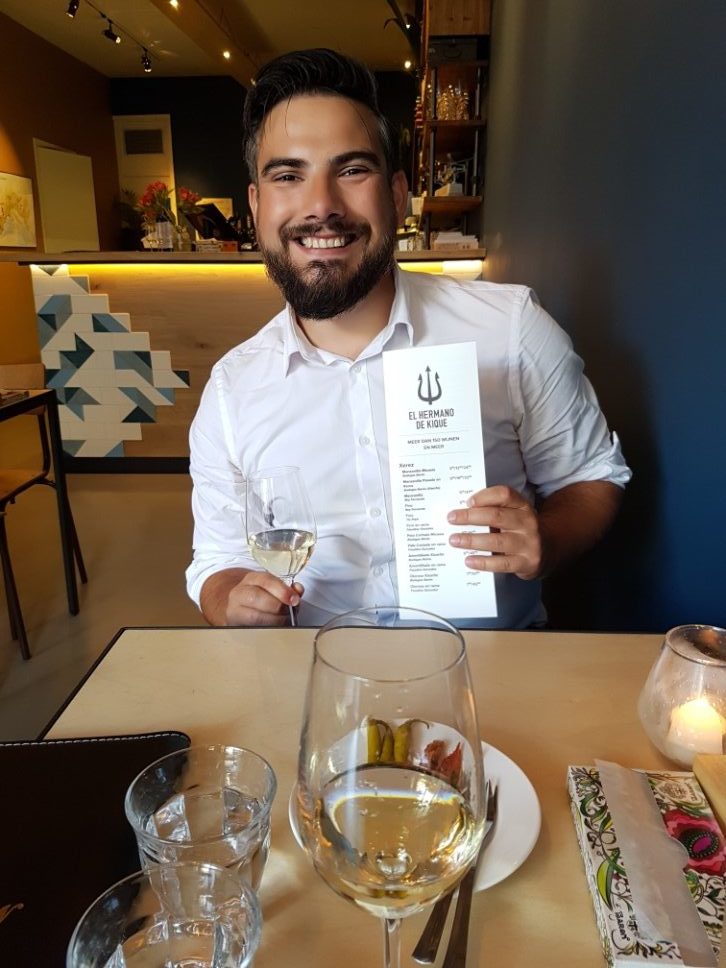 On the menu at Hermano de Kique you can mostly find two things, tapas and wine. And boy oh boy, both of these items are done perfectly there (and affordable as well). When it comes to the tapas they've got some improved classics on the menu but also some very innovative bites, all of it is Spanishly influenced – we went for three courses of multiple tapas because we couldn't get enough.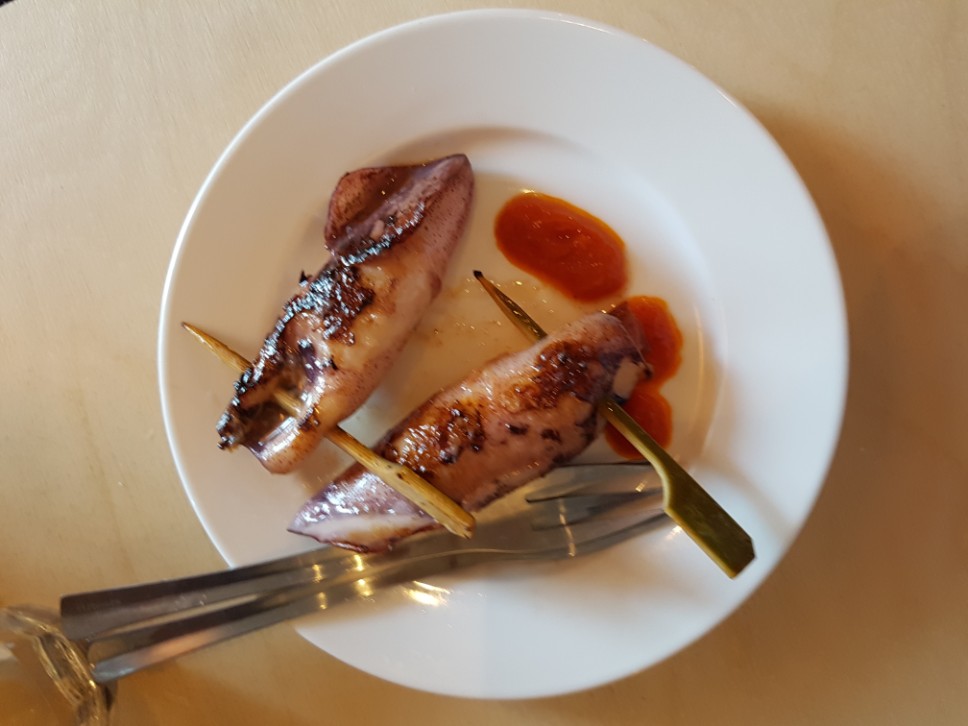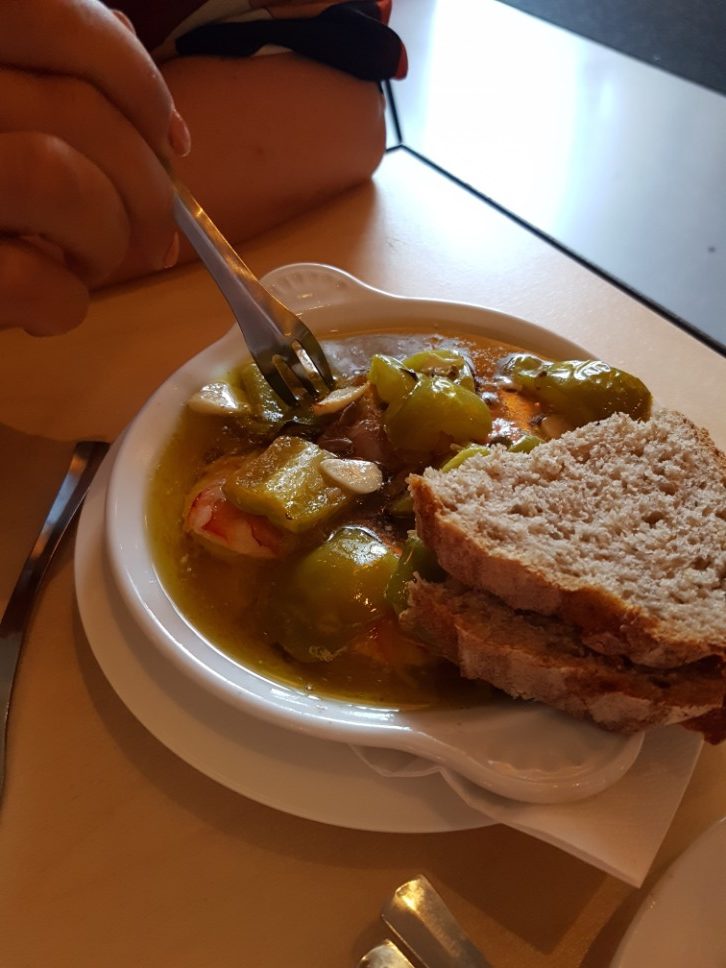 And then the wine! The owners, two young sympathetic fellas, are passionate about their wines and the accompanying experience and do a terrific job of pairing your wines with your bites (or the other way around). They also run a wine-shop just a meters away, so they know what they're talking about!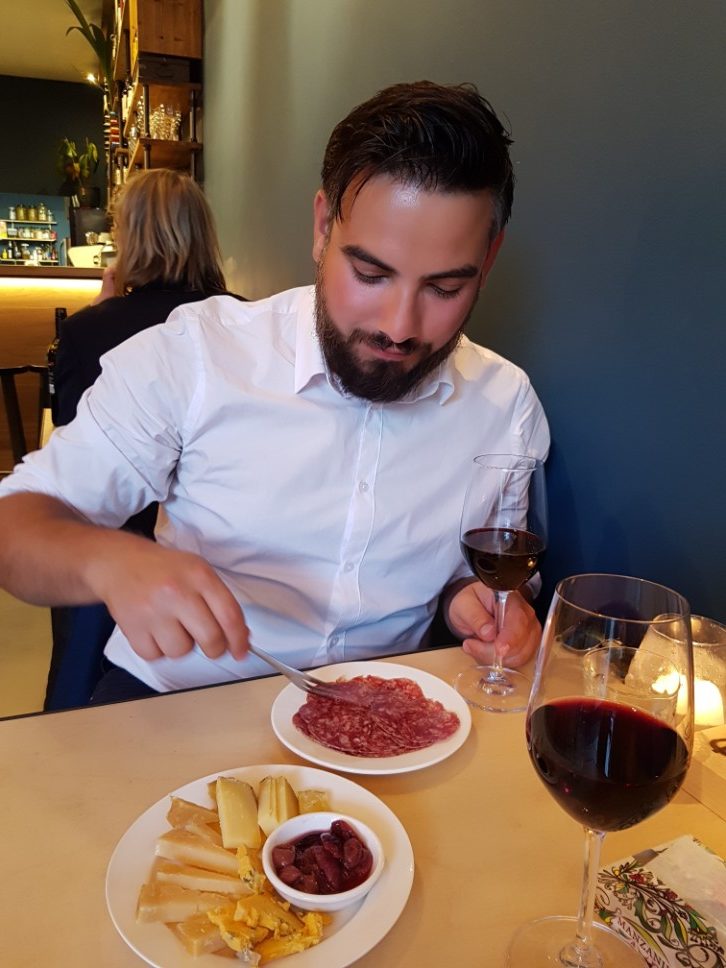 The interior has a warm but trendy Spanish touch with the walls that are painted blue and warm yellow, there are a lot of plants, even more wine bottles and they have a big bar where you can eat tapas all evening Spanish-style. And before we forget it, they have a big terrace where you can enjoy wine with your friends until late in the evening when Summertime finally comes. Together with those wines and the shared dining it makes El Hermano de Kique a perfect spot for catching up with friends.
Address: Spaarndammerstraat 55 Amsterdam
Website | Instagram | Facebook
#3 Poesiat en Kater
Poesiat & Kater in Amsterdam-Oost  will be your favourite if you like beers and gezelligheid. (Because honestly, who doesn't love that?). Poesiat & Kater Amsterdam is a brewery and tasting room in one. Jorn and the other owners were fascinated by the history of the biggest brewery of Amsterdam: Van Vollenhoven's brewery 'De Gekroonde Valk'. The rich history of the brewery really shines at Poesiat & Kater.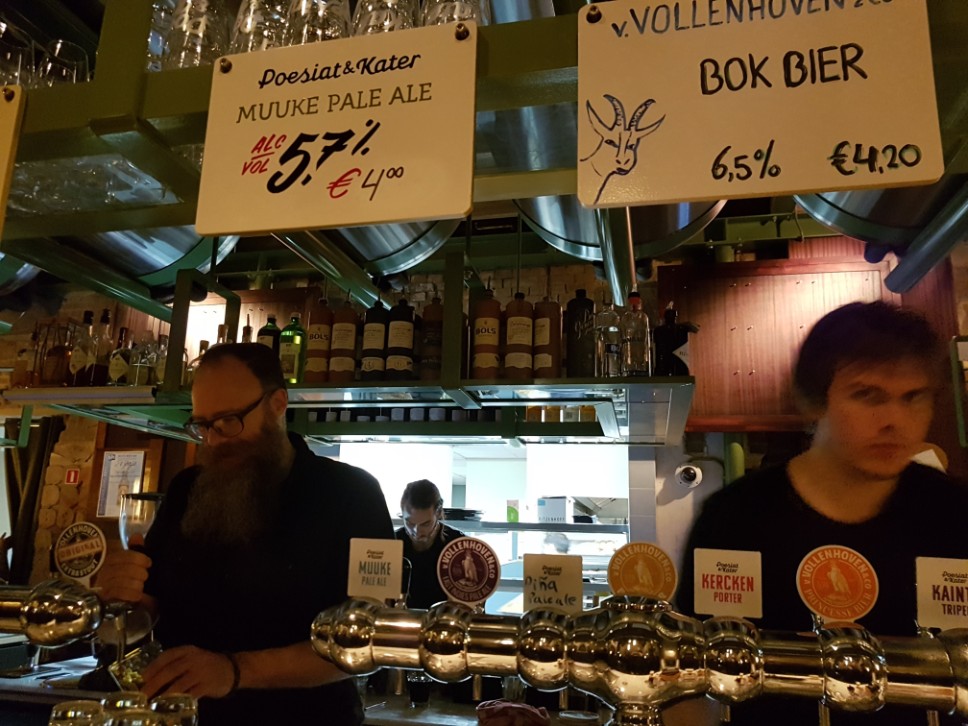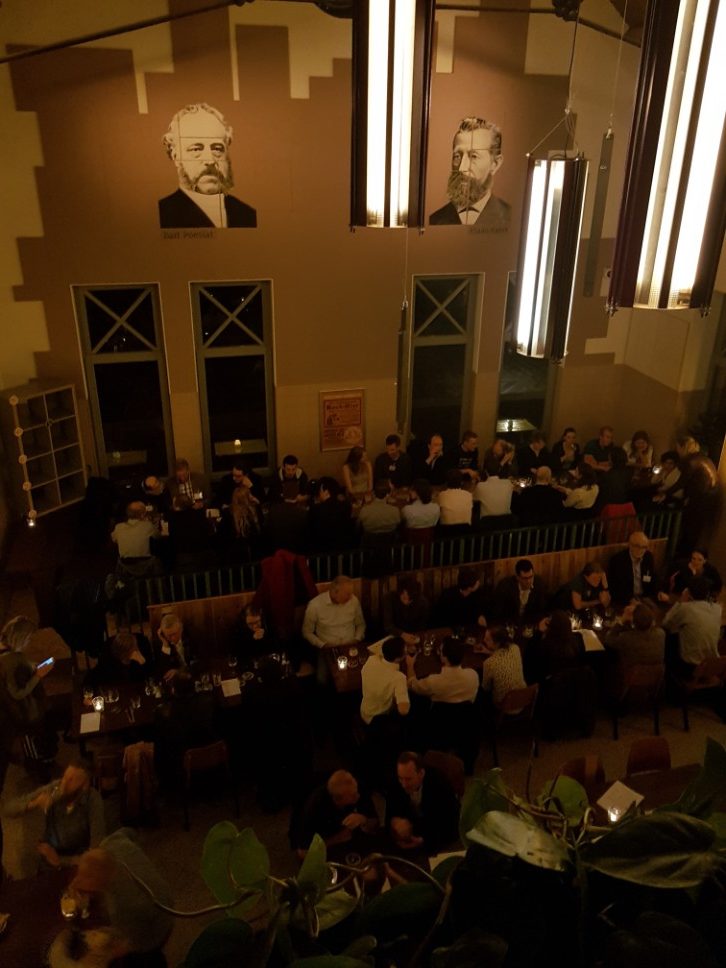 Nice: Poesiat & Kater is named after two employees that worked in the brewery: Bart Poesiat and Klaas Kater. Not just regular employees though; they had housing built for the workers of the brewery.
Fun Fact: Later is not just the surname of one of the founders but also 'hangover' in Dutch.
Back to the eating and drinking! The restaurant/distillery is located in the Oostergasfabriek and has a big terrace where you can sit with a homebrewed beer. We were just there when they presented one of their newly brewed beers. They're really passionate about it all, which you can taste, and if it isn't very busy I would recommend asking for a short short tour of their brewing process.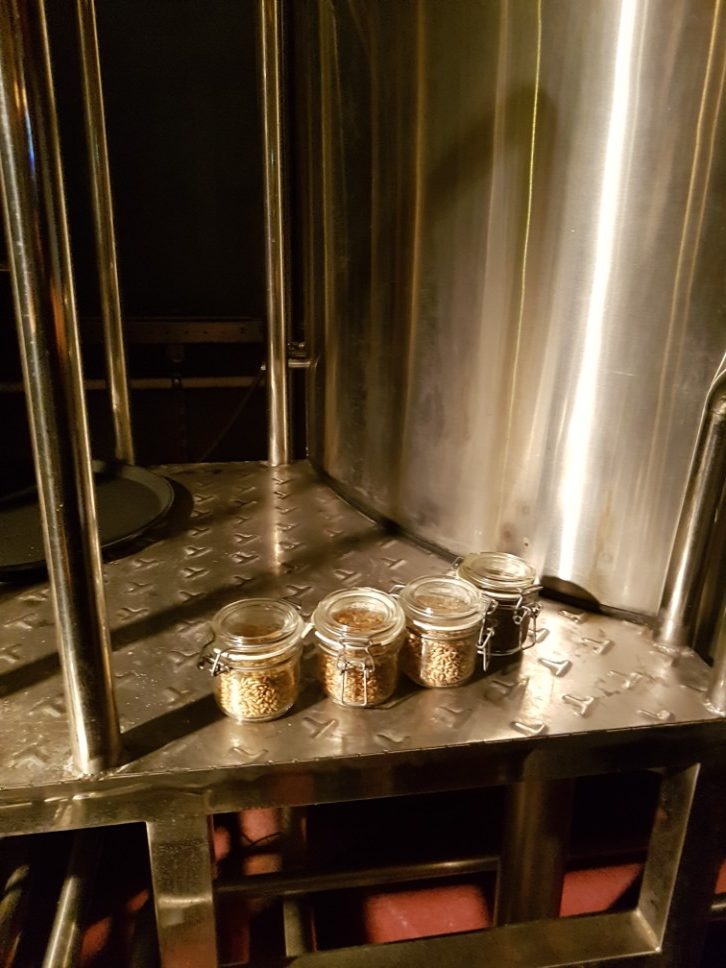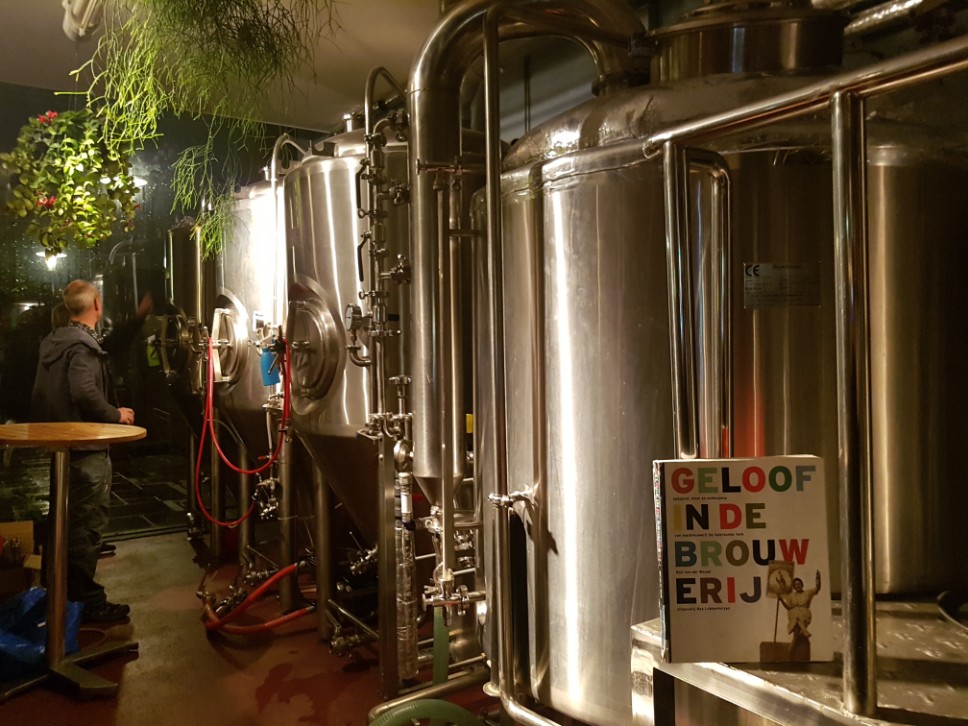 Start your dinner with one of their epic 'planks' – you can wake me up for the rillette on that one. Obviously, all the food goes great with beer, so the general theme of their cuisine is hearty and quite filling (and tasty). It isn't all meat, they've got some original choices for fishy items on the menu as well.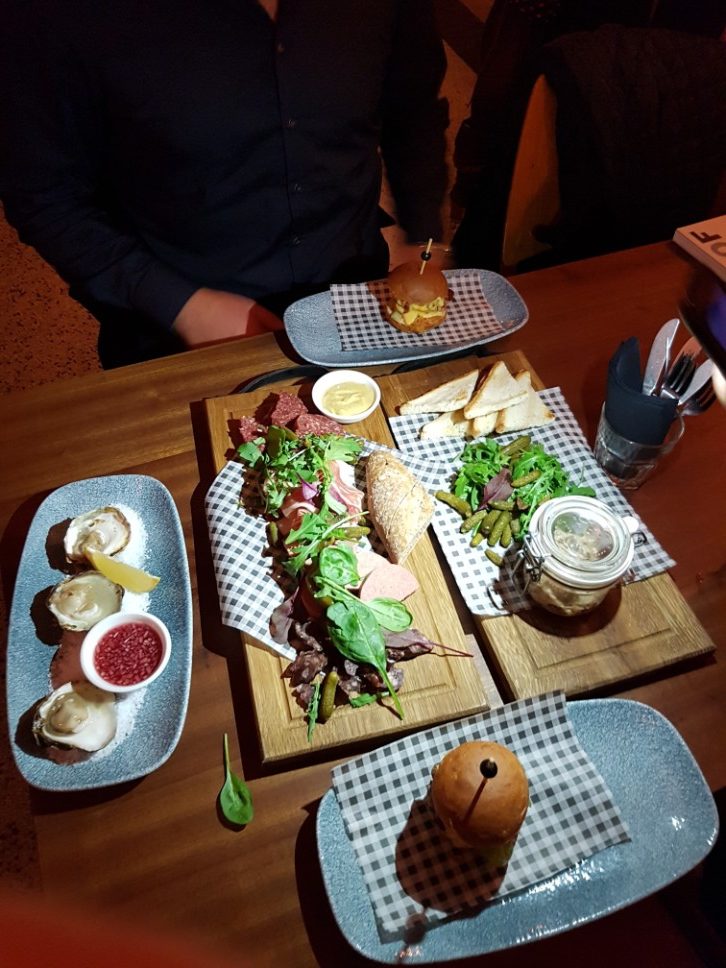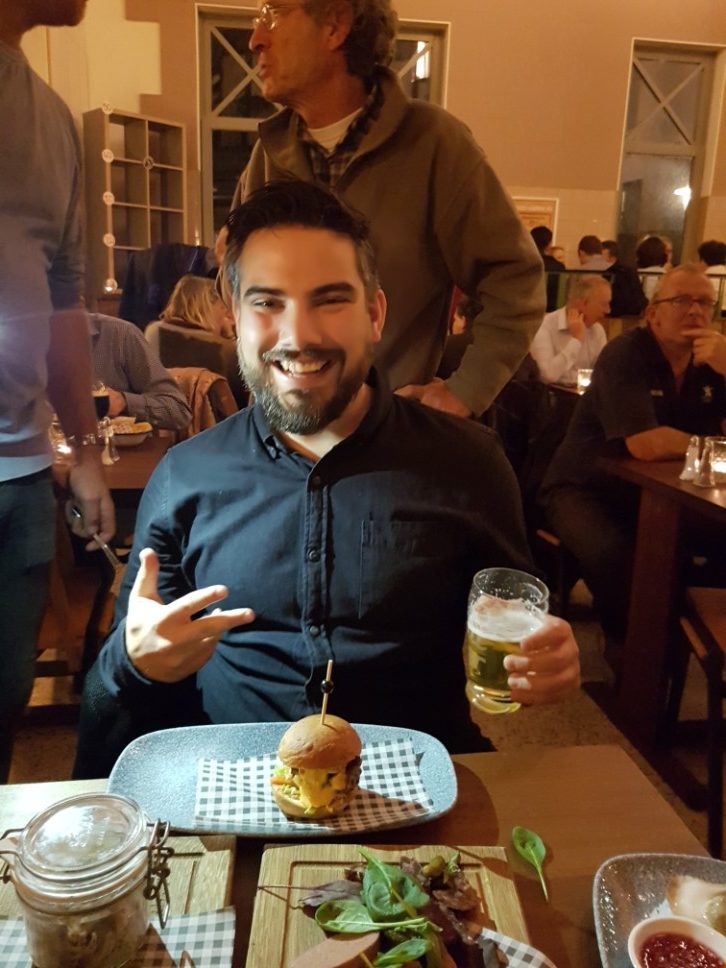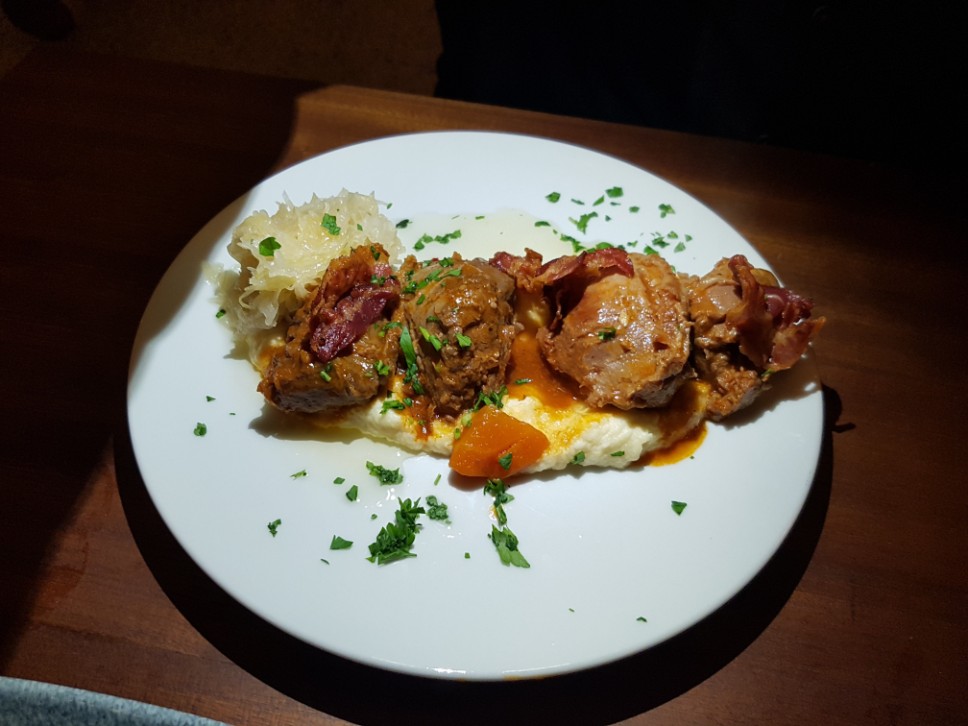 That slider grillburger with cheddar was a real winner and my absolute favorite was the 'varkenswang' (pork cheek I guess). Damn that stew was tasty, we had two portions.
The historic ambiance, passionate beer making and good all-round menu. Poesiat and Kater is great for a night out with friends and a must visit for when you're ever in Amsterdam Oost!
#4 Brooks
Brooks is a small and intimate brasserie located in the Beethovenstraat (Amsterdam-Zuid) which is one of those perfect laid back but luxurious shopping areas around town. Brooks carries that same kind of vibe with it, it's the kind of place people come to after a long day at the job to wind down with colleagues at the spacious bar for fine wine, beer or a Cava (sparkling wine) but it's also the right place for parents and their kids to enjoy a plate of fantastic crispy salmon, great fries (and some wine for tired mom!) after a day of exploring this shopping district.
If anything Brooks reaches from business casual to family friendly but manages to do so without forcing anything, it's all about the easy atmosphere – from staff to visitors, Brooks will help you wind down from work, the kids or just a day of buzzing Amsterdam.
Upon arrival Brooks already stands out on the street with its classic light sign, which has an almost Moulin Rouge-like invitational feeling to it. Once inside there's a warm atmosphere and the young staff will be happy to welcome you and tend to you with one of their excellent drinks. I can highly recommend Brooks selection of wines, including the house wine, and above all the Cava for that Spanish sparkle that makes any evening better.
Brooks menu is straightforward and clear, there is not a wide array of dishes but there is – guaranteed – a meal for everyone that will more than satisfy the palates. I and my +1, my mother in this case, worked our way through a three course meal, with pleasure.
Though sizes may be modest to some, the taste is generous – the crab cakes, the Burrata salad (vegetarian), Creme Brulee and even the simple bread basket did not under-perform. But one meal deserves special mentioning: The crispy salmon. Not only was the fish clearly as fresh as can be, it was also baked to absolute perfection – there was nothing left to wish for regarding this ocean jewel. Many bigger establishments could take example of how to serve crispy salmon!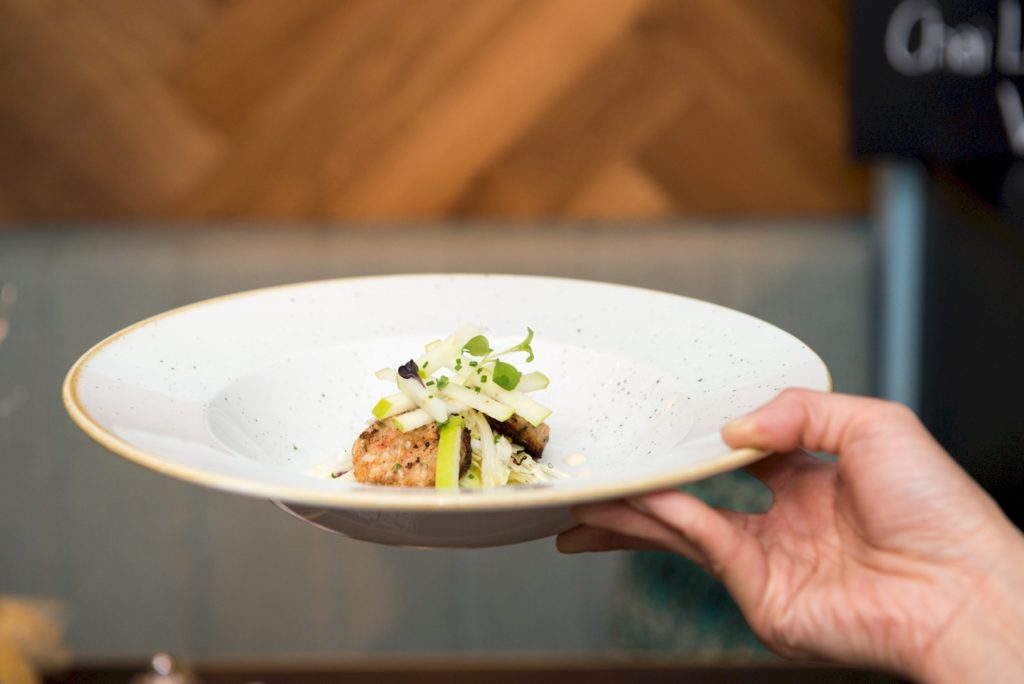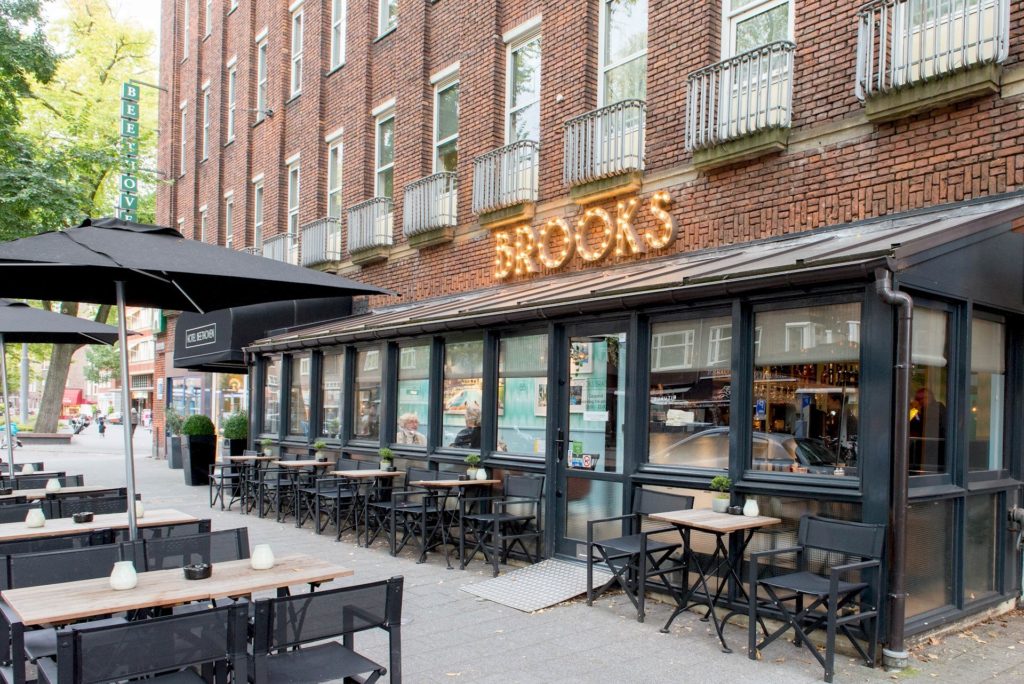 The interior of Brooks Brasserie is, as said before, warm and intimate and offers several different kinds of seats as well as a bar. It allows you to find just the spot of your liking, whether for breakfast, lunch or dinner, and enjoy either the outside view of the city, its yard or just your company. Also an interesting object is the massive moose head that's hanging from the wall further down the establishment – which is certain to be a hit with the kids to look at or take a picture with.
All-in-all Brooks is a fine establishment for those looking for a casual time and a casual meal – and you won't have to slip into bankruptcy either because the reasonable prices are right on the menu. So, next time you've done your major presentation in front of a crowd of hundreds in the Amsterdam RAI Conference Center and need to relax or you're looking for some warmth after a long day of shopping with husband and kids in the Beethovenstraat – think of Brooks. They'll be waiting.
#4 House bar
Done with eating? Still want to get some drinks in when heading to the station? Or just thirsty when exiting the station? (Not judging, just saying).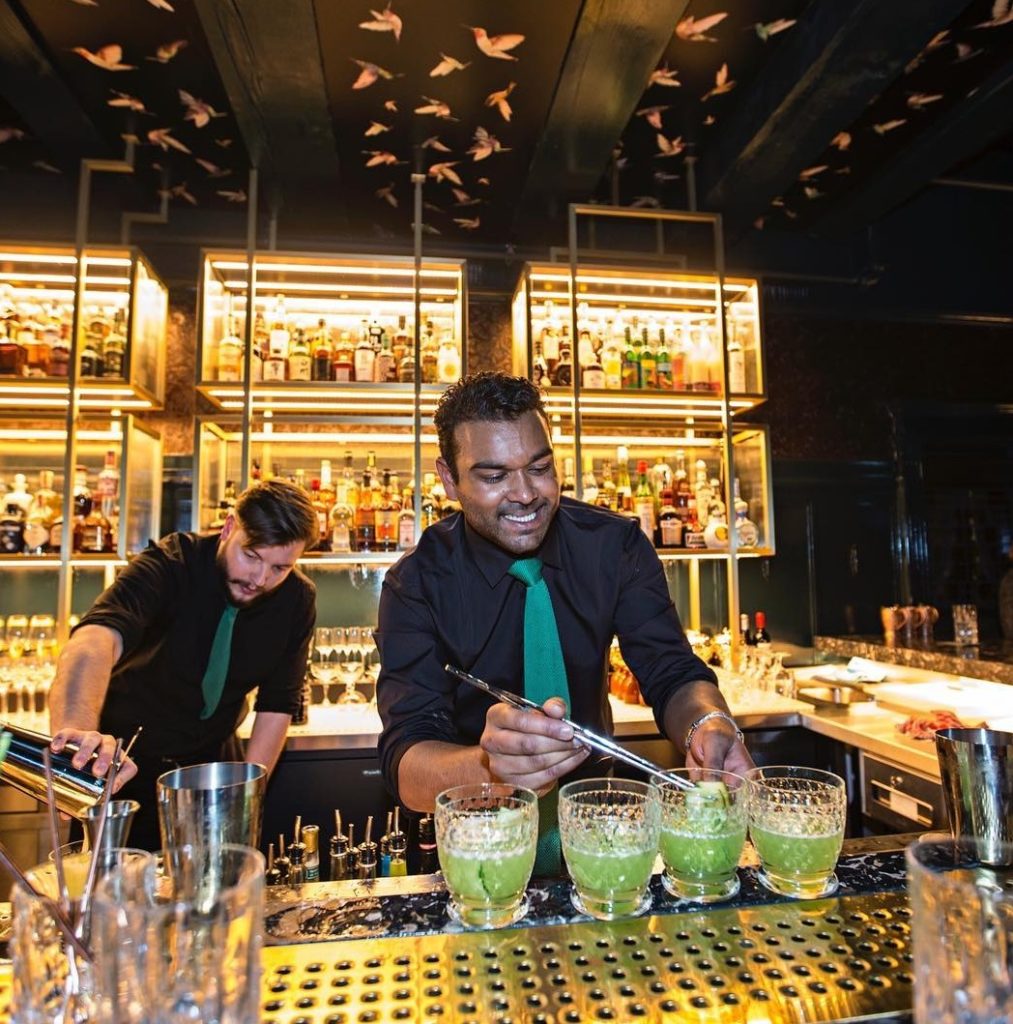 House Bar Amsterdam is the place in the city center where you can go for cocktails every day of the week! They're on the Nieuwezijds Voorburgwal, at walking distance from the central station. At House Bar Amsterdam it's all about having a funky but stylish night and great cocktails made with the best ingredients. Besides both classic and original cocktails they've also got a wide selection of beers and wine and you can order some delicious snacks to complete your boozy night.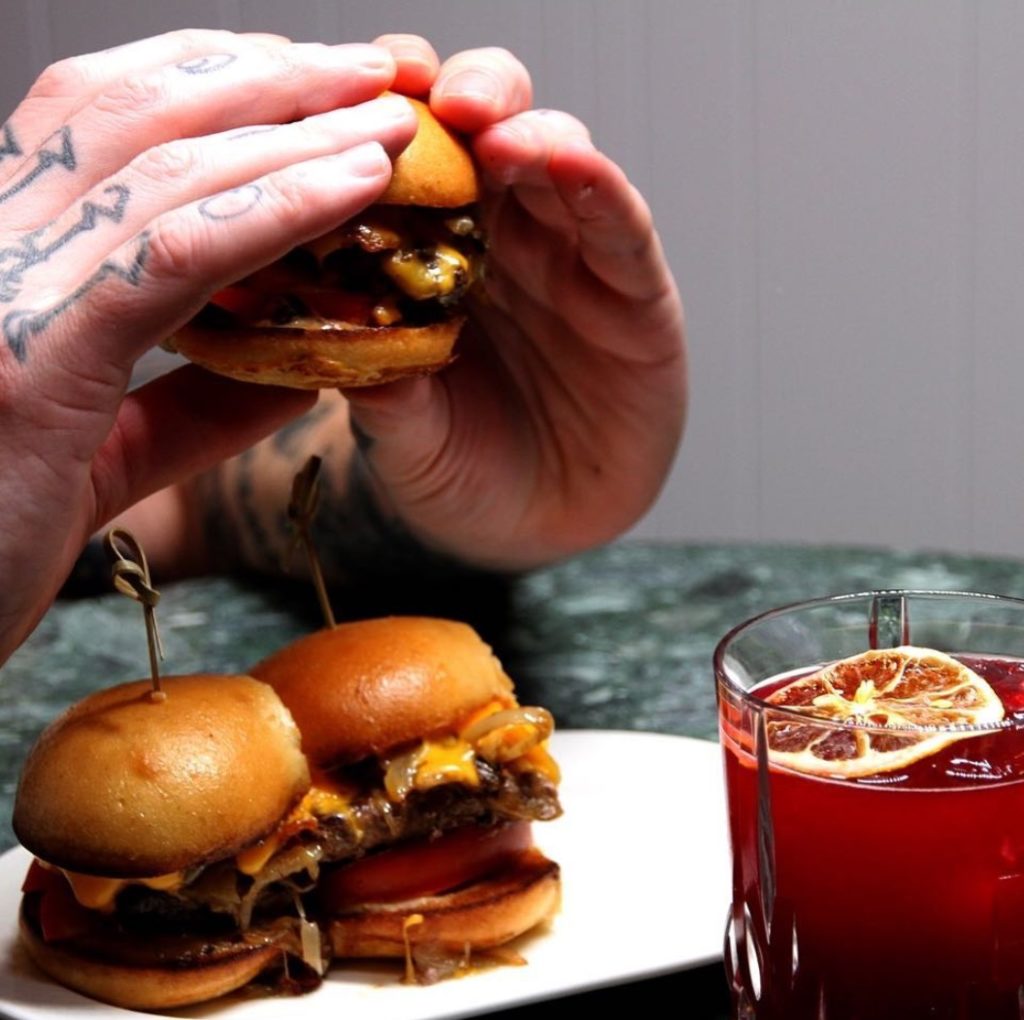 We were there for the party of the new head bartender: Thomas! The place is just packing with style and class but thanks to the crew behind the bar it never gets uptight (the cocktails help with that as well).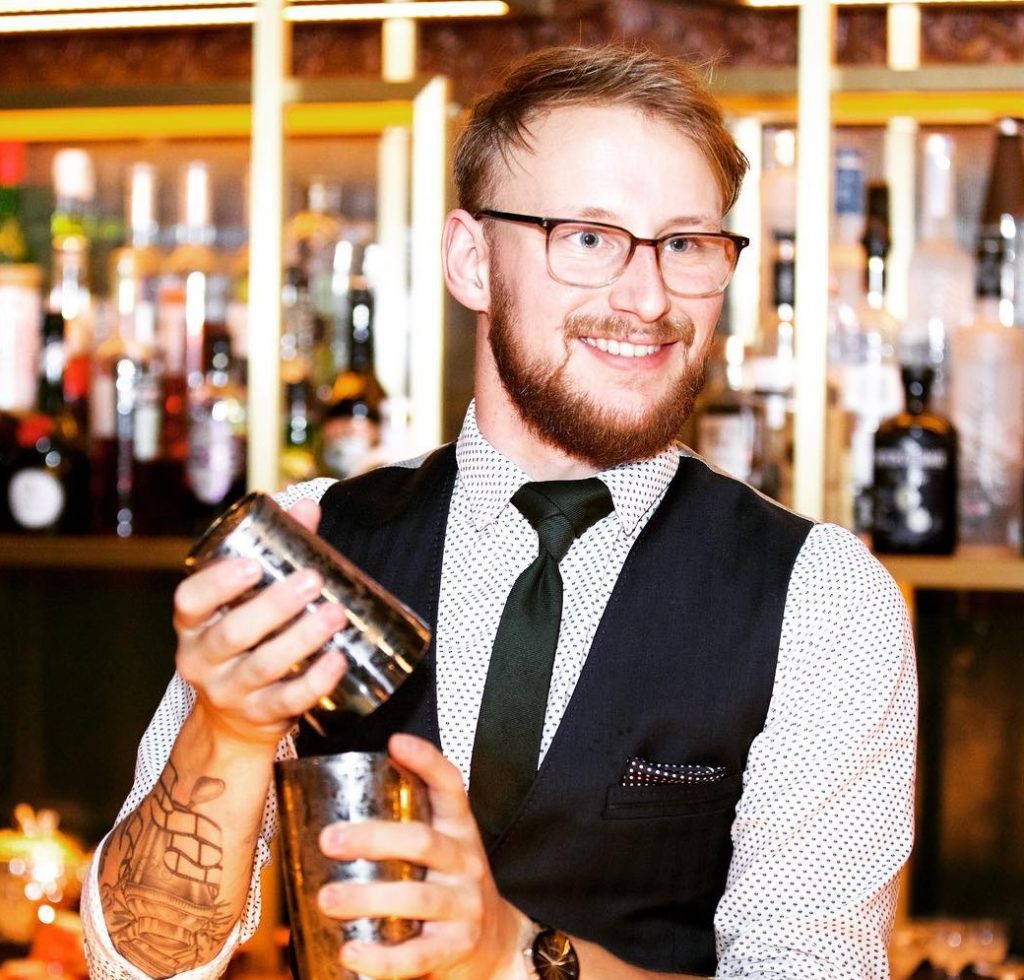 House Bar Amsterdam is right next to the Kimpton De Witt hotel at Nieuwezijds Voorburgwal. And then there also other nice spots there like Wyers Bar & Restaurant. Finally some good stuff in this part of Amsterdam!
Address: Nieuwezijds Voorburgwal 5,
1012 RC Amsterdam
Website | Instagram | Facebook