Remember in September when we announced that Disney+ was being trialled in the Netherlands which gave all us in the Netherlands free access? Well, that trial is now over, but the service lives on, has been upgraded and fully launched today! Better yet, there's exclusive access to five new films.
How much will the new service cost and what are the new films?
Disney was late to the streaming service game (but better late than never), and they're offering invaluable content and features that hope to accelerate its popularity.
A subscription for Disney+ costs 6.99 euros per month, and comes with unlimited downloads, and 4K Ultra HD content (not even Netflix has that!). You also get access to five exclusive original Disney films. What are these films? Well…
The Mandalorian
A Star Wars series, that follows a lone gunfighter on the edges of the galaxy who is far removed from the authority of the New Republic.
Lady and the Tramp
A remake of the 1955 Lady and the Tramp, that follows the love story between a pampered cocker-spaniel and a street dog.
High School Musical
A group of students in high school get ready to perform the original High School Musical. Bit of a mind-warp?  Watch the trailer and you'll understand.
Noelle
Noelle, the daughter of Santa Claus, played by Anna Kendrick, adores Christmas and wishes she could do something special to honour her love for the holiday. Her brother Nick must take over from their father as Santa Claus but the pressure gets too much and he runs away. It is up to Noelle must find him and bring him back so Christmas isn't ruined.
The World According to Jeff Goldblum
See the world through the eyes of Jeff Goldblum in this hilarious docu-series.
What do people think of the streaming service this far?
A hands on review of the Disney+ services conducted by TechRadar was on the whole positive. They emphasised that "the design is sleek and tidy, the content library is substantial for what you're paying – if considerably smaller than Netflix's 8,000 titles – and the list of supported platforms is amazing. You can also watch four titles at a time, which is a feature you won't easily find at this price."
Disney Plus is available on multiple devices and operating systems such as PS4, Google Play Store and Xbox One.
Similarly to Netflix, Disney+ will have tabs that list the most popular movies, "recommended for you" and "renewed classics". And, just one Disney+ account can give up to ten devices access to the service (take that Netflix!)
Disney+ will also showcase old films
Disney+ have made efforts to make sure the service is not too child-orientated and makes sure old classics are available. In fact, some of the films in the Disney+ library date back as far as the 1930s.
On top of this, they also include popular films such as Avengers, Aladdin, Black Panther and every episode of the Simpsons. Given Disney is such a powerful company, they have managed to secure access to brands such as Pixar and National Geographic.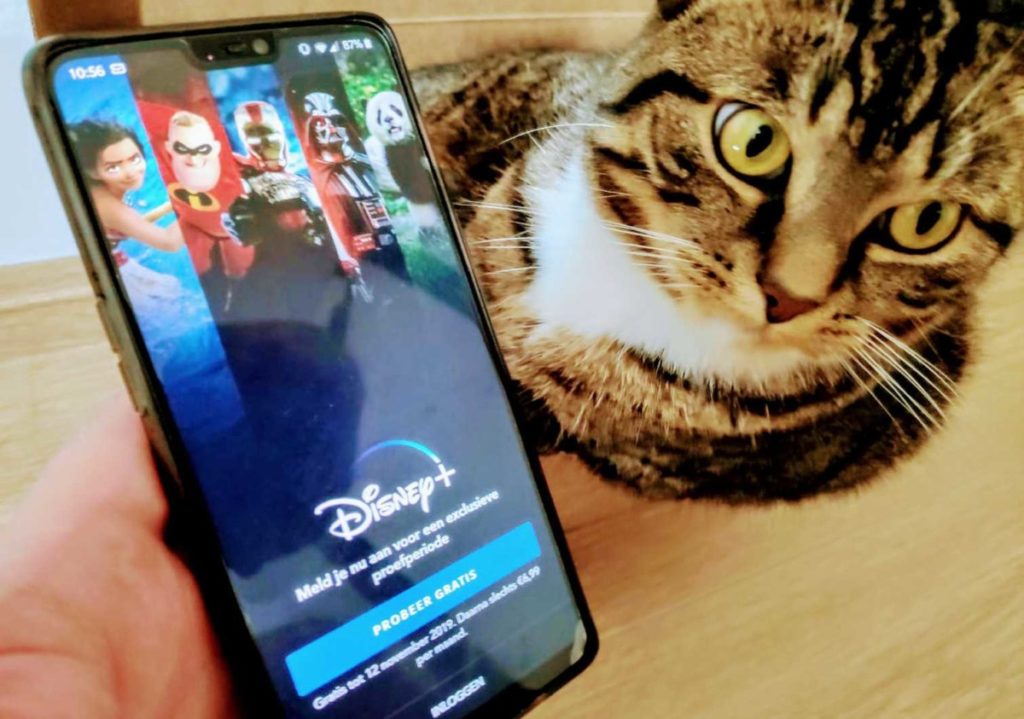 Where do you sign?! Head on over to get on board with Disney+.
What other streaming services are available?
Videoland and NLZiet, two Dutch streaming services cost €8.99 per month and €7.95 per month respectively. But perhaps you enjoy the more popular streaming services such as Amazon Prime Video or Netflix which both cost €7.99 per month.
There is also AppleTV+, the cheapest streaming service that only costs €4.99 per month. Finally, Ziggo Go is a streaming service that is free if you already have a TV plan with the internet provider.
Have you tried out Disney+ yet? Let us know your experiences and what you think in the comments below!
Feature image: DTCI Media