On Friday night, five people between the ages of 13 and 37, were arrested following an attempted assault and arson attack on the private meet-up for the Kick Out Zwarte Piet (KOZP) protest group in The Hague. Following this assault, members of KOZP have demanded better security and emphasised that the government has not been doing enough to protect the safety of group members.
Jerry Afriyie, group member, commented to RTL news "We want extra protection, if the police does not do this, we will do it ourselves."
The group announced that it arranged private security in order to ensure the safety of its members during the demonstrations. This is due to their perception that the police is not taking enough initiative to protect them.
Ik vind Sinterklaas geen zak meer aan. En dat komt niet door Kick Out Zwarte Piet, maar vooral door de groep die koste wat kost een cultuuroorlog wil maken van een kinderfeest (en lijkt aan te sturen op rassenrellen).

Hup roetveegpieten, hup! https://t.co/QklbCYjQf5

— Nikki Sterkenburg (@SterkNikki) November 8, 2019
What is the 'Kick Out Zwarte Piet' group protesting about?
Jerry Afriyie and his supporters have explained that the Zwarte Piet tradition has been great for some children but many others feel unsafe for two months a year. This debate has been going on for a while, with some Dutch people defending the use of the 'traditional' blackface Sinterklaas helper. They justify it by explaining that it is 'innocent' childhood fun. In recent years, they have protested in cities whenever Sinterklaas was about to arrive, accompanied by the traditional Zwarte Piet. This is their way to push back on what they find to be a racist stereotype, obviously to the dismay of the supporters of Black Pete.
Afriyie asked Dutch politicians to make a stand and protect the activists, emphasising that it was a matter of free speech and basic democratic rights. The KOZP group hopes that the police and the government will step up and increase their protection.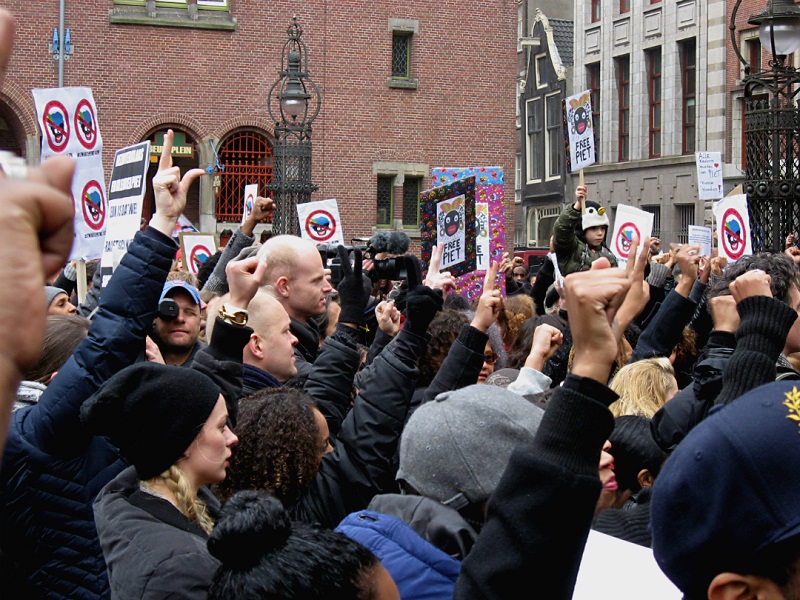 What happened on Friday in The Hague?
Vandaag om 19u organiseren KOZP Nederland en KOZP Den Haag het landelijke KOZP congres.

Verschillende sprekers zullen kennis, ervaringen en praktische tools delen in de aanloop naar de intochten die in het weekend van 2019 zullen plaatsvinden. Meer info:https://t.co/gImylpkky0 pic.twitter.com/SzPfPrjAZg

— Jerry King Luther Afriyie (@TheRebelThePoet) November 8, 2019
60 to 70 individuals flocked to the former school building in The Hague to meet up and discuss the new 'Zwarte Piet' season. The Sint is scheduled to arrive next weekend, in Apeldoorn.
At 7:30 p.m., police arrived on location and witnessed the violent actions. The assailants wrecked the parked cars, smashed the building's windows and tried to start a fire by bombarding the building with fireworks. The frightened activists had to resort to locking themselves in the building out of fear for their own safety.
Onaccceptabele schending van het recht op vrijheid van vergadering en vereniging. Bot en bruut. En dan neem je een jongen van 13 mee ? Schandelijk https://t.co/nP2yrarYF6

— Lodewijk Asscher ?‍??‍? (@LodewijkA) November 9, 2019
However, once the suspects were arrested, the police surrounded the building and guarded the doors. This allowed the meeting to continue. Four of the five men arrested have since  been released. However, the police ensured that the investigation will be carried out properly and that the suspects will be questioned thoroughly.
How will this issue be addressed?
In the next few months, the KOZP group will protest in twelve municipalities. They insisted that "It is now up to the police and the government. We are repeatedly attacked. If we get the feeling that we are not being protected, we want extra protection."
John van Zweden, staunch supporter of Zwarte Piet and an entrepreneur based in The Hague, had previously asked people to protest against the meeting on Twitter, stating: "This will be the last year for that bunch of troublemakers and failed clowns from our society. 95% are for, only 5% are against Zwarte Piet." He goes on to say that he hopes the group will be disbanded in every city. He has since deleted the tweets due to complaints about his inflammatory remarks. On the same online platform, KOZP announced that they will make a stand against him.
Dit wordt het laatste jaar voor dat stelletje onruststokers en mislukte clowns uit onze maatschappij. 95 % is voor, slechts 5% is tegen #ZwartePiet. Ik hoop echt dat dat #KOZP er in iedere stad uit worden gedonderd, met pek, veren en nog meer shit #HUFTERS https://t.co/nFoOD9LHaC

— John van Zweden (@johnvanzweden) October 31, 2019
"This absolutely does not fit into our society," said Minister Grapperhaus when asked about the events of last Friday.
What is your opinion on the ongoing Zwarte Piet topic? Let us know in the comments below!
Feature Image: Constablequackers/wikipedia