Coronavirus continues to sweep across the Netherlands and the globe. Here's up-to-date information, as it happens, on COVID-19 in Holland. 
The Netherlands reported its first confirmed case of coronavirus on February 27, 2020. Since then, the numbers have rapidly increased.
THE LATEST: Coronavirus update: number of cases reaches 10.866; 132 people died since yesterday
Total confirmed cases of coronavirus  to date:

12,595

(+845 in last 24-hours)

Total deaths in the Netherlands to date

1039

(+175 in last 24-hours)

Hospitalizations to date

4712

(+722 in last 24-hours)
Last updated: 2:30pm March 30, 2020.
The numbers are expected to continue to climb over the coming weeks.
Which Dutch cities have the most cases of coronavirus?
The majority of the Dutch cases in the Netherlands are in the province of Noord-Brabant and Utrecht.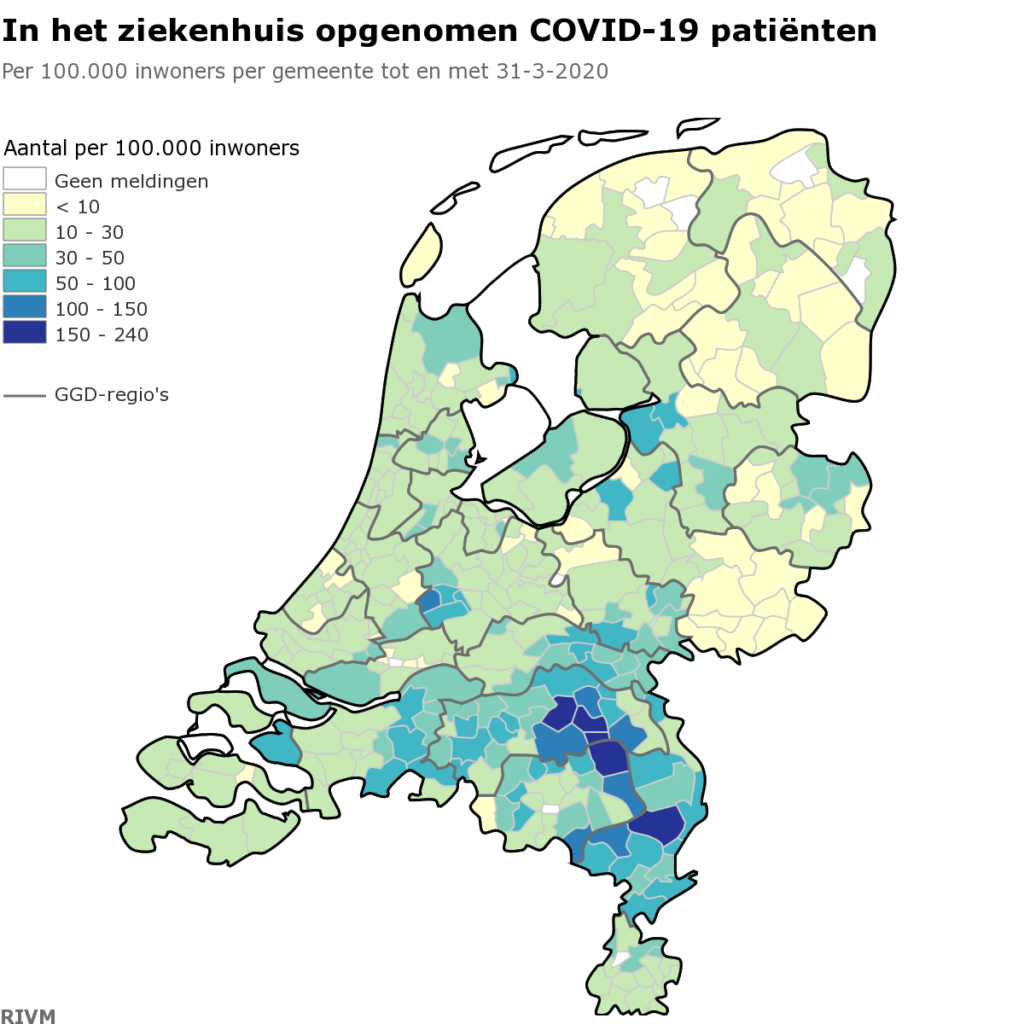 The first Dutch case of coronavirus was in Tilburg, followed by a case in Diemen and in Delft.
What measures are currently in place?
The current measures implemented in the Netherlands include:
No groups larger than three people in public spaces.
Ensuring a minimum distance 1.5 metres away from other people where possible, including supermarkets.
Encouraging people to work from home
Schools to remain closed, but free childcare provided at schools and childcare centres for children of key workers, such as healthcare professionals, emergency services, and public transport.
Teachers to arrange distance learning for other students who are at home.
People with a runny nose, cough, sore throat or fever told to self-quarantine. If symptoms worsen to include a fever above 38 degrees and difficulty breathing they can call a doctor for advice.
Those in vulnerable groups, such as the elderly and immune-compromised people, to avoid gatherings and public transport.
Restaurants closed until at least Monday, April 6. However, delivery and takeaway service are still available. (This is a great way to support local businesses.)
Coffee shops are open for takeaway only.
Sports clubs, gyms, saunas, sex clubs and coffee shops will also remain closed to Monday April 6 (inclusive).
All gatherings of more than 100 people have been cancelled. Public places like museums, concert venues, theatres, sports clubs and sports events have been closed or cancelled.
There are normally 1150 intensive care beds in the Netherlands. With 761 taken up by coronavirus patients (who require the beds for several weeks) and an unreported number in use by other patients, hospitals are reaching full capacity. 
However, Dutch Prime Minister Rutte said they are working hard to continue to build capacity for the incoming hospital admissions.
The EU is working on its policies to tackle COVID-19
European leaders have been meeting virtually to discuss how they plan to finance the coronavirus pandemic that has taken Europe (and other parts of the world) by storm. Of their list of topics discussed is the European Stability Mechanism (EMS), an emergency fund comprising of over €400 billion in a conference call.
Countries such as Italy and Spain, which have been severely affected by the virus, wanted to use the money to prevent financial shocks from occurring. However, the Netherlands and Germany want to take a more cautious approach and explore other alternatives.
Fewer customers allowed in supermarkets
There will be a cap on the number of customers allowed to enter supermarkets. This is in order to ensure a minimum distance of 1.5 meters between customers.
Fewer shopping baskets will be available, and once the maximum number of customers is reached, those who want to enter will need to wait so that another customer leaves. These policies are implemented to protect both the employees and the customers.
Remembrance Day and Liberation Day are cancelled
May brings with it two events of great historical significance to the Netherlands. May 4, Remembrance Day, is an opportunity to remember all Dutch people who have lost their lives in conflicts around the world. Meanwhile, May 5, Liberation Day, is dedicated to the liberation of the Netherlands during WW2 from the Nazis.
Unfortunately, both of these events have been cancelled, given the new policy banning all events until the first of June. This is not to say that the Dutch will not find a way to celebrate these events, be it from their windows and balconies.
School exams cancelled
For better or for worse, the centralized school exams for this year's school year have been cancelled. The exams were due to start on the 7th of May. Instead, now pupils will receive their final marks based on their previous marks in school exams as not to delay their process of continuing their education. This new policy was announced by the Minister of Education this morning, reports NOS.
New measures have been implemented on the 15th of March. These measures include closing down all restaurants, bars, cafes, coffeeshops, clubs and other venues until the 6th of April. Schools have also been finally closed for the time being.
The Netherlands has a pandemic protocol in case any virus starts spreading uncontrollably.
As per the pandemic protocol, special quarantine areas must be developed to take care of sick patients, there will be regulation in regards to how patients are treated, criteria for hospital admissions, and when the vaccine is developed, there will be rules on who gets it first.
While the WHO has declared coronavirus to be a pandemic, little has been said about how much of the above has been implemented.
Hospitals will also develop special quarantine sections for the care of patients.
What can I do to reduce the spread of coronavirus in the Netherlands?
It's not just up to the government: we all need to do our share to slow the spread of coronavirus in the Netherlands. Here are some tips for how you can help out:
Avoid crowded areas,
keep a safe distance from other people and when outside,
avoid touching your face, especially the T-area where your nose and eyes are.
If coughing or sneezing, do so in your elbows.
Avoid handshakes and kissing people three times on the cheeks.
Virologists suggest that you should be extra vigilant about taking public transport.
If you really need to go somewhere, then take public transport. Just make sure you stay at a safe distance from other people, that you do not touch your face after touching objects outside (such as handles in the tram), and that you wash your hands with soap as soon as you get back home.
If you're in a risk group, don't take public transport. And of course, if you're sick just stay at home.
What should I do if I think I have coronavirus?
Remember: cold or flu symptoms do not mean coronavirus. RIVM says if you have a runny nose or a cough to stay home and self-isolate. However, if you have a fever over 38 degrees and persistent chest pain, follow the steps below.
Firstly, do not go to your doctor's office. Instead, call the office and speak with a doctor or nurse. They're trained to detect the symptoms of coronavirus and will make a decision as to whether you need further testing. There's no need to panic, but you do need to be proactive.
In the meantime, avoid going outside unless absolutely necessary. If you have to go outside wear a face mask so you don't risk infecting other people. If you can have groceries and other essentials delivered or dropped off by friends or family do this.
I'm stressed about coronavirus in the Netherlands, help!
While the coronavirus is something to be taken seriously, there is also no need to overreact, panic excessively or compulsively buy toilet paper.
Odds are that even if you do get the coronavirus, you will not die, nor will you have a severe form of it. So unless you are very old, have a bad immune system or already have dangerous pre-existing conditions, you will probably not have a terrible case.
In fact, statistically, the majority of people don't need hospitalisation and fully recover. But, we've all experienced bad cases of the anxieties before, so we prepared a nice little coronavirus anti-anxiety fact list to ease your nerves.
It's unfortunate that at times our society is tested we break apart instead of pulling together. A sad side-effect of the coronavirus is the emergence of racism towards Chinese people in the Netherlands.
About two weeks ago, there's been a case of a woman being attacked in her dormitory by some Dutch people singing the racist coronavirus song. Other people have also been harassed for their Chinese identity.
We strongly reject any kind of racism of any form. If you notice anyone harassing Chinese people report the case to the police.
Where can I find more information about COVID-19 from the officials?
The official source for information on coronavirus in the Netherlands is RIVM (Netherlands National Institute for Public Health and the Environment). The most up to date information can be found on the RIVM website. This article is also constantly updated with the most current information.
Follow DutchReview on Facebook for more information about coronavirus in the Netherlands.
Feature Image: Canva