A new big island in the North Sea which is also a giant windfarm, that sounds like a Dutch thing alright? What and where is the Netherlands planning this windfarm island?
In what has become a tradition over the centuries the Dutch are at it once again, they're going to raise land from the sea. Why? Because we can! And also because it may power one of the most powerful, innovative green energy projects ever. The location? Not too far from the coast of Britain, but the UK isn't the only candidate to flirt with the curious Dutch blonde, Denmark and Germany have also expressed interest! So pack your bags, full of warm clothes, because you can forget about a bikini on this windfarm island… Avast!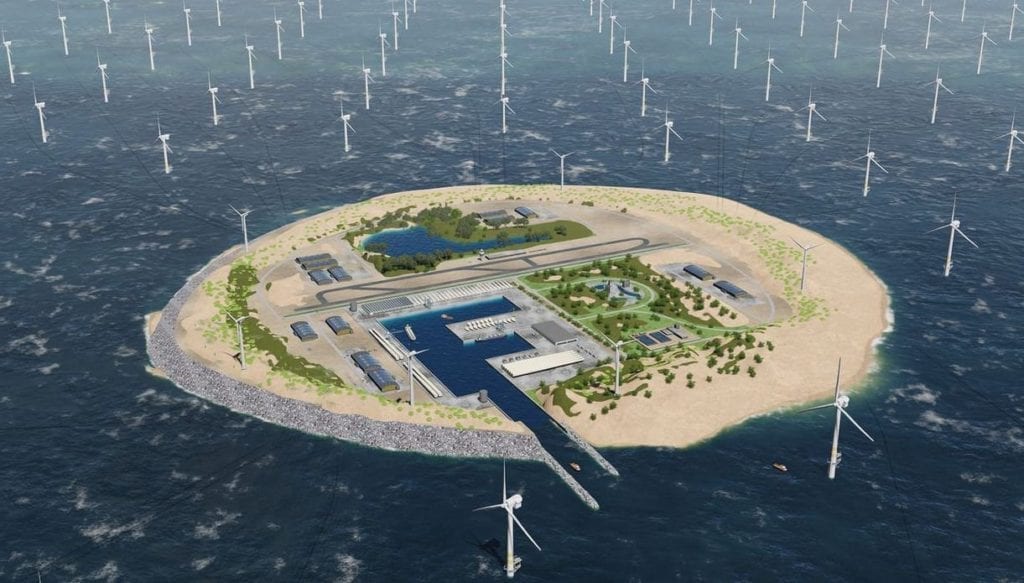 Dogger bank – A Dream Windfarm Island. (For Engineers)
It really does sound like an island on a terrible TV show where a steroid injecting twenty years old lad from Bristol, named Kevin, explains that "Oi been doggin' since ah was fourteen, take the piss out me mum" and spends the rest of the season borderline sexually harassing anything that moves. But don't worry – Dogger bank is not a place anyone will really do any of that except for local wildlife, it's a place where birds hump and whales resort – and we're not talking about the vacationers of Benidorm. The real ones.
Dogger bank is a sandbank roughly 125 kms. (72 mi.) from Britain, which serves mostly as a breeding ground for birds and fish, as a result whales also tend to hang around the area to scoop up some of that herring before the Dutch get to it. It's been the theater of naval battles a number of times, including between the Dutch and British, but we've agreed to stop doing that since. Now the sandbank may find a new purpose as the location of giant off-shore windmill farm able to crank out 30 Gigawatts, yes really. That's twice the capacity of all off-shore windmill farms today!
It'll take some effort though to get a proper windfarm island going there – since Dogger bank is only a sandbank, meaning it's mostly submerged, and not yet an actual island it will have to be raised first. But fear not, if anyone can just create this windfarm island it will be the Dutch.
The Windfarm Island Plan – Who Wants In?
After raising the sandbank and shaping it into an island, as the Dutch do for a hobby both in the Netherlands and globally in places such as Dubai, there will be a massive fleet of wind turbines erected around the island that will send their electricity to the island that will serve as a "Hub", from there the power will be converted from alternating current (home use) to direct current (think: a giant battery) that will deliver a steady energy flow across international cables to the UK and the Netherlands where it will once again become alternating for your phone-charging pleasures.
The proposal comes from TenneT, the Dutch "Power Cable Company", who believes they can raise the island and build the hub for approx. 1,3bln. Euros – which is about ten iPhone X's in normal people money – and with help from some others get the island up and running in 2027.
However, because TenneT is a power cable provider it's not allowed to do everything on its own because of competitive regulations, which means it needs partners to aid them. Some of the potential love interests are Denmark's Orsted and Germany's Innogy who would be allowed to raise the actual windmills. The Danish, in particular, have already expressed interest, through the Danish ambassador, and Innogy too has stated to find the plan "very interesting".
The UK, which would have to be onboard, is interested but has at least some reservations regarding finance – pondering whether or not it will be is profitable 'then' as thought 'now'. Regardless, the UK's "National Grid"-company is exploring options together with TenneT.
If the project does take off, which seems fairly likely, the electricity could be transported to all surrounding North Sea-nations such as the UK and the Netherlands itself but also Norway, Denmark, Germany and Belgium. So, fingers crossed! Let's build ourselves an island and fight global warming one step at a time! Also, what happened to that cheese we ordered?