The number of international students in the Netherlands doing a full study here has doubled over the past 10 years. In 2016-2017 there were over 80,000 international students in the Netherlands, with up to 164 different nationalities says the Nuffic.
Some stats: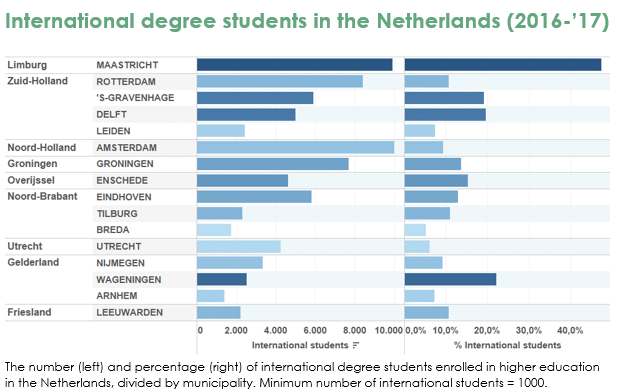 Where are all these international students in the Netherlands located?

Amsterdam and Maastricht have the largest number of international students: 10,000. In relative terms, the picture looks a bit different. In Maastricht, international students form more than half of the total student population. In Amsterdam, that is only 10%. In The Hague, Delft and Wageningen, it is around 20%. How many are there in your region, where do they come from and what are they studying? Check it right here
After graduation, 25% stays in the Netherlands for, what is more or less, a lifetime. In the 4 major cities (Amsterdam, The Hague, Rotterdam and Utrecht) there is a good chance that international students will not be leaving after completing their studies for 5 to 7 years. With many of them deciding to remain here permanently, buying a house and raising their kids here. How all of this is in your area can be seen in this overview. (nice work Nuffic!)
Where are the international students in the Netherlands from?
The Nuffic also shows that there are more and more British students registering at Dutch uni's and applied colleges (aka Hoge Scholen) since 2011, this may have something to do with the sharp rise in British tuition fees a few years ago (or because of the looming #Brexit, or because DutchReview is so awesome – yeah that's it!). Ironically European studies is a popular choice of field for British students. Germany remains by far the biggest supplier of international students in the Netherlands.
DutchReview loves international students!
Any international students among our readers (we know you're reading this instead of studying), feel free to pitch in at the comments!