Feyenoord will be Champions and it's going to be YUGE
An epic Football Sunday for all 'Feyenoorders' saw Feyenoord beat Vitesse and PSV beat Ajax. There are a thousands of things that could be said but the most important of all is that Feyenoord has the chance to grab the league title at the 7th of May against small city brother Excelsior. And when that happens (90% chance, conservative estimate) Rotterdam will be the scene of one epic celebration party (and probably some epic riots as well, but let's stay positive).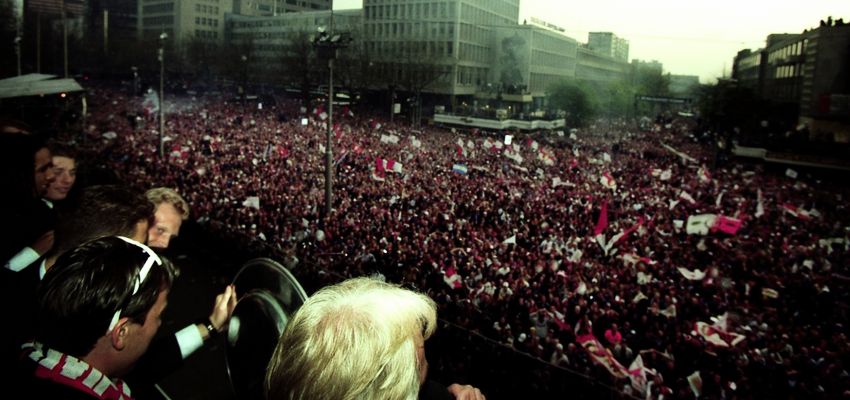 What's happening in the Dutch league?
Feyenoord just won against Vitesse today with 0-2, Ajax were beaten by PSV Eindhoven by 1-0. It was a nervous week for all Feyenoord-minded people (this is not a neutral editor btw) but that all is over now since Feyenoord just needs 3 measly points in the upcoming two matches to grab that title. And since both games are fairly easy: one against Excelsior, a club which was literally sponsored by Feyenoord for many years – the whole stadium will be filled with Feyenoord-supporters. And if they don't win that one there's always the home game against Heracles. So for anybody who has a basic understanding of Dutch Football and math it's clear that Feyenoord will be the champion this year.
Why a title for Feyenoord will be celebrated so hard
So 'big deal' you might think right? A few thousand people will see the game, have some beer and celebrate – 'nothing on the hand' one might think. Wrong! It's going to be huge, way bigger than any recently inaugural event by far.
This was it in 1999, sorry for the low quality-images, it's a while back:
And this is not even showing the biggest riots in the Netherlands of the last decades that followed after the celebrations. Feyenoord has a massive and extremely devoted following, for so long their supporters have been waiting for such a succes. And even when succes was had in 2002 when Feyenoord won the UEFA cup celebrations weren't in order since Pim Fortuyn was just assassinated 2 days before.
So now it's going to be a crazy day in Rotterdam the 7th, one way or the other, and let's hope it will stay friendly as well. You might not want to plan that shopping-trip with your mum that day, but if you want to see a football-crazy city celebrating like they just won everything they ever wanted then Rotterdam will be the place to be!