Did you make the bold decision to purchase (or even better, rescue) a pet since living in the Netherlands? Maybe now you fancy a trip to the UK? Then forget EasyJet (who don't even allow pets on their flights), or the prices of KLM! After all — why fly, when you can take the ferry?
Beats leaving little Milo in a hondenhok pension, right? Last month, my partner and I took the ferry to the UK. Here's the low down on a very British travel adventure with your pooch.
What to know before travelling from the Netherlands to the UK with your pet
Make sure they are microchipped
Sure sure. You got them microchipped when you first bought them home so what's left to do right? Well, I always say go back to the dierenarthuis (vet) and double-check.
Sometimes they 'update' the system and you go back to find the change of address incorrect or they forgot and said details were not updated. Or, albeit rare, microchips have been known to do a Harry Houdini under the skin on occasions so best go make sure the little bugger has stayed put.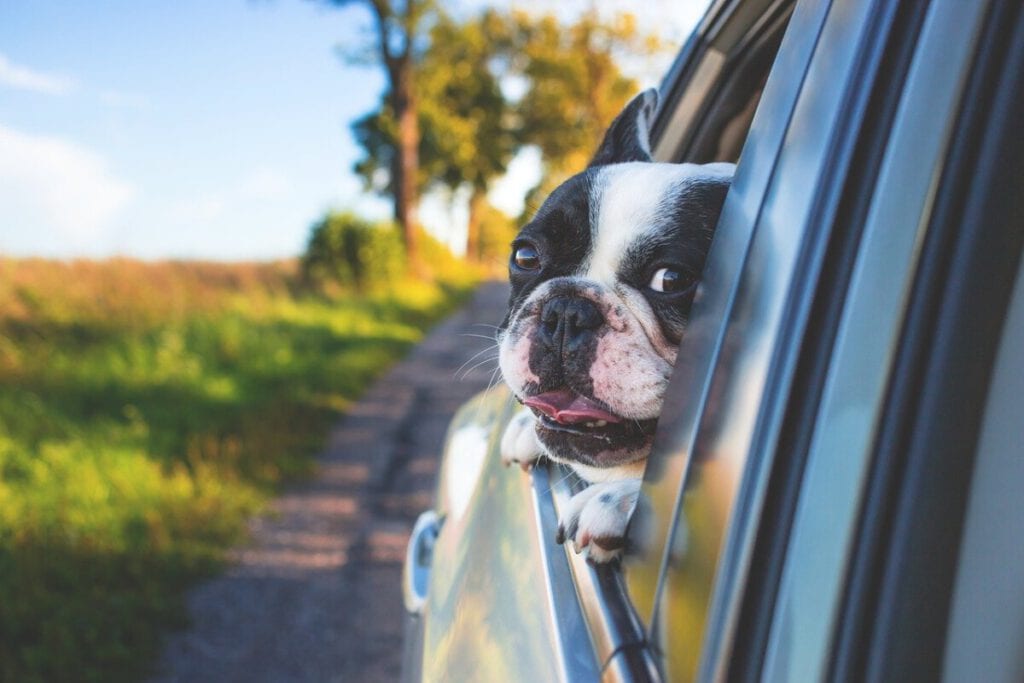 Get their rabies shot
The dog is going to need a rabies shot, that's a given. No one likes the thought of fluffy getting foamy at the mouth because they happen to come across some random stray in the streets of London, no matter how low the chance is. "No rabies, no fur babies" — I totally just made that up, but it'll catch on don't you think?
Complete their tapeworm treatments
Tapeworm treatment is needed if you are coming into the European Union (excluding from Finland, Ireland, Norway and Malta), and is to be given 24 hours before or no more than 5 days before travel.
Easy enough for now, but with new laws coming into force after Brexit regarding blood tests for your beloved pets re-entering Europe, be sure to get the information you need before re-boarding. We travelled back post-Brexit, but luckily the blood test rule wasn't required as of yet.
Get your pet's passport
Just like us. Your pet will need a valid passport to travel. This must be issued in the country in which your pet resides. So for most, it'll be an EU passport from the Netherlands or if your pet moved with you from the UK they will likely still have their EU issued UK passport. Just check it's up to date and still valid, or your furry friend may just have to stay behind.
What happens post-Brexit?
Now that the UK has left the European Union, what does that mean for us expats travelling back and forth with our furry friends?
Well, the good news is you'll still be able to travel with your pets under the current rules until December 31, 2020.
After that, the UK have stated that the current rules will remain unchanged. Your pet will still need an identification chip, a rabies vaccination, their pet passport, and proof of their treatment against tapeworm (Echinococcus). The tapeworm treatment is only applicable to dogs.
READ MORE: How to get from Amsterdam to London: the complete 2020 guide
What about coming home?
Returning to the Netherlands from the United Kingdom? Your dog (or cat – we saw a few on our trip!) must meet the same requirements in terms of valid travel documents:
a European pet passport issued by an EU Member State (including the United Kingdom until the end of this year) or a health certificate issued by an official authority in the UK.
A valid microchip;
and that all-important rabies vaccination.
Proof of tapeworm treatment
So, travel rules will not vary much?
The likelihood is that all of these rules will see some small, if not significant changes during this transition period. Continue to check the UK and Dutch government's websites throughout the year as these will surely be updated regularly.
Overall, changes to pet travel will be similar to their 'pawrents'. The airports may become busier. The volume of traffic from queuing in 'non-EU' immigration lines will increase. The ferry port line may take longer to pass through. Your cars may be pulled over for 'random' checks every time!
But ultimately, keep travelling. Keep visiting those all-important people back home. Just make sure you check the paperwork and are all stocked up on treats for little Rex.
Have you travelled with a pet from the Netherlands to the UK or vice-versa? How did you find the process? Let us know in the comments below!
Feature Image: Free-Photos/Pixabay