The Dutch can be a pretty laid-back bunch when it comes to things like drinking alcohol or enjoying the good 'ol joint. But smoking weed and drinking alcohol at the same time?
No way, José!
Little did you know, selling alcohol and weed over the same counter is forbidden in Amsterdam coffeeshops, bars, and cafés!
But does that mean you need to wave goodbye to smoking and drinking Amsterdam-style? Nope. If you want to enjoy both a joint and a beer, you've got to go to a true Amsterdam smokers bar. 😎
An Amsterdam smokers bar is a place where you can bring your own weed (from one of the many Amsterdam coffeeshops nearby), smoke it pure, AND enjoy a nice alcoholic beverage. Wat leuk! (How nice!)
Why can't you smoke weed and drink alcohol in Amsterdam bars?
We didn't always have to go to specific smokers' bars to enjoy weed and alcohol at the same time. 🤫 Once upon a time, Amsterdam coffeeshops prided themselves on providing their customers with both smoke and spirits.
READ MORE │ The do's and don'ts of smoking weed in Amsterdam
However, in 2008, the villain enters the story: the Dutch government enforced a law that enticed 750 coffeeshops all over the country to choose between selling cannabis or alcohol.
Good to know: Since 2008, the Netherlands has had a strict ban on smoking tobacco inside This means that you can't smoke a cigarette or mixed tobacco-weed joint legally in any public indoor spaces, including Amsterdam coffeeshops. 🚭
But, if you are the kind of person who would love to down some liquid courage and enjoy some of the finest greens the Netherlands has to offer — we have a happy ending for you.
Top 7 smoker-friendly bars in Amsterdam
So where can you enjoy your smoky greens while downing a beer at the same time? Buckle your seatbelts, boys and girls, it's going to be a wild night. 💃
Here are our top seven places in Amsterdam you can enjoy a beer and a bud.
1. CoffeeshopAmsterdam Café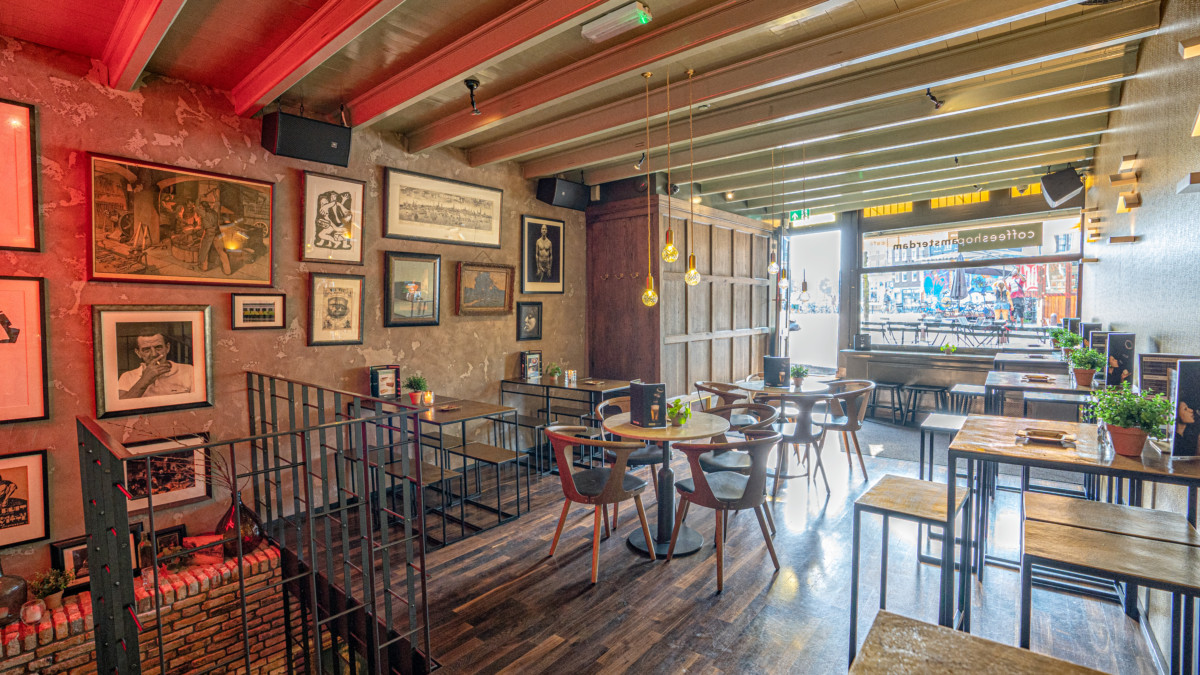 This one has it all: located very close to Amsterdam Centraal, uber-gezellige vibes and an absolutely stunning drinks menu. (You should definitely check out their cocktails!🍹)
What's also great about this boutique-style smokers bar is that it isn't dark and hidden away from the public. Instead, it's bright, open and accessible.
And, let's not forget the best part — it's smoker-friendly! Yes, you've read correctly. While you can't actually buy weed here, you can bring your own (tobacco-free) joints to this smokers' bar and puff away over one of their delicious milkshakes.
The downstairs area is also really well ventilated. Perfect for those amongst us who don't want to smell like a walking cannabis bud after a couple of hours in the smoker's lounge. 💨
2. Hunter's Bar
If you're short on time and want to hit a coffeeshop and a bar in close proximity, head over to Hunter's. Located just across the street from the famous Boerejongens Coffeeshop, Hunter's really has no choice but to be smokers-friendly.
In fact, Hunter's is a chain of coffeeshops that holds two smokers bars and six coffeeshops in Amsterdam, Zandvoort and Haarlem.
This particular spot is super centrally located, you can get a nice beer fresh off the tab and Rembrandtplein is just around the corner. What's not to love?
3. Café Hill Street Blues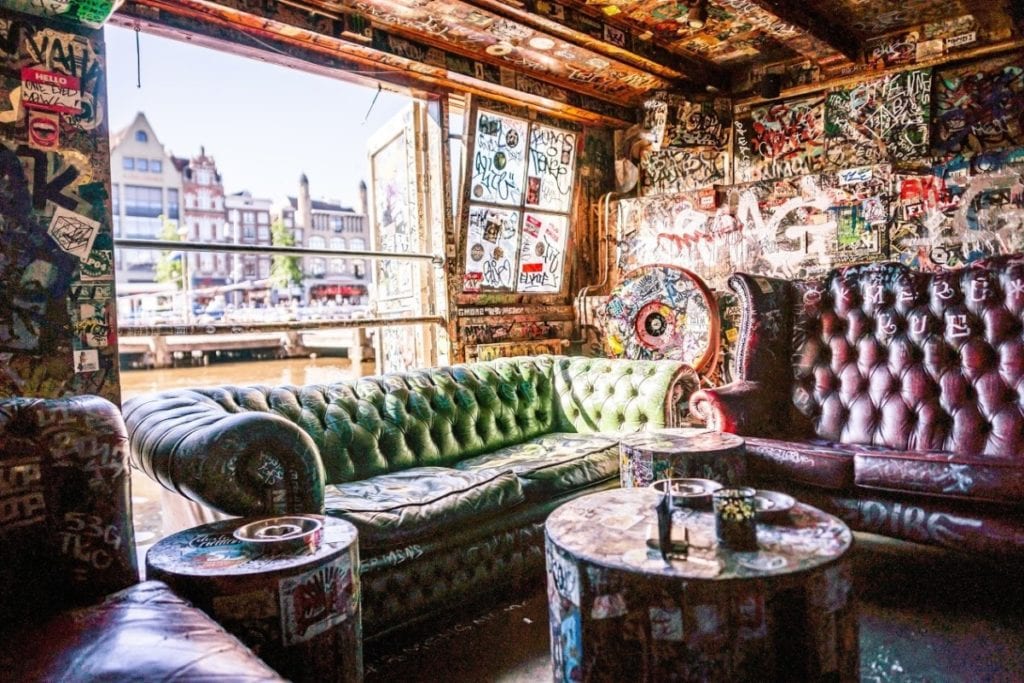 Do you like your alternative and underground venues, a little rough around the edges? Then you should definitely head to Café Hill Street Blues for a chill joint and a beer.
This venue wears its down-and-dirty looks with pride: graffiti, second-hand furniture and stickers everywhere. The best part? No one will raise an eyebrow if you want to add a scribble or two yourself.
And it's loads of fun! You may just be lucky enough to catch one of their music evenings. Plus, it's located in Amsterdam's Red Light District — so if you're here as a tourist you can check a few things off your list.
4. Lost in Amsterdam
Here it is, the first of Amsterdam's smoker's bars opened its doors nearly 15 years ago and has been going strong ever since!
Pure cannabis smoking is permitted, and you can combine it with a huge menu of cocktails and water pipes. Their milkshakes have also made quite a name for themselves. 🍧
An added plus is the interior. Lost in Amsterdam is 100% cosy. Their smoking lounge sports Moroccan style couches for maximum comfort and that extra relaxing, holiday feeling.
5. Barney's Uptown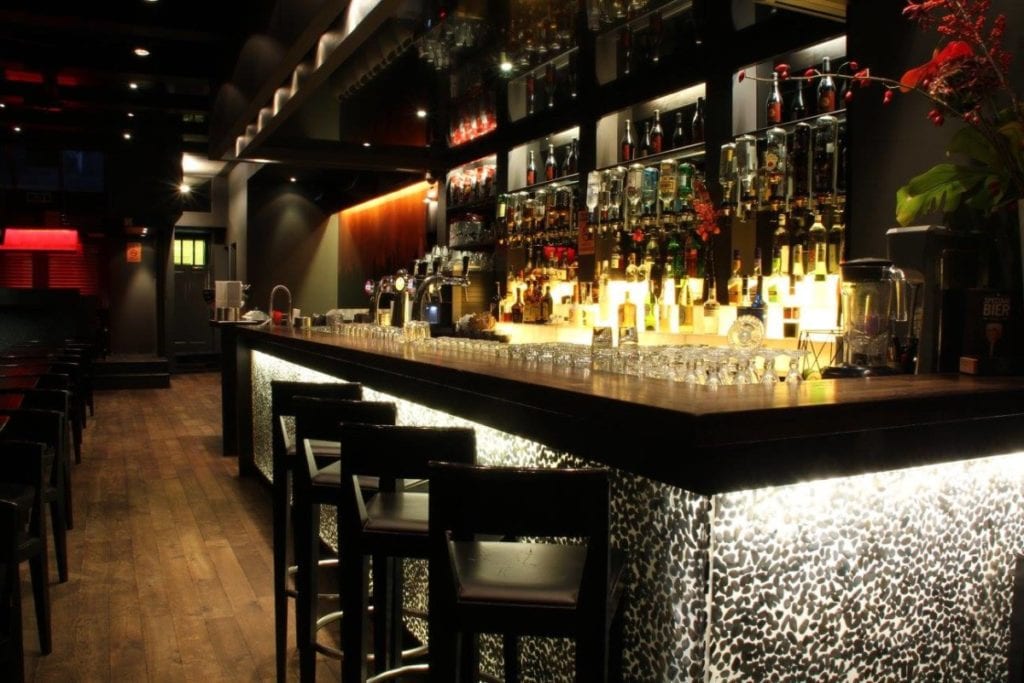 Fresh off the train from Schiphol? Just a swift five-minute walk and you'll be hanging at Barney's Uptown — a smokers bar with a true rock-n-roll flare, DJs, and live music.
These guys will serve you full meals and have a cocktail menu to be remembered by. For ultimate convenience, there is a coffeeshop right across the road where you can buy can refill your stocks if needed. 😮‍💨
6. Last Waterhole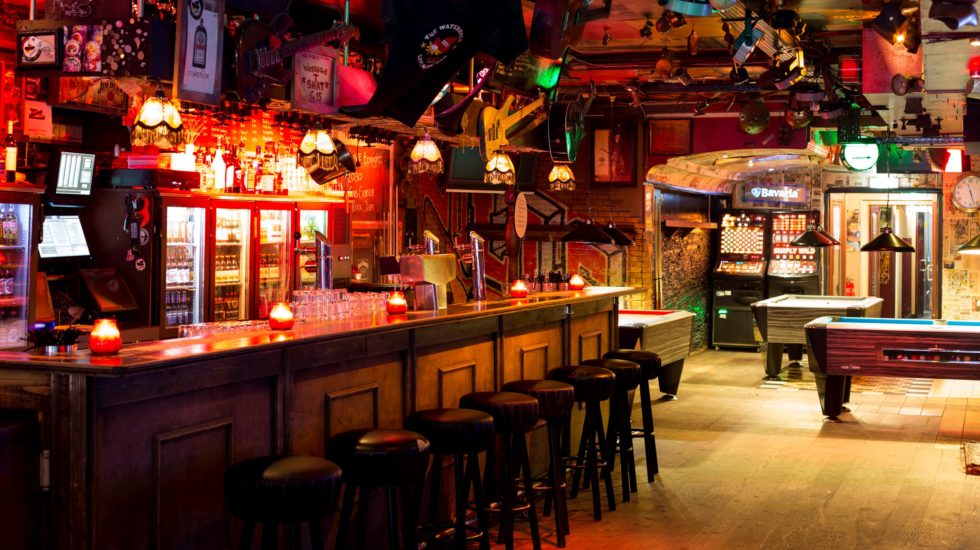 The Waterhole is known for one thing and one thing only — they have the longest standing Happy Hour in Amsterdam starting at 12 AM and ending at 9 PM. That's nine hours of drinking pints for only €4.50!
But wait, there is much more than just that. Of course, it's also one of Amsterdam's best smokers bars where you can smoke up as long as you bring your own herbs.
READ MORE │Amsterdam's best weed: guide to coffeeshops and cannabis
They also have a good number of pool tables where you can hang out and play with your friends. And they're open seven days a week!
7. La Grotte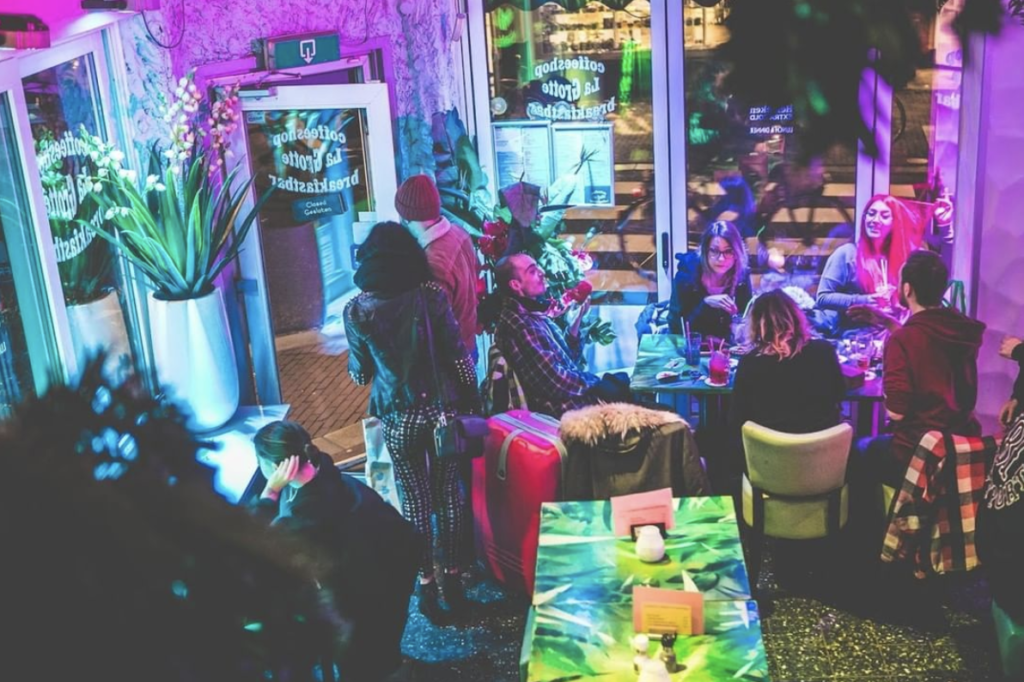 When they were forced to choose between becoming a coffeeshop or a bar, La Grotte went for the latter. Now, it's one of the funkier smokers' bars where you can take your goods and light up! 🔥
Even if you're not planning on getting high, the purple-green light play and otherworldly interior will offer you a psychedelic experience nonetheless.
What's more, they also have a mouthwatering range of drinks to quench that dry mouth. Definitely worth a visit!
Now you really know how to have fun in Amsterdam — smoking weed, drinking beers and enjoying the best of both worlds of what the Dutch capital has to offer. 😉
Which smokers bar in Amsterdam will you visit first? Tell us in the comments!
Editor's Note: This article was originally published in August 2019, and was fully updated in March 2022 for your reading pleasure.