Finding a fun activity that occupies a child's attention-span can be a challenging task, especially when you have more than one child with different interests. And why do the parents always have to be side-lined in the fun their children have? Before you, loyal DutchReviewers, give up in defeat, keep reading. Play-In in Utrecht, one of the biggest playgrounds in the whole of the Netherlands, might tick all the boxes for a day of family fun. 
Play-in is made up of three epic indoor activity zones and given it makes up an area of no less than 6000m², you can understand how eager we were to check it out. Roughly speaking, there are 3 areas: Jump-In, Climb-In and Kids-In – all of which are exceptionally designed with bright colours, intricate themes and fun props. It's also the perfect place to host a kid's birthday party.
But just how fun is it? (hint: exceptionally so!) How long could a family spend there? (yonks!) Is there something for everyone? (absolutely) and varying levels of ability? (say no more!) Is there really a trampoline exercise class? (stay tuned).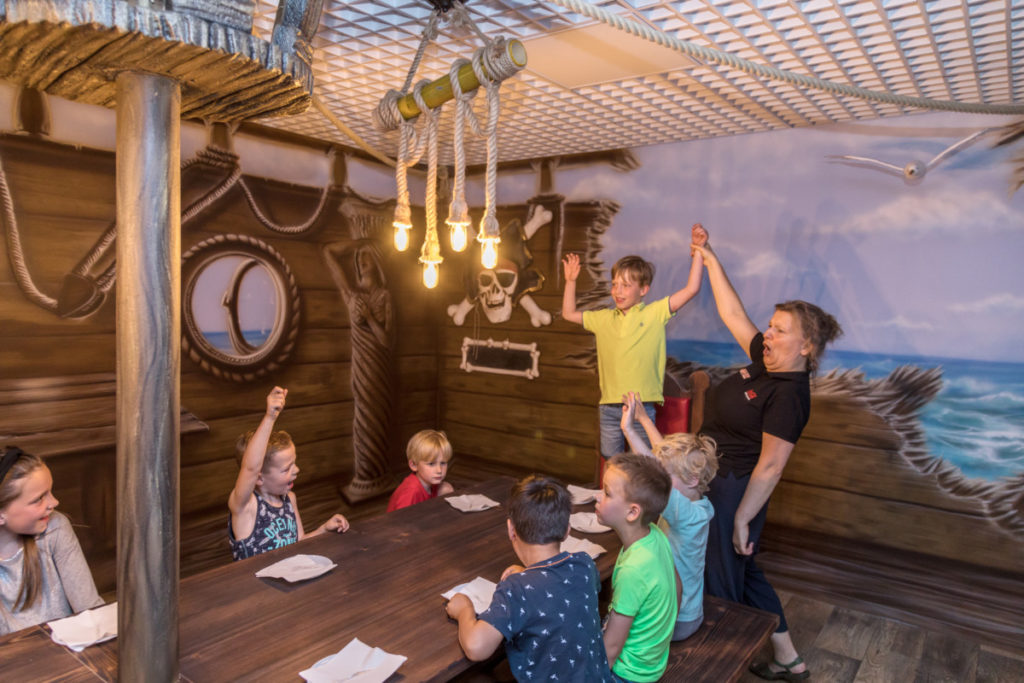 We've teamed up with Play-in and jumped (pun intended) at the opportunity to bring you this article together. 
Why is it good for children?
There's something for all kids, regardless of age or capability
When I was a nanny, I wish Play-In was around as it is good for kids on so many levels. As you can imagine, it is great physical exercise and exhausts that boundless energy children possess. Many parents also notice what a great confidence builder the activities are. Your child can push themselves as much or as little as they wish whilst being supported by encouraging staff.
If you have children of different ages and capabilities then it can often be challenging trying to find a day activity that excites everyone equally. This is why Play-In is such a stellar and simple option as there are three different zones at the Play-In facility. Each of your children and their friends can run wild and find the activity that suits their personal needs and wants.
Staff are there to help and keep it safe!
What makes the whole experience even better is how involved and clued up the staff are. This makes all the difference if you have an anxious child who has never been somewhere like Play-In before. The instructors for each of the activities are trained to be calm and reassuring and ensure safety standards are continuously being met.
There's delicious food and quality coffee at Play-In's cafes
Parents or caregivers are welcome to join in on the fun or they can sit back and relax at one of the two cafes. Unlike some other play facilities where cafes are just an accessory to the main attraction, Play-In makes sure the quality of their food and the service are of prime importance. Tasty coffee and a selection of both healthy and fast food dishes are available which can be enjoyed while overlooking the Play-In activities.
So the cafes are there as an option, but adults, don't get too comfortable nestled in the cafe corner with your book or friends. Adults are welcome to join in on the fun and Play-In is a great family bonding experience.
The three concepts at Play-In
So what do each of these spectacular zones involve? Are they all equally fun? Or is there one you should forgo? Let's jump in right…
1. Jump-In
Jump-In is one of the biggest trampoline parks in the whole of Europe. This zone has 3000m2 of epic trampolines but not just that. In the Jump-In zone there is also the chance to get stuck in at dodgeball games, high-performance trampolines, wall trampolines, slacklines, balance beams, air bags, foam pits, a jump tower and a tumbling lane (yes, that's a lot of fun in one location)
Jump-In the most popular zone at Play-In which is in large part because it is the biggest zone, so it can hold a greater capacity (but also, read again and tell me you don't want to jump into a foam pit).
To ensure safety standards, the main floor is only accessible to children seven years or older but there are special times when the younger ones can head to the main floor as well: every weekend from 10.00-11.00, Wednesday and Fridays at 13.00. (During holidays from 10-12) .
There are not many safe spaces where a child can run riot and leap as high as they want and know they are cushioned by foam pits and supported by attentive staff.
Children marvel at how they are able to leap and bound around a massive area. Children can either entertain themselves by making up challenges and games with one another or get involved in the pre-arranged activities such as slacklining. It's completely up to them what they do here, and most children love that freedom. There are not many safe spaces where a child can run riot and leap as high as they want and know they are cushioned by foam pits and supported by attentive staff.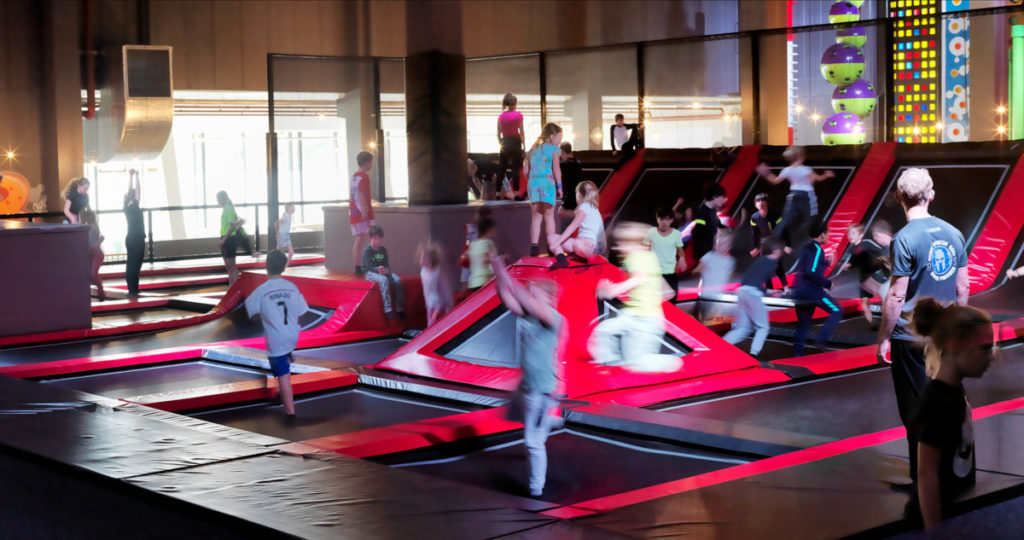 Spectators can sit back and watch from the sky cafe that is situated five metres above the trampolines with a fantastic view over the entire jumping park. Engrossed in your book and don't want to endlessly keep an eye out? That's absolutely fine because there are jump masters present all throughout Jump-In to ensure safety standards are consistently being met.
2. Climb-In
Climb-in, built in 2016, was the first of its kind in the Netherlands. A few more climbing facilities have subsequently opened up but appeal of Climb-In is the fact that parents can join in the fun too as no belayers are required at this facility. This is possible all thanks to the slick and modern  automatic safety system which locks and lowers participants to the ground without assistance. This belay system makes it safe for everyone to enjoy the fun, with children as young as four monkeying up the colourful walls. You don't need any climbing experience to enjoy Climb-In.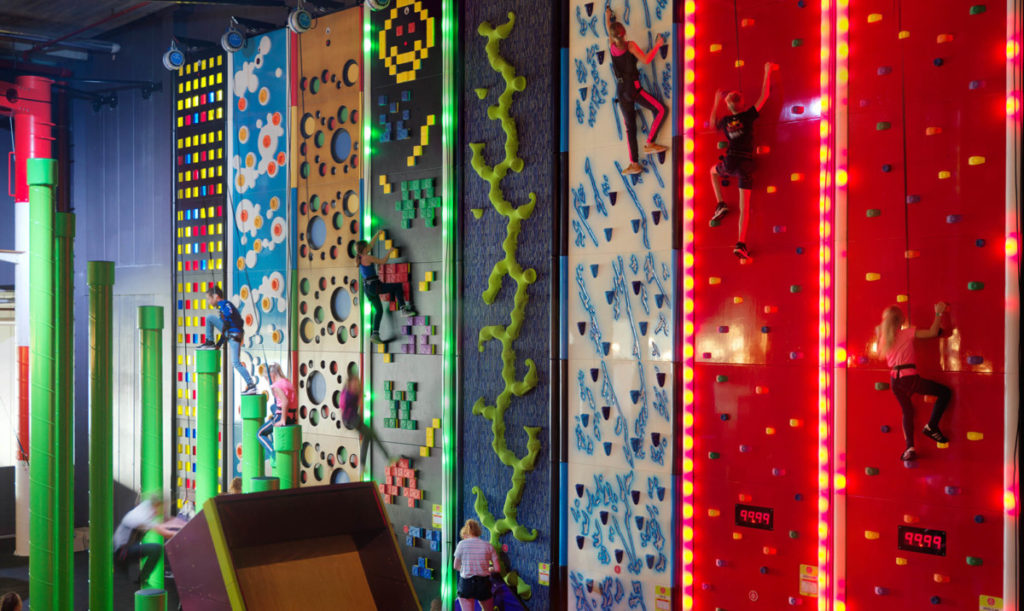 Climb-in offers an unforgettable experience for everyone at their own level, with a variety of colourful challenges. You can take it easy and slowly ascend the climbing wall slowly or race your friends to the top of a wall with the built-in timer. Figure out the Astroball or climb the Leap-of-Faith and launch off the pad at the top.
A highlight has to be vertical drop slide but it is understandably very popular so if you want to head here then make sure you book in advance.
For parents who don't want to join in, there is a tasteful Skybar located five metres above both Jump-In or Climb-In.
3. Kids-In
Kids-In is a zone designed for the youngins' in a spectacular underwater theme. Kids marvel when they run through a shark's mouth, get lost among schools of fish or manage to conquer the underwater volcano.
If you have a raucous five-year-old and a quiet two-year-old then this is no problem as your older child can let rip around the whole zone and your toddler can play in the designated toddler corner.
Parents can relax in the beach-themed bar which provides quality coffee and a variety of food.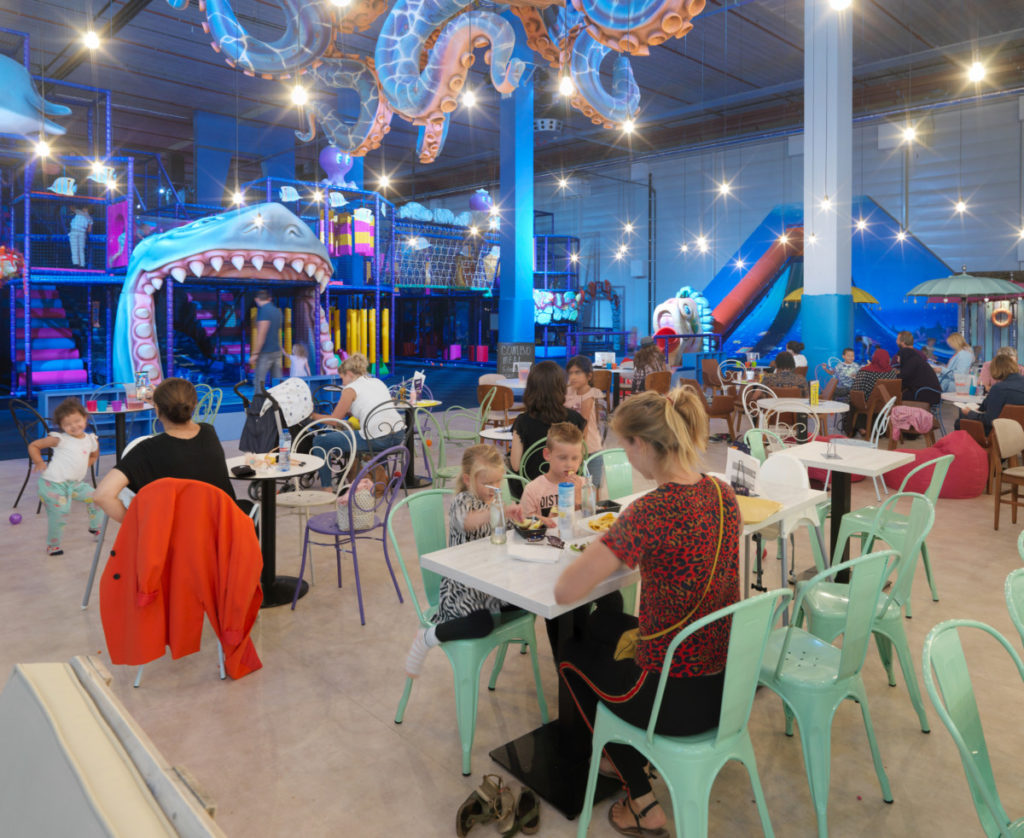 Epic Children's parties are totally possible here
There is also the opportunity to hire out one of the four private rooms located in the Kids-In for a children's party. Depending on your child's interests, a choice can be made between the underwater themed room, ice princess, pirate or disco room. Sometimes themed rooms can be a little underwhelming but the private rooms at Play-In are so modern, clean and abundant that no kid would be disappointed.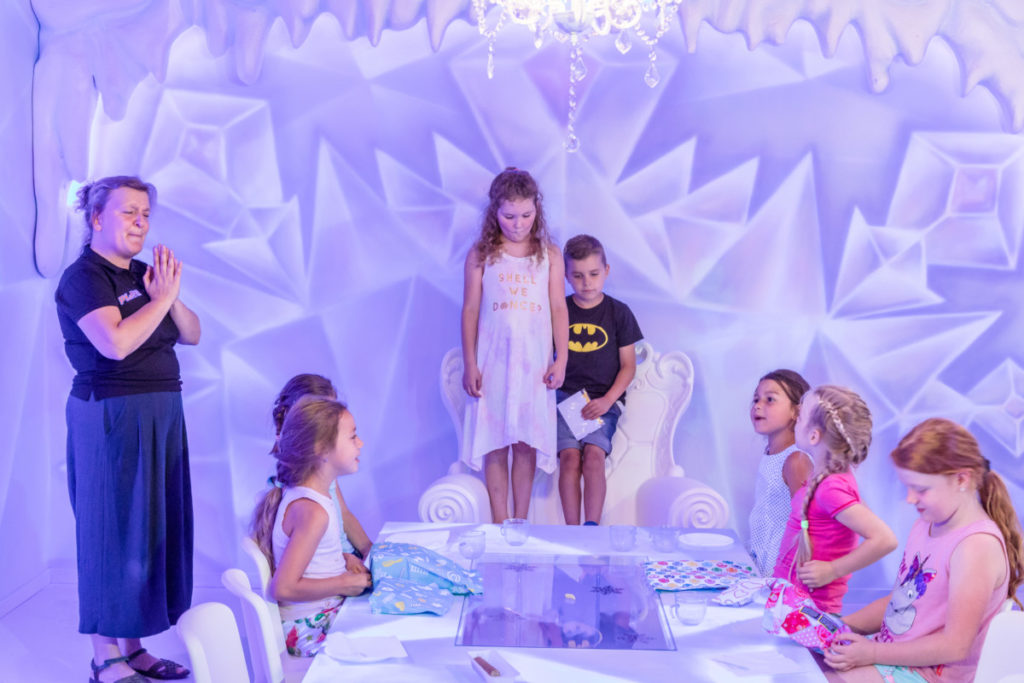 These organised birthday parties are popular as you are granted your own private space whilst being in and amongst the buzz of a larger facility. What's more, is that Play-In go above and beyond to try and make the occasion special by allowing parents to choose customised additions for the party. For example, your child can hire a tattoo artist to come and stick fake tattoos on all the children or a real-life princess can surprise the group of children in the Ice Princess room. Personalised cakes can also be arranged, and the VIP rooms come with fun presents like pirate hats or princess crowns. It was very impressive to see how dedicated Play-In were to going above and beyond to make a birthday special and memorable. Price is based on the number of children attending.
If you don't want to hire a private room you can still have a party at Play-In: handy if you really don't want a herd of children in your living room, for example. There are almost infinite combinations you can choose from- add cakes or snacks for adults to parties at Jump-In, Play-In or Climb-In. You pay per child, and for each of the areas there is a "Combo" option which adds a slushie, pancake or fries, and a snack for a reduced price. The perfect way to take the pressure off yourself while ensuring that your child has an amazing birthday party with their friends.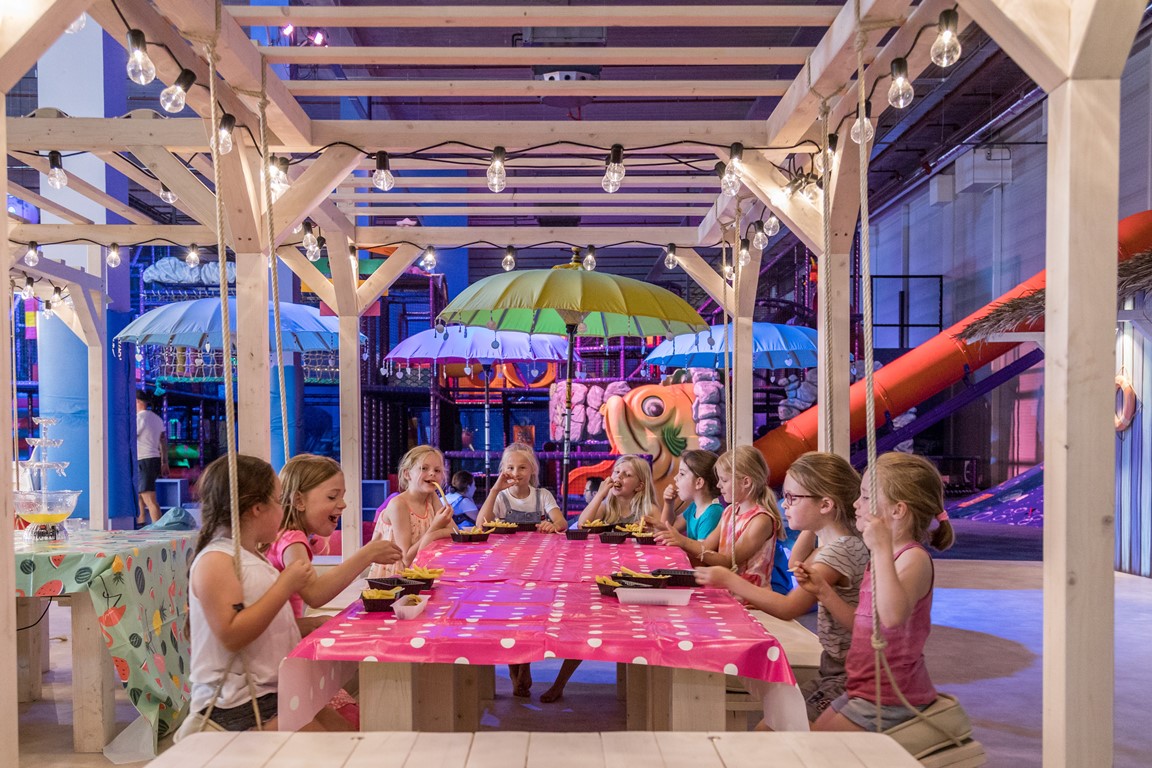 Is there anymore awesomeness we should know about?
The fun doesn't end there. Play-In always have a bunch of great one-off and repeat activities happening through out the year and holiday period.
Here's a quick low-down on some of the highlights:
Want to get the most bang for your buck? Then head to Jump-In on Mondays, Tuesdays and Thursdays when you can stay until 7p.m with a one hour ticket (holidays excluded).
Two Fridays and Saturdays a month there is a live DJ on the jump floor.
Trampoline Forbes is a fitness class held twice a week on Wednesday mornings and Thursday evenings. This class is especially popular with mums as it is high intensity but low impact.
Jumping and free running lessons are also an option for people who want to learn how to flip and twist and leap from one trampoline to the next. These classes are most popular with boys aged between 8 and 15.
Extra activities such as theatre shows are held through out the school holidays.
Play-In is easily accessible all year round and from neighbouring cities
Play-In is the perfect all-year round activity. You can fight those winter blues by warming up at Jump-In or escape the summer heat as the whole facility is air-conditioned during the warmer months.
Play-In is also conveniently based in Utrecht, a city that is a mere stone's throw from Amsterdam. It is located at The Wall on Hertogswetering 173, 3543 AS Utrecht. People that know Utrecht (or Dutch traffic for that matter) will be happy to know that it's located on the outskirts of Utrecht and is super-easy-reachable by car.
If you are driving, then Play-In is situated at The Wall just off the A2 highway (take exit 7 Leidsche Rijn). The best parking would be in P3 or P4 (at McDonalds). The first two hours of parking are free and after that it costs €1 per hour.
If you are coming by public transport then Play-In is also easily accessible. It is roughly a 10 minute walk from Utrecht Leidsche Rijn train station. It can also be accessed with bus lines 11, 49, 73 and 139 which stop directly at The Wall.
DutchReview thoroughly enjoyed visiting Play-In and all of us with kids are already gearing for the holidays when we can visit this place for some family-bonding and fun! Thanks for having us Play-In!