Would you rather crop all those grey 1960's condos out of your favourite pics of Dutch beaches? Try something different from Zandvoort, Scheveningen or Noordwijk, but not drive all the way to Zeeland? Then make your way to the Kop van Noord-Holland (the northernmost part of Noord-Holland) for one of the finest stretches of Dutch coastline.
Chill beaches, unobstructed views, the finest sand, and easy-going sunbathers. You can even get in some German practice while you're there, because these Dutch beaches are wildly popular with Duitsland beachgoers.
Not up for the drive and don't mind a few more Dutchies in speedos? Never fear, find a full guide to the top Dutch beaches here. Tempted to wriggle your toes in the sand and not be disturbed? Read on for our four top Noord-Holland beaches off the beaten path!
#1 Paal 29
It's only fair that I start with this one. A hidden gem, one of my favourite spots in the Netherlands and one that I make sure almost all of my visiting friends get to experience. Whether they love me or hate me for it is debatable, because Paal 29, a truly secluded Dutch beach, is not accessible by car.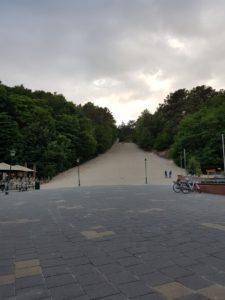 It takes either a longish hike (1.5h) or a bike ride over the Schoorlse Duinen (Schoorl Dunes) to reach it. And a bit of going uphill while you're at it, because this is the highest dune domain in the Netherlands.
With more than 60 kilometers of hiking paths, many of them across amazing pine forests, with viewpoint platforms and the most challenging mountain bike trail in the country, the Schoorl Dunes National Park is as close as you can get to a mountain in the Netherlands.
Why you should go to Paal 29
There's no such thing as a Dutch beach without a strandpaviljoen and Paal 29 is no exception, despite its isolated location. If you'd rather not bring your own picnic stuff, just head to the restaurant for a laid-back, barefoot dinner. The place tends to close earlier (around 20h30) than other seaside restaurants in the area, so lingering in front of that sunset with a final cocktail in hand might not be an option.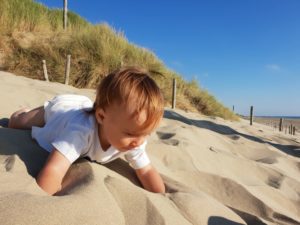 Paal 29 is a Blue Flag beach. Expect clean sand, excellent water quality, lifeguards and a first aid post. Sunbeds, windscreens and umbrellas are available for rent at the strandpaviljoen.
To me, the best part of the day is, by far, the hike back to the parking lot in Schoorl. With heat and blinding sunshine out of the way, this is the perfect time to marvel at the dune roses, to spot the rabbits, to inhale the intense scents, to relish that comforting early evening tranquility.
How to Get There
The hiking route we usually take starts in the small town of Schoorl, at the bottom of the famous Klimduin (The Climb Dune). An impressive mountain of sand, 51m high, the Klimduin is a magnet for both adults and children. Few can resist the urge to roll down the dune, gliding over the silky sand. I remember staring back at it when we drove past for the first time. It looked surreal, unlike anything I had ever seen before. Almost like a ski slope popping out in the most unexpected place, at the most unexpected time.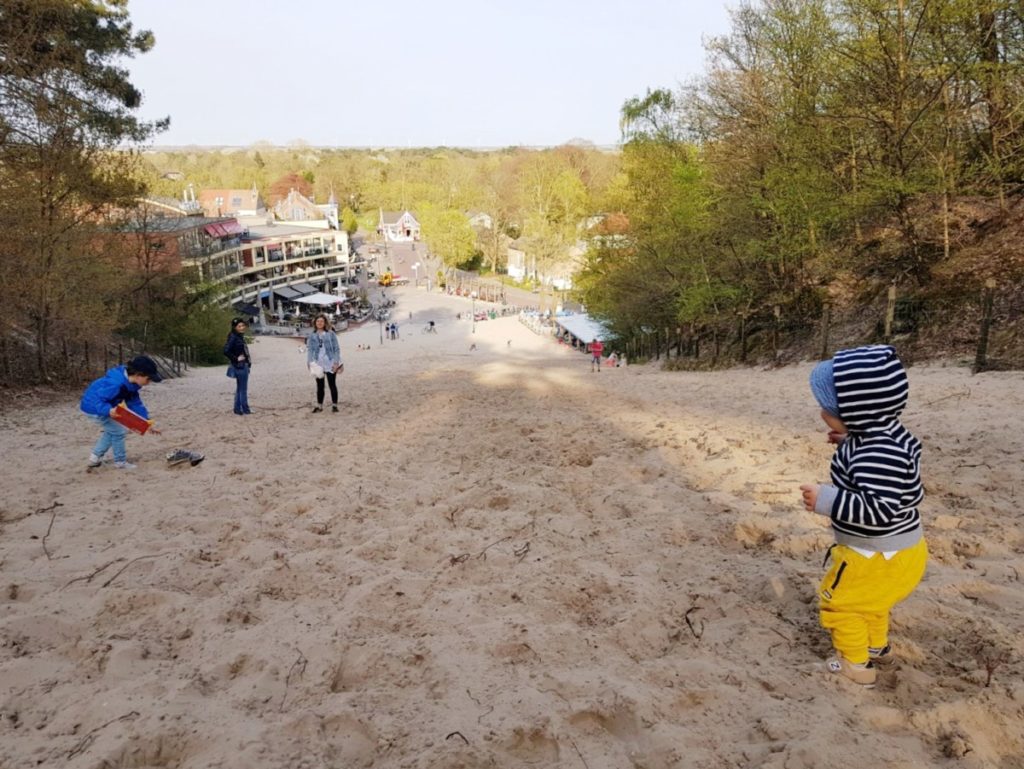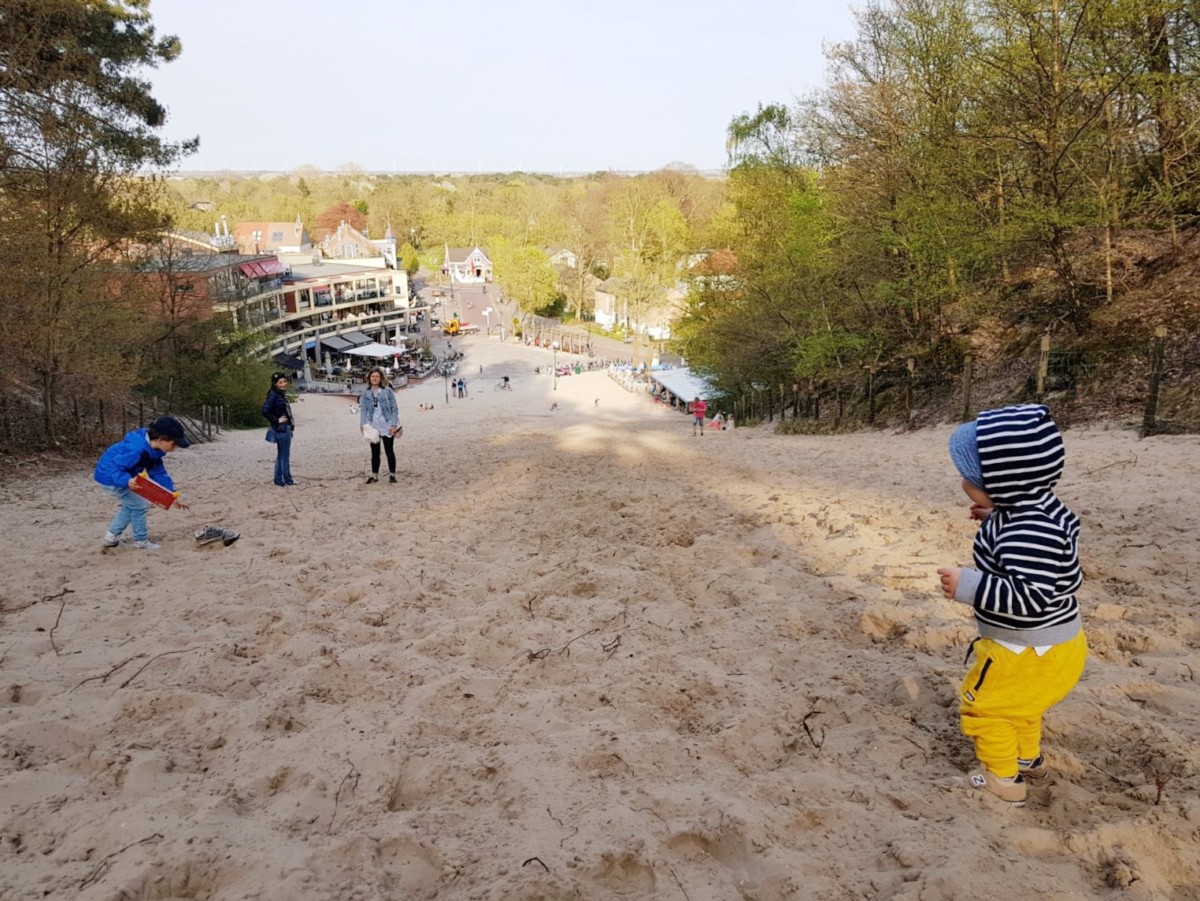 On your way to the beach, you can either climb the dune or take the gentle uphill path on the right, which will also get you to the top of the dune, but at a more leisurely pace.
Once you've reached the top, you have the option of a small detour to a viewpoint platform to the left of the main trail. Which is not a bad idea at all, except for the fact that you'll barely distinguish the sea from that platform. Realising how far away it actually is might be a little discouraging at this point. Alternatively, you can follow the main trail, which winds through the pine forest for the first 40 minutes or so.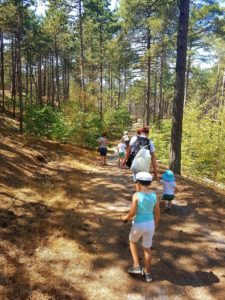 Beware, though, you will have to handle several crossroads. There are plenty of trail signs around, so don't fret, but if you wish to take the shortest route to the beach, you could probably use the extra help of a navigation app such as Google Maps. 
Half way through, you will leave the forest behind and carry on, across the dunes, for the remaining 45 minutes. If it's one of those rare hot summer days, you will need sun hats, sunglasses and lots of sunscreen to make it to the beach in one piece. About 10 minutes into this second part of the hike is when my kids usually start complaining. Approximately 30 minutes later, they will have asked the same question ("how much more?") over and over again, 30 times and counting. Only to forget all their troubles at the sight of the sea and engage in a final, euphoric sprint to the water.
#2 Camperduin
About 5km north of Paal 29 is another gorgeous Blue Flag beach, which made national news last week, after a group of 10 to 20 dolphins was spotted swimming off the coast on Friday morning.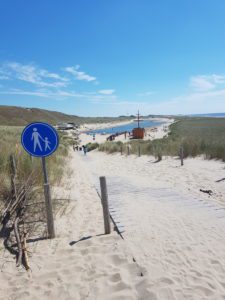 Just like other Dutch beaches nearby, Camperduin boasts rolling dunes and very fine sand. What sets it apart, though, is an artificial lagoon in a sheltered area amid the dunes. The small lake was created as part of a coastal development project (2014-2016) for strengthening the Hondsbossche and Pettemer Sea Defense between the villages of Petten and Camperduin. The huge wooden play ship (Speelschip De Slag), on the way down to the lagoon, is yet another distinctive feature of the beach. One that makes it very popular with kids.
Why you should go to Camperduin
Does the name of the beach (and village) sound familiar, but you just can't put your finger on it? The village of Camperduin rose to worldwide fame after a major naval battle off its coast in 1797. Usually referred to as the battle of Camperdown, it ended with an unequivocal victory for the British North Sea Fleet. The Brits captured no less than eleven Batavian Navy ships without losing any of their own.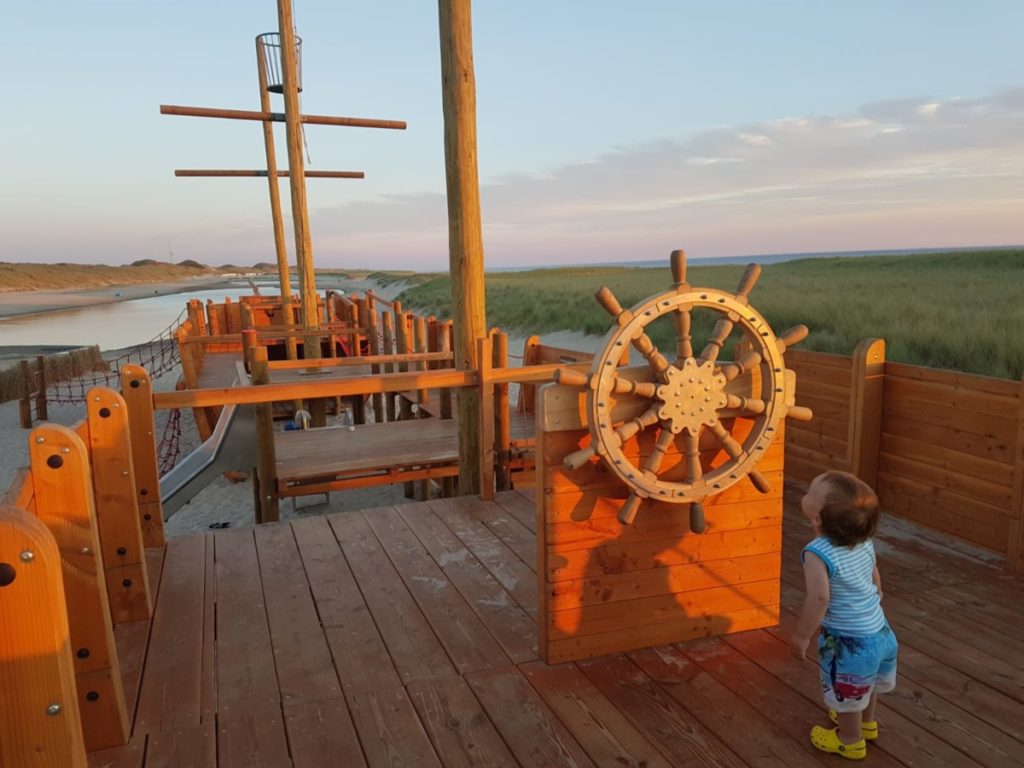 There are two strandpaviljoens at Camperduin. Luctor et Emergo, right there on the beach, and Struin, higher up on the dunes, above the lagoon. Beach gear is available for rent at Luctor et Emergo.
How to get to Camperduin
Parking costs €6 per day in high season, but public transport is also an option. Just hop on bus 151 from Alkmaar Centraal.
#3 Petten
Yet another 5km north and we reach another gorgeous Dutch beach, the beautiful Blue Flag seaside of Petten. Similar to Camperduin in terms of width and sand characteristics, it does come with its own unique peculiarity.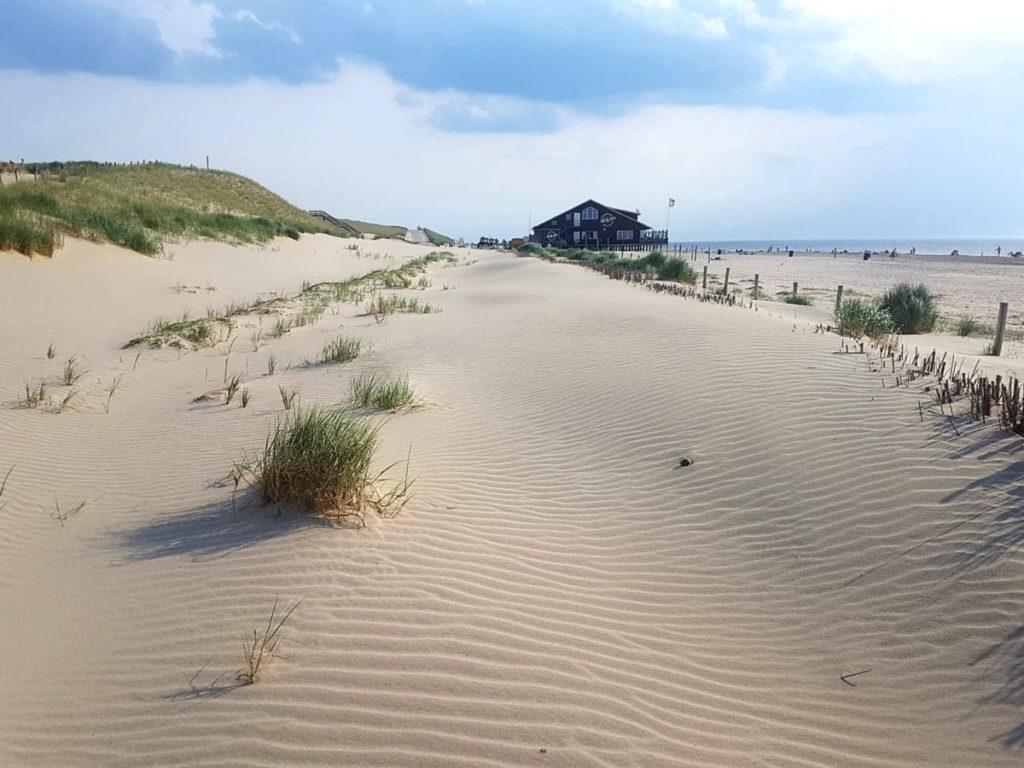 Why you should go to Petten
A panoramic dune created during the same coastal development project as the lagoon at Camperduin. The wide viewpoint platform on top of the dune, complete with wooden benches, is a good spot to watch the sun sink into the sea.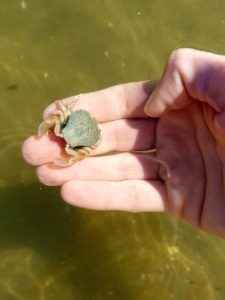 How to get to Petten:
Parking is free, but if you don't have a car or would rather sip a drink at the end of the day, geen probleem, just go for public transport. Bus 851 from Den Helder (a.k.a. the Kustbus – Coast Bus) stops at Petten.
#4 Sintmaartenszee
Last but not least, a further 5km north of Petten and we come to Sintmaartenszee. This stunning Dutch beach is one of the best kept secrets of the Netherlands, with a rustic atmosphere and heaps of room for children to play. 
Why you should go to Sintmaartenszee
There are two strandpaviljoens, NewZuid and Noord, at somewhat of a distance from each other. The electric shuttle goes to NewZuid only. Noord can be reached on foot, following either the shore or a path across the dunes, which forks off the road to NewZuidun. Fancy a sunbed or a windscreen? You should be able to rent them out at the strandpaviljoens, provided you get to the beach early enough.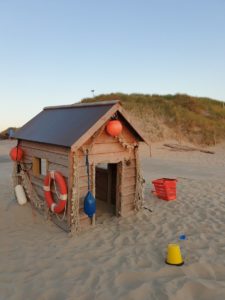 How to get to Sinmaartenszee
Its Blue Flag beach is not accessible by car, but not too far away from the parking lot either. Just a leisurely 15 minutes asphalt walk, or alternatively, a very short ride with the tiny electric shuttle. The shuttle is only available during summer months and costs €1 per ride  per person.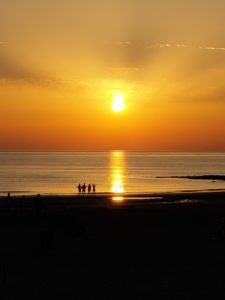 Free parking is possible right next to De Goudvis, a typical Dutch speelpark that will keep your kids busy for at least one afternoon if you decide to spend the whole week-end in the area. As for public transport, Sintmaartenszee, just like Petten, is covered by the Kustbus –  line 851 from Den Helder, that is.
Not convinced by these amazing Dutch beaches off the beaten path? You could also check out some Dutch islands, journey on a day trip to Vlissingen, check out some lakes and beaches near Rotterdam, or head on over to the Dutch Carribbean!
Have you checked out any of these beaches off the beaten track? Got any that we missed? Let us know in the comments below!
Feature Image: Iulia Romaniuc