Visiting Leiden? Wonderful idea! Is your bank account eating away at your overdraft? No problemo; we've got you covered with 7 of the best free things to do on your trip.
Here are 7 great things you can do in the city without spending a penny…
Free things to do in Leiden: visit De Burcht
The first unmissable free attraction is De Burcht, the public park with the circular fort – a shell keep back in the day, now a romantic patriotic symbol of Leiden. It's basically a MINIATURE CASTLE right in the heart of the city, with a panoramic view from the top. Hey – who said the Netherlands was all flat?
To get the most out of this experience, climb up at sunrise or sunset. If you go during the day, bring a book to read in the grass (or sit on the sculpture shaped like a giant paint-tube!?).
Free things to do in Leiden: go on a poetic scavenger hunt
From poetry climbing the walls to giant scientific formulas, mural masterpieces to mathematical equations: the streets of Leiden have it all. For free.
The city is over-spilling with poetry written in different languages, inspired by a single wall poem in 1992. If you're feeling wild, you could try finding as many as possible, though it should be mentioned that there are over 120 wall poems in total. Yowzer!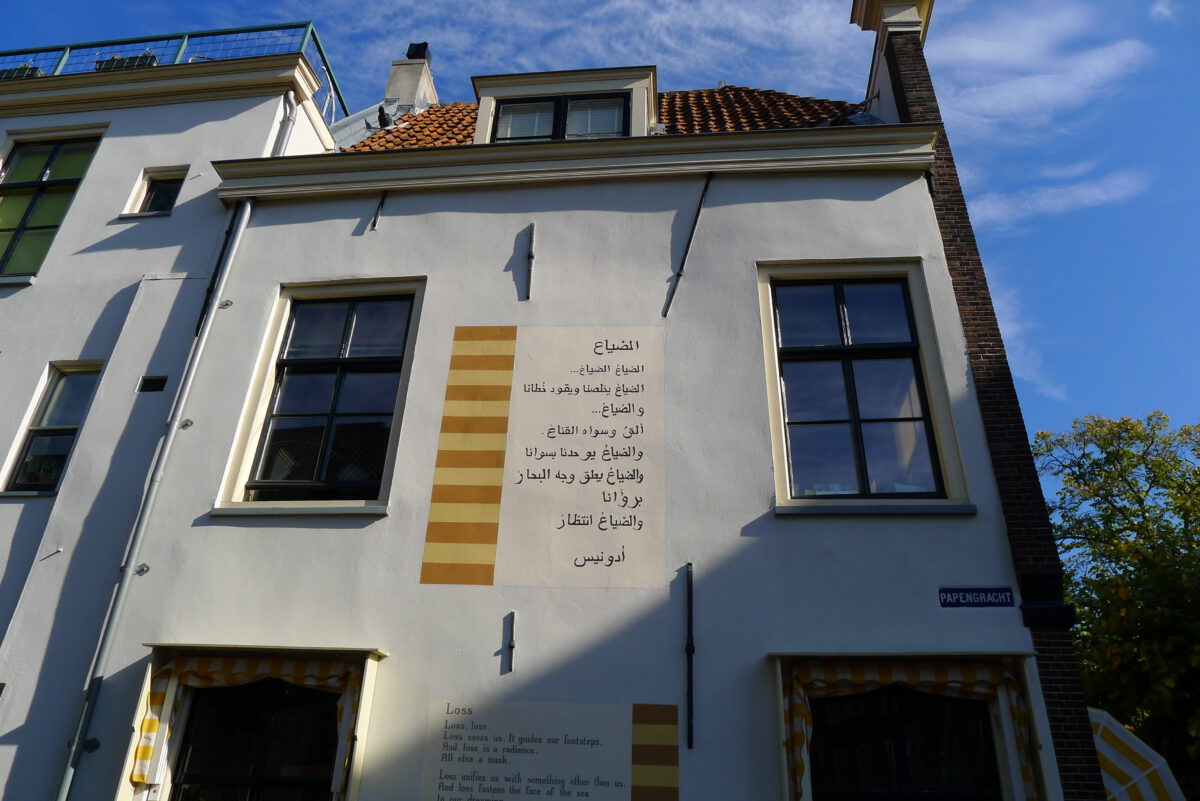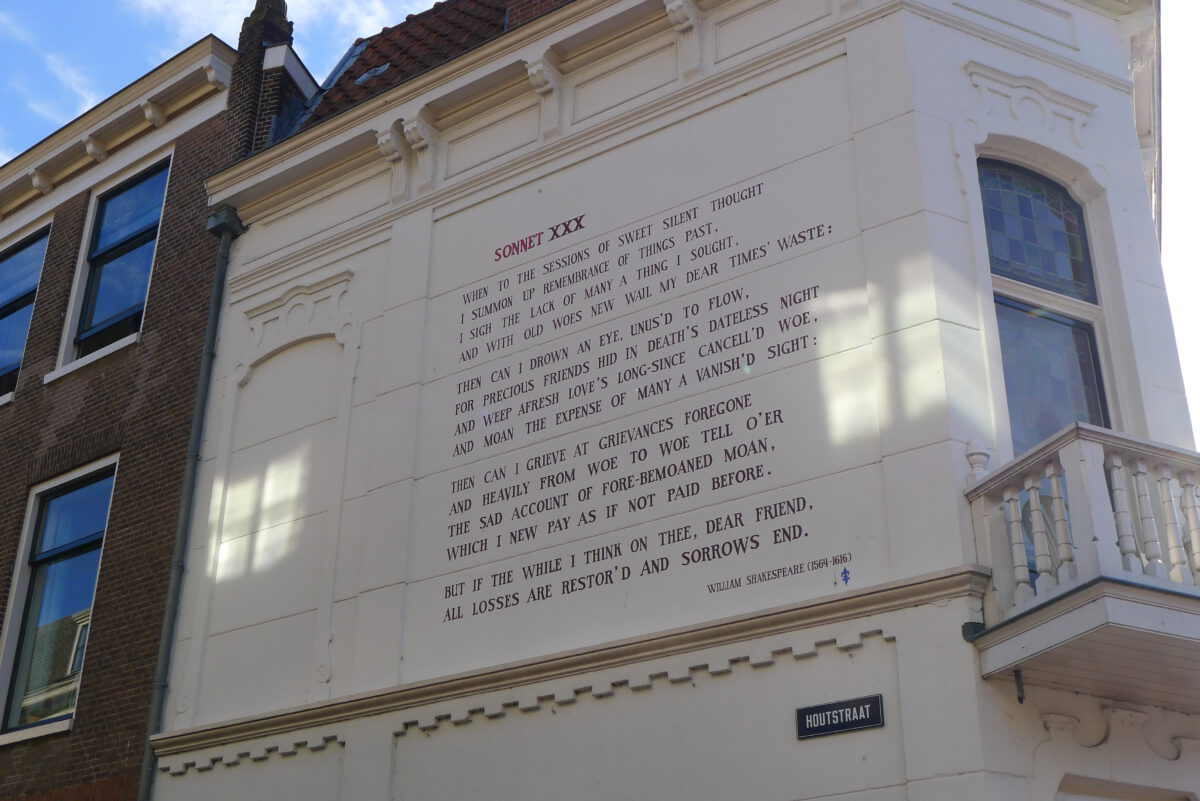 No need to worry though – there's a cute and funky website featuring tailored routes giving you the location and translation of your favourite poets' work, and/or interesting themes to choose from. If you have an emotional affinity towards the natural world, for instance, they'll give you a digital map featuring 10 wall poems on nature. Pretty handy, eh?
Free things to do in Leiden: whip out the picnic basket
Leiden offers several beautiful parks, but the two you should spend a day at are the Plantsoen and Van der Verfpark. Take a picnic to Plantsoen and relax by the waterfront (okay, food costs money, but it's also a nice place to chill and chat). Having once been a music pavilion, it is the oldest public park in the centre of the city, with a style based on the English landscape.
Het Plantsoen, Leiden @WNLVandaag pic.twitter.com/HnCbvBjeub

— Carla Matthee (@CarlaMatthee) 26 november 2017
For all those history nerds, Van der Verfpark is built on the site of a gunpowder explosion in 1807. This was called the "Great Ruin" but is now where the statue of Van der Verff stands proudly on his pedestal.
Free things to do in Leiden: climb De Put windmill
De Put windmill has been destroyed twice, but it is such a lovely historical landmark that they keep rebuilding it! The view, framed by a small circular window, is well worth the little climb. Plus, its neighbouring bridge leads to Rembrandtplaats on the opposite side, and the mill and the bridge together make for a charming Dutch scene.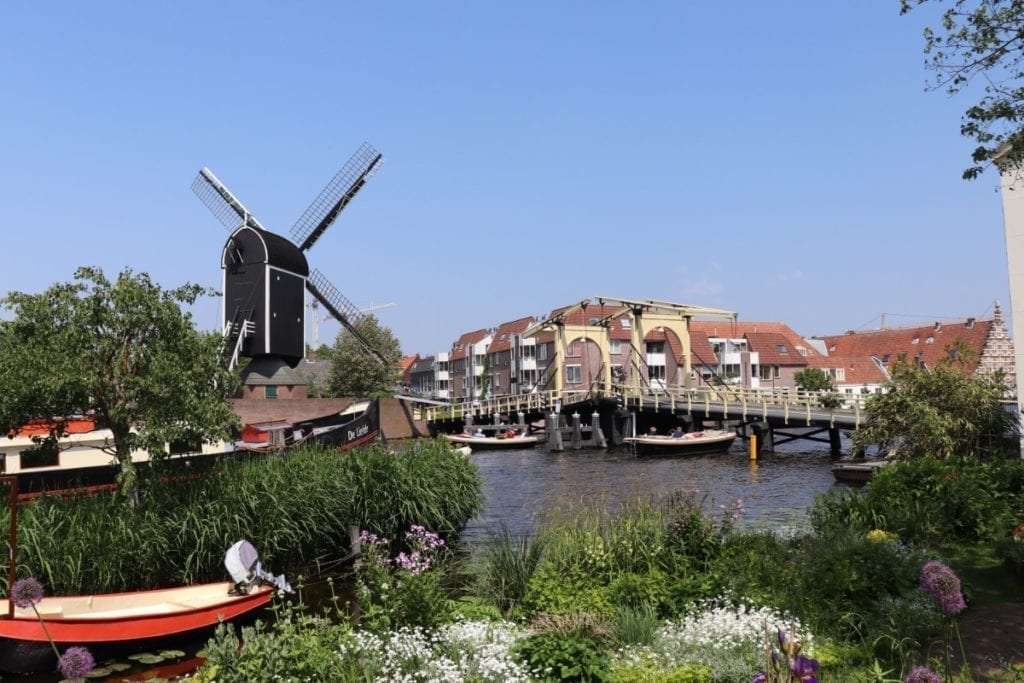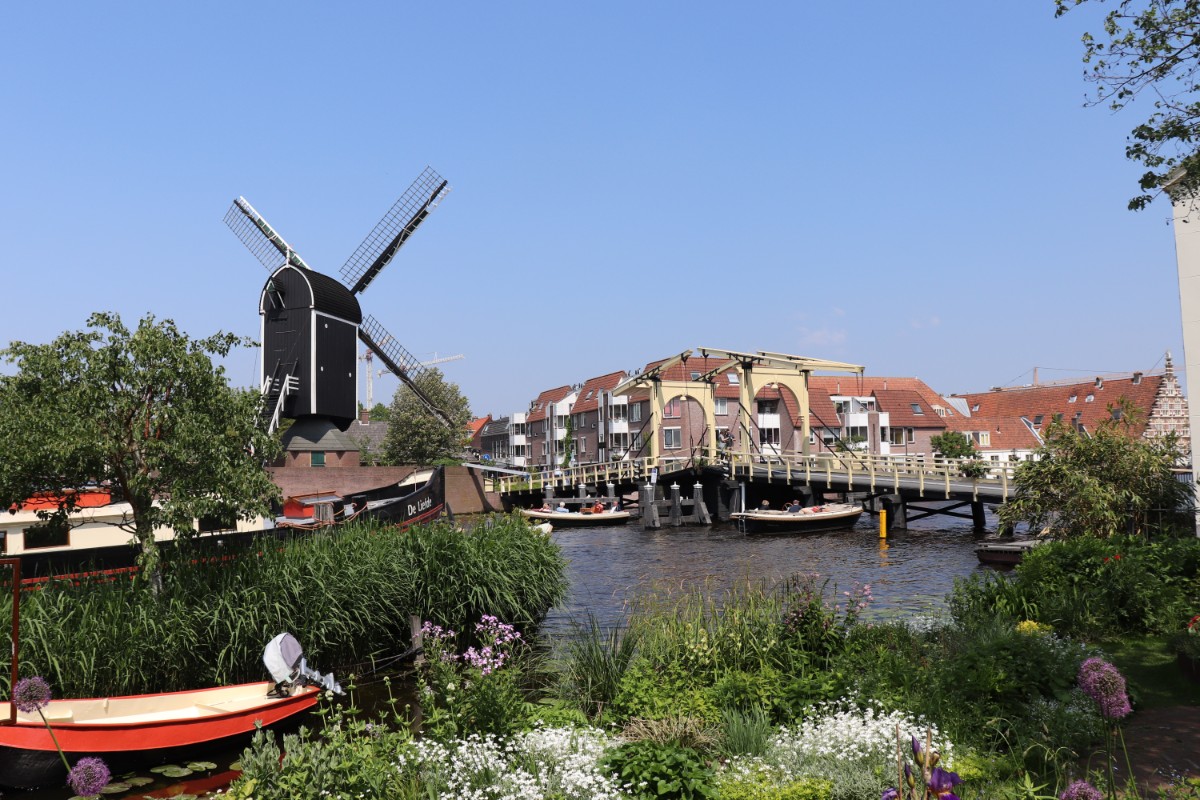 Molen De Put is open most Saturdays from 11am – 4pm, except for the last Saturday of the month. As the windmill depends on volunteers, you might want to check opening times before you go.
Free things to do in Leiden: explore the Hofjes
Need a tranquil place for a time-out? Stroll around some of Leiden's 35 courtyards, created originally between the 13th and 19th centuries by the rich for the poor (mostly for women or the elderly).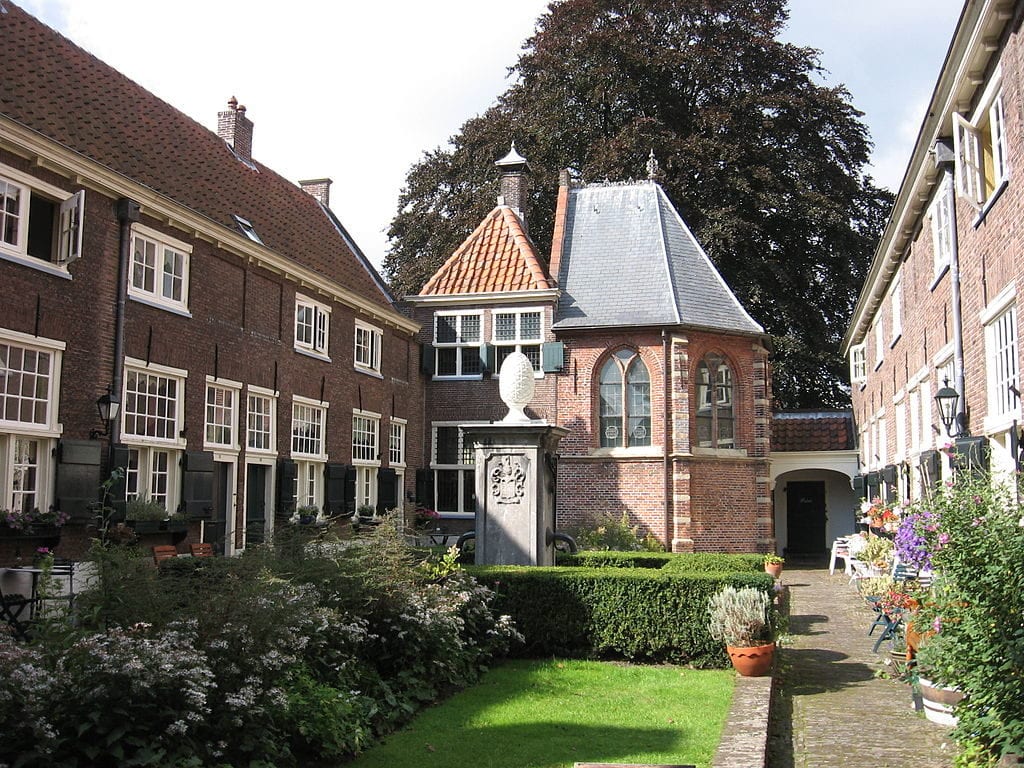 These are extremely well-maintained and are hidden right in the city centre. In such an urban landscape built above the water, you wouldn't imagine all those secret gardens lie between the buildings.
Free things to do in Leiden: attend an event at Vrijplaats
Yes – you can even go to actual real events for FREE! Vrijplaats (literally translated as 'free place'), run by volunteers, hosts a range of live music events and DJ nights. Whether you're a punk, disco, sci-trance or folk fan, there is something for everyone. Organisations use this space for parties, theatre performances, film screenings and debates.
They also have the wonderful Weggeefwinkel, a give-away shop where customers can find crockery, clothing, toys, books and electrical appliances that need a new home. This deservedly won the Marga Klompé prize in 1999 for 'the most social and peace-loving project'.
Free things to do in Leiden: experience the Saturday market
Leiden is usually a quaint and quiet place, but if a livelier atmosphere and hubbub is your thing then why not wander through the bustling crowds on a Saturday when the market stalls are set up? Try some free samples of (delicious) cheese, olives and dips. There's another smaller market on Wednesdays too.
If you want to keep browsing, a hidden gem lies near here at 23 Nieuwstraat: the antique store, a brilliant labyrinthine maze that allows you to venture through time (which, let's be honest, is a pretty fun place to explore).
If you liked this, check out our other Leiden articles: find out why it's the city of Knowledge or learn all about Leiden as an international student town. OR if you want more ideas for fun free things to do, why not check out our article on the best free things to do in the Hague?
We hope you enjoy 7 of the best free things offered here in Leiden – the home of Dutch Review. See you soon!
Feature Image: Chiel Koolhaas/Skitterphoto